Structural Insulated Panels Explained: What are SIPs?
Structural insulated panels are a modern build system that have plenty to offer your project, whether its a self build or extension. Learn more with this essential guide to SIPs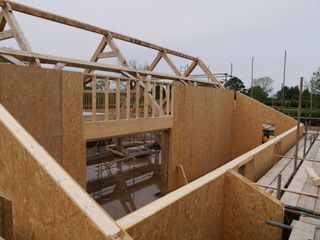 (Image credit: SIPS@Clay)
Structural insulated panels, also known as SIPs (and sometimes erroneously as SIPs panels) have some real benefits to your build project that makes them worthy of consideration. It's a construction system that's quick to get to the watertight stage and delivers an impressive airtight superstructure too. And while it may appear more expensive on paper, building with SIPs actually removes some other costs associated to your build, making very little difference overall to the cost.
Structural insulated panels are commonly used for self builds (in fact, it's estimate they make up 8% of these builds, it can also be used as a system when building an extension too.
In our essential guide to SIPs, we'll explain what structural insulated panels are, how the system works, as well as looking at the pros, cons and cost implications in more detail.
(MORE: Get a Quote for your SIPs Project)
What are Structural Insulated Panels?
Structural insulated panels are, in simple terms, pieces of insulative foam sandwiched between two boards of oriented strand board (OSB). These blank panels start their life in a 1.2m-wide format and come in various standardised heights from 2.4m to 7.45m.
The panels are then cut to size, timber edge pieces added and any openings formed. The same type of structural insulated panel is used for building the external walls, any internal loadbearing walls and the roof panels.
What are the Advantages of Building with Structural Insulated Panels?
Are Structural Insulated Panels Load-bearing?
Yes, structural insulated panels have two applications. First and foremost, they can be used as a full structural system for a build. Secondly, SIPs are also used for infill walling for steel, concrete, oak or glulam timber frame structures.
One of the key benefits over traditional timber frame or modern closed timber frame systems is the spacing of the vertical timber studs within the walls. In a timber frame building these are at 600mm centres, while in a SIPs wall they are at 1200mm centres. Therefore the amount of poorly performing timber in the wall is halved. This dramatically reduces repeated cold-bridging in the building.
Factory-made SIPs panels will be more accurate than on-site cut timber frames, and this helps to limit gaps in construction. This, along with the inherent airtightness of oriented strand boards (OSB) and a rigid insulation core, helps to limit air leakage in the building, making SIPs a great fit for Passivhaus projects.
As the roof panels are structural there is no need for traditional roof trusses — the panels can easily span 4.8m from eaves to ridge and sit on a boxed-in steel beam or a feature glulam timber beam. This can transform the top floor from a standard 2.4m floor-to-ceiling height, up to a double height of 3.6m.
Part of the construction phase is completed in a safe, dry factory, which has a huge impact on fabrication and build times.
How Long Does a SIPs Build Take?
A typical two-storey 200m2 house could take just 12 days to factory fabricate and then 12 days to erect on site.
Compare this to a traditional timber frame construction which will take at least 3-4 weeks to get the frame erected. On average, building with SIPs is 55% quicker than a timber frame build.
This means savings on costs like scaffolding, plant hire and site insurance, bringing overall project costs in line with other build systems
When is Building with Structural Insulated Panels not a Good Idea?
There are some sites that don't suit a SIPs build. It's not recommended to use structural insulated panels on plots in flood zones or below ground, so here a masonry build would prevail.
However, there is nothing stopping you creating a hybrid build, with a masonry ground floor and SIPs for the upper storeys.
What are the Different Types of SIPs?
There are two types of SIPs panels. Both use two OSB boards, but one sandwiches polystyrene board between them while the other has urethane pumped inside.
Both are wrapped in timber for strength, with depths of panels between 195mm and 250mm. The urethane method tends to make slimmer panels with slightly better thermal performance.
Always go for the deeper panel if you are trying to create a low-energy home, with achievable U values going down as low as 0.13W/m2K.
EPS panels range from 95 to 195mm (but can go much deeper, if required). The injected urethane core has a slightly better thermal performance, and therefore these panels tend to be smaller – with the larger panels being 172mm. Always go for the deeper panel if you are trying to create a low-energy home, with achievable U values going down as low as 0.13W/m2K.
All of the blank panels are surrounded by solid structural grade timber, giving the panels great stability and strength. Most manufacturers use a 'male to female' timber stud to connect the panels to each other.
How are Structural Insulated Panels Joined?
"To gain the best U values, you need minimal air leakage, so SIPs buildings need an effective jointing system," explains Ian Clay, partner at SIPS@Clays. "In most SIPs projects two types of jointing are required.
For structural joints, such as where there is a structural steel, a lintel, or a spot load from a glulam beam, c24 timber is used to join the panels. Elsewhere, spline joints are used.
However, some manufacturers use a unique jointing system, which is made up from a mini panel. This can help with lowering the overall wall U value and minimise air leakage at the connection joints.
There are two main products:
The first is a timber I-joist — these have a vertical web made from OSB and a top and bottom flange of solid timber
The second is a posi-joist. This has the same solid top and bottom flange but with a metal vertical web.
Both products range from 200mm to 400mm deep (depending on the span) and are topped with a structural floor deck, giving rigid squeak-free floors up to 5m in width (without extra support).
How Much Do Structural Insulated Panels Cost?
SIPs is one of the most expensive timber frame systems. Expect to pay anything from £250 to £500/m2, depending on specification, how efficient your design is and which company you choose. Compare this to a lower specification timber frame with a trussed roof, which could come in as low as £150/m2.
You need to be able to get your panels on site, along with the right plant to fit them. A telescopic handler will be used to manoeuvre the wall panels around, while a crane is required to lift the heavy, long roof panels. If your access is a country lane, you will struggle to get the right crane on to fit the roof.
Editor's Note: Homebuilding.co.uk partners with the UK's best SIPs suppliers to match your requirements with their products. Simply answer a few questions on your project and we'll put you in touch with a suitable partner.
Is Building with Structural Insulated Panels More Expensive?
The cost per square metre is, of course, not the whole story when it comes to comparing costs. You also need to factor in the time spent on site installing the wall system, plus any extra work required comparatively for one wall system over another.
SIPs, for instance, are quick to erect thanks to being manufactured offsite, and easily achieve good airtightness and insulation levels with no extra work. While structural insulated panels may be more expensive to buy than a timber frame, over the whole project, the costs will only be 3-5% more.
Brick and block is undoubtedly a cheaper option per square metre, however, it takes longer to build and is at the mercy of the weather — not ideal when self building in the UK. Not only will insulation need to be factored in as extra expense and time spent on site, it's hard to replicate the same levels of airtightness building with brick and block.
(MORE: Comparing Wall System Costs)
Though achievable, it depends on careful detailing which may include thicker walls, alongside excellent site management which may see use of contractors on the higher end of the price range for brick and block builds. This means that the overall additional cost to the project to use SIPs may be more minimal than it outwardly appears.
How Long Does it Take to Build a House with SIPs?
According to Kingspan, the average build with structural insulated panels could take two fewer months than a masonry build, based on information from industry experts. This study examined a typical two storey build, as well as a two and a half storey build with a room in a pitched roof.
It found that a SIPs build could be made watertight 8 weeks before a masonry build, which meant an average completion of 32 weeks for the whole project, compared to 40 weeks for a masonry build.
How Does an Architect Work with a SIPs Provider?
We asked architect Adam Knibb of Adam Knibb Architects, which is currently working on a SIPs home with provider SIPS@Clays, to outline how an architecture firm works with a SIPs provider to ensure the very best build.
Approach specialist SIPs designer with the approved planning drawings in order to assess the design's suitability for SIPs construction
Work very closely with the SIPs designer in order to achieve a design that could be built in prefabricated SIPs panels
Put together a detailed set of construction drawings to be coordinated with the SIPs design drawings throughout the process. Work closely with the glazing provider at this point too.
Manufacture and panel fabrication takes around 4-5 weeks following final preliminary design and structural engineering sign off.
Construction on site generally takes less than a week to erect and install the SIPs building 'shell'.
Designing with Structural Insulated Panels in Mind
A SIPs designer will be able to design to the capabilities of the product, making sure you get the most for your money.
Most construction products come in standardised sizes, so it makes sense to set out your design based around these. As the most common structural insulated panels come as 1.2m x 2.7m sheets, it also makes sense to utilise a 1.2m floorplan grid. That way you can lay out your walls along a grid, which will minimise the amount of cut panels. Every time the fabricator has to cut a section of a panel you will be charged for the labour time and for the disposal of the excess material.
The most common ground floor ceiling height is 2.4m, which can be created by using a 2.7m high panel with a 300mm floor joist hung from the top — giving 2.4m, which is also the size of a piece of plasterboard.
(MORE: How to Build a SIPs Home)
As you are creating an airtight fabric (aim for an air test value as low as 1.0m3/hour/m2), you need a ventilation strategy, such as a mechanical ventilation heat recovery (MVHR) whole house system. The design and pipework integration has to be carefully considered with the floor joist layout.
Glazed gables can cost around £6,000 (including the window). The large opening is usually created by a steel frame that is fitted within the SIPs frame around the opening, then standard double or triple-glazed units are linked and stacked on top of each other. Ensure that your design team work closely with your frame and window supplier.
Large open plan, flexible spaces are easy to accommodate within a SIPs home, due to the long spans of the floor joists and roof panels. The I-joist floor system can efficiently span 5m (300mm deep joists at 600mm centres). If you want a wider span, the most cost-effective solution is to integrate a steel beam, hidden in the floor build-up.
Make sure that all of the major construction details are worked out, including any areas of repeated or linear coldbridging.
External and Internal Finishes
Good to know
Render is the main cladding choice for self builders using SIPs, followed by (in order) timber, bricks and stone.
As the panels provide the insulation and structure, there is no need for the external finish to provide any structural support, other than to support itself.
This means that you can use modern, lightweight cladding systems, including timber, render board, rainscreen cladding systems or even stone/brick slips.
(MORE: Amazing Self Builds Featuring SIPs)
The chosen façade treatment is fitted via 50mm timber battens (required for ventilation) fixed to the outside of the kit, which will have been left with a breathable membrane. If you are going for a simple horizontal timber boarding, a competent DIYer could fit it themselves.
Heavier cladding options such as external skin of brick or stone will need to be built off their own foundations.
Services go in a service void, created with a 25mm x 50mm timber batten. This service void is wide enough to house your heating and electrical services, with larger pipes (such as MVHR or soil waste) located in internal timber stud walls.
How Long do SIPs Builds Last?
Structural insulated panels have an estimated lifespan of 60+ years, while some of the first instances of SIPs builds are now 90 years old.
Top Tips for a Successful SIPs Build
Interview various SIPs companies, choosing the company that gives a balance of value for money, quality product and assistance throughout the project. Try to work with a company that provides a total package: design, fabrication and site erection.
Work with design professionals who are used to working with SIPs and can maximise the benefits and help reduce the costs.
Design efficiently, by working with standard panel widths and heights. This will give you the maximum building for your money.
A great way to limit air leakage is to seal the vertical joints with an airtight tape, where the outside walls connect to each other.
Before the breathable building paper is fitted to the outside of the kit, get your architect to 'snag' the building prior to releasing the final payment. This way any issues with the fabric can be identified and then corrected.
Allan runs Allan Corfield Architects and is an expert in designing high-performing, energy-efficient homes. Allan is also one of the leading experts in SIPs construction method in the UK and is part of the Structural Timber Association and a member of NaCSBA.
Homebuilding & Renovating Newsletter
Get the latest news, reviews and product advice straight to your inbox.
Thank you for signing up to Homebuilding. You will receive a verification email shortly.
There was a problem. Please refresh the page and try again.