5 Ideas to Copy from this Oak Frame Home Built on a Budget
By Alison Wall , Amy Reeves published
By taking on big DIY tasks, first-time self builders Charlie and Helen Mills created exactly what they wanted for their new oak frame home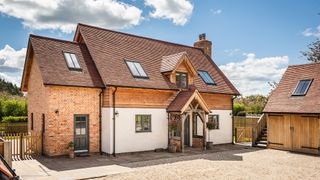 (Image credit: Mark Watts c/o Oakwrights)
Taking the DIY route to self build isn't for everyone, but for first timers Charlie and Helen Mills it was the best way to create exactly what they wanted, while on a strict budget.
It helped that a plot with planning permission almost fell into their laps. Charlie, who'd just bought a flat and had only just met his future wife Helen, was presented the chance to buy a plot with planning permission for two houses through oak frame specialists, Oakwrights in Herefordshire, where he worked.
So, with Charlie's friend Craig and his partner, LB, happy to take on the second oak framed self build, the project was on.
1. Balance High Quality Design with DIY Endeavours
Project notes
Homeowners Charlie and Helen Mills
Location Herefordshire
Size 141m2
Construction Oak frame with WrightWall encapsulation system from Oakwrights
Build route DIY and self-project managed
Build time Nine months (Jun 2019 - Feb 2020)
Plot cost £110,000
Build cost £220,000
Value £500,000
Typically, oak frame construction adds five to 10% onto building costs, explains Charlie. "We wanted to build with an oak frame; but if the numbers didn't stack up, we wouldn't have been able to do that."
Thankfully, with copious amounts of DIY, careful planning and savvy budgeting, the couple were able to stay on budget without sacrificing their initial vision.
Charlie and Helen demolished the old cottage already on site over evenings and weekends while they waited for the legals on the plot to be finalised, saving £20,000.
The couple also lay a specialist gas membrane over the beam and block foundations (a planning requirement) and erected the oak frame and encapsulated it with Oakwrights' WrightWall insulated wall system. The latter job was completed with the help of colleagues, family and friends — with both houses going up in the just 11 days.
Other DIY tasks including cleaning the oak frame, which saved around £2,000, and painting the interiors themselves.
"We also did as much of the donkey work as possible ourselves, so that we weren't paying trades to do simple work," say the couple.
2. Choose Exterior Materials Carefully
Charlie and Helen tweaked the original designs attached to the plot, reorientating the oak framed cottage to create a rectangular south-facing garden, with French patio doors out onto the garden and the kitchen repositioned to the front of the house.
Visually, their new oak framed home has a modern rural aesthetic. The cottage is clad in three coats of render, including the final colour 'chalk', and larch timber cladding on the main house which complements the weathered bricks (laid in a decorative Finish bond) on the utility room, designed to suggest a later brick extension.
Choosing a small palette of quality materials, such as the natural clay roof tiles, means this home will stand the test of time, despite being built to a tight budget.
3. Go Open Plan with an Exposed Oak Frame
Image 1 of 3
Image 2 of 3
Image 3 of 3
Separate downstairs rooms of the original plans were replaced with one generous open-plan kitchen, dining and living space. "We stayed in a barn conversion in the Lake District that was the same space as ours downstairs, and that was open plan, so we thought: let's just do it!" says Charlie.
Internally, stand-out features include the double-height glazed gable at the rear of the cottage which brings in masses of light and the bespoke staircase, which appears to hover and allows light to come through the treads. A log burning stove creates a cosy focal point in the open-plan space.
"We've been here 18 months now, and we love stepping through the front door and into the house — it's so just so light and airy," says Charlie. "And having the kitchen, living room and dining room in one space makes a great space for entertaining. We absolutely love it."
4. Pay Attention to Interior Materials
Image 1 of 3
Image 2 of 3
Image 3 of 3
Limestone flooring, chosen to complement the oak frame, has been laid throughout the ground floor. In keeping with the modern cottage aesthetic, Charlie and Helen chose a Shaker-style kitchen.
"We knew we wanted a Shaker-style kitchen, but we needed to balance the right level of quality against the costs involved," says Charlie.
"We eventually chose Handmade Kitchens of Christchurch, who ticked all our boxes. Our kitchen arrived unpainted, which gave us the opportunity to pick the exact colours we wanted and achieve a hand-painted finish. We opted for a dark navy island and painted the rest in an off-white."
With no space for a full larder cupboard, the couple opted for two top larders in the corners. "The larder tops have got to be the heroes of our set up. They give us the flexibility to hide away so many things – our coffee machine, for instance – which is amazing," explains Charlie.
5. Showcase Stand-out Features
Image 1 of 2
Image 2 of 2
Charlie and Helen chose to leave much of the oak frame exposed in the master suite, giving the spaces character and visual warmth.
Lighting oak frame interiors can be a tricky task, but Charlie and Helen have utilised a variety of techniques and light sources to showcase the beautiful exposed oak.
In the larger ground floor spaces, recessed dimmable downlight are a fantastic option, while in the bedrooms, lighting ideas for vaulted ceilings include delicately directed spotlights throughout the house.
Assistant Editor Amy began working for Homebuilding & Renovating in 2018. She has an interest in sustainable building methods and always has her eye on the latest design ideas. Amy has interviewed countless self builders, renovators and extenders about their experiences for Homebuilding & Renovating magazine. She is currently renovating a mid-century home, together with her partner, on a DIY basis, and has recently fitted her own kitchen.
Homebuilding & Renovating Newsletter
Get the latest news, reviews and product advice straight to your inbox.
Thank you for signing up to Homebuilding. You will receive a verification email shortly.
There was a problem. Please refresh the page and try again.