Underfloor Heating: How it Works, is Installed and Much it Costs
By Tim Pullen
Underfloor heating is one of the most effective and efficient ways of heating your home. This guide explores everything you need to know about wet UFH systems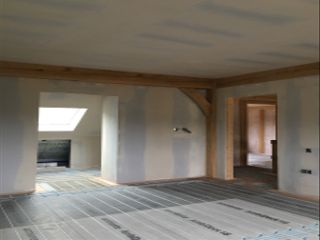 (Image credit: Border Oak)
Did you know that wet underfloor heating (UFH) is one of the most effective ways to heat your home? That's because it creates an even, consistent heat across a room, reducing the cold spots associated with more commonly used radiator systems. 
Retrofitting this type of underfloor heating systems into a home can be disruptive and expensive, and while it's not impossible, it's better suited to a self build project or when building an extension as you'll be able to include the UFH within your build schedule. 
This guide looks at all the most commonly asked questions surrounding underfloor heating, from the types available to how much it costs, the pros and cons, and how it will affect your floor level. 
What is Underfloor Heating? 
Visit the Homebuilding & Renovating Show
Underfloor heating involves the installation of a system (of either pipes or wires) into the floor. The floor, in essence, becomes the entire radiator, heating the room. 
It warms the room from the ground up and offers improved comfort levels as well as less demand on your boiler than a traditional radiator system. This is due to underfloor heating having a lower operating temperature (around 40°C) than a radiator system, which normally operates at around 65°C.
Underfloor heating works really well with renewable technology such as heat pumps, which have a low flow rate.
What Type of Underfloor Heating is Best?
There are two main types of underfloor heating:
In basic terms, a wet underfloor heating system features pipes, filled by warm water and powered by a boiler or heat pump, concealed within the floor, and typically embedded within a floor screed. 
This is the best type of underfloor heating for those building from scratch and/or planning a whole-house system.
Electric underfloor heating is often cheaper and easier to install than wet underfloor heating. However, the running costs can be three times higher.
It is often a good idea to install electric underfloor heating in a small, single area like a bathroom or en suite, where it may be difficult to install wet underfloor heating.
One of the most common — and worst — uses for electric underfloor heating is in a conservatory. Typically these areas need a lot of heat and are used for relatively long periods of the day (compared to a bathroom).
Then running cost becomes the key issue and the extra trouble and expense of a wet system is well worthwhile.
If you are opting for a whole-house underfloor heating system, there will be separate pipes running into each room. This allows you to control when those rooms or 'zones' are heated and for how long, preventing you from having to heat unoccupied spaces.
There are broadly two types of wet underfloor heating:
Buried underfloor heating involves placing the pipes into the floor screed. The floor screed is finished, burying the pipes, and the different zones are controlled by the underfloor heating manifold. This is the most efficient wet UFH system, but better suited to extensions and new builds where new floor screeds are required. 
Surface mounted underfloor heating involves specialist systems that installed the warm water pipes in insulated panels. They are designed to be low profile, adding just 1.5cm to the floor level, however, this will still cause some issues when retrofitted. These systems tend to be more expensive, too. 
How Does Underfloor Heating Work?
Ironically, perhaps, UFH is actually closer to being a 'radiator' than a radiator is. UFH heats the mass of the floor (the screed and the floor finish) and that heat then (mostly) radiates into the room — there is some convection going on but over 80% of heat transfer is by radiation.
The effect of this is that UFH heats the room from the ground up, providing even heat across the whole room, eliminating cold spots and thereby providing more comfort. It also means that we feel warmer sooner. 
As such, if we want to set the temperature of the room at 20°C, a radiator system will need to get the ceiling to 21°C or 22°C for us to feel comfortable while watching telly.
With a UFH system, the ceiling can be at 18°C and we will still have a comfortable 20°C at sofa level. According to the Energy Saving Trust, a 1°C reduction in temperature will reduce the heating bill by 10%.
Pros and Cons of Underfloor Heating
What are the Advantages of Underfloor Heating?
Reduces cold spots across large areas. 
Run at a lower temperature than radiators, meaning UFH is more energy efficient. 
Compatible with many types of flooring. 
Removes need for space-stealing radiators. Underfloor heating increases the available floor area of a house by 15%.
Safer for children, and better for indoor air quality. 
What are the Disadvantages of Underfloor Heating?
Underfloor heating is more expensive to install than a comparable radiator system — it typically costs 20% to 50% more.
Installation time can be longer, especially with wet UFH. Even electric underfloor heating may require work to self level before installation. 
When retrofitting underfloor heating, changes to floor height will need to be considered. This may require extra work in digging out the floor for a level profile. 
Retrofitting Underfloor Heating
Can I Install Underfloor Heating into my Existing Home? 
In a new build, the extra cost of underfloor heating relative to the whole build cost is seldom a deal breaker.
However, installing UFH in a renovation project can be hugely disruptive and expensive as it often involves taking up floors that may otherwise be best left alone, or raising the floor level, which may have implications on the joinery (doors, skirting etc).
Low-profile systems tend to have smaller diameter pipes and run at a higher temperature. This means that the floor will heat up and cool down far more quickly than conventional underfloor heating.
Where underfloor heating is added to an existing radiator system then a different control system will be needed. Luckily, wireless thermostats (some of which can be controlled with a phone app) make installation far easier.
(MORE: How to Retrofit Underfloor Heating)
How Much Does Underfloor Heating Cost?
Is Underfloor Heating Expensive to Install?
Underfloor heating costs from around £20/m2 to £40/m2 installed. These figures will vary depending on the size of the property, the amount of heating the building needs and whether it is a new build, renovation or conversion.
This isn't necessarily more expensive than electric underfloor heating systems, and in fact, some of the more advanced electric systems will cost more. 
Underfloor Heating Vs Radiators
Can Underfloor Heating Replace Radiators?
Potentially yes, but this will be dictated property by property, room by room, depending on heat loss and whether the output from an underfloor heating system is larger than this loss figure. 
Radiators are cheaper to buy, they are well understood and there is a huge choice when it comes to size, style and installers, but they are less efficient and take up floor space. Perhaps the biggest problem is that in larger rooms they can produce a temperature difference of up to 4°C across the room.
An underfloor heating system also offer a 15% reduction in energy demand compared to a radiator system, which is hard to ignore. 

Is Underfloor Heating Cheaper to run Than Radiators?
While underfloor heating has a higher initial expenditure than radiators, don't let this put you off. The running costs are generally far lower for UFH than radiators. It's worth noting too that underfloor heating systems have a lifespan of 50 years plus, while the average radiator will only last between 8-12 years before becoming inefficient. 
Floor Levelling
What Thickness of Screed Do I Need with an Underfloor Heating System?
The thickness of the floor screed during your installation process will make all the difference. The screed thickness in which the warm wet pipes sit will have a dramatic impact on how the system is used.
A thick screed will give a longer reaction time (the time taken to warm up and cool down), while a thin screed will have a quicker reaction time.
If the pipes are housed in the concrete floor slab (sometimes the case for new homes), this should be 150mm thick and give a reaction time of over four hours. In this situation, it is best to run the system all day, at a lower room temperature — say 15°C or 16°C — to provide background heating to the whole house. Highlight heating, such as a log burning stove, is a good idea in the rooms that are occupied
A standard sand and cement screed would typically be 65mm to 75mm thick and the underfloor heating could take upwards of two hours to heat the room or cool down. This situation may be well-suited to rooms where we spend a lot of time, such as lounge or kitchen, but might be less acceptable in a guest bedroom
With thinner flow screeds, we might expect a thickness of 35mm to 40mm and a reaction time of around 30 to 40 minutes — the system can be run in a similar way to a radiator system. Flow screeds offer better thermal conductivity than sand and cement, and being thinner and lighter means that they can be suitable for both renovations and new builds
Which is right and best will depend on the construction of the house, your occupation habits and how the underfloor heating system is to be used.
(MORE: Underfloor Heating Installation)
Will Underfloor Heating Raise my Existing Floor Profile? 
Underfloor heating will usually raise the profile of the floor. The amount it is raised by will depend on a number of factors such as how much insulation you need to add, pipe size, and whether you need a screed and floor finish. 
There are also some products that get 'carved' into an existing screed, in which case there would be no additional build up other than the final floor finish.
If you want to retrofit a wet water system or have concerns about excavating or raising the floor, then low profile systems are a good option.  "These have the advantage of coming in different heights and designs which allows them to be installed relatively quickly and easily on most substrates without impacting on the floor to ceiling height of the room," says Mark Dowdeswell, Senior Category Manager at Uponor. 
Choosing Flooring With Underfloor Heating
Which Types of Flooring are Compatible With Underfloor Heating? 
Can I Put a Rug Over UFH?
Yes you can, but it will affect output. In this case, it's best to design the pipes to be a lot closer together, around 100mm, so that there is enough length exposed to a free surface.
Underfloor heating isn't only compatible with tile or stone flooring. Though it does work well with these hard floors, that also doesn't mean other types of flooring are suitable. Most retailers will specify whether a flooring will work with underfloor heating, so look for that as your first guide. 
Ceramic and porcelain tiles, luxury vinyl tiles and natural stone floors are among the most efficient choices for UFH, however, there are some floor styles that aren't suitable. 
Engineered wood works with underfloor heating if it has a thin profile, either 12mm or 15mm, without affecting the wood or noticeably impacting the heat output. However, solid wood flooring cannot cope with the constant changes in temperature from UFH and is likely to become damaged and warped. 
Carpet with a thermal resistance of less than 2.5 tog won't affect the efficiency of underfloor heating —  and a 80% wool, 20% nylon carpet with a standard underlay will likely only be 2.2 tog at best. 
It's a good idea to tell the underfloor heating system designer the type of flooring you're using so that the pipe layout can be properly specified
Can I Use Underfloor Heating With Polished Concrete Floors?
Concrete is a superb heat conductor, so polished concrete floors work really well with underfloor heating. The thermal mass of your concrete will retain heat and ensure your room stays warm for longer after your heating is switched off than would be the case with a radiator system. They are easy to pour over the pipework and they absorb and hold the heat produced well. Seek the advice of your installer before switching your underfloor heating on though —  too soon and it could crack. 
Underfloor Heating Controls
Controlling an Underfloor Heating System 
Underfloor heating system controls feature two main parts:
A digital zone control that will be used to determine the temperature of each room/area
The manifolds and valves that the zone control operates
The zone control will be placed somewhere where the homeowner can make adjustments, while the underfloor heating manifolds will be placed out of the way – under the stairs or in a cupboard – so as to be unobtrusive.
There is no regular maintenance regime associated with underfloor heating, but if things do go wrong, it will typically be with the heating control systems rather than the system itself.
(MORE: Underfloor Heating Manifolds)
Finding a Supplier
Choosing the Right Underfloor Heating Supplier 
Ultimately, the efficiency and success of an underfloor heating system will depend on the quality and design. Choosing a supplier who offers a good design service and aftercare is important. A specialist underfloor heating company is often best placed to achieve this.
If the design is wrong it is unlikely that the homeowner will know until they have lived in the house for a whole heating season — by which time it might be too late.
Finally, if you are choosing to pair underfloor heating with an air source heat pump or ground source heat pump, it is a good idea to choose one supply and install company. Both are complex systems and getting the whole heating system to work in perfect harmony can be tricky.
Tim is an expert in sustainable building methods and energy efficiency in residential homes.
Homebuilding & Renovating Newsletter
Get the latest news, reviews and product advice straight to your inbox.
Thank you for signing up to Homebuilding. You will receive a verification email shortly.
There was a problem. Please refresh the page and try again.