Oak Frame Extensions: The Expert Guide
By Claire Lloyd published
An oak frame extension not only gives your home extra space, it also brings charming character to your property. Here's everything you need to know when opting to extend in oak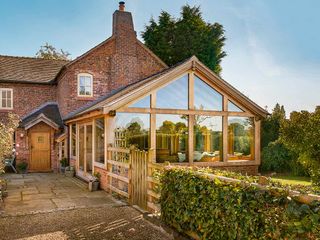 (Image credit: Oakwrights)
Oak frame extensions come in a variety of styles, but always deliver on bringing the warmth and character of this natural material to your home.
For this reason, choosing to build with an oak frame is considered a premium option, so it's important to do your research and work with the right company to perfect your extension project.
With the right plan in place, an oak frame extension has a lot of benefits to offer your build. This guide takes a look at the key considerations when extending with an oak frame, not only in the practicalities such as costs and planning, but also in marrying your new addition to the existing house.
What are the Benefits of an Oak Frame Extension?
A big part of oak frame's appeal is its flexibility — from barn-like additions to Tudor-style extensions and oak frame conservatories, this construction system can be used to create a wealth of different styles.
On this note, oak frame extensions also suit a range of properties — from period cottages to post-war homes.
Another huge draw is the texture and character oak brings to a new extension.
Oak frame extensions can be quick to build as, unlike on-site methods of construction like masonry, the majority of the oak frame structure is prefabricated off-site.
Oak frame construction also provides the opportunity to create architectural features, such as vaulted ceilings and glazed gable ends, with relative ease.
Designing an Oak Frame Extension
Approaching an oak frame company who can provide an in-house design service, or an architectural practice with experience designing timber extensions, is typically the most cost-effective route. They will have working knowledge of the possibilities, challenges and limitations of this construction system — meaning you will not need to rework your design at a later date to accommodate the oak frame.
As with any new extension, the connection to and impact on the existing house requires thought. Extensions which are subservient but draw their cue, in terms of design and materials, from the existing house, tend to work best.
Finally, one clever way of making a new extension feel instantly at home is to introduce oak to the main house.
"We recommend that you include some other oak frame elements to the house if possible – such as an oak porch or an internal glazed oak screen – which would help to visually tie the extension to the existing house," explains architect Mike Hope of Roderick James Architects (opens in new tab); a practice well versed in designing oak home buildings.
Is Planning Permission Required for an Oak Frame Extension?
As with any extension, regardless of construction system, an oak extension must comply with planning rules. Fortunately some extensions do not need planning permission — the work could fall under Permitted Development.
"It is very important to speak to the planning authority regarding size, style and specific requirements and policy restrictions — some extensions may not actually need planning approval but some houses will have lots of conditions and restrictions," recommends Border Oak (opens in new tab)'s Merry Albright.
How to Build an Oak Frame Extension
Most homeowners will work with a specialist oak frame company to build their extension. This company may design and supply the frame; they may also provide the 'encapsulation' system.
Traditionally, the frame would have been infilled with wattle and daub, or brick. Today, the oak frame is encased within a system such as SIPs (structural insulated panels) or timber panels. This allows extensions to meet Building Regulations standards for thermal efficiency.
This encapsulation system also means that extensions can be clad in a variety of materials. This means an oak frame extension can still be an option in a stone belt region where the planners may insist on a local stone cladding, for example.
Render and timber cladding are also options, so is brick (although heavier claddings such as brick and stone often have to be built off their own foundations).
When it comes to the build, most oak frame companies will require the homeowner to commission a builder or groundworking company to complete the foundations, before delivering and erecting the oak frame on site.
Once the oak frame is constructed, the homeowner will typically have option to project manage individual trades to finish of the extension, or commission a builder to manage this process for them.
Linking an Oak Frame Extension to the Existing House
Oak frame extensions are typically built to be structurally independent. In other words, the house and extension sit next to one another – with a weathertight seal created between – so that the extension does not require structural support from the main house.
"This means that we don't need to mess around with the main building (often this is an old building and you never know what you may find). This route can offer more control over the whole project and the costs involved," says Merry Albright of Border Oak.
Another option is to create a glazed link between the two — this device visually separates old from new and helps draw light into the house.
How Much Will an Oak Frame Extension Cost?
Oak frame is considered a premium building material. "Building with oak is a little more expensive but not hugely. We advise a project cost of £2,500/m² (including groundworks through to finishing)" says Charlie Mills of GreenRooms by Oakwrights (opens in new tab).
"There are several factors that could impact on cost, such as the amount of oak used. For instance, using oak roof rafters rather than softwood would inevitably cost more," adds Charlie Mills.
The amount of glazing specified will also impact (i.e. introducing large sets of bi-fold doors, as opposed to a simple set of French doors, will add to the price). So too will factors such as the complexity of the extension and the location of the build.
Extra Advice for Building an Oak Frame Extension
Good communication between the homeowner and/or their builder, and the oak frame company is key to keeping the build on track, and ensuring that there are no long delays between the groundworks being completed and the oak frame being delivered to site and erected.
Access to the site of the extension is beneficial, as a crane is commonly used to erect both the frame and the SIPs (if used). However, where access is limited, there are solutions. "Difficult sites often involve specialist lifting equipment — occasionally the oak frame has been craned over the house, and there is lifting equipment available that can fit through the space of a garden gate," says Paul Brierley of Paragon Oak.
"Oak is a natural material and even with offers of 'dry' oak, the timber will still crack and move slightly — it's not a structural weakness, simply a feature," says Charles Mills of GreenRooms by Oakwrights.
Due to the shrinkage of the oak, glazing between the oak frame is an area that requires particular attention. A method called face or direct-applied glazing can be used to overcome this issue.
"Oak is very versatile but has some limitations with regards to spans before you need a post when you start using massive timbers," says Charlie Mills of GreenRooms by Oakwrights. "Therefore, if someone is looking for a huge span completely open with minimal posts, oak frame may not suit."
Claire became Editor of Homebuilding & Renovating in 2016 and has been a member of the team for 14 years. An experienced homes journalist, her work has also appeared in titles such as Real Homes and Period Living.
She has a particular interest in green homes, and interior design is a passion too; she has undertaken qualifications in this area.
After finishing a major renovation of a period cottage, she is now onto her next project: overhauling a 1930s property in the Shropshire countryside.
Homebuilding & Renovating Newsletter
Get the latest news, reviews and product advice straight to your inbox.
Thank you for signing up to Homebuilding. You will receive a verification email shortly.
There was a problem. Please refresh the page and try again.