Rooflights: Your Questions Answered!
By Mark Brinkley published
Rooflights are the perfect problem solver for areas of your home where light from conventional windows just won't reach. Find out more as we answer the most common questions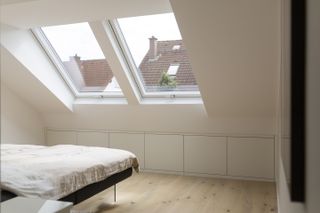 (Image credit: getty images)
Rooflights are an attractive prospect for self builders and renovators who are looking at ceiling glazing as a way to bring more natural light into their homes.
Whether used as part of an extension, loft conversion or just to upgrade an existing space, rooflights (also called roof windows and skylights) are ideal for introducing light into spaces where conventional vertical windows can't be installed, whether that's for functional or aesthetic reasons.
(MORE: Get a quote for your new windows)
In large open plan spaces, rooflights will help light reach the furthest expanses from your external wall glazing, while they're especially transformative in lean-tos and dark corridors.
Find out everything you need to know about rooflights, from planning permission and building regulations, to choosing the right style and finish for your project as we answer the most commonly asked questions.
What is a Rooflight?
Sometimes building terms can be straightforward, and the term rooflight is a good example.
A rooflight is an opening in a roof designed to let light in.
Behind the apparent simplicity of the definition lies a diverse group of products with differing purposes and very different price points, such as:
simple fixed skylights, costing a few hundred pounds at most
huge glazed openings sometimes costing as much as a small house.
They are usually manufactured by specialists who rarely produce conventional vertical windows.
Do I Need Planning Permission to Install a Rooflight?
In many cases, you can install a rooflight under your Permitted Development (PD) rights as long as it does not project more than 15cm from the roof slope.
If the rooflights would extend forward of the roof plane on the elevation fronting a highway then they are not permitted under PD.
If you live in a conservation area, then you may be required to install conservation rooflights, but it's always best to check with your local authority before you begin.
How Much Do Rooflights Cost?
Flat roofs are becoming popular again, so we are seeing a growing number of daylighting solutions designed for horizontal use.
At the basic end, a polycarbonate rooflight costs as little as £250. It can be double or triple skin and configured to open for venting.
Switching to glass roughly doubles the price but adds to the longevity. Velux carries a range of modular rooflights that can be installed in series to give a glass-roof effect.
For locations where a conventional rooflight isn't suitable, the sun tunnel is an effective alternative.
Some specialists supply bespoke glazing solutions for roofs, often combining vertical, horizontal and sloped glazing. Bespoke rooflights start at around £10,000 and have almost no upper limit.
What is a Rooflight Loft Conversion?
The pitched rooflight came of age in the 1970s when the loft conversion boom started. Before that, the main way of getting light into roof spaces was via a dormer window. They had three problems:
They are relatively expensive
They are also relatively bulky
They break through the roofline.
In contrast, planners take a more relaxed view of loft living when the existing roof shape doesn't change.
Danish company Velux popularised the pitched roof window in the 1970s and 1980s. Critically, it was possible for a carpenter to fit a Velux in a day, from the inside of the roof, thus reducing the need for scaffolding and tarpaulins.
The success of Velux played a big part in the popularity of loft conversions. There are now several other businesses offering similar products, but Velux remains the best-known brand.
What was once a relatively simple product has become more complex and could include:
collapsible balconies
escape windows
conservation rooflights for use in listed buildings
There is a wide choice of blinds and awnings, and the rooflights themselves can now be opened manually or automatically, powered either by the mains or solar cells. There is also a range of glazing options to choose from, including triple glazing for energy efficiency.
(MORE: Best Skylight Blinds)
Should I Choose a Bespoke Rooflight for my Project?
When opting for a bespoke rooflight solution from a glazing specialist, the possibilities are extensive, including:
Rooflights that are strong enough to walk on
Rooflights that are made retractable so that you can open up the room below to the elements
Rooflights configured as lanterns or even stairwells for use where the roof becomes a terrace.
Glass is being used as both a walling and roofing element, and bespoke glazing solutions are beginning to move away from the basic rooflight concept. Yet their attraction is much the same: bringing light into dark places.
How do you Stop Rooflights From Causing Overheating?
Modern double or triple glazing is so effective that people are more concerned about summer overheating from rooflights than overall energy efficiency. Summer sunshine can sometimes cause spaces behind the glass to become uncomfortably hot. This is a possibility if the rooflights face south and the room they light is relatively small.
Solutions include:
Specifying solar reflective glass, or glass with a low g factor, such as Velux's Glazing 60, which keeps the solar radiation levels down to as little as 30%. This helps but does dull the quality of the light
Using physical shading, either using removable awnings or fixed panels (brise soleil). These keep off the high summer midday sun but not the lower-angle sunlight enjoyed in the evenings and in winter.
If none of these options are possible, the best approach is to limit the ratio of rooflights to floor area to around 10%. This should provide plenty of light to the room without too much discomfort during heat waves.
Many rooflight solutions come with built-in ventilation, and this can also be deployed to even out temperature differences between inside and out.
What Frame Material Should I Choose for my Rooflight?
Ensure the material complements or matches your windows:
Metal suits period properties, barn conversions and contemporary houses. Steel (often required for barns and homes in conservation areas) or aluminium are the most common options
Timber is popular, but getting onto the roof to maintain the timber can be tricky. Consider timber-aluminium composites, which offer the look of wood inside but are lower maintenance outside
PVCu is a low-maintenance option, but it will not provide the slim frames that metal is capable of or the natural look of wood.
Whatever the material, rooflights must be fitted to allow water to drain away. Weather-resistant flashings can be visually obtrusive but are essential to avoid leaks. Ensure they complement your roof as closely as possible.
Can I Install Rooflights in a Conservation Area?
Strict planning laws often prevent the insertion of new openings in cases such as barn conversions.
(MORE: Planning Permission)
Matthew Slocombe of the Society for the Protection of Ancient Buildings advises: "Sympathetic detailing is likely to be a planning condition, especially if the barn is listed or in a conservation area. New openings should generally be kept to a minimum and should be of a simple form that respects the farm building's character."
Paul Trace, director of Stella Rooflight, adds: "In this situation a conservation rooflight would be required as they are especially designed with a low profile. This means the rooflight will sit flush and not detract from the character of the building.
"Steel conservation rooflights are ideal as they are made specifically to provide slender sections which are unobtrusive."
Steel conservation rooflights are designed to replicate Victorian models that were originally designed for agricultural buildings. They also have a glazing bar. As well as many barn conversions, they are a requirement in a lot of houses that are listed or in conservation areas.
What Building Regulations Apply to Rooflights?
Rooflights need to comply with Building Regulations, with the required U value satisfied. It can be a complex area — factors that impact on the U value include:
your roof pitch
whether you're building new or replacing/adding a rooflight to an existing home
Extensive 'glass roofs' may be subject to more stringent control. Slight relaxation may be granted where the aesthetics of a rooflight are the main concern, such as on listed homes.
If your rooflights will be difficult to access, then self-cleaning glass is a good idea. The surface reacts with sunlight to break down dirt, loosening its adhesion, In turn this allows dirt to be more readily washed away by rain.
For flat rooflights installed with a shallow fall, water droplets can be eliminated by use of a coating product such as Ritec's ClearShield.
All glass used should be toughened (to prevent it from shattering if broken). If the roof is particularly high above floor level (5m+), then glass should also be heat soaked to strengthen it further.
Mark is the author of the ever-popular Housebuilder's Bible and an experienced builder. He's just finished his latest self build.
Homebuilding & Renovating Newsletter
Get the latest news, reviews and product advice straight to your inbox.
Thank you for signing up to Homebuilding. You will receive a verification email shortly.
There was a problem. Please refresh the page and try again.