Matching Materials for an Extension
By Natasha Brinsmead published
An extension that goes almost unnoticed is something to be proud of — one that ruins the rest of the house is not. Be sure yours is the former with Natasha Brinsmead's guide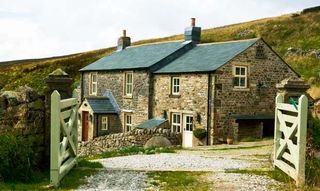 (Image credit: David Burton)
Nothing ruins a house more than a badly matched extension, but with a little research, your new space can look as though it has been there forever. There are several cardinal sins when it comes to extension design, but within this article the focus is on how to source, alter and use materials in order to get your extension to blend seamlessly with what is already there.
Your main focus when striving for a matching extension should be the materials you use for its construction – namely the bricks and roof covering (opens in new tab) – but do not overlook the details that hold them together.
Matching Bricks
Matching the new bricks to the old is where it all too often goes horribly wrong for many extenders.
There are several factors to consider when choosing a brick (opens in new tab) to match your existing:
To find a match, you have a couple of options.
Reclaimed Bricks
Salvage yards too usually have a huge stock of bricks and will be happy to provide samples. On the plus side, you might be able to source an exact match, they will have aged naturally, and will carry with them plenty of character — plus they can be sourced in imperial sizes to match the period originals.
There is the sustainable aspect of using reclaimed materials to bear in mind too, as they have minimal impact on the environment. It is also an easy way to keep the planners happy in cases where the use of sensitive materials has been specified.
If you opt for reclaimed bricks, be sure to buy from a reputable source and check the batch you are buying thoroughly. Also, make a note of the lot number you ordered before delivery, as it is not unknown for the wrong bricks to be delivered, leaving you with bricks that are a close but not exact match. Wastage with reclaims can also be an issue. In some cases up to 30 per cent are unusable, whereas there is little or no wastage with new bricks.
New Bricks
If reclaimed is not for you, then you can still get an exact match as many manufacturers offer bespoke brick matching. Most brick matching services are free and rely on a picture or sample of the old brick, giving you either exact matches or a good alternative. If it is the sustainable aspect that is important to you, consider that the majority of newly made bricks have an expected life of at least 150 years, meaning that walls built with new bricks get an A+ rating by BRE.
Then there is the quality of the reclaimed bricks. "It is unlikely that reclaimed bricks have been tested under the European Standard BS EN 771-1 for resistance against frost attack or likelihood to effloresce (when soluble salts appear on the surface," explains Mark Laksevics of York Handmade Brick (opens in new tab), and this could adversely affect NHBC and house insurance.
"There have been reports of reclaimed bricks carrying dormant dry rot spores which become active when the brick is put to use." There is also the matter of supply. Reclaimed bricks are often only available in limited numbers, unlike new bricks, and therefore making it difficult to find a match for any further extension work.
Cost
Good quality, machine-made, standard-size bricks: around £350 per 1,000 for good-quality, machine-made, standard-size bricks
Handmade and reclaimed bricks: around the £700–£800/1,000 mark.
"Prices go up for specialised 2" (50mm) handmades — around 90p per brick for purpose made and well over £1 per brick for reclaims, as sourcing these can be difficult," advises Mark Laksevics.
Don't Forget
Old bricks were measured in imperial sizes, whereas modern bricks are generally metric (unless you are having them custom made and have specified in imperial).
Standard bricks these days are 215×102.5x65mm, compared to the full imperial size of 228x110x68mm.
When calculating how many bricks you will need, you should not only take this into account, but also factor in 10 percent wastage and the mortar joints, which will be 10mm for a standard stretcher bond.
Brick Tinting
Brick tinting is a useful way of matching new bricks to old, blending in a bad extension or to make new brick repairs less noticeable. Brick tinting does not mean that the bricks are painted. It is a process that uses a chemical and oxide solution, using various colour dyes that have been chosen for the individual situation.
The solution changes the original colour of the brick rather than just coating it, which means that the brick will weather naturally and that the new colour cannot fade. Some companies, such as Extension Match, offer a lifetime guarantee on the service.
In addition, tinting can be used on stone, roof tiles and even mortar. You could also choose to carry out the brick tinting on a DIY basis — companies such as Bebbington Brick (opens in new tab) (whose work you can see above) sell kits containing everything you need for around £40, although this is more suited to smaller projects.
Matching Mortar
If you have spent the time and extra effort getting an exact match for your bricks, do not go and ruin it all with the wrong mortar. It is amazing how wrong new and different mortars can look sitting next to old mortar.
If the existing mortar is crumbling or in need of replacement, then you will in some ways find yourself in an easier position as the whole thing can be repointed (opens in new tab) using the new mortar. If, on the other hand, the mortar in the existing part of the building is sound, it can seem a bit of a waste of time to take it all out and repoint just for the sake of matching the new.
Some mortar specialists will match your original if you send them a sample, whilst others can carry out a complete chemical testing process to find out exactly what the existing mortar is made up of to ensure an exact match — although this will cost you around £200.
If the original section of your home uses lime mortar, then you would be sensible to ensure the extension does too. If not, then ensure you look at plenty of samples of what your new mortar will look like once dry in order to get a good match. And, if you are still not happy once the work has been carried out, the same companies who offer brick tinting services often also offer mortar tinting.
Matching Rooftiles
As with brick, replica rooftiles can also be made to order and reclaimed tiles are widely available, although some roofers refuse to lay them, claiming it's a time consuming job where hairline cracks that were previously invisible can cause a lot of wastage and slipped tiles later down the line. You should also be aware that if you are planning on mixing new tiles with old or reclaimed tiles, their guarantee may be compromised. Remember, it is impossible to know how much life a reclaimed tile has.
It is possible to source tiles to match originals by looking for a manufacturer mark on the back of the tile — often giving the design and age of the tile, making it easier to find reclaimed tiles from a roofing or salvage merchant. Be aware though that while reclaimed tiles have a weathered appearance, they may still not exactly match your originals if they have been positioned at a different orientation and have more or less moss growth.
New tiles can be made to look old using stains and sprays, but it is important to remember they will naturally weather over time. Applying a coating of a nutrient such as skimmed milk or yogurt, liquid tomato fertiliser or liquid cow manure can also help speed up the growth of moss and lichen to help the new tiles blend in with the old. It is also worth noting that when it comes to rooftiles, a slight difference between the new and old is far less noticeable than with bricks as they are viewed from further away.
Matching Stone
Stone extensions can be even harder to match to the existing property than brick. Being a natural product, stone obviously has variations in colour and tone, and if the building was built some time ago it will be very hard to achieve the same texture and weathered effect as the original. Unlike bricks, stone cannot be 'manufactured' to match the original, but there are a few ways to find a similar look.
Obviously using the same stone from the same quarry will be a good start, but even this does not guarantee a perfect match.
Ask your supplier to build a small sample wall to check how it will sit against the original.
You will also need to work with the stone mason to ensure the new surface texture of the stone will match — various techniques such as 'chiselling' and 'axing' all produce a different look.
You need to ensure the size and course height matches too.
Having the original stone cleaned back to its original colour will also help.
Finally, if you are still worried, it might be best to build something completely contrasting — stone buildings look great teamed with glass, render and timber cladding.
Instant Ageing
In days gone by, all sorts of tricks were tried in order to give new bricks an aged appearance. Favourites included applying diluted cow dung, yogurt and horse urine. Later, people tried to replicate carbon deposits on bricks using colour washes made from soot.
And, whilst they may well have worked, after a few heavy rain showers, well, where did that horse urine go?
Useful Contacts
Brick Matching:
Rooftiles:
Natasha is Homebuilding & Renovating's Associate Editor and has been a member of the team for over two decades. An experienced journalist and renovation expert, she has written for a number of homes titles. She has renovated a terrace and is at the end of the DIY renovation and extension of her Edwardian cottage. She is now looking for her next project.
Homebuilding & Renovating Newsletter
Get the latest news, reviews and product advice straight to your inbox.
Thank you for signing up to Homebuilding. You will receive a verification email shortly.
There was a problem. Please refresh the page and try again.