How to Choose Pocket Doors
By Mark Brinkley published
Pocket doors are a great solution for open plan spaces and small rooms alike, but the key to getting a pocket door right is all about what's going on behind the plasterboard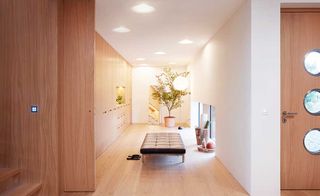 (Image credit: Baufritz)
Would your project benefit from pocket doors? Most of us specify hinged doors because they are the norm and, usually, they make good sense. But the pocket door has its place and it is worth considering what they can add when it comes to your internal doors (opens in new tab).
What is a Pocket Door?
Internal pocket doors glide into a cavity in the adjacent wall. They tend to get used where space is at a premium and where a hinged door would be inconvenient; they can also add wow factor.
Typically, a pocket door is specified where a tight space makes it difficult to open the door inwards, or where a hinged door would impede access.
Installing Pocket Doors
In order to work, you need to plan ahead and to build an encasing wall wide enough to take the door. A standard internal door is just 35mm wide, so a 100mm-wide wall will comfortably wrap itself around a pocket door. In fact, most pocket doors are housed in steel-framed kits that take the place of regular studwork.
Typically, pocket doors have an upper track only, but if you plan ahead you can have a bottom track. This gives the sliding door a robust fixing and makes it less likely to flap about when in the open position. It involves fixing the track into the floor — one way to do this is with a router in a timber floor.
(opens in new tab)
Pocket Door Kits
There are two main types of pocket door kit:
The first (cheaper) option includes the track and reinforced studs, which are built in by your builder or carpenter to support the door cavity. These kits for use with building metal or timber studwork walls
The second type typically features a steel-framed cassette that provides a self-contained pocket for the door to slide into. Plasterboard can be installed directly over the cassette
Generally, the door needs to be specified in addition to the kit. Your pocket door kit must be able to accommodate the weight, size and width of your chosen door, and vice versa.
Sticking to standard door sizes tends to be a good idea, as non-standard sizes may require a bespoke solution. What's more, lightweight, hollowcore doors are usually suitable for all systems, but this is not always the case with heavy, solid doors.
You'll usually have to specify the door lining, unless the manufacturer provides the lining kits as part of their package, and hardware as an extra, too. Among the most discreet options are finger pulls.
Configuration Options
There are several specialists offering different styles and functions: look out for Eclisse (opens in new tab), Scrigno (opens in new tab) and PC Henderson (opens in new tab). Architrave-free or flush kits are also great for contemporary homes, while soft-close mechanisms are available, too. You can get glazed pocket doors, and even pocket fire doors.
There are several novel options when it comes to configuring pocket doors:
Double doors can both slide into one cavity, or alternatively into a cavity on either side of the room
Two adjacent pocket doors, leading into separate rooms, can both use the same cavity (if a wide enough cavity is planned in from the outset)
You can even configure curved doors sliding into curved walls
Another space-saving option is to have one door sliding across two openings, typically a bathroom and a cupboard. In this case, you build a track across the two adjacent openings and hang a sliding door on it so that it either closes off the bathroom or the cupboard.
(opens in new tab)
Can You Retrofit a Pocket Door?
Installing a pocket door within an existing home is not impossible but can be a more complex task:
Existing wiring, pipework, switches and sockets, and radiators may be obstacles
Establishing whether an existing wall is loadbearing is essential when planning for a new pocket door installation. Loadbearing walls will need to propped up during the work, with the introduction of a lintel above if possible
Solid walls can pose a challenge, too. If you're not undertaking major renovation works or building a new studwall, a door which slides back to sit flush against an adjacent wall can prove a good solution — so long as you have the free wall space available.
Mark is the author of the ever-popular Housebuilder's Bible and an experienced builder. He's just finished his latest self build.
Homebuilding & Renovating Newsletter
Get the latest news, reviews and product advice straight to your inbox.
Thank you for signing up to Homebuilding. You will receive a verification email shortly.
There was a problem. Please refresh the page and try again.