Vaulted Ceilings: 16 Clever Design Ideas
By Claire Lloyd published
Whether your home is traditional or contemporary in style, vaulted ceilings can enhance the look and feel of your interiors — not to mention add drama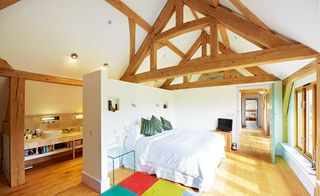 (Image credit: c/o Oakwrights)
Building a new home, extending an existing property or converting a loft can all be ideal opportunities to do something a little different with your ceilings. We're accustom to flat ceilings in our homes, but with some forward planning, vaulted ceilings can add interest and volume to any interior.
What's more, vaulted ceilings can add wow factor to double and single-storey spaces alike. And, from curved to angular shapes, vaulted ceilings can also suit both contemporary and traditional homes. Here, we explore some of the clever ways you can employ this architectural feature in your home.
1. Timber-Clad Vaulted Ceilings
Make a focal point of your vaulted ceilings by using cladding. Timber is often the material of choice here, adding texture, character and warmth to lofty spaces.
2. Maximise Glazing to Dramatic Effect
Glazed gable ends can be a great way of bringing natural light into rooms with vaulted ceilings.
3. Partially Vaulted Ceilings
Where top floor accommodation can't be left open to a fully vaulted ceiling due to restrictions on space, partial vaulting can look equally effective and add visual interest.
This idea is also a useful way of adding height in one and half storey homes.
4. Make the Most of Vaulted Ceilings with a Mezzanine Level
Mezzanines are a great way of gaining additional floorspace under a vaulted ceiling — and creating both single and double-height zones in one area. Mezzanines can be put to good use as studies, play rooms or TV snugs.
5. Vaulted Ceiling Can Provide Opportunity to Introduce Light from Above
Vaulted ceilings can provide an ideal means of introducing natural light from above. Installing rooflights or structural glazing in a vaulted ceiling are two ways of achieving this.
6. A Clever Loft Conversion
Creating extra space within a home is often a top priority for many homeowners, which is where vaulted ceilings can prove beneficial.
This partially vaulted ceiling creates the illusion of space in the living room, while providing scope for a further bedroom to the other side.
7. Rafters and Trusses Lend Character
Exposing elements of the roof structure, including the trusses and/or rafters, can add character to a home. This works particularly well beneath lofty double-height vaulted ceilings, but can also work beneath in single-height rooms, as this example goes to show.
8. Exposed Building Materials Can Add Interest
It's not just the rafters that can be exposed: steel ties can look extremely effective, and give contemporary and traditional interiors alike an industrial-style edge.
9. Vaulted Ceilings Can Create Height for a Feature Fireplace
A great design idea for making the most of high vaulted ceilings is the inclusion of a feature fireplace.
10. 'Pods' Can Add Privacy in Large Vaulted Spaces
Large spaces with tall vaulted ceilings are great, but what if you want to create more intimate, cosy areas beneath?
Pods and/or dividing walls can help zone areas, without fear of losing the beautiful vaulted ceiling above.
11. Vaulted Ceiling Can be Used to Create Galleried Landings
A galleried landing beneath a double-height vaulted ceiling can add real wow factor upon entering a home.
12. Vaulted Ceiling Can Help Zone Open Plan Spaces
Designing in different height and shaped ceilings can help zone open plan spaces. In this spacious kitchen diner, a vaulted ceiling helps delineate the kitchen from the dining area.
13. Vaulted Ceilings Can Add Head Height
Think vaulted ceilings are for big, lofty rooms only? Think again — vaulted ceilings can be a useful feature for smaller rooms, or those with limited head height.
14. The Bridge Landing
Barn conversions can often boast voluminous vaulted ceilings, but providing access to rooms above can prove troublesome. Designing in a 'bridge' landing can prove the perfect solution for linking the first floor accommodation within a dramatic vaulted space.
15. Vaulted Ceiling Can Add Drama to Bathrooms
Vaulted ceiling should not simply be the reserve of your main living spaces. They can work well in bathrooms — with areas which need less height head (i.e. above the bath) being accommodated beneath the eaves.
16. Built-in Storage Works Well Beneath Vaulted Spaces
One of the challenges associated with vaulted ceiling is furniture and storage — off-the-shelf furniture does not always suit such spaces. Built-in, bespoke storage solutions will help you maximise potential in rooms with vaulted ceilings, however.
Claire became Editor of Homebuilding & Renovating in 2016 and has been a member of the team for 14 years. An experienced homes journalist, her work has also appeared in titles such as Real Homes and Period Living.
She has a particular interest in green homes, and interior design is a passion too; she has undertaken qualifications in this area.
After finishing a major renovation of a period cottage, she is now onto her next project: overhauling a 1930s property in the Shropshire countryside.
Homebuilding & Renovating Newsletter
Get the latest news, reviews and product advice straight to your inbox.
Thank you for signing up to Homebuilding. You will receive a verification email shortly.
There was a problem. Please refresh the page and try again.