17 Brilliant Rear Extension Ideas
Rear extension ideas come in all shapes and sizes and can dramatically increase both space and value in any home — take a look at what achieved on a variety of budgets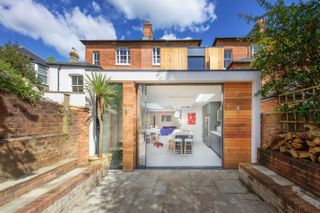 (Image credit: Martin Gardner)
When searching for inspiring rear extension ideas it's always wise to keep in mind what might fit your budget, house style and, most importantly, your lifestyle.
Building an extension is a great way to add value to your home, but they also work wonders in transforming an uninspiring house into something which works for every member of the family living in it.
These incredible rear extensions have been added to houses of all types, from semi detached brick properties to detached period homes. Steal ideas, adapt layouts and learn top tips from our range of stunning projects, big and small.
1. A Light-filled Rear Extension Idea
An increase of natural light, be it through fixed windows or new patio doors, will make a rear extension connect more readily to the garden.
This extension to a detached house features bifold doors – with in a solar reflective coating to prevent over-heating – and a double-height glazed atrium to stunning effect.
Build cost: £83,300
Location: Cornwall
VISIT THE HOMEBUILDING & RENOVATING SHOW
Need more advice or inspiration for your project? Get two free tickets to the Homebuilding & Renovating Show
2. A Modern Rear Extension Idea Transforms This Semi Detached House
Semi-detached houses are prime candidates for contemporary extensions, as they act somewhat as a blank slate and usually have a decently sized garden.
Georgia and Matt Blundell made the most of their sloping site by incorporating a cosy dining pit and outdoor kitchen into the garden. Designed by Georgia in the main with Matt's help as a chartered surveyor, the extra side return extension needed full planning permission and a party wall agreement to be built.
Build cost (including renovation work): £343,000
Location: London
3. A Rear Extension Can Make the Most of a Floorplan
Whether you're extending for a social family room, a to-die-for kitchen, an indoor-outdoor sitting area, or all three combined, it's important to consider the effect a rear extension will have on the floorplan of the whole house.
The key is to find an architect who understand the house and what your lifestyle requires from it so be sure to think ahead for a detailed brief — and remember to not neglect the existing house by only focussing on the new spaces.
This two storey rear extension and renovation of an old schoolhouse was designed by ArkleBoyce Architects.
Build cost: £220,000
Location: Yorkshire
4. A Single Storey Rear Extension is a Great Idea for a Wow-factor Kitchen
The perfect kitchen extension has completely changed this semi-detached house. Dani Ellis created an open-plan living, kitchen and dining area with a cosy snug (painted in a daring dark blue).
When the sliding doors are pulled back the attention to detail by Dani – including the matching porcelain flooring in the kitchen and patio area and 'exposed' brick slips on the wall – makes all the difference when creating a connection with the outside.
(MORE: Take a look at these great ways to bring the outside in)
Build cost: £225,000
Location: Hertfordshire
5. A Rear Extension is a Great Idea for a Bungalow
Despite having planning permission to build a new two-storey home on the plot, Sally and Alistair Campbell chose to reduce embodied carbon and extend their dated bungalow.
A rear extension built using cross laminated timber (CLT) was paired with solar PV panels and a new insulated envelope around the existing building.
Build cost (including renovation): £454,000
Location: Edinburgh
6. A Small Rear Extension Idea Creates a Big Impact
A small extension has given this Edwardian flat a new lease of life. The variety of window styles (including rooflights, picture window and bifolding doors) make the space feel light, bright and modern.
Build cost: £110,000
Location: London
7. Double-Storey Rear Extension Ideas Can be Great Cost-effective Options
Outgrowing their Victorian Terrace, Rebecca and Tom Carter added an open-plan rear extension and a timber-clad cube on the first floor.
Double-storey extensions can be more cost-effective than just adding to the ground floor and a new bedroom or bathroom can dramatically increase a house value, so it is always worth considering.
Build cost: £250,000
Location: Hampshire
8. A Budget Addition to a Semi Detached Home
Thanks to a new kitchen extension, this formerly cramped 1930s semi-detached home now offers the family with much-needed additional space. The crisp white render and modern glazed openings create a clear distinction between old and new.
Build cost: £40,000
Location: Nottingham
9. Go Out and to the Side in a Terrace House
Terrace houses frequently had a wasted strip of space to the side which can be the perfect opportunity to create some extra room while extending at the back.
When renovating their once derelict HMO (house of multiple occupation) terrace into a modern family home, Sayu and Sharon Sinha added high quality features like home automation and extensive glazing to make the most of the house.
Build cost (with renovation and loft extension): 550,000
Location: London
(MORE: How to extend and remodel terraced homes)
10. Combine a Rear Extension Idea with a Loft Conversion to Completely Transform Your Home
A small house extension might be all that is required on the ground floor to make the most of existing living spaces.
This semi detached home also benefits from a loft conversion to add an extra bedroom.
Build cost (kitchen extension only): £79,000
Location: Leeds
11. Don't be Afraid to Remodel Your Home's Interior to Make the Most of Your Rear Extension Idea
Knocking through, split levels, and different ceiling heights can all be messy and inconvenient part of extending. However, this terrace extension masterfully uses those features to its interior advantage, linking old and new while creating a distinct identity for the new space.
Build cost (including loft conversion): £130,000
Location: London
12. A Double Storey Rear Extension Idea Will Add Instant Kerb Appeal
This grey rendered blockwork ground floor extension supports a timber frame extension 'box' above and completely rejuvenates the existing 20th century house.
Build cost: £175,000
Location: Hampshire
13. Be Sympathetic With Your Rear Extension Idea if You Live in a Period Home
Sometimes a condition of gaining planning permission, matching materials to an existing building can be a tricky yet rewarding venture.
The sympathetic oak frame extension, with reclaimed triple Roman clay tile roof, offers a new family sunroom to this stone cottage.
Build cost: undisclosed
Location: Bath
14. Going Bold with Your Rear Extension Idea
An absolute show-stopper, this rear single-storey addition to a London flat in a conservation area has been clad in a pre-coloured dark zinc. The rear extension generously provides spacious living areas while not removing too much of the garden.
Build cost: £240,000
Location: North-west London
15. A Dramatic Bungalow Extension Remodel
This 1930s dormer bungalow has been transformed into a stunning chalet-style home thanks to a series of rear and side additions. New timber cladding and render give a fresh face to the previously dated exterior.
Build cost: £150,000
Location: Worcestershire
16. An Amazing Cantilevered Wing Extension
As part of the conversion of the stone barn on site, a dramatic cantilevered timber-clad bedroom wing extension has also been added to create the space the homeowners need and create a clear separation between living and sleeping quarters.
Build cost: £350,000
Location: Northern Ireland
17. An Extended Barn Conversion
Built of and clad in CLT with frameless glazed openings, this lateral extension spans the rear of the site, consequently reorientating the outlook of the existing Grade II-listed barn, to make the most of the garden views.
Build cost: £250,000
Location: Hampshire
(MORE: Want an extension that breaks the mould? Check out these radical designs)
Does my Rear Extension Idea Need Planning Permission?
Under Permitted Development, houses can be extended up to 8m from the original rear wall of a property on a detached home, or up to 6m on a semi detached or terrace home.
Permitted Development currently only pertains to houses not in a conversation area or those restricted by Listed Building Consent, so it's always best to check with your local planning department before beginning any work.
These measurements apply to single-storey extensions only, but some two-storey additions are allowed too.
If you plan to extend outside of PD parameters, then planning permission will be required.
If you qualify for Permitted Development you will need to undergo a prior approval process for larger extensions called the Neighbourhood Consultation Scheme. Building work involving shared boundary walls will also need to comply with the Party Wall Act and it's best to apply for a Lawful Development Certificate.
As a general rule of thumb, works carried our under Permitted Development will be expected to be clad in the same material as the existing dwelling. This must be done carefully, perhaps requiring you to source reclaimed materials to get a good match, or tint the bricks for a seamless look.
Alternatively, you could design an addition in a contrasting style. This makes a statement and can be easier to achieve success with than trying to match old and new.
Get the Homebuilding & Renovating Newsletter
Bring your dream home to life with expert advice, how-to guides and design inspiration, direct to your inbox.
Assistant Editor Amy began working for Homebuilding & Renovating in 2018. She has an interest in sustainable building methods and always has her eye on the latest design ideas. Amy has interviewed countless self builders, renovators and extenders about their experiences for Homebuilding & Renovating magazine. She is currently renovating a mid-century home, together with her partner, on a DIY basis, and has recently fitted her own kitchen.