15 Rear Extension Design Ideas
If you are looking to add space to your home, a rear extension might be the easiest to accommodate from a planning and spatial point of view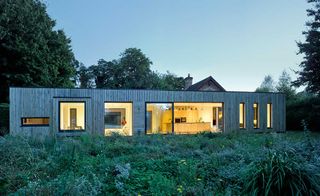 (Image credit: James Morris)
If you're looking to add value as well as extra space to your home, then a rear extension may be the project for you.
If you are carrying out your work under Permitted Development, you will be expected to build in the same material as the existing dwelling. This must be done carefully, perhaps requiring you to source reclaimed materials to get a good match, or tint the bricks for a seamless look.
Alternatively, you could design an addition in a contrasting style. This makes a statement and can be easier to achieve success with than trying to match old and new.
Here, we take a look at some of the finest examples of rear extensions in recent times.
(MORE: Need a quote for your own extension project?)
Do I Need Planning Permission for a Rear Extension?
If your home is not in a conservation area or restricted by Listed Building consent, you may find your rear extension falls under Permitted Development.
This means that you can extend up to 8m from the original rear wall of your property on a detached home, or up to 6m on a semi detached or terraced home. In either case, your extension must not be higher than 4m. There are further restrictions if your project is to sit within 2m of a boundary (in this case the eaves must not be higher than 3m).
These measurements apply to single-storey extensions only, but some two-storey additions are allowed too.
1. A Striking Clad Extension
This grey rendered blockwork ground floor extension supports a timber frame bedroom 'box' above.
Build cost: £175,000
Location: Hampshire
2. A Sensitive Extension
A contemporary-style addition clad in western red cedar contrasts with this original Grade II-listed cottage.
Build cost: £175,000
Location: Hampshire
3. An Extended and Renovated Cottage
A new glazed space to a traditional whitehouse croft, provides a kitchen and utility room filled with natural light.
Build cost: undisclosed
Location: Isle of Skye
4. A Modernist Addition
A cantilevered timber-clad roof appears to float on clerestory windows set above a white rendered wall on one side, and sliding doors on the other.
Build cost: undisclosed
Location: Denbighshire
(MORE: Thinking about a single storey extension? Here's what you need to consider)
5. A Listed Stone Cottage Extension
The sympathetic oak frame addition, with reclaimed triple Roman clay tile roof, offers a family sunroom.
Build cost: undisclosed
Location: Bath
6. An Extended Farmhouse
Two new structures, clad in timber and Cor-ten steel, are linked to this old farm building with a glazed corridor.
Build cost: £355,800
Location: Inverness-shire
7. An Extended 1950s Home
This large rear addition incorporates a spacious kitchen diner and separate open plan living room, which open on to a patio.
Build cost: undisclosed
Location: Cardiff
8. A Glazed Kitchen Addition
This single-storey kitchen extension opens onto the garden with powder-coated bifold doors from Origin.
Build cost: £120,000
Location: West Midlands
9. A Zinc-Clad Rear Extension
This rear single-storey addition to a London flat in a conservation area has been clad in a pre-coloured dark zinc.
Build cost: £240,000
Location: North-west London
10. A Frameless Glass Extension
Using contemporary frameless glass, a new bright open plan kitchen/dining/living space has created, which opens on to the rear garden without impacting on the traditional brick shell of the building.
Build cost: £400,000
Location: Hampshire
11. A Dramatic Remodel
This 1930s dormer bungalow has been transformed into a stunning chalet-style home thanks to a series of rear and side additions.
Build cost: £150,000
Location: Worcestershire
(MORE: If you're thinking about adding a two storey extension, make sure you read this first)
12. A 1950s Home Extended
This 1950s home has been opened up thanks to a rear extension which houses a new kitchen diner that connects with the garden through bifold doors. The addition has been clad in white render to contrast against the existing brick building.
Build cost: £95,000
Location: Bedfordshire
13. A Budget Addition
Thanks to a new kitchen extension, this formerly cramped 1930s semi-detached home now offers the family with much-needed additional space. The crisp white render and modern glazed openings create a clear distinction between old and new.
Build cost: £40,000
Location: Nottingham
14. A Cantilevered Wing
As part of the conversion of the stone barn on site, a dramatic cantilevered timber-clad bedroom wing extension has also been added to create the space the homeowners need and create a clear separation between living and sleeping quarters.
Build cost: £350,000
Location: Northern Ireland
15. An Extended Barn Conversion
Built of and clad in CLT (cross-laminated timber) with frameless glazed openings, this lateral extension spans the rear of the site, consequently reorientating the outlook of the existing Grade II-listed barn, to make the most of the garden views.
Build cost: £250,000
Location: Hampshire
(MORE: Want an extension that breaks the mould? Check out these radical designs)
Get a Quote for Your Own Extension Project
Homebuilding.co.uk partners with the UK's best extension specialists to match your requirements with their services. 
Simply answer a few questions on what you need from your extension and we'll put you in touch with a suitable partner.
How It Works
1. Enter your details below. Tell us a bit about your project and what you are looking for, and leave some contact details.
2. We search our database. We'll match your requirements with the products and services that our partners offer.
3. Partners will contact you. Don't worry about being bombarded - only the suppliers that match your requirements will contact you.
Homebuilding & Renovating Newsletter
Get the latest news, expert advice and product inspiration straight to your inbox.
Thank you for signing up to Homebuilding. You will receive a verification email shortly.
There was a problem. Please refresh the page and try again.