Cladding Alternatives: New Options for Your Home
By Claire Lloyd published
Looking for cladding for your new house, renovation project or extension? We give you the newest and most innovative products around.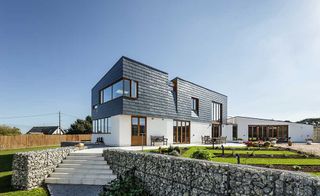 (Image credit: Simon Maxwell)
Cladding doesn't have to mean a choice between brick, stone, timber or render. Whilst these materials remain popular options, there are now some cladding alternatives on the market which are well worth considering.
Using Corian for Exterior Cladding
Corian is a composite material (a blend of natural minerals and acrylic polymer) that is often used for worktops (opens in new tab), but can also be used as an exterior cladding method.
It comes supplied as large panels that can be built up to achieve any shape or form required. The panels are fixed to provide a ventilated facade that allows for thicker levels of insulation (opens in new tab) and can also be used on renovations to improve upon existing insulation levels.
The material is:
durable
long lasting
resistant to humidity
resistant to fungi and bacteria
UV stable
Corian panels use a mechanical fixing system based on an aluminium grid system, mounted on aluminium squares connected to the substrate. They can be installed by cladding contractors or professional cladding installers.
High Pressure Laminate
High Pressure Laminate (HPL) is a material which consists of 70% wood fibre and 30% resins.
According to Trespa, HPL has two key benefits over timber cladding:
it requires no routine maintenance
it won't fade. (The Meteor panels have a global guarantee for 10 years, but in the UK climate, can last more than 20 years with no change in colour)
Although wood effect panels are popular, HPL isn't restricted to wood lookalikes — there is a large choice of other colours and finishes, including a metallics range.
For those after cladding boards as opposed to panels, Trespa's Pura planking system is well worth a look. This comes as preformed planks, available in flush and overlapping finishes and can be installed either vertically or horizontally.
A typical installed price for the complete Pura system would be approximately £130/m², including materials and labour.
Porcelain Tiles as Cladding
Tiles have long been used as an exterior cladding material in many parts of the world, although this is a relatively new system in the UK.
In addition to internal tiles, Porcelanosa (opens in new tab) now produce facade cladding systems, in conjunction with their high-tech division, Butech.
The substrate is prepared before being clad with porcelain tiles, using mechanical fastenings as an extra form of reinforcement along with suitable adhesives, before being grouted, with a minimum 5mm joint.
Customers can choose between a bonded facade or a ventilated facade, with the ventilated facade being the more expensive of the two.
Timber Cladding Finishes
With the continued popularity of timber as a cladding material, products which enhance its natural beauty and protect it from the elements are constantly being developed.
Sioo (opens in new tab) has come up with siOO:X, an environmentally-friendly, water-based wood protection system.
The treatment promises to give protection against:
uneven, patchy weathering and discolouration
algae, fungus, spore and surface rot
splintering and curling of the timber's surface
A wood protector is first applied to penetrate the fibres of the cell walls of the wood, where it forms a network of silica crystals to create a barrier which is bonded to the surface. The surface protector is then applied, binding with the wood protector to prevent water penetration.
As the mineral silicate cures over time it starts to turn the timber an even silver/grey tone within around 10-16 weeks. SiOO:X Mid Grey and Light Grey versions have been developed to give an immediate and long-lasting colour specifically for use with sawn surfaces and are only available as factory-applied coatings.
Both parts of the treatment are available from Russwood (opens in new tab). 250ml sample pots cost from £6.00.
What is Shou Sugi Ban Timber?
Shou Sugi Ban (opens in new tab)is a charred timber cladding. It is produced through the ancient Japanese technique of charring timber and no two boards will be the same, producing a highly individual appearance.
It is currently enjoying huge popularity amongst self-builders and renovators alike, offering a rich and dramatic appearance, full of character.
Benefits of Shou Sugi Ban include:
natural protection from UV rays
extremely tough and durable end result
resistant to fire and pests
Yukari is a new type of Shou Sugi Ban — being 100% FSC and with new textures to those previously seen. With a smooth, sanded surface, Yukari has a unique contemporary appearance that can really enhance both period properties as well as being suitable for contemporary new builds.
Available through James Latham (opens in new tab) and manufactured exclusively by Shou Sugi Ban.
The Yukari range costs from approx. £125/².
Is Glass a Suitable Cladding Alternative?
Glass reinforced concrete (GRC) is a high-strength material which can be made into thin cladding panels. As the name suggests, it is made from concrete, reinforced with glass fibre — creating a rust-resistant, lightweight material.
Low-Maintenance Fibre Cement
Fibre cement cladding is not only low maintenance, but it can also look great. It withstands corrosion and so is great in coastal areas. A product such as Cedral's (opens in new tab) fibre cement profile sheet has a life expectancy of around 50 years too.
Developments in Timber Cladding
Timber cladding (opens in new tab) is now available in many more profiles that the traditional ship-lap and featheredge. A popular way to use it now is in narrow profiles, with some being pre-mounted on larger panels for ease of installation.
Additionally, owners of contemporary homes are now often opting for vertical as opposed to horizontal cladding, or a combination of the two.
Brick Cladding Options
Brick (opens in new tab) has always been a popular cladding choice for its ready availability and low maintenance. But contemporary brick-clad builds are moving away from reds, browns and yellows, towards a more monochrome palette.
Bricks which are considerably longer and narrower than the standard format have seen a resurgence in contemporary design, with brick manufacturers introducing products to suit.
Claire became Editor of Homebuilding & Renovating in 2016 and has been a member of the team for 14 years. An experienced homes journalist, her work has also appeared in titles such as Real Homes and Period Living.
She has a particular interest in green homes, and interior design is a passion too; she has undertaken qualifications in this area.
After finishing a major renovation of a period cottage, she is now onto her next project: overhauling a 1930s property in the Shropshire countryside.
Homebuilding & Renovating Newsletter
Get the latest news, reviews and product advice straight to your inbox.
Thank you for signing up to Homebuilding. You will receive a verification email shortly.
There was a problem. Please refresh the page and try again.