Glass Link Extensions: 10 Ways to Get This Feature Right
By Darren Bray , Natasha Brinsmead published
Glass link extensions are not only striking design features for any style of house — they also serve a practical purpose. We show you how to get them spot on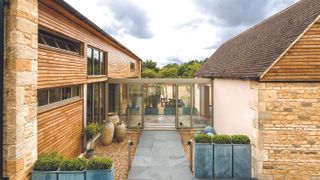 (Image credit: Simon Maxwell)
Glass link extensions make stunning additions to all kinds of house styles, from super contemporary properties to period houses, as well as conversions.
A glass link is one of the best ways to approach a number of design dilemmas. Perhaps you're linking a detached garage, an outbuilding or a barn to an existing property or you're building an extension but need to link the old and new due to the position of the new extension.
Designing a link that seamlessly stitches two structures together, is no easy task, however, so what do you need to know to get it right?
Covering design, structural and practical implications, our guide is here with the top 10 ways to ensure your glass link extension is a sparkling success.
1. Hide the Frame When Creating a Glass Link Extension
To get a glazed link extension right you need to consider how it will be installed. The best solutions are those that allow you to conceal the link's supporting frame so that the glass appears to be the only thing present.
This is achieved by slotting the glass panes into a steel or aluminium frame, and fixing them in place with structural silicone. Ideally, a really sleek look should be created by concealing a channel within the adjacent structure that hides the frame. You then slide all glass sheets and connections into this channel and structural silicon fixes it in place.
You can use bolted connections but structural silicone is the typical practice used by specialist glass suppliers. A good structural engineer will know how to do this.
2. Use a Glass Supporting Structure
Steel or aluminium framing is a standard way of supporting the glass, but if your budget allows, you could use glass as a supporting structure instead. This would allow you to deliver a completely seamless, elegant glass box — walls, roof and supporting elements.
There are many examples of glass being employed structurally as both beams and columns. Whether you can go this route will depend on the structure the glass will be 'stitching' to.
In some instances your structural engineer will be able to design a way to slide the glass into the structure. The key here is making sure that the glass and the structure it's set into can move independently of one another so that there are no issues with differential movement. In most cases a material such as structural silicon will allow for this to take place.
3. Use Laminated Glass
There is always an interesting debate about which type of glass to use: toughened vs laminated.
Laminated is glass that if damaged will not shatter into a million pieces and immediately fall away — it's what's used in car windscreens.
Whereas toughened glass is much stronger and will take more damage before shattering, but when it does get damaged, it will do just that — shatter.
So, laminated is preferred, in such situations. It may not be as strong as toughened glass, but it will stay in place.
4. Orientation Matters When Designing a Glass Link
If you opt for a seamless glass link extension then there are a few things to keep in mind regarding solar gain. If the space faces due south you'll need a method of controlling solar gain. This can be done by using some of the structure as shading — structural overhangs, for example.
There are also specialist solar control glass products which reduce solar heat gain, so you should discuss the options with the specialist glass supplier to see what's available to you.
Home ventilation is another option…
5. Don't Forget About Ventilation
Although a glass link is essentially just a passage from one building to another, it's still important to consider how to ventilate it. External doors, windows and rooflights are all good options. This may seem like an obvious design detail, but it's not one to overlook.
6. Cut Costs By Using Standard Sizes
While striking, a glass link can be an expensive feature to add to your home.
The most affordable glazed links will be those that span the shortest distance between new and old buildings and use standard sizes of extruded steel or aluminium rather than specialist lengths and shapes for roof pitches.
7. Design Your Glazed Roof With Care
The roof of a glazed link could be solid laminated glass or, alternatively, you could opt for an insulated lantern arrangement, which could be flat or pitched. A fully-glazed roof should never be totally flat. In order to shed water, it needs a slope somewhere between 3º and 5º.
Designing a solid roof with a central glazed roof lantern will draw light into the centre of the link. The main challenge here will be the thickness. When it comes to roofs, the easy way to get around this is to favour a flat roof with solid laminated glass. The glass specified for such a roof (or wall), is not likely, even if laminated in several sections, to be more than 75mm at the very most.
8. Improve Your Chances of Planning Permission Approval
When it comes to securing planning permission for a glass links, there's no getting around the need to work within the bounds of what your local planning authority will deem appropriate. Therefore you should have this in mind from the very start of your project.
If your house is listed, in a conservation area or an area of outstanding natural beauty, you will have to enter into dialogue with the local conservation officer. Conservation officers are there to advise and protect any heritage assets within a defined area. They will judge any proposal on its merits.
In many cases conservation officers will look favourably on pure, transparent structures like the ones we're discussing here, as they allow existing structures of historical significance to exist without any visual distraction.
9. Understand The Cost of Glass Link Extensions
Using glass for the entire structure, including beams and columns, will always be the most expensive option. If your structural engineer specifies laminated glass, which has the outer pane heat treated to make it stronger and less prone to damage, the cost would be around £1,500/m2 .
10. Consider a Low-Maintenance Glass Link
Do think about maintenance when it comes to glass links — and how you might minimise it. All that glazing will need to stay clean if it is to remain a visual asset to your home.
There are specialist coatings that can be applied to the glass to assist with maintenance and reduce the amount of residue left on the it, including a range of water-repellant applications.
Darren Bray is Technical Director of award winning New Forest practice Pad Studio. He has been a part time studio tutor at Portsmouth School of Architecture since 2007.
Homebuilding & Renovating Newsletter
Get the latest news, reviews and product advice straight to your inbox.
Thank you for signing up to Homebuilding. You will receive a verification email shortly.
There was a problem. Please refresh the page and try again.