Knocking Down Internal Walls: How to, Plus Costs and Considerations
Knocking down internal walls will create a larger, light-filled space, but how easy is it? This guide has advice, tips and a practical how-to guide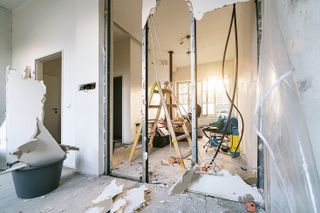 (Image credit: Getty Images/Alexander Kirch/EyeEm Eye Em)
Imagining knocking down internal walls is often top of the wishlist for a renovation property, but for those lack experience on this sort of project, it can seem a scary prospect.
First thing's first, it's not quite so easy as just taking a hammer to a wall — there's lots to consider if you want to your house to remain standing. If knocking down an internal wall is crucial to your plans for renovating a house, it might be time to get a structural engineer in to understand your options.
To get you started, expert surveyor Ian Rock is here to take you through the basics of removing walls in your home, from how to tell the difference between load-bearing and non load-bearing wall, what you need to do know about planning permission and building control, plus how much it's likely to set you back.
Plus, you can find our video tutorial for how to knock down internal walls, so you can understand the process.
Will I Need Planning Permission for Knocking Down Internal Walls?
Planning permission is not usually required when knocking down internal walls — however, there are exceptions. Although this job that commonly falls under Permitted Development this is not always the case.
If your house is a listed building you will almost certainly need planning permission.
You may well need to make a Building Regulations application too. Building control will visit you to inspect the work and, providing you fulfil the requirements, issue a certificate.
Do I Need Building Regulations Sign Off for Knocking Down Internal Walls?
In most cases, knocking down an internal wall will require Building Regulations consent, although there are times when it may not be required.
When removing internal walls, Building Regulations will usually apply if they're providing any protection in the case of a fire. Building Regulations will likely apply to load bearing walls, chimneys, fireplaces or walls around staircases, especially in the instance of a loft conversion, for example, where the walls around the staircase offer protection, allowing you to escape in the event of a house fire.
Removing these walls would require Building Regulations consent, even if they're not load bearing.
Should I Get a Completion Certificate After Knocking Down an Internal Wall?
With no completion certificate to prove that the internal wall removal work was properly carried out, problems could lie ahead.
Even if the work complies with all the relevant Building Regulations, without Building Control approval you could face complications when you come to sell on. Contact Building Control and arrange an inspection as soon as you can. The worst case scenario is that you will be asked to obtain a Regularisation Certificate, which is the equivalent to making a retrospective Building Regulations application.
This normally requires a certain amount of physical opening up of the work to establish that it is structurally sound and verify compliance; the cost of making good afterwards will be down to you.
Do I Need a Structural Engineer to Remove a Wall?
Building Control will often require you to hire a structural engineer to specify an appropriate beam or lintel, and this should be done before getting quotes from builders so they know how much to charge.
Before work begins, take into account the following:
Removing internal walls creates a huge amount of dust and debris — ask your builders to put up dust screens to contain the mess
Factor in the costs of repositioning of any radiators, switches and electrical sockets
Ensure all necessary plastering and decoration to areas of exposed masonry is included in the price
Take care not to damage original features and ensure original skirting boards are retained so that everything matches when the joinery is made good
When removing a load bearing wall, the new steel beam that will take the load it once supported will have to rest on something at each end. A small end section of the original wall (known as a 'nib') may need to be left in place
For new door openings, the upper part of the old wall will be left in situ above the new opening (known as the downstand)
(MORE: Find a structural engineer near you)
Do I Need a Party Wall Agreement to Knock Down an Internal Wall?
VISIT THE HOMEBUILDING & RENOVATING SHOW
Need more advice or inspiration for your project? Get two free tickets to the Homebuilding & Renovating Show
You will only need a party wall agreement if the removal of the wall in question will affect your neighbour's property.
In the case of many terraced or semi-detached houses, the new beams required to support the walls where walls have been knocked down may need to rest on party walls that separate your house from the neighbours'. In this case it is advisable to consult a specialist Party Wall surveyor to ensure compliance with the relevant legislation — and create a Party Wall Agreement if necessary.
In some older properties, party walls are not strong enough to support any new loadings — some were only single skin (one-brick thick or about 100mm).
If this is the case in your property, it will be necessary to build new brick piers or install steel columns to support the new beam — which could mean having to excavate small foundations internally, adding significant expense and disruption.
Can You Remove a Load Bearing Wall?
Can a Stud Wall be Load Bearing?
It is also important to note that some stud walls (timber frames covered with plasterboard) are load bearing, whilst solid masonry internal walls aren't always 'structural' — some were built as simple partition walls.
Yes you can — but only once you have taken the proper precautions and ensured that whatever load they are bearing can be supported in another way.
Load bearing walls play an important structural role in the construction of a house. Load bearing walls support another element of the house, such as the roof or a wall on an upper storey.
Non-load bearing walls, as the name suggests, carry no loads and are simply there to divide up the interior spaces into separate rooms — these are relatively straightforward to alter or remove, although care still needs to be taken.
How Do You Know if a Wall is Load Bearing?
Fact or Fiction?
Forget the myth that simply knocking on a wall to see if it sounds hollow is sufficient enough to identify a load bearing wall. Some stud walls can be load bearing and some solid walls are not.
It is always best to check with a builder or structural engineer before removing any wall. They will be able to tell you whether or not the wall is load bearing, supporting the weight of any of the following:
The roof: In older houses the roof structure often relies on support from an internal wall. More modern roofs with W-shaped roof trusses (introduced in the late 1960s) are designed to span right across the house from the main wall to another without internal support
The floor: Floor joists rarely span more than about four metres without support from an internal wall or beam. Look for nail runs in floorboards to identify the direction the joists are running in (usually at right angles to the direction of the floorboards)
Other walls: Ground floor walls often continue above as bedroom walls. However, sometimes upstairs walls are offset or supported on a beam. Most modern houses have lightweight stud walls to the upper floors
External walls: Some old houses rely on internal walls for 'lateral support', where the walls help to secure the external walls together.
When removing load bearing walls — where a wall above is being supported by the wall beneath— it is vital that a suitable lintel or beam or some other supporting structure is fixed above the new opening to ensure the loads are safely transmitted to the ground. A structural engineer will be able to calculate the type and size of lintel required.
Before any demolition work is started, the masonry above the wall must be temporarily supported while a slot is cut to take the new beam or lintel that will be required.
This slot will usually have to extend either side of the opening with a bearing of at least 150mm. To spread the load, additional support will be needed under the ends of the lintel.
Once the lintel is in place, the new opening can be cut out underneath.
Although removing non-load bearing walls is usually a straightforward job, it is still wise to consult a structural engineer or builder before you begin.
In both cases, you will need to prepare yourself for the dust and mess that will be created.
When Do You Need a Lintel?
"Specifying steel members that are safe requires expertise that will be beyond the capabilities of most self builders," says chartered structural engineer Simon Pitchers.
"A professional steel beam design from a chartered structural engineer can be purchased for a few hundred pounds. Many manufacturers of proprietary steel lintels will employ engineers who can design their products to suit specific situations. They will often provide this service free of charge, again avoiding the need for a self-builder to attempt this specialist exercise.
Visit the Institution of Structural Engineers' website to find out whether a structural engineer is needed for your project.
How to Knock Down an Internal Wall
Remember, if you're removing a supporting wall, the wall will need to undergo a number of structural investigations and tests before any demolition or remodelling can take place.
In this example, the concrete wall is made from a mixture of concrete blocks and bricks. It has electrical cables and gas pipes, and will require a large steel joist or RSJ to support the ceiling or rooms above. A structural engineer has made a recommendation for the size and strength of the RSJ which is ready to be installed once the structure ha been safely removed.
You'll need:
1. Decommission the cables and pipes in the wall to ensure they're no longer live and in use.
A lump hammer
A bolster
A kango breaker
A broom
A shovel
Wheelbarrow and rubble buckets
Spirit level
Tape measure
Steel toe cap boots
Safety glasses
Safety gloves
Dust mask
Dust sheets
Gaffa tape
Plastic sheeting
Ladder or step up
Accrow supports
Strong timber lengths
Handsaw
Drill
Crowbar
1. Make sure your rooms are protected from dust.
Spread dust sheets over your floor and tape up internal doors with plastic sheeting to ensure no dust escapes into the rest of the house. Brick dust is invasive and you'll need to minimise its spread.
2. Remove ceiling plasterboard
To access the wall, you'll need to remove some of the existing ceiling plasterboard. Cut into this with your hammer and bolster and remove around 18 inches of board right up to where the ceiling joins the wall that's being removed.
This will expose rafters, cables and pipes. Ensure all proud nails and screws are removed or hammered flush into these rafters on both sides of the wall.
3. Insert the acrow supports
Once your rafters are exposed, you'll be able to insert the acrow support bars. Lift a length of timber roughly the same size as the room into position against the rafters. Secure temporarily with a couple of woodscrews. Raise your acrows supports into position, one at each and depending on how wide your room is, one or two in the centre.
These should be exactly vertical and as tight as possible, taking the full weight of the ceiling off the supporting wall. You'll need acrows on both sides of the wall.
Position screws through the end of the acrow and into the timber for an extra precaution. You may find that the acrows lift the ceiling slightly, causing coving to split.
4. Remove door frames and architrave
You can remove any door frames and architrave if you have them. Use a handsaw to cut into the frame and then you can crowbar the frame away from the door.
5. Start removing the wall
Now we're going to start at the top of the wall structure slowly removing everything from above head height as this is the danger area. Bricks and blocks may fall onto your flooring so ensure it's covered to prevent any damage and also make sure you've got your steel toe cap boots on. Using your hammer and bolster hack away the plaster from the top of the doorway to expose the lintel. It's likely to be moulded concrete and will be extremely heavy and strong.
6. Remove the lintel
Using your Kango or your hammer and bolster, chip away all the brickwork surrounding the lintel until it's disconnected from the rest of the wall.
7. Demolish the wall
Once it's disconnected it can be lifted clear and disposed of. You'll probably need at least two people to lift and carry it away. We can now start to remove the brickwork at the top of the wall, cleaning as we go to avoid large piles of rubble. Using your Kango or hammer and bolster, you can start to demolish or remove bricks and mortar.
Working each course of brickwork, strip the bricks or concrete blocks away one by one, stripping the plaster as you go. The pipework and cables in the wall can be worked around until they're in a position to be removed. The blocks can be removed all the way down to the floor level.
8. Make space for the RSJ
Remove brickwork in the side walls to allow access for the RSJ and the pad stones upon which it sits.
Lay the pad stones down horizontally so there's room to position the RSJ, before they're flipped into a taller vertical position.
9. Lift in the RSJ
You'll need many hands for this, and one person giving instructions to control the movement and path of the joist. You should all know exactly how the joist is being moved.
Once it's sitting on the horizontal pad stones, it's then lifted again before the pad stones are flipped to raised it to the final height. Extra timber can be added to raise it even higher.
Once in position, measure the distance of the joist from both ends to the wall parallel and ensure that it's perpendicular. Use your spirit level to ensure that it's sitting level.
10. Lift RSJ against the rafters
Once in position, add further acrow supports under the RSJ, lifting it tight against the rafters where it can fully take the weight of the ceiling. Hammer wedges in any gaps between the joist and rafter.
11. Repair the brickwork
Once in position repair the holes in the brickwork, bricking it into position. Finally, re-plaster.
Do I Need to Box in the Steel?
Have you considered how the ceiling will look after the wall has been removed? When an entire load-bearing wall is removed, it is important to realise that the new supporting beam will often be visible.
There are a few ways of dealing with this but steel beams do need to be boxed in with plasterboard in order to comply with fire safety Building Regulations.
If you would prefer the look of a continuous ceiling, one common solution is to build a new suspended ceiling in order to conceal the beam.
You might also need to think about how to level a floor. In old houses, the floor heights often vary between rooms so removing an internal wall can leave it obvious that the floor levels in the newly conjoined rooms are not the same.
In the case of large differences in floor level, a split level design can become a design feature, but where the difference is small (millimetres or centimetres, for example) some floor levelling work will need to be undertaken.
How Much Does it Cost to Remove a Wall?
The costs of knocking down an internal wall do depend on the wall in question and who will be doing the work, However, for a 'typical' opening up project, removing a load-bearing wall of around 5m width, builders would typically quote between £1,250-£2,500 + VAT.
This usually comprises temporary support of the structure (through Acrow props and 'strong boy' masonry supports), demolition, building in of required padstones and supports for the new structural steelwork (rolled steel joist), insertion of the RSJ, fireproofing (typically one layer of fireboard or two layers of plasterboard), a skim coat of gypsum plaster and making good finishes at wall, floor and ceiling junctions.
Structural engineer's fees will cost £300-£500 + VAT.
How Long Does it Take to Knock Down an Internal Wall?
Assuming there are no unusual structural complication, once you have all the relevant structural calculations and approvals, removing an internal wall should take no longer than a week — although obviously this will vary depending on the size of the wall, access etc.
Removing an internal wall, along with the insertion of a joist, can be done in a day or two, while plastering of the newly exposed sections of wall and boxed in joist should take no more than another day. Finally, painting can be carried out.
Will My Home Insurance Policy Cover Removing an Internal Wall?
Your existing home insurance policy may not cover works undertaken as part of a major home improvement project, such as removing internal walls. Check before work begins to ensure you are covered.
Homebuilding & Renovating has partnered with leading insurance specialist Self Build Zone to provide bespoke solutions at market-leading rates.
Get the Homebuilding & Renovating Newsletter
Bring your dream home to life with expert advice, how-to guides and design inspiration, direct to your inbox.
Chartered surveyor Ian Rock MRICS is a director is Rightsurvey.co.uk and the author of eight popular Haynes House Manuals, including the Home Extension Manual, the Self Build Manual and Period Property Manual.
Ian is also the founder of Zennor Consultants. In addition to providing house surveys, Zennor Consultants provide professional guidance on property refurbishment and maintenance as well as advising on the design and construction of home extensions and loft conversions, including planning and Building Regulations compliance.
Ian has recently added a 100m2 extension to his home; he designed and project managed the build and completed much of the interior fit-out on a DIY basis.