Knocking Down Internal Walls: What's Involved?
By Ian Rock
Knocking down internal walls is a great way to improve the flow of your home, but it's a job that needs careful planning. Here's everything you need to know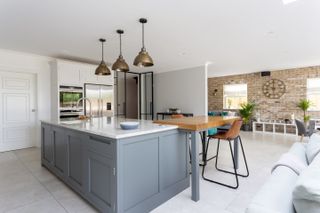 (Image credit: Higham Furniture)
Many renovators end up knocking down internal walls as part of their project as it's a great way to transform the layout of a property and improve how natural light flows throughout the space. 
But while it's a popular project, knocking down internal walls has structural implications that need to be carefully assessed before you begin to ensure that the stability of your home is not compromised. 
This guide explains everything you need to know about knocking down internal walls - from the rules and regulations you'll need to adhere to, how you can identify a loadbearing wall, how long it should take and, importantly, how much it's all likely to cost.
Rules and Regulations
Do I Need Planning Permission When Knocking Down Internal Walls?
Knocking down internal walls is not a job that usually needs planning permission as it usually falls under permitted development — meaning there is no need to submit a planning application. 
However, if your house is listed you will almost certainly need planning permission.
You may well need to make a Building Regulations application too. Building control will visit you to inspect the work and, providing you fulfil the requirements, issue a certificate.
(MORE: 23 things you can do without planning permission)
Does Knocking Down Internal Walls Need Building Regs Consent?
Before removing internal walls you will need to check whether they are currently providing any protection in the case of a fire. For example, where a loft conversion has been carried out, the walls around the staircase offer protection, allowing you to escape in the event of a house fire. 
Removing these walls would require Building Regulations consent, even if they're not loadbearing.
If you plan on carrying out a loft conversion in the future, consider that partition walls that currently separate entrance halls from reception rooms are best left intact, since they form a ready-made fire escape corridor to comply with Building Regulations.
Do I Need a Completion Certificate?
With no completion certificate to prove that the internal wall removal work was properly carried out, problems could lie ahead.
Even if the work complies with all the relevant building regulations, without Building Control approval you could face complications when you come to sell on. Contact Building Control and arrange an inspection as soon as you can. The worst case scenario is that you will be asked to obtain a Regularisation Certificate, which is the equivalent to making a retrospective Building Regulations application.
This normally requires a certain amount of physical opening up of the work to establish that it is structurally sound and verify compliance; the cost of making good afterwards will be down to you.
Could Knocking Down Internal Walls Affect Party Walls?
In the case of many terraced or semi-detached houses, the new beams required to support the walls where walls have been knocked down may need to rest on party walls that separate your house from the neighbours'. In this case it is advisable to consult a specialist Party Wall surveyor to ensure compliance with the relevant legislation.
In some older properties, party walls are not strong enough to support any new loadings — some were only single skin (one-brick thick or about 100mm). 
If this is the case in your property, it will be necessary to build new brick piers or install steel columns to support the new beam — which could mean having to excavate small foundations internally, adding significant expense and disruption.
(MORE: How to extend and remodel terraced homes)
Structural Engineers
Do I Need a Structural Engineer to Remove an Internal Wall?
Building Control will often require you to hire a structural engineer to specify an appropriate beam or lintel, and this should be done before getting quotes from builders so they know how much to charge.
Before work begins, consider the following:
Removing internal walls creates a huge amount of dust and debris — ask your builders to put up dust screens to contain the mess
Factor in the costs of repositioning of any radiators, switches and electrical sockets
Ensure all necessary plastering and decoration to areas of exposed masonry is included in the price
Take care not to damage original features and ensure original skirting boards are retained so that everything matches when the joinery is made good
When removing a load-bearing wall, the new steel beam that will take the load it once supported will have to rest on something at each end.  A small end section of the original wall (known as a 'nib') may need to be left in place
For new door openings, the upper part of the old wall will be left in situ above the new opening (known as the downstand)
Loadbearing Walls
Can Loadbearing Walls be Removed?
Top Tip
Despite what you might have been led to believe, simple knocking on a wall to see if it sounds hollow is definitely not enough in the way of investigation. 
A loadbearing wall is one that plays an important structural role in the construction of a house. Loadbearing walls support another element of the house, such as the roof or a wall on an upper storey. 
Others walls carry no loads and are simply there to divide up the interior spaces into separate rooms — these are relatively straightforward to alter or remove.
It is also important to note that some stud walls (timber frames covered with plasterboard) are loadbearing, whilst solid masonry internal walls aren't always 'structural' — some were built as simple partition walls.
How to Tell if a Wall is Load-bearing
It is always best to check with a builder or structural engineer before removing any wall. They will be able to tell you whether or not the wall is loadbearing, supporting the weight of any of the following:
The roof: In older houses the roof structure often relies on support from an internal wall. More modern roofs with W-shaped roof trusses (introduced in the late 1960s) are designed to span right across the house from the main wall to another without internal support 
The floor: Floor joists rarely span more than about four metres without support from an internal wall or beam. Look for nail runs in floorboards to identify the direction the joists are running in (usually at right angles to the direction of the floorboards) 
Other walls: Ground floor walls often continue above as bedroom walls. However, sometimes upstairs walls are offset or supported on a beam. Most modern houses have lightweight stud walls to the upper floors 
External walls: Some old houses rely on internal walls for 'lateral support', where the walls help to secure the external walls together. 
When removing structural walls – where a wall above is being supported by the wall beneath – it is vital that a suitable lintel or beam or some other supporting structure is fixed above the new opening to ensure the loads are safely transmitted to the ground. A structural engineer will be able to calculate the type and size of lintel required. 
Before any demolition work is started, the masonry above the wall must be temporarily supported while a slot is cut to take the new beam or lintel that will be required.
This slot will usually have to extend either side of the opening with a bearing of at least 150mm. To spread the load, additional support will be needed under the ends of the lintel. 
Once the lintel is in place, the new opening can be cut out underneath.
Although removing non-loadbearing walls is usually a straightforward job, it is still wise to consult a structural engineer or builder before you begin. 
In both cases, you will need to prepare yourself for the dust and mess that will be created. 
Do I Need a Lintel?
Will a Lintel be Required When Removing an Internal Wall?
"Specifying steel members that are safe requires expertise that will be beyond the capabilities of most self builders," says chartered structural engineer Simon Pitchers.
"A professional steel beam design from a chartered structural engineer can be purchased for a few hundred pounds. Many manufacturers of proprietary steel lintels will employ engineers who can design their products to suit specific situations. They will often provide this service free of charge, again avoiding the need for a self-builder to attempt this specialist exercise.
Visit the Institution of Structural Engineers' website to find out whether a structural engineer is needed for your project.
Knocking Down Internal Walls - Video Step-by-Step
How to Box in Supporting Beams
Have you considered how the ceiling will look after the wall has been removed? When an entire load-bearing wall is removed, it is important to realise that the new supporting beam will often be visible.
There are a few ways of dealing with this but steel beams do need to be boxed in with plasterboard in order to comply with fire regulations. 
If you would prefer the look of a continuous ceiling, one common solution is to build a new suspended ceiling in order to conceal the beam.
You might also need to think about floor levels. In old houses, the floor heights often vary between rooms so removing an internal wall can leave it obvious that the floor levels in the newly conjoined rooms are not the same. 
In the case of large differences in floor level, a split level design can become a design feature, but where the difference is small (millimetres or centimetres, for example) some floor levelling work will need to be undertaken.
Costs
How Much Does it Cost to Knock Down an Internal Wall?
Although quotes vary according to area and the scale of the job, use the below as a guide when budgeting.
Demolition
One-brick-thick wall - £40/m²
100mm block wall - £20/m²
Timber stud partition wall - £41/m²
Quoin up and make true the end of the wall - £65/m²
Open up a kitchen/dining room with a square opening 1.8m wide to load-bearing wall - £1,200
Plus the following:
Full removal of wall with no remaining 'nibs' - £200
To reposition a radiator - £120
To reposition two wall sockets and light switches - £200
Party Wall surveyor - £300
Form a new single door opening in an internal wall (cut opening, fit concrete lintel, quoin up jambs, fit 50x100mm softwood frame, stops and architrave, and make good finishes):
One-brick-thick solid wall - £640
Stud partition - £485
Hanging a single door - £94
How Long Does it Take to Knock Down an Internal Wall?
Once you have all the relevant structural calculations and approvals, removing an internal wall should take no longer than a week — although obviously this will vary depending on the size of the wall, access etc.
Removing an internal wall, along with the insertion of a joist, can be done in a day or two, while plastering of the newly exposed sections of wall and boxed in joist should take no more than another day. Finally, painting can be carried out.
Will I Need Specialist Insurance?
Will Removing an Internal Wall be Covered by my Existing Home Insurance Policy?
Your existing home insurance policy may not cover works undertaken as part of a major home improvement project, such as removing internal walls.
Homebuilding & Renovating has partnered with leading insurance specialist Self Build Zone to provide bespoke solutions at market-leading rates.
Homebuilding & Renovating Newsletter
Get the latest news, reviews and product advice straight to your inbox.
Thank you for signing up to Homebuilding. You will receive a verification email shortly.
There was a problem. Please refresh the page and try again.