Window Styles: Which is Right for Your Home?
The right window styles will not only transform the exterior of your home, but can also improve its energy efficiency at the same time. Here's what you need to know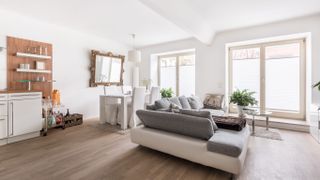 (Image credit: Getty Images)
Window styles are one aspect of house design that really can make or break a project. Whether you are renovating, extending or building from scratch, getting the style right can give your property instant kerb appeal.
These days, house façades are often more window than wall so it is highly important to take into account the thermal performance and energy efficiency of you chosen window style, not just how much natural light it will bring to the table.
This guide sets out everything you need to know when choosing the right windows for your home.
(MORE: Get a Tailored Quote for Your Windows)
What to Consider When Choosing a Window Style
When you are choosing your window styles you should consider the following:
Design: Will your windows be classic and traditional, or sleek and contemporary?
Style: Find out about the different types of casements and the what the styles bring to the table
Material: Our material guide that compares cost, durability and style
Glazing: Thermal performance and energy efficiency are now high of the priority list for many self builders and renovators
Costs: Take a look at our advice on comparing between quotes
Ordering: Think about how to order and how the lead-in times will affect your project
The golden ratio
As developed in classical architecture – is still used today as a general rule of thumb. The ratio proportions are 1:1.618 meaning a vertical sash window at 800mm wide should be 1,300mm tall
The positioning of windows will be influenced by room layouts and the shape of the house itself but the shape and type of the windows themselves should be taken into serious consideration when deciding on the exterior and interior finishes.
For instance, a contemporary, single-storey house is improved by similarly narrow, vertical windows but old cottages look odd with large glazed openings forced into thick stone walls.
How Much Do Different Window Styles Cost?
Your window costs will vary depending on the size of your project but there are a few clever ways to get some really good estimates when shopping around.
Before you chose your new window style it would be wise to decide what material you want your windows making out of. Do you want timber or steel, plastic or aluminum?
Below are the pros and cons of different window materials.
Softwood windows:
Costs: £6,000-£15,000, less if 'DIYed' on site
Pros:
Nothing can beat the tactility and detailing of a timber framed window
Softwood is popular among those on a limited budget as they are the cheapest option if glazed and decorated on site
Can be stained, but are usually painted
Suites both contemporary and traditional style homes
Cons:
On-site glazing carries a risk of double-glazing failure (i.e. misted units)
Factory glazing lowers the risk but costs more
Softwood requires repainting every few years
Best softwoods to choose:
Douglas fir is a very stable, durable softwood while European Redwood (also known as Scots Pine) is less prone to dimensional change and movement.
Hardwood windows
Costs: Between £8,000 and £20,000
Pros:
Have a tighter grain than softwoods, making them more stable and durable
Can be treated to be further stabilised
Most popular on traditional-style homes
Usually stained
Cons:
It's expensive — anything up to four times the cost of softwood
Aluminium windows
Costs: £8,000 - £18,000
One of the most popular materials for windows in contemporary homes, aluminium windows can offer slim sightlines or a frameless appearance.
Pros:
Energy efficient
Last up to 40 years
Little maintenance
Cons:
It can be up to 20% more expensive than PUVu windows
In some cases the colour can be limited
PVCu windows
Costs: £5,000-£15,000 for a one-off house
PVCu windows long reigned supreme as the dominant material for replacement windows and for good reason. A quick and easy option, plastic windows are low-maintenance and cheap.
Pros:
Cheapest overall although costs var with quality
Low-maintenance
Cons:
Can look cheap
Can reduce the value of period homes
Not easy to repair
Doors can be weak
Composite windows
Costs: Between £10,000 and £25,000 — expect to pay 25% more for triple glazing
If you're struggling with the choice of materials, there is a compromise — the so-called composite systems that mix different framing materials inside and out.
Pros:
Best of both worlds as they usually consist of timber windows with a weather-proof capping, such as aluminium strips or plastic
Can withstand harsh climates (widely used in such as Canada and Sweden)
Great for triple-glazing
Complement modern designs
Low maintenance but offer the warmth of timber
Cons:
Expensive
Unlikely to be made to standard UK sizes if ordered from the Continent
Steel windows
Costs: Between £8,000 and £20,000
Steel windows are fast becoming a popular choice with people that want to create a European style finish or want to add a modern touch to a period renovation.
Pros:
Popular among contemporary-style homes but increasingly popular in period properties (particularly for Belgian doors)
Low maintenance
Produce finer frames
Cons:
Not as thermally efficient as wood
Can be expensive
It's also useful to rank window costs on a square metre basis.
Suppliers tend to dislike this because you don't buy windows by the square metre: they are priced individually and generally the larger the actual window, the less it costs per square metre, so reducing a window range down to a square metre price is never going to produce an accurate pricing method.
But from a comparison point of view, it's a very useful tool.
Take the total amount quoted to supply windows and divide by the area of the window openings to derive the square metre rates.
Editor's Note: If you're looking for a quote for your windows, simply tell us a bit about your project in the questionnaire below and we'll match your requirements with the services and prices that our partners offer. And don't worry, only partners that match your needs will reach out to you.
What Different Windows Styles Can I Choose From?
Casement windows
A traditional British option (historically and in the 20th century), open-out casements are available in a variety of formats. Choose split casements for cottage-style designs and small glazed units to mimic 'Georgian style'. In contemporary house styles, side hung and awning formations work well as there is no mullion to interrupt the view.
Benefits of Casement Windows
Large casements tend to be the cheapest
Costs tend to be lower because they are made in modular, standard sizes
Great for ventilating rooms but as they can open wide, this might cause concern for those with small children or animal
Types of Casement Windows
Side Hung: The most recognisable casement. It is hinged at the side for easy opening
Top Light: A fixed pane divided from a narrow glazed top-hinged casement
Sliding Folding: The sash is hinged so that it folds, increasing the area of openable window to an almost clear expanse
Top Hung/ Awning: A casement window that is hinged at the top. Perfect for wet climates as it blocks out rain
Bottom Hung/ Hopper: A casement window that is hinged at the bottom. most commonly used in basement
Centre Hinge/ Pivot: A window that is hinged in the centre to allow for a wider opening, it requires less of a swinging clearance
Tilt and turn windows open inwards, and look best on modern designs. The 'tilt' option provides ventilation with security.
They are typically made to order, increasing the cost
Secure
Great for smaller rooms where saving space is a priority
Fixed Windows
Fixed windows are just that, fixed, so they don't open out or let in any ventilation. However, they do maximise opportunities for natural light throughout a home. As they don't need to be made to incorporate a opening mechanism, there are endless designs and styles to play around with.
Provides light in wasted spaces
Can create interesting designs
Usually the cheapest style of window
Sash Windows
Sash windows are essential when renovating or replicating Georgian and Victorian housing, still widely used on traditional-style new builds. Sizes are typically not standard but windows need to be in proport­ion to the house, so are often bespoke.
Timber sash windows require maintenance
Typically have vertical tracks so won't fill up with leaves and detritus
Roof Windows
Introducing windows into the roof can work wonders to bring in natural light where conventional windows can't be installed. Fixed windows that follow the roofline are typically known as skylights, while rooflights tend to open. Roof lanterns are common in orangery-style extensions and sunrooms as they replace a solid roof.
Rooflights are great for 'rooms in the roof' in loft conversions or one-and-a-half storey homes, which are steadily becoming more popular options among self-builders with height restrictions
Skylights are increasingly seen in terraced houses with side return extensions, providing light deeper into the floorplan
Roof lanterns offer a greater opportunity to introduce the maximum amount of light and help to achieve the illusion of extra head-height in extensions with flat roofs
Bay Windows
A bay window projects outward from the face of a building, forming a recess within a room. A Bay window can span more than one storey, as seen in many Victorian and Edwardian homes, and can be used in self-builds to create window seats and breakfast nooks.
There are different types of styles of bay windows including:
Canted: This means the window is formed of straight front and angled sides
Bow: Where the window structure is architecturally curved
Oriel: Starting above ground level, an oriel window is supported by corbels or brackets as it jetties out from the main walls of a building
High-level Windows
These are sometimes used to retain privacy but increase natural light or ventilation. In modern energy efficient houses, clerestory windows have been used in solar gain strategy and paired with stone, brick or concrete. In hotter parts of the day the elevated window position gains heat and essentially uses the structure below as a heat bank.
Let in extra light and ventilation
Great for rooms with high ceilings
Glazed Gables
An architecturally impressive way to flood a home with light, glazed gables don't have to break the budget on a self build or extension if planned into the design early on.
Add 'wow factor' to any room
Can suit traditional cottages just as well as modern designs
What Type of Glazing Should You Choose?
Double Glazing
You can choose between on-site and factory double glazing.
On Site Double Glazing: This is the cheapest option for DIY self-builders, usually done with softwood frames which are then painted on site. Slow and time consuming, most suppliers are moving away from on-site glazing for new installations.
Factory Double Glazing: New methods in factory double glazing mean that many windows can be clipped into templates from inside, thus stream­lining the installation. However, it is more expensive than on-site glazing.
Low-emissivity or 'low-E' glass (as it is more commonly known) is a type of glazing designed specifically to prevent heat escaping through windows. Low-E double glazing meets Building Regulations in the UK (such as Part L1B in England) for replacement windows and new windows for extensions.
Benefits include:
Can reduce heat loss by at least as four or five times compared with single glazing
Solar control glass can be specified to educe excessive solar gain in the summer for areas of the home susceptible to overheating
Triple Glazing
Once only popular in low-energy homes, triple glazing is rapidly becoming a standard solution for today's window suppliers.
Benefits include:
Excellent comfort levels as it evens our temperature profiles of rooms
Great for noise reduction for homes near busy roads etc
Helps minimise overheating
Some suppliers offer special coatings that will allow solar gain when required (i.e. in winter)
However, the issue is really around where to put it, with most experts agreeing that it's near-essential on north-facing elevations with lots of glazing and to be generally avoided on south-facing elevations.
(MORE: Replacement Windows)
How to Bring in More Natural Light
When you first step into a new home or freshly completed extension, the first thing people notice is whether it feels light and airy, or dark and dingy. This is impacted by the amount of natural light provided by window design.
Considering how an extension will affect the existing rooms is key in the longevity of your enjoyment in the new space so take the time to study where light will fall throughout the day and when you will utilise each room. Think about adding small side windows or clerestory windows to compensate.
For new homes, the luxury is the floorplan is freshly designed to suit each space's needs, but be weary of overheating in rooms with too much glazing. As anyone who has been in a conservatory tacked onto the back of a house will attest, simply incorporating a lot of glazing isn't necessarily a recipe for a comfortable interior.
(MORE: Bifold Doors)
How to Order New Windows
This very much depends on whether you're opting for off-the-shelf windows or bespoke products, and can also differ from company to company.
A general lead time would be around 12 weeks, however, it goes without saying that bespoke windows will inevitably carry longer lead times. It is best to not order too early on in the project in case amendments to the building design or aperture sizes occur.
Homebuilding & Renovating Newsletter
Get the latest news, reviews and product advice straight to your inbox.
Thank you for signing up to Homebuilding. You will receive a verification email shortly.
There was a problem. Please refresh the page and try again.