23 double storey extension ideas to increase space
Get inspired by these double storey extension ideas to add space and value to any style of home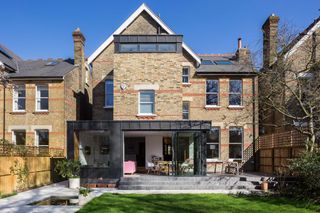 (Image credit: Billy Bolton)
Searching for double storey extension ideas can be a daunting task when faced with huge lists of mega-builds way out of your budget.
Building an extension which spans two storeys can be cheaper than moving house in some areas and more budget-efficient than only building a single-storey addition, but where do you start?
Take a look below for ideas on what's possible for your project, no matter the shape or style of your house. From detached and semi-detached, to terraces and cottages, we've selected our favourite projects in a variety of shapes and sizes catering to every budget to get you inspired.
1. Give a house a new lease of life with a double-storey extension
Adding a two-storey extension enables those who love an existing house or the location it is in to rejuvenate properties and adapt them for modern living.
Not wanting to leave their detached house, Douglas and Karen Ness approached Ewan Cameron Architects to design a large rear extension formed of two 'boxes'. The result is a new kitchen and master suite with views out to the garden and woods beyond.
2. Rethink awkward floorplans with a two-storey extension
Adding a new space presents the opportunity to reimagine wasted rooms or dark layouts.
This double-pitched rear extension - by Gruff Architects – to a terrace in London was accompanied by an interior remodel to make the house work for the small family who resided there.
Clad in zinc with sympathetic brickwork the extension has created a modern kitchen with double-height dining area for optimum wow-factor.
(MORE: How to Extend and Remodel Terraced Homes)
3. Use a double-height extension to give a tired house a makeover
Whether it is to add an extra bedroom above a new kitchen-diner or to create a new office space for someone newly working from home; going up as well as out is usually cost-effective and adds plenty of value to any home.
In love with living in their 1950s home and it's well-placed location, architect Mile Milton ( of Milton Architects) and his wife Amanda chose to extend into their garden with a double-height extension.
The timber frame extension (adding a kitchen-diner and extra bedroom) and the existing house were rendered and clad sparingly with a contemporary timber to create a uniform and transformative appearance.
4. Add a self-contained space for guests or a multi-generational home
Now more than ever, our homes are being stretched to accommodate grandparents and grown children, or even are being adapted to add a new source of income so creating a self-contained annexe or suite is growing ever more enticing.
This Oxfordshire extension was designed for a family member returning from years abroad by Blee Halligan Architects and is connected to the main house with a glazed link.
5. Where garden space is tight, add a double-storey side extension
This 1960s end-of-terrace house struggled to work for the young family who lived in it, so an ingenious plan to work within the oddly-shaped space to the side was devised by Selenky Parsons.
The 'Russian Doll' extension provided an extra bedroom and bathroom to the first floor while the ground floor became more spacious for a 'broken-plan' layout.
6. Dig down to add a double-storey basement extension
Basement extensions can offer the space required, but almost always suffer from a lack of natural light, so extending down with glass box extension like this Georgian villa can be the ideal solution.
A contemporary take on a traditional bay window, Blee Halligan Architects transformed the upper and lower ground floors with plenty of glazing, allowing natural light to infiltrate to previous dark and disjointed layout.
(MORE: Basement Design Guide)
7. Space out living areas in a double-storey extensions
Once a disjointed and dysfunctional property, this two-storey extension (by Bradley van der Straeten) has opened up internal spaces and provided a new living and dining area in which the family can spend time together.
8. Add a double-storey extension within permitted development
Pushing the boundaries of permitted development, this inter-war house has been extended to the side and at the back by Oliver Leech Architects to create a new open-plan kitchen, as well as two new bedrooms and bathrooms above.
The roof of the new extension was used to both echo the steep pitch in the original house and to reduce the height along the neighbouring boundary line.
(MORE: Permitted Development)
9. Create a bold two-storey extension
Sometimes where the original house struggles with a clear identity or character, striking bold and adding a dynamic addition is the only way to go.
Replacing a dated conservatory, this stunning extension by Adam Knibb Architects has been clad in Cor-ten steel to mimic the original brick while picture windows and sliding doors ensure the new spaces enjoy a view of the garden.
10. Build in oak for a characterful double-storey extension
Once a tired 1960s bungalow, this charming family home was delicately renovated by Phil and Claire Baker before being extended in oak.
Supplied by Oakwrights, the extension featured a show-stopping glazed gable and two sets of bifolding doors.
11. Bigger is not always better with double-storey extensions
Much of the time, if the layout of a house is awkward and non-sensical, adding a micro-extension can solve many of those issues without breaking the bank.
A 900mm-wide extension designed by Miller Partnership Architects was all it took for the owners of this semi-detached house to dramatically reorganise its floorplan.
The extra space allowed them to put in a third bedroom, increase the size of the kitchen and add a new cloakroom.
12. Going up? Add a triple-storey extension
As with a double-storey extension, the cost of adding another layer onto the new footprint is relatively cost-effective for the space created.
Simon Whitehead Architects renovated and extended this family home over three storeys, choosing a dark, contemporary aluminium cladding to contrast with the classic London stock brick.
13. Build a traditional two-storey extension
This two-storey timber frame extension to a Grade-II listed house was designed by Fowler Architecture & Planning to be sympathetic to the original cottage, but also lends itself to modern living.
A single-storey glazed link leads from the old house to the double-height extensions, where plenty of windows and rooflights have been installed to create a contemporary space that also has loads of character.
(MORE: Window Styles)
14. Lateral thinking: Maximise views with lots of glazing in a double-storey extension
Post-war houses and bungalows are usually blessed with generous plots and large windows. So, why not take advantage and extend laterally with equally generous amounts of glazing which won't look out of place proportionally?
AR Design Studio was approached with a brief to increase the area of the living spaces in this 70s detached house.
The original three-storey five bed house was dark, outdated and denied the occupants an appreciation of the stunning views at the back of the house, but by adding a two-storey extension with a huge glazed first floor that's now home to the kitchen and living spaces, with wonderful views.
15. Add a two-storey timber frame box
PAD Studio helped Ian and Catrin Lloyd create a timber frame box extension to the side of their 1970s house. The addition is linked to the existing house by glazed panels to the front and rear, which help to introduce plenty of light into their home.
16. Mirror the existing house with a two-storey addition
Andrew and Lucy Thompson doubled the size of their run-down cottage with a complimentary contemporary-style extension.
Working with CaSA Architects, a Bath-based architectural practice, the couple gained consent for a substantial gable-ended, contemporary-style extension that went well beyond the normal planning allowance. Quality natural materials are used externally, including blue lias stone to match the cottage, as well as cedar, zinc and oak.
17. Extend with similar materials to seamlessly blend a large extension
Matching materials for an extension can be a tricky yet rewarding venture, especially when dealing with a period property where the same bricks might not be readily available.
The two-storey extension added to this Grade II-listed property by Base Architecture & Design features a linear window from ground floor to first floor, which maximises light and views onto the garden, while a similar red brick exterior ties the new structure to the new house masterfully.
18. Build a two-storey extension in oak for a stand-out look
Oak frame extensions really are a special addition to any style of home. Characterful and graceful, going out and up in oak will always be a timeless choice.
The sympathetic three-storey oak-framed extension to this Grade II-listed property has replaced a structurally unsound 'wing' added in circa 1700.
Designed by Oakwrights, the extension has been clad in an oak rainscreen and offers the family with an impressive new reception hall, bedroom at first floor level and a new master bedroom above.
19. Create a cantilevered two-storey extension
With limited space on the first floor ground floor, architect Adam Knibb designed a cantilevered timber box extension which would re-plan the existing oversized bathroom and accommodate a new master bedroom and en suite to the side of the house.
The cedar-clad timber box, which hangs from the side, replaced the existing car port. The structure is set back as far as possible from the street and front elevation of the house, to avoid it being overbearing; access underneath the box allows the design to open up to the rear.
20. Contrast a contemporary large double-storey extension with a period building
With the owners of this 19th century granite farmhouse in rural Aberdeenshire wanting increased living space with an open plan arrangement, they chose to add a larch and stainless steel extension to provide them with the accommodation they needed.
The contrast between the larch and granite signifies the old and new elements.
21. Box out a two-storey extension for an exterior transformation
To the rear, this Hampshire home is unrecognisable thanks to the new a large charcoal box extension which has been added at ground level, with a smaller box on top which is clad in western red cedar.
22. Make a statement with the structure of a house extension
A dynamic new cantilevered two storey extension connects with this original stone barn in Ireland, and forms an angular and quirky stepped layout inside, mirroring the topography of the site.
The new timber-clad structure holds the sleeping quarters while the existing barn has been restored and plays host to the living accommodation.
23. Get creative with shapes and materials for an eye-catching addition
Thanks to two new extensions which flank the existing cottage on site – and connected via a new glazed link – this home now benefits from increased accommodation.
The new structures which have been wrapped in contemporary materials, including Cor-ten steel, now include the main living space, as well as a new master suite and further guest bedrooms.
Get the Homebuilding & Renovating Newsletter
Bring your dream home to life with expert advice, how-to guides and design inspiration, direct to your inbox.
Assistant Editor Amy began working for Homebuilding & Renovating in 2018. She has an interest in sustainable building methods and always has her eye on the latest design ideas. Amy has interviewed countless self builders, renovators and extenders about their experiences for Homebuilding & Renovating magazine. She is currently renovating a mid-century home, together with her partner, on a DIY basis, and has recently fitted her own kitchen.