10 Excellent Two Storey Extension Design Ideas
Looking for more space but want to stay in your home? Adding a two storey extension can be a cost-effective way to gain that extra living space. These examples are guaranteed to inspire your project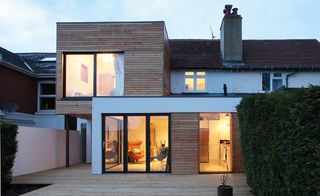 (Image credit: c/o Adam Knibb Architects)
Often cheaper than moving house and more budget-efficient than building a single-storey house extension, a two-storey addition hands you the potential to create that extra space you need.
As well as adding extra space, a two-storey extension can be a great way to revamp your house's exterior and add a little more kerb appeal.
Here we list 10 shining examples of successful house extension projects built over two storeys.
1) A Lateral House Extension to Maximise Views
AR Design Studio was approached with a brief to increase the area of the living spaces, allow as much natural light into the house as possible and maximise the views.
And the result? A two-storey extension with a huge glazed first floor that's now home to the kitchen and living spaces, with wonderful views.
2) A Two Storey Timber Frame Box
PAD Studio helped Ian and Catrin Lloyd create a timber frame box extension to the side of their 1970s house. The addition is linked to the existing house by glazed panels to the front and rear, which help to introduce plenty of light into their home.
3) Timber-clad Cottage Extension 
Andrew and Lucy Thompson have doubled the size of their run-down cottage with a complimentary contemporary-style extension. 
Working with CaSA Architects, a Bath-based architectural practice, the couple gained consent for a substantial gable-ended, contemporary-style extension that went well beyond the normal planning allowance. Quality natural materials are used externally, including blue lias stone to match the cottage, as well as cedar, zinc and oak.
4) A Two Storey Geometric Design
The two-storey extension added to this Grade II-listed property by Base Architecture & Design features a linear window from ground floor to first floor, which maximises light and views onto the garden.
5) An Oak Addition over Three Storeys
The sympathetic three-storey oak-framed extension to this Grade II-listed property has replaced a structurally unsound 'wing' added in circa 1700.
Designed by Oakwrights, the extension has been clad in an oak rainscreen and offers the family with an impressive new reception hall, bedroom at first floor level and a new master bedroom above.
6) A Cantilevered Two Storey Extension
With limited space on the first floor ground floor, architect Adam Knibb designed a cantilevered timber box extension which would re-plan the existing oversized bathroom and accommodate a new master bedroom and en suite to the side of the house.
The cedar-clad timber box, which hangs from the side, replaced the existing car port. The structure is set back as far as possible from the street and front elevation of the house, to avoid it being overbearing; access underneath the box allows the design to open up to the rear.
7) An Extended Farmhouse
With the owners of this 19th century granite farmhouse in rural Aberdeenshire wanting increased living space with an open plan arrangement, they chose to add a larch and stainless steel extension to provide them with the accommodation they needed.
The contrast between the larch and granite signifies the old and new elements.
8) A Box Out Transformation
To the rear, this Hampshire home is unrecognisable thanks to the new a large charcoal box extension which has been added at ground level, with a smaller box on top which is clad in western red cedar.
9) A Cantilevered Extension
A dynamic new cantilevered two storey extension connects with this original stone barn in Ireland, and forms an angular and quirky stepped layout inside, mirroring the topography of the site.
The new timber-clad structure holds the sleeping quarters while the existing barn has been restored and plays host to the living accommodation.
10) A Two Storey Cottage Extension
Thanks to two new extensions which flank the existing cottage on site – and connected via a new glazed link – this home now benefits from increased accommodation.
The new structures which have been wrapped in contemporary materials, including Cor-ten steel, now include the main living space, as well as a new master suite and further guest bedrooms.
Homebuilding & Renovating Newsletter
Get the latest news, expert advice and product inspiration straight to your inbox.
Thank you for signing up to Homebuilding. You will receive a verification email shortly.
There was a problem. Please refresh the page and try again.