Staircase Design: The Ultimate Guide
Staircase design plays a huge role in the overall look of a house's interior scheme — as well as how its layout flows. Our expert advice will guide you through every element of staircase design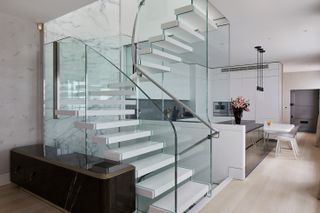 (Image credit: Bisca)
Staircase design is often not given enough thought, planning or importance — surprising given the often central position stairs hold in a home, yet true.
Great staircase design encompasses a number of important factors — so take some time to consider them before getting started. 
The new flight's size, configuration and the materials you use in your staircase design will need to be planned out — as well as ensuring the final design meets the current requirements of the Building Regulations.
Our complete guide to staircase design will not only give you all the information you need to ensure you are adhering to the relevant regulations, but will also advise you on the best size, location, style and layout for your staircase, as well as the various materials you might like to consider. Plus, if you are wondering who will build and fit your staircase, we've got that covered too.
Finally, the technical jargon used to describe stair parts can be tricky to decipher— so we've included a handy diagram to help. 
(MORE: Get a quote for your new staircase)
Staircase Building Regulations UK
When it comes to staircase design and the Building Regulations you should familiarise yourself with Approved Document K. 
Staircases have the potential to be safety hazards if not designed properly. If you are buying from a staircase specialist they will be able to advise you — as will your architect or builder. 
Staircases should have a maximum rise of 220mm and a minimum going of 220mm
They should have a maximum pitch of 42°
Flights should have a handrail on at least one side if they are less than one metre wide and on both sides if they are wider than this
Handrails on stairs and landings should have a minimum height of 900mm
No openings of any balustrading should allow the passage of a 100mm sphere
A minimum of 2,000mm of clear headroom is required above the pitch line
For further Regulations see Approved Document K (available to buy from planningportal.co.uk)
Parts of Your Staircase Design Explained
Who Designs a Staircase?
There are a couple of different routes you can take to when it comes to getting a staircase design. 
Staircase specialist: If you decide to buy your staircase through a specialist staircase company it is likely they will be able to guide you when it comes to a configuration and materials and come up with several staircase design options.
Architect: Alternatively, you might ask your architect or house designer to come up with a design. This is actually a good route as they will fully understand the layout and look you are hoping to achieve.
A joiner:  An experienced joiner or carpenter should also be able to design and fabricate your staircase. This is often a more affordable option than using a staircase specialist. You could also come up with your own design and take it to a local joiner.  
What Size Should my Staircase Design Be?
Size should be the very first thing you consider when it comes to your staircase design. 
In order to work out what size staircase you will need, begin by measuring the total rise. This is the measurement from the finished floor below to the finished floor level above.
You can then calculate the number of risers required. To stay within Building Regulations, a domestic staircase needs a rise of between 190mm and 220mm. Standard risers are around 200mm, so aim for this.
The average rise is 2,600mm, which divides easily into 13 200mm risers, or steps. 
You can now calculate the number of treads. In general you will need one less tread than the total number of risers. 
Next, work out the 'going'. This is the measurement from the face of one riser to the next.
To comply with the Regulations, the minimum going should be 220mm, whilst the pitch of the staircase should not exceed 42°.
When it comes to staircase width, there are no restrictions as such, but standard flights measure 860mm, and for a main staircase it is agreed that a width of between 800mm and 900mm works best. 
A minimum staircase width of 600mm is recommended for secondary staircases.
Where to Position a Staircase
Each house will have different requirements when it comes to staircase design — the position of your staircase should be based on your own layout. 
In general, the best place for the base of a staircase is viewed as being somewhere  near to the front door and that, if possible, you should not have to cross another room to reach the stairs from the front door. 
This is vital if there is a third storey to the house, as the stairs will have to act as a fire escape route.
You should also consider the way in which your new staircase design will work with the natural light entering your home — avoid positioning the new staircase in such a way that it will block any flow of light. 
Staircase Design Configurations
Straight staircases may be simple to design and fit, and affordable, but they are not always the best option — sometimes they don't fit or simply won't work with the interior design scheme.
In these cases, you will need to think about alternative ways that your staircase can get you between floors. The most usual way to do this is by incorporating one or two, or a series of, turns.
When turns are required in a staircase, the simplest option is to split the flight in two and connect them with a 90° quarter turn landing. If you were to use a 180° turn it would be known as a half landing.
Steps that turn corners whilst climbing are called 'winders' and are often used to navigate 90° turns. 
A turn consisting of three winders is known as a 'kite winder'. These are often used at the top and bottom of flights to get round corners.
Whilst spiral staircases can be a useful feature where space is very limited, do bear in mind that they are often better as secondary staircases as they are hard to get large items such as furniture up and down.  
Editor's note: Homebuilding.co.uk partners with the UK's best staircase design specialists to match your requirements with their products and services. Simply answer a few questions on what you need from your staircase and we'll put you in touch with a suitable partner.
10 Staircase Design Features
To achieve your dream staircase design (one that meets your needs, both from a visual point of view as well as a practical perspective), consider some of these  design features.  
Could your new staircase perhaps incorporate some storage? Would glazed balustrades increase the amount of natural light entering your layout?   
1. Staircase Storage
Staircases with storage are a great way to make the most of available space. Definitely one up from the understairs cupboard, this bespoke staircase by Bisca incorporates a run of cupboards made from solid wood, combined with a toughened low-iron glass balustrade and stainless steel rails.
2. Extra-wide Staircase Design
The owners of this house, designed by Granit Architects, wanted a staircase with wow factor so the existing staircase was replaced with an oversized stone and timber design. Italian limestone has been teamed with dark stained oak, with the lower treads extended to full width in order to create space for displaying artwork and books. It could even be used as a seating area.
3. Staircase Pod
This staircase pod was a design response to both budget restrictions and the large open plan spaces in this barn conversion.The 'pod' has been created using OSB, with the staircase within leading to a mezzanine level — slot 'windows' ensure the space is not dark.
4. Use Stair Paint or Stickers
For a speedy and inexpensive transformation, consider stair stickers or paint.  If you plan on painting your stairs, make sure you use a product designed for that purpose.
5. Fit a Stair Runner
A stair runner (a strip of carpet slightly narrower than the flight) is a great way to really bring a staircase to life. 
6. Statement Stair Lighting
Use dramatic oversized pendants or a chandelier over the staircase for maximum wow factor — or consider concealed LEDs to highlight its form — or perhaps a combination of the two?
7. Create a Stair Gallery
Turn an ordinary staircase into an art gallery by displaying your favourite artworks or treasured photographs on the wall next to the flight, arranging the frame to reflect the rise of the stairs. 
8. Create an Understairs 'Room'
Put the space under your staircase to good use — who doesn't need more home office space these days? Understairs space is the ideal spot for a home office. 
9. Light from Above
Use rooflights or a lantern above your staircase to ensure it is flooded with natural light. 
10. Create a Quiet Spot
A half landing can provide the perfect spot to create a small seating area — perfect for reading or just gazing out of the window.
Check out more inspirational staircase ideas. 
How to Incorporate Natural Lighting in Your Staircase Design
In some situations it can be hard to pull in natural light to staircases, particularly where they are located in the centre of the house away from any windows. 
Yet, even in gloomy spots of the house there are usually ways to draw in light to your staircase design. Methods to consider include: 
Fanlights above doors, both internal and external, to bring light into the base of the staircase
A rooflight or lantern located directly above the stairwell
A lightpipe — a useful way to bring light to staircases in terraced homes or where space is tight.
A full-height or large window located on a half-landing or at the top of the staircase
You should also think about how you will use artificial lights to illuminate your staircase. Not only is it necessary on a practical level, but lighting can also be used to highlight a staircase's design, really bringing its form and smaller details to life. 
At the absolute minimum, include lighting at the top and bottom of the staircase – controlled by a two-way switch. 
You might also like to consider using LED lights set into the string, handrail or even the stairs themselves — a fantastic way of showing off your new flight.
Uplighters and wall-washers will add a whole new dimension to your stairwell as a whole — whilst a dramatic pendant hanging towards the top of the staircase will really add wow factor. 
(MORE: Clever Lighting Design Ideas)
Which Timber is Best for a Staircase?
Wood is a versatile material that is a brilliant choice when it comes to staircase design. 
Wooden staircases for traditional homes tend to be characterised by their substantial nature, rounded stair nosing, turned balusters and carved newel posts. However, timber can also be used in contemporary staircase design where it is often seen in the form of  chunky wooden treads that cantilever out from a wall.
Timber combines well with glass and stone well too. 
At the cheaper end of the market lie softwoods such as pine and hemlock, both of which are brilliant for staircases. Hardwoods such as oak, walnut and ash will be more expensive but offer a very durable and beautiful finish. Some people combine different timbers, using a hardwood for the treads and a softwood for the balustrade. 
Pros: Wood is strong, versatile, easy to work with and has a timeless look.

Cons: Very few, hence it being such a popular material. Though dark and heavy wood can, in some cases, be overbearing when used for such a central feature.

Costs: The cheapest option is engineered pine or plywood — ideal for a fully carpeted staircase and painted balustrading. These can be bought from around £500. Next up is parana pine, readily available and fairly cost-effective. This is often combined with hemlock, a good choice for balustrading due to its stability. Hardwoods, such as beech, ash and oak, are more expensive, varying from two times the cost of softwood up to five times the cost.
Glass Staircases
Not only do glass staircases allow light to flow easily both between rooms and levels in a house, but they also add a touch of contemporary glamour.
Pros: It's strong, being made up of two or three layers laminated together. Perfect for contemporary interiors.

Cons: Acrylic can be prone to surface scratches and as a flammable material cannot be used for staircases that will be fire escape routes.

Costs: They rarely come cheap, particularly if buying from specialists. The key to a low-cost yet striking staircase is to combine materials and be clever when choosing your supplier. Having a local glassworks make panels for your balustrading before combining them with a softwood staircase made by a joiner, for example, will work out to be cheaper than going to a specialist.
Using Metal Staircase Balustrades 
Metal staircases have now made the transition from being seen as purely industrial features, to the home. They are less heavy in their appearance than timber.
Pros: Perfect for spiral or straight flights, they look great paired with glass balustrades or even wire mesh or tension wires

Cons: Badly designed metal staircases can look overly industrial

Costs: Components can now be bought off the shelf, with full timber and metal staircases coming to as little as £500-600
Stone and Concrete Staircase Design
Stone staircases, or those made from concrete, can be traditional – think grand sweeping stone flights – or contemporary in the form of industrial-style simplicity. Concrete stairs are usually supplied precast in sections to be assembled on site.
Pros: The perfect way to create a sense of solidity

Cons: Expensive. May have to wait a while for them to be made

Costs: Variable. They can be expensive, starting at around £10,000. An alternative is to clad existing stairs with stone panels
How do I Buy a Staircase?
Unfortunately, buying a staircase is not a simple case of walking into a staircase shop and pointing to the one you want.
It is often the case that the striking staircases that grace the pages of magazines have been custom-made rather than bought off the shelf, designed by the house designer or architect, or sometimes by the owners themselves. However, there are specialist staircase companies out there who will also design and make a staircase.
Those aiming to stick to a budget are well advised to ask a local joiner – or the joiner already working on their project – to help them with a design.
Once you have a design it is entirely possible to buy a staircase from a DIY warehouse or timber merchant – assuming the sizes you require are fairly standard – and then customise it yourself with the addition of a decorative handrail, stair paint or even a distinctive runner.
It is also possible now to develop and order staircases online. Companies such as Stairbox allow you to build up a design using their 'Online Designer' and add the parts required to your basket as you go.
Staircase Glossary
Editor's Note
H&R often gets asked how some homeowners seemingly get away without having balustrades. The simple answer is, we might occasionally photograph a house before it gets a completion certificate. We emphasise that staircases are one area where you should never compromise on safety.
Going The horizontal distance between one step and the next, measured from the nosing to the nosing. Building Regs specify a minimum distance of 220mm to a maximum of 300mm.
Nosing The edge of the tread which projects beyond the riser.
Rise The vertical distance from the top of the tread to the top of the next one. Building Regs specify a minimum distance of 150mm to a maximum of 220mm. The total rise is the vertical distance from the floor to the floor of the level above.
Riser The board that forms the face of the step.
Tread The top section of an individual step on which you walk.
Balustrading Describes the combination of the spindles, handrail and newel posts on a staircase. Often it is these elements which give the staircase its character — they can transform an off-the-shelf flight into something special. Timber, glass, metal and even stud walls can all form balustrading. 
Homebuilding & Renovating Newsletter
Get the latest news, reviews and product advice straight to your inbox.
Thank you for signing up to Homebuilding. You will receive a verification email shortly.
There was a problem. Please refresh the page and try again.