34 Modern Extension Ideas to Inspire a Contemporary Addition to Your Home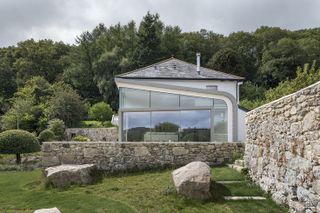 (Image credit: van Ellen + Sheryn)
There are modern extension ideas to suit every home if you look hard enough, no matter if you are building an extension to a new or period home. There is absolutely nothing to say that extensions have to match the building they are being added to. While matching materials for an extension can undoubtedly result in some seamless and very sympathetic additions, it can also produce some spectacularly bad results.
The worst 'matching' extensions involve ugly visible seams where old and new meet, materials that almost, but don't quite, look the same, rooflines that sit awkwardly together and windows with different frames to those used in the originals.
In many cases it is a far better idea to design the extension to sit in complete contrast to the original house in order that both sections can shine in equal measure. There is no reason why a contrasting extension has to be whacky or 'out there' either. Sometimes, just a selection of different materials or a shift in the shapes and forms used in the design are all that is needed.
Our selection of modern extension ideas is here to offer you all the inspiration you need to ensure your new addition stands out for all the right reasons.
1. Modern Farmhouse Extension
This 'glass box' extension, designed by van Ellen + Sheryn Architects (opens in new tab), has been added to a 19th century farmhouse. It utilises lightweight metal and a series of glazed sliding doors to give panoramic views of the beautiful rural surroundings.
2. The Accessible Extension
Designed by Tigg + Coll Architects (opens in new tab), this striking extension project was created in order to transform a 1930s bungalow into a stylish accessible home.
The large extension has a self-supporting roof that features a timber diagrid design that forms a continuous canopy over the internal spaces and external terrace. The huge expanses of openable glazing link the new bedrooms within to outdoors.
Despite the huge difference in style between the extension and the original, now remodelled, bungalow, the lightness of form when it comes to the overall look of the addition means both sections of the new house can stand out architecturally.
3. A Futuristic Extension Design
Arts & Crafts meets futuristic fantasy with this modern addition and its wing-like roof from Stan Bolt Architect (opens in new tab).
4. A Glass Box Extension
Frameless glazing sits alongside period brickwork in this stunning project designed by Hampshire-based practice AR Design Studio (opens in new tab).
5. Maisonette Extension
The owners of this east London maisonette wanted an open kitchen dining room, with views out over their garden. In order to achieve this in a rather limited space, a small extension has been created, designed by Architect Your Home (opens in new tab), featuring an innovative roof structure that took inspiration from the ribs of a boat. The reverse pitch on the full height window was a design trick to maximise the views of the garden.
6. A Modern Victorian House Extension
This extension to a Victorian family home was designed by Tigg + Coll Architects (opens in new tab) to follow the form of the existing house. The roof of the extension is pitched to reflect the pitch of the original house. The corner of the extension is cantilevered, allowing the entire glazed corner to be opened up.
7. A Georgian House Extension
This Georgian cottage had been unsympathetically extended in the past. Rather than try to match the original house, a contemporary extension was designed by architectural practice van Ellen + Sheryn (opens in new tab). The new addition is clad in Siberian larch, has a zinc roof and plenty of high performance glazing.
8. The Side Return Extension Reinvented
Not your average terraced house side return extension — this addition, conceived by Paul Archer Design (opens in new tab), was created to infill a strip of unused land that lay between the existing house and an adjoining block of flats.
9. Curved Glass and Steel Extension
Set in a picturesque Dartmoor valley, this farmhouse has been fully refurbished and extended with a contemporary curved-wall-to-roof structure wraps over a structural glass box which forms a new living room within.
The extension, designed by van Ellen + Sheryn (opens in new tab), allows for panoramic views across the valley.
10. Corten Steel Extension
In order to open up the entire rear of this 1930s house in a Conservation Area, an exoskeletal corten steel frame has been used.
Designed by Matthew Withers of Stylus Architects (opens in new tab), the frames are made of 40mm-thick steel sections that hold four large panes of glass, two of which slide back to open up the newly formed kitchen and living space to the garden.
11. The Contemporary Yet Sensitive Extension
Being located on the edge of a conservation area, Tim Offer Architects (opens in new tab) took great care with the design of this extension to a small agricultural barn.
The rear addition has almost doubled the footprint of the house and despite its crisp, modern appearance, repeats the gabled form of the original barn.
12. Small Extension Idea
This striking little extension, by Studio Bark (opens in new tab), might measure just four metres by three metres but it certainly has a big impact.
The 'box' features a timber frame that has been clad in offcuts of UK-sourced Western Red Cedar.The rainwater pipes have been concealed within the cladding void and now discharge into the raised planters on either side of the French doors.
13. The Invisible Extension
There is no reason why a contrasting extension should dominate or detract from the original architecture of a building — as this project, by Proctor & Shaw (opens in new tab) proves.
The extension also features brick cladding which has been cleverly incorporated into the oversized linear lintel that frames the large expanse of sliding doors.
14. Arts & Crafts House Extension
The inspiration for this brick and timber ground floor extension by Proctor & Shaw (opens in new tab)was taken from the timber staircase, bay windows and fireplaces elsewhere in the house.
This extension is dominated by a striking 3m wide 'bay' window that combines oak beams and an accoya bi-fold window.
15. A 1930s Home Extended
A modest rear extension to this 1930s semi-detached home offers the extra space the growing family needed, while keeping within a tight budget.
16. A Cantilevered Addition
A dynamic new cantilevered extension connects with this original stone barn, forming an angular and quirky stepped layout inside and providing a spectacular master bedroom space.
17. A Flat Roof Extension
A flat roof rear extension designed by AR Design Studio (opens in new tab) houses a large kitchen diner and opens up the ground floor of this Hampshire home. A second two-storey side extension, clad in the same London stock brick as the existing property, houses a utility at ground level and a new master suite above.
18. A Series of Contemporary Bolt-Ons
A collection of contemporary extensions designed by Paper Igloo (opens in new tab), clad in timber and Cor-ten steel and connected by glazed links, has been added to an old farmhouse.
19. A Bungalow Transformed
A far cry from the existing dated red-brick bungalow, the homeowners here added a single-storey extension and internal and external remodel to create a California-style home.
20. A Wrap-Around Extension
Thanks to the vision of Ellis Williams Architects (opens in new tab), a convex two-storey extension with glass façade wraps around this listed water tower.
21. A Box-Out Addition
From bungalow to brilliant — this timber frame first floor addition with contrasting cladding boasts wow-factor.
22. A Timber Triumph
Designed by Beam Cottage Architect (opens in new tab), a new glazed link offers a transition between this period cottage and its modern rear, complete with a dramatic timber first floor box.
23. From Chalet Bungalow to Chalet Style
A dramatic first floor extension, complete with covered balcony has turned this bungalow into a chalet-style home that wouldn't look out of place in a luxury ski resort.
24. A Basement Extension
A stylish basement extension designed by Riach Architects (opens in new tab) offers open plan family space to a Victorian terrace in Oxford.
25. A Steel-Clad Extension
This double-height Cor-ten steel-clad wedge by Andrew McAvoy of Retool Architecture (opens in new tab) offers striking contrast to a granite steading.
26. A New Bedroom Extension
A post-war property has been expanded thanks to a unique timber-clad corridor of bedrooms designed by Dan Brill Architects (opens in new tab).
27. A Two-Storey Addition
A boring bungalow becomes a Modernist masterpiece thanks to a two storey additio by Matt Maisuria Architects (opens in new tab).
28. A Farmhouse Extended
A larch and stainless steel wing by Room Architects (opens in new tab) offers a dynamic contrast to this period farmhouse — and proof of just how these older agricultural buildings can be transformed.
29. A Glass Basement Addition
This glazed box designed by Belsize Architects (opens in new tab) proves that extensions do not have to be huge to make a visual impact.
30. A Glazed Side Extension
Shards of glass lend to the futuristic feel of this flat-roof addition to a Victorian home, designed by Coffey Architects (opens in new tab).
31. A Timber Box Extension
A new timber frame box linked via glazed panels from PAD Studio (opens in new tab) renders this 1970s home unrecognisable.
32. A Multi-Storey Tower
Adding interest, this multistorey timber tower rear designed by 51% Studios (opens in new tab) sits above a new light-filled base, offering increased accommodation.
33. A Stepped Extension
A series of jagged boxes set off from one another – one grey rendered, one timber clad – offers a splash of modern style, designed by AR Design Studio (opens in new tab).
34. A Glass Link
This functional, frameless glazed link by Emrys Architects (opens in new tab) connects three buildings to form one home.
Daisy was Features Editor on Homebuilding & Renovating for more than five years and had a passion for all things design. She has since moved on to pastures new.
Homebuilding & Renovating Newsletter
Get the latest news, reviews and product advice straight to your inbox.
Thank you for signing up to Homebuilding. You will receive a verification email shortly.
There was a problem. Please refresh the page and try again.