Extension or Loft Conversion: Which Project Is Best For You?
By Natasha Brinsmead published
Trying to decide between carrying out an extension or loft conversion? Our guide is here to explain which will add the most space and value to your home.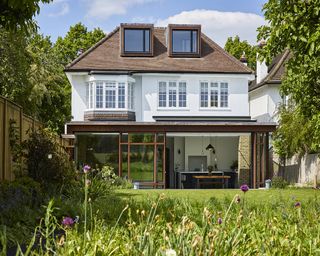 (Image credit: Snook Photography)
There are many factors to take into consideration when trying to decide between building an extension or loft conversion. Obviously both projects present homeowners with the opportunity to add useful extra space to their homes without having to move house — plus each can add considerable value if carried out properly.
In this guide, we will cover:
Whether a loft conversion or building an extension adds more value
Loft conversion vs extension costs
Planning permission requirements of each route
Which will most suit the style of your home
Whether a loft conversion or extension is more disruptive
What is Cheaper to Build, an Extension or Loft Conversion?
In general, loft conversions are a very cost effective way to add extra space to your home when compared to extensions. However, these costs can quickly rise depending on the complexity of the project and the type of loft conversion you are carrying out.
For example, a basic 'rooflight loft conversion', providing a double bedroom, could be expected to cost between £18,000 - £25,000. However, upgrade this to a dormer loft conversion and you could be looking at costs closer to £40,000 while a modular or mansard loft conversion could see costs of £65,000.
So, how much does an extension cost? When it comes to extension costs, it can be hard to give an exact figure as the price you pay will very much depend on the size, location and design of your extension.
In general though, the majority of extension projects tend to come in at approximately £1,350-£2,250/m². For single storey extensions work on costs of between £1,350-£1,750/m² and for two storey extensions expect to pay £1,250-£1,650.
For both loft conversions and extensions you will also need to factor in additional costs, including:
What Adds More Value, an Extension or Loft Conversion?
It is incredibly hard to predict how much value an extension adds to a house — the size and location of the extension will have an enormous impact on this, as well as the type of space the extension is adding.
You will also need to take into account the ceiling price of properties in your area — that is, the maximum value of properties in your location. It is best to speak to local estate agents who should be happy to give you an idea of the uplift in value an extension could add.
In general though, kitchen extensions can add around 5-10% to the value of your home, while an extension that adds an extra bedroom could add as much as 20%.
As with extensions, it is hard to give an exact figure when it comes to estimating how much value a loft conversion will add to a property. However, based on adding a new bedroom with en suite in your loft conversion, an uplift in value of between 20-25% could be expected, providing the loft conversion has been carried out to a high standard.
In the case of a new home office, expect a smaller value increase of around 10%.
Before you get too excited though, do bear in mind that in order to gain these increases in value, you will need to consider how you are going to provide new storage space elsewhere in the house once you have taken away the storage a loft once offered.
Will an Extension or Loft Conversion Suit My House Better?
Choosing between a loft conversion or extension will mean looking at which method of adding extra space will most suit your home.
Loft conversions are actually not suitable for all types of house. There are several reasons for this. Some houses were built without loft space (such as those with vaulted ceilings), while others won't offer enough headspace — you really need at least 2.8m clear vertical space. In some cases, there won't be space for the new staircase that will be required, or planning permission might not be granted.
While it is possible to overcome many of these issues, you do need to consider how any additional costs that these issues incur will affect any potential profit you can make.
It is well worth checking if your loft is suitable for conversion before making a decision.
Extensions, on the other hand, will suit most properties. Side return extensions can be a great option for those living in terraced or semi-detached properties, as can rear extensions. Single storey rear extensions or wraparound extensions are a great way to add a larger sociable kitchen diner, while two storey extensions are a cost effective way to add living space at ground floor level and an extra bedroom above.
The main thing to bear in mind is how much of your outdoor space your new extension will eat up and how much value it is likely to add in relation to your costs.
For both larger extensions and loft conversions that won't fall under Permitted Development, you will also need to bear in mind planning permission requirements.
Will an Extension or Loft Conversion Add More Space?
The extra space you can add with a loft conversion is usually more limited compared to an extension — although this will obviously depend on your outdoor space and planning permission restrictions. For those with little or no spare garden space, a loft conversion may well be the only way to gain extra space internally.
Is It Easier To Get Planning Permission For an Extension or Loft Conversion?
Planning permission is not always needed to carry out both loft conversions and extensions.
Planning Permission for Loft Conversions:
In many cases loft conversions fall under permitted development rights. However, for this to be the case, your loft conversion must not:
Add more than 40 cubic metres of volume for terraced houses or 50 cubic metres for others to the existing roof space.
Exceed the height of the existing roof under PD rights.
Extend beyond the existing roof slope on principal elevation.
Feature a verandas or any balconies with raised platforms (Juliet balconies are allowed).
In addition, your property must not have already used its Permitted Development rights to add an additional storey. Living in a designated area, such as an Area of Outstanding Natural Beauty will also affect your PD rights.
Planning Permission for Extensions:
Not all extensions require planning permission. As with loft conversions, some will fall under permitted development. Factors that will affect whether or not your extension falls under permitted development include:
For detached properties, single storey extensions extending more than 4 metres from the rear of your house will require planning permission. For terraced and semi-detached houses this is over 3 metres.
Extensions of 8 metres (for detached houses )and 6 metres f(or semi-detached houses) can, however, be built under Prior Approval.
The extension must not be over half the area of the land of the original house (as it stood as of 1948)
If the materials being used in the extension are visually different from the rest of the house planning permission may be required.
Two-storey extensions must not be closer than 7 metres to the boundary.
Front extensions, or those forward of the principal or side elevation facing onto a highway require permission.
If the maximum height of your single storey extension is more than 4 metres, or is higher than the highest part of the roof, permission will be required.
Balconies or verandas result in the need for planning permission.
Is a Loft Conversion Less Disruptive Than an Extension?
In general, loft conversions tend to be quicker and less disruptive than extensions. However, this is most certainly not always the case. A straightforward loft conversion to a space with plenty of headroom, to add a modest bedroom or home office, might take as little as four weeks. On the other hand, a modular loft conversion to provide a bedroom with en suite, or one that requires the floor to be lowered, could well result in considerable disruption and take more like 16 weeks.
Likewise, a small rear extension that can be kept sealed off while work takes place is unlikely to cause huge disruption, while one that also involves considerable internal remodelling will. Time wise, a small, single storey extension might take as little as two to three months, while larger or two storey extensions are likely to take six months or more.
Natasha is Homebuilding & Renovating's Associate Editor and has been a member of the team for over two decades. An experienced journalist and renovation expert, she has written for a number of homes titles. She has renovated a terrace and is at the end of the DIY renovation and extension of her Edwardian cottage. She is now looking for her next project.
Homebuilding & Renovating Newsletter
Get the latest news, reviews and product advice straight to your inbox.
Thank you for signing up to Homebuilding. You will receive a verification email shortly.
There was a problem. Please refresh the page and try again.