How to Add Value to Your Home: 23 Value-Boosting Tips
Wondering how to add value to your home? Then read on to discover 23 brilliant tips and tricks from renovating to decorating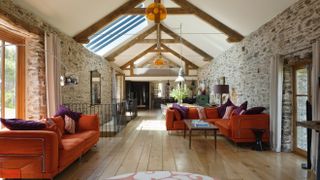 (Image credit: Getty Images)
If you want to know how to add value to your home it's important to tick all the right boxes so you are actually adding value without being out of pocket.
Thankfully there are lots of brilliant ways to add value and boost the appeal of your home ranging from building an extension, adding a new kitchen and giving your home's exterior a facelift.
Certain projects are quick and easy and will add instant interior appeal while others may be larger extensions that will give you kerb appeal or help your house sell for the right price on the property market.
While you may be tempted to do large scale project don't forget the smaller things can also add value too.
Read on to discover 23 of the best ways to add value to your home.
Once you've carried out the work, you might be wondering 'how much is my house worth?' so check out our guide on that too.
1. Deal with Structural Issues
Want to know how to add value to your home by making sure it's structurally safe and secure? Then make sure you are on top of structural issues such as subsidence as this will massively impact the value of any house, so anyone wanting to add value to their home needs to make structural issues a priority.
It makes no sense to carry out cosmetic improvements or internal work, such as installing a new kitchen or bathroom, or any decoration work without doing this first.
Structural issues such as subsidence, can, in some cases, involve underpinning costs and so are likely to be amongst the most expensive work required in a renovation project but, in terms of adding value, they are absolutely essential.
Other examples of structural defects include:
Sagging or leaky roofs
Rising damp
Structural cracks to walls
Bowing walls
Rotten joists or roof timbers
Insect infestation
Missing or broken roof tiles
An unstable chimney stack
A collapsed floor/slab
Calling in a builder, surveyor or structural engineer is to be advised in the case of structural defects.
2. Add Value to Your Home With a New Heating System
If you are wondering how to add boost your home's house price, look no further than the existing central heating system. Many old houses had either no central heating at all or else old fashioned systems in need of updating.
Adding or updating the central heating system will always add more to the value of a property than it costs and should to be done in conjunction with improving the general energy efficiency of the building.
Improving the efficiency will include:
Sealing any drafts around doors and windows (but not airbricks)
Replacing windows that are beyond repair with double glazing
Adding insulation into the loft space
If the existing boiler is in reasonable working order and has adequate output for the heat requirement of the building, always try to make use of it with the exception of boilers that draw their air intake from inside the house.
If the boiler has sufficient capacity, you could add new radiators and a heated towel rail, or underfloor heating to the existing system.
(MORE: Choosing Radiators)
3. Will a Garden Office Add Value?
There has been a massive shift in the amount of people working from home, so garden offices are a big selling point and can add value to your home.
VISIT THE HOMEBUILDING & RENOVATING SHOW
Need more advice or inspiration for your project? Get two free tickets to the Homebuilding & Renovating Show
Garden offices make sense for many reasons. For those without the space to spare in their homes, a garden office can be the only way to create a productive office area.
"Expect to pay anything from £5,000 to £20,000 for a small garden office," advises Lynn Fotheringham from The Independent Guide to Garden Offices. "Prices for a medium to large sized garden office will be anything from £12,000 upwards, depending upon the quality of the build and bespoke features.
"They sky's the limit for insulated and double glazed garden buildings, which is why it's important to research the market carefully and view buildings before buying."
4. Rewiring and Replumbing Old Houses
Updating services, such as wiring and plumbing is a disruptive job and will involve lifting floors and chasing out plaster, so it's essential to complete the work before making any cosmetic improvements when looking at ways to add value to your home.
(MORE: Rewiring Explained)
Updating the electrics
Updating the electrics may be essential if the house has not been rewired for some years. You should be able to tell by looking by the meter if there is an old fuse box, you probably need to rewire the house and install a modern consumer unit with a RCD (residual circuit device) for safety
Adding extra sockets will also add value to your home and in some cases it might be worth opting for attractive face plates for sockets and switches
If rewiring, use the opportunity to update lighting and to add extractor fans in the bathrooms
A new plumbing system
Old pipework can get very furred up, leading to poor hot and cold flow, knocking or rattling sounds and other noises at worst, it can lead to burst pipes. Consider a pressurised plumbing system, rather than gravity fed, as it eliminates the need for a header tank, thus freeing up space, and ensures good pressure on both the hot and cold supplies
If you have room for a cylinder, you can still have stored hot water for filling a bath quickly. If not, consider a combination boiler that provides hot water on demand but make sure you choose one with a good flow rate you need at least 10 litres a minute for a decent power shower
(MORE: Hot Water Storage)
5. Add Bifold Doors
Create instant wow factor and lots of light with some new bifold doors.
Bifold doors are a brilliant way to bring extra natural light in a house, whilst also creating both a visual and physical link to the outdoor spaces. And the benefits of bifold doors don't stop there either as they can increase the sense of space and effectively create a whole new 'outdoor room' in the sunnier months.
As a rough guide, be prepared to pay around £1,200 per linear metre of overall frame width (for a good-quality system with a good spec of glass and ironmongery).
Don't forget to budget for VAT and installation costs and, in some cases, delivery.
6. Consider a Loft Conversion
A typical loft conversion costs around £500-600/m² compared to around twice this for an extension. In terms of adding value, it is likely to be a very good investment providing it adds more accommodation than it takes away (remember you need to make room for a full staircase and this will take up existing space).
According to a recent survey by sellhousefast.uk, a loft conversion adds £23,754.57 on average.
Natural light can be brought in either via dormer windows or rooflights. A loft conversion does not normally require planning consent, as it uses existing volume however, creating dormer windows may need planning permission if they face a highway (typically the front of a property) and so it is always worth checking with the planners.
(MORE: Loft Conversion Costs)
7. Invest in Solar Panels
Solar panels are a great investment and can certainly help increase the value of your home, especially in today's eco-conscious world. Even though we get a lot of rain, there is still a significant amount of energy that we can get from the sun and turn into free electricity at home.
The position for a solar panel in the UK is to face south on a pitch of around 35°. There are a few things to remember:
Any deviation from this will have a negative impact on the annual energy yield
The roof must be structurally sound enough to take not only the weight of the panels but also the wind lift that may be caused by wind getting behind them.
Then you need to choose between solar panels that are photovoltaic (PV), which generate electricity from sunlight and solar thermal panels, which generate heat for use in your domestic hot water cylinder.
8. How to Add Value to Your Home by Decorating
Decorating is perhaps the most obvious task when thinking about how to add value to your home.
Whilst small, superficial defects won't directly affect the value of a property, they could put off potential buyers and therefore prevent it from selling at the optimum price.
(MORE: How to Paint a Room)
These typical defects will put many buyers off, but are easily resolved by any competent DIYer:
Peeling paint
Squeaking or sticking doors and windows
Door latches that don't work
Mouldy sealants in kitchen and bathroom
Dripping taps
Loose tiles
Sewer smells
Broken or damaged windows
Squeaky floors and stairs
Cracks to ceilings and plasterwork
Lifting flooring
9. Will New Windows Add Value?
Double-glazing is now considered an essential by many buyers and adding it will increase the value of your property. Of course, if you are renovating a period property, you will need to be sensitive to the style of the house — or you could end up decreasing its value!
Where old windows need replacing, they should be replaced like-for-like although it will be necessary for them to be double glazed to meet the current Building Regulations, unless the building is listed or in a conservation area. For most listed buildings, plastic windows are not acceptable to English Heritage.
Make sure that replacement windows:
Are well balanced and have equal sight lines (the same frame lines on fixed as well as opening lights)
Avoid top hung air vents or the little top lights that are not at all traditional
Have proportions that are taller than they are wide, ideally at a ratio of around 1:1.6 for each casement and each light
Timber windows can also be low maintenance, either stained hardwood (not a good look for a period style house though), or timber coated with an external layer of PVCu, vinyl or aluminium.
(MORE: Replacement Windows)
When it comes to higher value period properties, aesthetics start to become a more significant factor, to the extent that a premium can be placed on a property that still has its original period windows, providing they are intact and functioning well.
In such properties, it is often only worth replacing windows that are either beyond repair or inappropriate in terms of style, or where they could add more light.
10. Remodelling Jobs That Add Value
One of the best ways to add value to house? Improve the existing layout — before you consider extending.
Maximum value will be added by improving the main living spaces, such as the kitchen, dining and living area and the way in which they work together.
Draw up a simple floorplan of the existing layout. Play around adding and knocking down internal walls to achieve the optimum layout
Think about making use of circulation space such as halls and corridors that may not be needed in a home suited to less formal lifestyles
Think about combining dining room and kitchen to create a dining kitchen and other potential multi-functional living spaces
Fewer but larger rooms with clear sight lines will make a house seem larger, especially if the flooring and wall finishes continue throughout
Before removing walls, work out which are loadbearing by checking the direction of the floor joists as these should always rest on structural walls. It is always best to consult a structural engineer.
Structural walls can be removed, but will need to be replaced with steelwork and this will require calculations by a structural engineer or building surveyor.
Building stud walls to divide existing space is relatively straightforward and inexpensive, but remember to add acoustic insulation.
(MORE: How to Build a Stud Wall)
11. Add an Extra Bedroom
If in any doubt about how to add value to your home, adding in an extra bedroom is a great place to start.
The number of bedrooms in a property has a big impact on its value so adding bedrooms will usually add to the sale price, although be aware that there is a ceiling value for every street and so at some point the additional cost ceases to bring any return.
Extra bedrooms can be created by dividing up existing space by removing and adding walls, by converting the loft or cellar, or by extending.
Re-using existing space is most cost effective but only likely to be an option in old period houses with vast bedrooms.
Make sure you create a balance between bedrooms and the number of bathrooms a ratio of one to three is a minimum.
12. Kitchen Makeovers That Add Value
An attractive, clean and sociable kitchen is essential both to buyers and valuation surveyors. Before replacing an entire kitchen, consider the fundamentals such as its shape and position and decide if you need to make any structural changes to the space, or if you want to relocate it elsewhere.
Very often, kitchen renovations can be carried out for a modest investment. Small changes such as repainting or replacing unit doors or just the worktops can have a huge impact, as can new floor tiles or better lighting.
(MORE: Kitchen Diner Ideas)
13. Easy Bathroom Updates
Bathrooms need to be fresh and hygienic looking, but are also a great place to add a touch of luxury for that value-adding wow-factor.
Make sure there is adequate light and paint the walls a nice neutral light shade. If there is not enough light, replace a single pendant with a triple halogen spotlight unit, available for as little as £10.
In the case of bathrooms with no windows, consider introducing rooflights or light pipe.
How to add value to your home with a bathroom makeover:
Make sure that at least one bathroom has a shower – it is an essential for most buyers
Check your plumbing system first and buy the right unit depending on whether you have a mains pressure system (modern houses), a gravity fed system (consider a power shower) or a combi boiler system (if the flow rate is low you may need to install an electric shower that heats its own water direct from the mains)
Replace existing sanitaryware if it is chipped, badly stained, or an unfashionable colour such as pink, avocado, peach or chocolate brown. A basic white bathroom suite, complete with taps and waste, can be bought for around £300 and will have much broader appeal
Make sure flooring is clean and hygienic. Go for a vinyl or tiled floor tiles
Consider painting unfashionable tiles with white tile paint. If you need to replace tiles, you could tile over the old ones as removing tiles can be a difficult and very time-consuming job
Make sure the bathroom has an extractor fan for ventilation
Add a mirror or two to make the space seem larger and brighter and think about adding a heated towel rail
Consider underfloor heating if you are laying new floor tiles, but bear in mind that an electric mat system will raise the floor level by 3–4mm
14. Give Your Garden a Makeover
Redesigning your garden, making sure it is not only attractive and well designed, but also tidy, can not only add value to your home but will also help to make the property more appealing to buyers.
Considering the following will help you to get started:
Privacy is vital and improving the feeling of seclusion will add value
Consider adding fences and even mature trees
You can raise boundary fences and walls up to 2m without needing planning permission (0.6m on the highway)
Structures within the garden, such as pergolas, can be up to 4m without needing planning even if they are right up to the boundary
Create distinct areas for each function, seating, eating/barbecue, storage, lawn, work area
A well-designed decking area will extend a buyers perception of the amount of useable living space somewhere between the house and garden, and will add value
Even if you do not makeover your garden, make sure you carry out at least the basics:
Clean up and tidy litter and dead plants
Weed
Repair and feed the lawn
Cut back overgrown trees and shrubs
Create interesting shapes with beds and borders
Add colour and interest with planting
(MORE: How to Fit a Garden Fence)
15. Exterior Home Makeovers
First impressions count, and this is a crucial element if you are trying to sell your home.
Most buyers will decide if they do or do not like a property before they even get out of the car and it can be hard to shake off negative first impressions created by a poor or unattractive exterior.
Giving your home an exterior makeover can involve any of the following:
Repointing brickwork
Repainting doors and windows
Replacing an old garage door
Changing/repairing windows
Repainting walls
Repairing cracked or broken cladding such as render or timber
Removing stone cladding
Adding a porch
Adding climbing plants/trellis
Replacing/adding a house sign or number
Or even renaming the property
For a radical exterior makeover, it is likely that you will need planning permission.
A large scale makeover, like cladding a house, can totally transform the appearance of a property. This may involve changing roofs, wall cladding, windows, chimneys, and porches. Conversion of existing space such as garage or roof, or extending may also appeal.
Although there is a great deal you can do under Permitted Development Rights so do research those too.
(MORE: Exterior Makeovers Design Guide)
16. Will a Conservatory Add Value?
A conservatory or garden room usually adds far more to the value of a property than it costs, providing it is designed, built and integrated into the layout of the house in the right way.
Conversely, a poorly conceived, flimsy and cheap-looking conservatory can detract from the value of a property.
(MORE: Oak Frame Conservatories)
In most instances, a conservatory will not require planning permission, although it will have to comply with the Building Regulations.
On valuable period properties, a basic kit conservatory is unlikely to be a good investment, depending on the ratio of cost to value; a bespoke conservatory is likely to make more sense, even if it costs £10,000s.
17. Quick Ways to Add a Wow Factor
Incorporating a couple of interesting features into your home is a great idea for those wondering how to add value to a house — a bit of wow factor will set it apart from others for sale in the area will add a significant premium to your sale price.
Features to consider include:
A fireplace or surround
Feature window
Roof lantern
Full height glazing
A new staircase
Or perhaps a designer front door.
Many simple features can be added easily and cost effectively, providing they are planned and undertaken thoughtfully.
Don't overlook any existing features either — alcoves or split levels can all be highlighted with the right colours and lighting.
(MORE: Fireplace Ideas)
18. Add Value by Getting Planning Permission and Renewing Leaseholds
Check out our latest subscription offer
A property with a diminishing lease will begin to reduce in value once it gets to under 60 years. Once the lease on a property gets below 30 years it can be difficult to get a mortgage.
If the landlord does not live on the premises you may be able to buy the freehold, or a share of the freehold, and grant yourself a new lease, restoring the value to the equivalent of a freehold property.
Taking control of the freehold will also give you control of ground rent and service charges, plus management of repairs and common areas.
Usually you will have to pay your landlords legal costs, as well as your own, plus a share of the marriage value, the uplift in the value of the property created by joining the lease with the freehold.
A solicitor will be able to work out if you qualify to buy your lease known as enfranchisement and a surveyor will be able to work out how much it will cost.
Buying adjoining land can also significantly increase the value of a property, especially if:
It enhances amenity (allows the creation of a garden or off street parking where there was none, for example)
Creates potential for further enlargement of the property
It adds the potential to keep horses to a rural property
Gaining planning consent for improvements, from building an extension, to a new house in the garden, can enhance the value of a property, even if the work is not carried out.
19. Highlight Original Features
Inappropriate alterations or additions to a property can depress its value and so it follows that removing them can add value.
Removing the following is likely to be a good investment:
Polystyrene ceiling tiles
Pine cladding
Internal stone cladding
Textured ceilings or walls
Plastic fake beams or beams that are inappropriate
Poorly-laid laminate flooring
Mismatched period details such as mouldings or fireplaces
Flush doors
Windows that are out of keeping
Inappropriate porches
Conservatories with a flat polycarbonate roof
Restoring or replacing the following will add value:
Original or period-style fireplaces
Decorative mouldings
Panelled doors
Polished floorboards
Appropriate style windows
Stair banisters and handrails
Knot-free panelled doors
Concealed timber beams or beams concealed behind masses of black paint
The key is to find out about the buildings origins and the way it is constructed and to work in sympathy with this, whilst avoiding being twee.
20. Create a Driveway
Creating one or two parking spaces in front of, or alongside, a property can add significant value, even if it means sacrificing part of even all of a front garden.
For many buyers, a well-designed, low-maintenance drive is more valuable and appealing than a garden they never use.
(MORE: Choosing the Right Material for a Driveway)
If a road is unclassified, i.e. neither an A- or B-road, then you will not usually need planning permission to create a new vehicular access onto your land.
You must, however, comply with the local authority highway regulations for the construction of the drop kerb, and details such as visibility splays.
You must also check that you have a right of way to cross over any land that you do not own e.g. a grass verge. You can check ownership via HM Land Registry at a nominal cost per search.
21. Clever Storage Ideas
Built-in storage space should be high on your priority list if you are looking at how to add value to your home — it is a real selling point.
Make use of every bit of spare space you can find, and either build shelves or fit doors to create cupboards.
Places to add clever storage:
Concealed nooks in corridors
Dead space either side of chimney breasts or at the end of corridors
Space in the eaves
Understairs space
Space in the cellar or attic that can be upgraded
Space beneath the bath tub or alongside cisterns
Space above sinks
Unused wallspace for wall mounted cupboards
Creating a measured plan of the layout of your home can sometimes reveal odd spaces concealed behind plasterboard that you did not know existed.
(MORE: Kitchen Storage Ideas)
22. Add a Bathroom to Add Value
This is often a good investment, especially if it creates an en suite to the master bedroom.
Extra bathrooms can be added by remodelling existing space, or by extending. Ideally there should be WC facilities on every floor that has bedrooms, so if you are converting the attic, try to include at least a WC, if not a full bathroom.
In a traditional two-storey Victorian or Edwardian terraced house, moving the downstairs bathroom upstairs can add value, but beware of losing a bedroom.
(MORE: Family Bathroom Ideas)
23. Easy Ways to Update Interiors
Just by decluttering, adding a lick of paint and careful styling, it is possible to add 5–10% to the value of a property.
Valuers may find it hard to place a figure on the increase in value made by only cosmetic improvements, but the market will always place a premium on an attractively decorated and styled property.
Simple ideas that will make a difference include:
Adding wooden floors
Repainting throughout in neutral shades
Reopening fireplaces
Decluttering
Upgrading lightbulbs
Cleaning windows
A makeover to kitchen and bathrooms
Sanding floorboards
Creating storage
Stripping woodwork
Styling with furniture, lamps, accessories and flowers
How to Add Value to Your Home — Quick Updates
Paint exterior woodwork
Repair windows and doors as well as old rainwater goods
Update old-fashioned sanitaryware
Paint old kitchen units and consider a new worktop
Tidy and organise the garden space
Repair, paint or re-carpet stairs and broken balustrades
Board or convert the loft into useable space
Add new light fittings
Add roof lights, light pipes or a roof lantern to draw in extra natural light
Increase the connection to outside spaces through the introduction of folding or sliding doors
Re-grout tiles
Add storage
Change the front door
Repaint rooms
Replace old flooring, such as threadbare carpets or chipped tiles
Tackle damp issues
Get the Homebuilding & Renovating Newsletter
Bring your dream home to life with expert advice, how-to guides and design inspiration, direct to your inbox.
Michael is Homebuilding & Renovating's Director of Content, Vice Chair of the self build industry body, the National Custom and Self Build Association (NaCSBA), presenter of multiple property TV shows and author of Renovating for Profit (Ebury). He also runs an architectural and interior design practice, offering design and project management services. He is one of the country's leading property experts and has undertaken over 30 building projects including two self-builds and the renovation of a Grade-II listed farmhouse.
Michael has presented over 150 property shows for BBC, ITV1, Channel 5, UK TV Style, and Discovery RealTime, including I Own Britain's Best Home; Don't Move Improve; Trading Up; Good Bid, Good Buy; Build, Buy or Restore?; How to Build A House; and Hard Sell.
Michael is also a regular expert at the Homebuilding & Renovating Shows. He has written for leading British newspapers, including The Daily Telegraph, Sunday Times, Daily Express and The Independent and has appeared on news programmes such as BBC Breakfast.