House Prices Rose 10% in Year to May, But Will Prices Drop This Year?
House prices surged this year, and experts disagree as to whether the housing bubble will eventually burst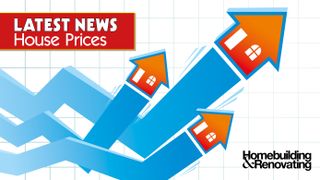 (Image credit: Future)
House prices rose 10% in the year to May, according to the Office for National Statistics (ONS), and experts disagree on whether prices will normalise throughout the rest of the year. 
The average house now costs £254,624, the ONS says, with this annual growth driven by the stamp duty holiday (which ended in June) and a desire for larger homes and outdoor space. 
Latest Subscription Offer
The ONS data follows Halifax's house price index last week which revealed a 0.5% drop in house prices in June. But the lender also warned this dip should be put into context, with average prices more than £21,000 higher than in 2020.
The new findings follow an extraordinary period of record-high prices across the UK, although the end of the stamp duty holiday has been tipped to be a turning point - it is expected to lead to a drop-off in demand and therefore a reduction in prices. 
If you're a first-time buyer or looking to buy before renovating a house, here's what to expect with house prices throughout the second half of 2021. 
Will House Prices Keep Rising?
This is the million-pound question, and the answer depends on who you ask. 
At the turn of the year, experts generally predicted that house prices would tumble in 2021, due to the initial 31 March stamp duty holiday deadline and the economic impact of the pandemic.
The market has been resilient, however, aided by measures announced in the March Budget, including the new mortgage guarantee and stamp duty holiday extension, which have kept housing market activity buoyant.
Property expert Emily Evans, speaking on award-winning builder Andy Stevens' podcast Build It, said in June: "They can't continue to rise. We've had a completely false property market because of the stamp duty holiday. In the coming months we'll see prices falling between potentially 3-5%."
But earlier this month, a 56% majority of Royal Institution of Chartered Surveyors (RICS) members revealed they think prices will do just that - and further increases could be expected. 
Nicky Stevenson, managing director at estate agent group Fine & Country, said: "The housing market has been running much hotter and faster than anyone expected, and despite a slight softening last month, [the ONS] data shows there's plenty of momentum still left.
"Low borrowing costs, reduced supply and an insatiable demand for bigger homes has spurred bidding wars and a spike in house values across the country."
The Stamp Duty Holiday Had a Major Impact
The stamp duty holiday, which exempted tax on the first £500,000 of the purchase price between July 2020 and June 2021, has had a remarkable impact on house prices. 
Zoopla said in June that house prices increased by an average of £10,246 per property since the stamp duty holiday began in July 2020, while Nationwide recorded annual house price growth at 13.4% in June - the highest level since November 2004.
A tapering effect began on 1 July exemption which will keep exemption at double its standard level (£250,000) until the end of September. This will then drop to £125,000 from October, which is also when the furlough scheme ends. 
But a side effect of the stamp duty holiday is that there is now a shortage in supply of properties on the market, with the total stock of homes available to buy running 24% below average levels last year.
What this means is that the number of new properties coming to the market fell by a third in June, but it is unclear if this will have result in an economic downturn. 
Ross Counsell, chartered surveyor and director at GoodMove said: "With less demand comes cheaper house prices, so we should hopefully see more 'normal' house prices towards the end of the year and into 2022."
But Lucy Pendleton, from estate agents James Pendleton, argues: "This may be the first sign house price growth is starting to run out of steam, but this slight cooling does not mean prices will come crashing back down to where they were last summer."
Our Requirements Have Changed
The pandemic has also been a key driver of house prices, and spending more time indoors has changed the requirements of those looking to buy a home.
Two- and three-bedroom semi-detached houses are being snapped up the quickest, Rightmove says, with many families now searching for more spacious homes, following the shift to working from home. 
Nationwide said in its house price index for May that the driving factor for homebuyers this summer is to acquire more space, or a bigger garden.
"Amongst homeowners surveyed at the end of April that were either moving home or considering a move, more than two thirds (68%) said this would have been the case even if the stamp duty holiday had not been extended," said Nationwide's Robert Gardner. 
There is now a 'race for space', Nationwide says, which continues to drive demand. Of those moving or considering a move, around a third (33%) were looking to move to a different area, while nearly 30% were doing so to access a garden or outdoor space more easily, according to an online survey of consumers.
Greater Demand for Rural Locations
The pandemic has also increased our desire for rural living, according to a Royal London survey earlier this year, with many in major cities packing up their bags for the country. 
When home movers were asked which areas they wanted to move to, 57% of Belfast movers said they wanted to move into a rural area, followed by 53% in Cardiff, 46% in London, 45% in Manchester and 42% in Liverpool. 
"Unsurprisingly, space is the most desirable feature for home movers who want more room both indoors and outdoors," said Mona Patel, consumer spokesperson at Royal London. 
"While cities have always been popular home buying locations, the pandemic has seen a shift in attitude as our research shows that there is a greater demand for rural locations."  
Jack is News Editor of Homebuilding & Renovating and strives to break the most relevant and beneficial stories for self builders and renovators. Having bought his first home in 2013, he and his wife have renovated almost every room and recently finished a garden renovation. Jack reports on all of the latest news that could affect your project.
Homebuilding & Renovating Newsletter
Get the latest news, reviews and product advice straight to your inbox.
Thank you for signing up to Homebuilding. You will receive a verification email shortly.
There was a problem. Please refresh the page and try again.