House Prices Fall in October Despite High Demand, Rightmove Reports
House prices fell this past month, as experts predicted, but the number of sales and asking prices are up from this time last year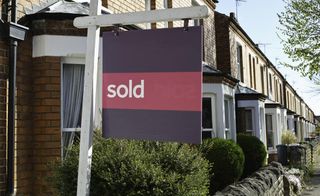 (Image credit: Getty Images)
House prices fell by 0.5% between October-November despite strong demand amid a mini-boom for the housing market, Rightmove reports.
Rightmove's latest house price index aligns with expert predictions that a downturn was to be expected, even after house prices hit a four-year high at the beginning of October. 
But the property lender says that the number of sales agreed in October was up 50% compared to the same time in 2019, and asking prices were actually 6.3% (at £322,025) up on the same point last year.
Why Have House Prices Fallen?
The looming end date of 31 March next year for the stamp duty holiday is considered to be a salient factor for house prices dropping, with homeowners repricing their homes to ensure they agree a sale in time. 
The tax break exempts the first £500,000 of all property sales from the tax, and has helped to bolster the housing market. It has also been welcomed for its impact on those considering renovating a house, who can reinvest the savings into their project. But it will not be extended, and there are fears that a logjam could see 325,000 homeowners miss out. 
Tim Bannister, Rightmove's director of property data, said. "We have a slight dip which could be a result of some new sellers pricing more realistically to have a better chance of agreeing a sale in time to benefit from the stamp duty savings on their onward purchase."
And Ross Counsell, chartered surveyor and director at Good Move, has warned that buyers must be cautious when purchasing a property at a low price. 
"Although it may seem like they're getting a good deal, not every home selling for cheaper will be a good deal. Generally, the lowest-priced homes will require many repairs that will cost buyers in the long run, so they should be wary of this when looking to buy a cheaper home as they may end up spending thousands on big repairs later."
Impact of Covid-19 Restrictions
House prices may also be falling due to a drop-off in pent-up demand following the first lockdown, amid increasing local restrictions this autumn and a subsequent second lockdown.
Despite the new lockdown, the housing market remains open, and while Rightmove saw an initial drop in users on its website once the second lockdown was announced in England, it said that during its first six days demand was up 49% compared to a year earlier. 
Bannister added: "Given the ongoing mini-boom, prices might have been expected to rise again this month." 
Homebuilding & Renovating Newsletter
Get the latest news, expert advice and product inspiration straight to your inbox.
Thank you for signing up to Homebuilding. You will receive a verification email shortly.
There was a problem. Please refresh the page and try again.