House Prices Dipped in April as Stamp Duty Holiday Deadline Looms
There are signs that house prices may stop increasing - here's what to expect if you're buying or selling a home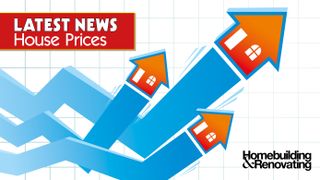 (Image credit: Future)
House prices dropped in April to end 11 consecutive months of increases, the Office for National Statistics (ONS) reports.
The data is particularly significant ahead of the looming stamp duty holiday deadline on 30 June. House prices have been at their highest ever rates in 2021, but the housing bubble could be set to burst once the tax break ends. 
Latest Subscription Offer
The average price of a home decreased 1.9% between March and April, although this was still up 8.9% on April 2020. The ONS says the average house price in the UK is now £250,772.
London was significantly affected in April, suffering its biggest monthly fall in a decade, wiping 10% of the average price of a house, which is now £491,687.
If you're a first-time buyer or looking to buy before renovating a house, here's what to expect with house prices throughout the second half of 2021. 
Will House Prices Keep Rising?
At the turn of the year, experts generally predicted that house prices would tumble in 2021, due to the initial 31 March stamp duty holiday deadline and the economic impact of the pandemic.
The market has been resilient, however, aided by measures announced in the March Budget, including the new mortgage guarantee and stamp duty holiday extension, which have kept housing market activity buoyant.
The average selling price climbed to £261,742 in May, Halifax reported last week, representing the highest rate of annual growth in seven years. 
And property transactions are predicted to exceed 1.5 million this year, according to Zoopla, with sales up 45% compared with 2020. 
However some experts predict the housing boom will ease once the stamp duty holiday ends on 30 June. Buyer demand has surged as homebuyers strive to make the most of the tax break, and a shortage in supply of properties on the market is expected to lead to a reduction in prices. 
There is likely to be a fall in sales when the stamp duty nil-rate band drops to £250,000 in September, which is also when the furlough scheme ends - an economic downturn is likely.
Karen Noye, mortgage expert at Quilter, said: "Once the stamp duty holiday begins tapering in June, along with the furlough scheme, we could see some of the froth come out of the market and this may then lead to a slow and steady decline in prices rather than any immediate shock."
Meanwhile, others are more upbeat that the 'mini-boom' which began in 2020 will continue. Russell Galley, Halifax managing director, said: "These trends [recent price rises[, coupled with growing confidence in a more rapid recovery in economic activity if restrictions continue to be eased, are likely to support house prices for some time to come, particularly given the continued shortage of properties for sale."
Our Requirements Have Changed
The pandemic has been a key driver of house prices, and spending more time indoors has changed the requirements of those looking to buy a home.
Two- and three-bedroom semi-detached houses are being snapped up the quickest, Rightmove says, with many families now searching for more spacious homes, following the shift to working from home. 
Nationwide said in its house price index for May that the driving factor for homebuyers this summer is to acquire more space, or a bigger garden.
"Amongst homeowners surveyed at the end of April that were either moving home or considering a move, more than two thirds (68%) said this would have been the case even if the stamp duty holiday had not been extended," said Gardner. 
There is now a 'race for space', Nationwide says, which continues to drive demand. Of those moving or considering a move, around a third (33%) were looking to move to a different area, while nearly 30% were doing so to access a garden or outdoor space more easily, according to an online survey of consumers.
Greater Demand for Rural Locations
The pandemic has also increased our desire for rural living, according to a Royal London survey earlier this year, with many in major cities packing up their bags for the country. 
When home movers were asked which areas they wanted to move to, 57% of Belfast movers said they wanted to move into a rural area, followed by 53% in Cardiff, 46% in London, 45% in Manchester and 42% in Liverpool. 
"Unsurprisingly, space is the most desirable feature for home movers who want more room both indoors and outdoors," said Mona Patel, consumer spokesperson at Royal London. 
"While cities have always been popular home buying locations, the pandemic has seen a shift in attitude as our research shows that there is a greater demand for rural locations."  
Homebuilding & Renovating Newsletter
Get the latest news, reviews and product advice straight to your inbox.
Thank you for signing up to Homebuilding. You will receive a verification email shortly.
There was a problem. Please refresh the page and try again.