House Prices Surge Again in November as Demand Remains Strong
House prices had been expected to cool this winter, but aspiring buyers are feeling the effects of a red hot year for the housing market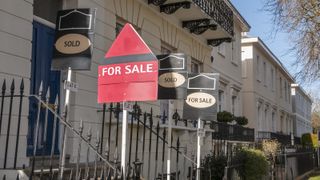 (Image credit: Getty Images)
House prices in the UK returned to double-digit growth for November with the housing market "buoyant", according to Nationwide's new house price index.
Annual house price growth rose to 10% in November, up from 9.9% in October, meaning the average UK property value is now £252,687.
Nationwide added that house prices have risen to almost 15% above average prices in March 2020 before the coronavirus pandemic first hit the UK.
Latest Subscription Offer
Robert Gardner, Nationwide's chief economist, said one reason for this increase included fewer people being made redundant than expected following the end of the furlough scheme in October.
Moreover, the stamp duty holiday which officially ended in September has led to a shortage of available properties, and continuing price rises could be due to this limited supply.
Gardner added though that it was unclear what impact the new Omicron Covid-19 variant would have on a "buoyant" housing market.
If you're a first-time buyer or buying before renovating a house, read on to see whether experts predict a cooling of the market in 2022, and why housing activity has thrived throughout 2021.
When Will House Prices Drop?
House prices have soared this year, reaching record highs in multiple house price indexes (HPIs).
House prices rose for a fourth month in a row in October and climbed above an average of £270,000, Halifax says, while the monthly rise in house prices for September was the highest in 14 years.
Meanwhile, the Office for Budget Responsibility recently predicted that house prices will rise by 13% over the next five years following a bumper 2021.
Why have house prices continued to surge? Reasons include the stamp duty holiday extension and the new mortgage guarantee, two measures announced in the Spring Budget which kept housing market activity buoyant. The 'race for space' - with buyers seeking larger homes - has also been a factor.
But many expected the market to cool once the stamp duty holiday ended in June (prior to the tapering effect between July-September), and this was evidenced initially by annual house price growth falling to 10% in Nationwide's September house price index (from 11% in August).
However, the housing bubble is not yet ready to burst, and Zoopla has forecasted a +3% increase in UK house prices over the course of 2022.
The impact of rising inflation and a widely expected rise in interest rates, though, could yet prove influential. "The Bank of England is expected to react to building inflation risks by raising rates as soon as next month, with further such rises predicted over the next 12 months," says Russell Galley, managing director at Halifax.
Galley added, however, that he does expect house-buying demand to cool in the months ahead as borrowing costs increase.
Moreover, the furlough scheme closed in October with nearly one million workers expected to have been be on the scheme, according to estimates by the Office for National Statistics (ONS). Some believe this could have an adverse economic impact which could impact house prices.
Where Have House Prices Risen the Most?
Over the last 20 years, several London boroughs have undergone dramatic increases in house prices, none more so than Kensington and Chelsea, where prices have risen by £863,000.
Westminster (£600,000), City of London (£540,000) and Camden (£505,000) have also all increased by over £500,000, according to a review of Office for National Statistics (ONS) data by HouseholdQuotes.
Corby, meanwhile, has experienced the highest percentage increase in house prices, rising 246.49% between 2000-2020. A home in Corby used to cost £51,950 in 2000 and cost £180,000 in 2020.
Stoke-on-Trent (224.32%), Manchester (226.66%) and Salford (217.31%) also featured in the top 10.
Areas that had the smallest increase since 2002 include Blaenau Gwent, Blackpool, Burnley, County Durham, Isles of Scilly, Swindon and Southampton.
Expert Predictions for 2022
Responding to Nationwide's house price index this week, Nicky Stevenson, managing Director at national estate agent group Fine & Country, said: "House prices remain stubbornly high despite transaction levels beginning to relax following the record surge in activity earlier in the year.
Could prices drop next year? "It's too early yet to predict whether the new strain of Covid will dampen price growth in the future," she said. "While there's certainly no evidence that we may be about to move into lower gears, we could experience an easing off from double digit growth in the months ahead."
Tom Bill, head of UK residential research at the estate agent Knight Frank, also says the potential threat of the Omnicron variant could be a factor which yet affects interest rates and the housing market.
"Gravity-defying price growth is the result of low interest rates and tight supply, which are both things we expect to reverse next year, putting downwards pressure on prices," he said.
"Interest rates may rise more slowly if the new Omicron Covid-19 variant proves to be more serious than the early anecdotal evidence suggests."
And Jonathan Hopper, chief executive of Garrington Property Finders, says that the Omicron variant make some homeowners decide to wait before putting their property up for sale, potentially cooling the market.
Prices Remain Challenging for First-Time Buyers
Growth has exceeded earnings growth over the past year, and the ratio of house prices to average earnings has increased to a record high, Nationwide says.
A 20% deposit is now equivalent to 110% of average income - a record high and up from 102% one year ago. This is proving a particularly changing disparity for first-time buyers, Nationwide says.
London continues to have the highest house price to earnings ratio at 9.0, although this is still below its record high of 10.2 in 2016.
Andrew Harvey, senior economist at Nationwide, said: "House prices have continued to rise more quickly than earnings in recent quarters, which means affordability is becoming more stretched.
"Due to the historically low level of interest rates, the comparative cost of servicing a typical mortgage is still well below the levels recorded in the run up to the financial crisis. However, even on this measure, affordability is becoming more challenging."
The Legacy of the Stamp Duty Holiday
The stamp duty holiday exempted tax on the first £500,000 of the purchase price between July 2020 and June 2021, and has had a remarkable impact on house prices.
Zoopla said in its July house price index that it expected prices to edge upwards by 6% in the coming months because of the clamour to make the most the tax break, before eventually easing back to 4-5%.
Moreover, the stamp duty holiday led to a shortage in supply of properties on the market, with house sales 28% lower in October than a year earlier after a record surge in activity earlier in 2021, according to HM Revenue and Customs.
A tapering effect began on 1 July which kept exemption at double its standard level (£250,000) until the end of September. This dropped back to £125,000 at the beginning of October.
Russell Galley said in August that "much of the impact from the stamp duty holiday has now left the market", but Jonathan Hopper, CEO of Garrington Property Finders, commented on Halifax's November HPI: "So much for the end of the stamp duty holiday taking the steam out of the market. It's a month since the tax incentive for buyers was finally withdrawn in England, but you'd scarcely know it. The market is ploughing on regardless."
Our Requirements Have Changed
The pandemic has also been a key driver of house prices, and spending more time indoors has changed the requirements of those looking to buy a home.
Two- and three-bedroom semi-detached houses were snapped up the quickest this year, Rightmove says, with many families searching for more spacious homes, following the shift to working from home.
Nick Barnes, head of research at estate agency chain Chestertons, said in September: "We expect activity to pick up as there is still substantial unsatisfied demand for spacious homes, mortgage offerings remain attractive and buyers are keen to get their lives back on track post-lockdown."
The 'race for space' continues to drive demand, and Galley says that the demand for more space amid greater home working has been a prominent driver of buyer demand over the past two months.
A Nationwide study from earlier this year revealed that of those moving or considering a move, around a third (33%) are looking to move to a different area, while nearly 30% are doing so to access a garden or outdoor space more easily.
Greater Demand for Rural Locations
The pandemic has also increased our desire for rural living, according to a Royal London survey earlier this year, with many in major cities packing up their bags for the country.
When home movers were asked which areas they wanted to move to, 57% of Belfast movers said they wanted to move into a rural area, followed by 53% in Cardiff, 46% in London, 45% in Manchester and 42% in Liverpool.
"Unsurprisingly, space is the most desirable feature for home movers who want more room both indoors and outdoors," said Mona Patel, consumer spokesperson at Royal London.
"While cities have always been popular home buying locations, the pandemic has seen a shift in attitude as our research shows that there is a greater demand for rural locations."
Anthony Codling, an independent housing analyst, adds: "Large numbers continue to look for more space to facilitate working from home and countless others are looking for additional homes to accommodate the emerging hybrid working from home model of two to three days in the urban office and two to three days in the rural or coastal idyll.
"Meanwhile, the number of homes for sale is not meeting demand and the outlook for prices is up not down."
Jack is News Editor for Homebuilding & Renovating, and strives to break the most relevant and beneficial stories for self builders, extenders and renovators, including the latest news on the construction materials shortage and planning reforms. Having bought his first home in 2013, he and his wife have renovated almost every room and recently finished a garden renovation.
Homebuilding & Renovating Newsletter
Get the latest news, reviews and product advice straight to your inbox.
Thank you for signing up to Homebuilding. You will receive a verification email shortly.
There was a problem. Please refresh the page and try again.