House Prices Reach All-Time High, Increasing by Nearly £7,000 in April
Homebuyers are facing the highest house prices Britain has ever seen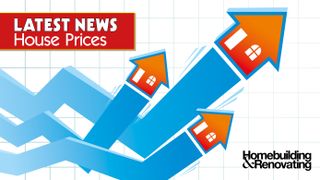 (Image credit: Future)
House prices have reached a new all-time high this month, with average asking prices rising by nearly £7,000, according to Rightmove.
The average asking price in the UK jumped to £327,797 in April, driven by a frenzy of activity as sellers found buyers at record speed. 
The number of houses selling in a week reached its highest ever level, at 23% of sales, Rightmove data reveals, and the average number of days to sell a property dropped to its lowest-ever level, at just 45 days.
This price increase marks a 2.1% jump in average asking prices from March, a rise of £6,733. This means that homebuyers this spring will face the highest house prices Britain has seen. 
Monday's findings coincide with the launch of the government's new mortgage guarantee scheme, in which lenders will offer 95% mortgages on properties of up to £600,000. 
House Prices in 2021: What to Know
At the turn of the year, experts generally predicted that house prices would tumble in 2021, due to the looming initial 31 March stamp duty holiday deadline and the economic impact of the pandemic.
The market has been resilient, however. While the Office for National Statistics (ONS) reported in March that house prices declined in January (by 0.5%) for the first time since April 2020, this still left prices 7.5% higher in January compared to a year previously. 
Robert Gardner, chief economist at Nationwide, said earlier this month that the recent measures announced in the Budget, including the mortgage guarantee scheme and stamp duty holiday extension, suggest that housing market activity is likely to remain buoyant over the next six months.
Many estate agents are now predicting healthy forecasts for the housing market, which could impact those looking to climb onto the property ladder as well as those looking to buy before renovating a house.
"The stars have aligned for this spring price surge, with buyers' new space requirements being part of the constellation alongside cheap mortgages, stamp duty holiday extensions in England and Wales, government support for 95% mortgages and a shortage of suitable property to buy," said Tim Bannister, Rightmove's director of property data.
While the stamp duty holiday extension will "result in some additional transactions and raise house prices a little", Rightmove says, there is expected to be a drop in sales when the stamp duty nil-rate band drops to £250,000 in September. 
Our Requirements Have Changed
The pandemic has been a key driver of house prices, and spending more time indoors has changed the requirements of those looking to buy a home.
Two- and three-bedroom semi-detached houses are being snapped up the quickest, Rightmove says, with many families now searching for more spacious homes, following the shift to working from home. 
Earlier this year, a Royal London survey of 1,000 current and pending UK home movers revealed that 38% were convinced them to move homes because of the pandemic. 
Home movers said the main features that made lockdown harder were small garden/outdoor areas (33%), lack of indoor space (27%) and no outdoor space (24%).
Unsurprisingly, having more indoor space (51%) was the most-desired property features, followed by more outdoor space (46%), more natural lighting (34%), and more space for pets (28%).
Greater Demand for Rural Locations
The pandemic has also increased our desire for rural living, the Royal London survey showed, with many in major cities packing up their bags for the country. 
When the home movers were asked which areas they wanted to move to, 57% of Belfast movers said they wanted to move into a rural area, followed by 53% in Cardiff, 46% in London, 45% in Manchester and 42% in Liverpool. 
"Unsurprisingly, space is the most desirable feature for home movers who want more room both indoors and outdoors," said Mona Patel, consumer spokesperson at Royal London. "While cities have always been popular home buying locations, the pandemic has seen a shift in attitude as our research shows that there is a greater demand for rural locations."  
Uncertainty Over House Prices Remains
Despite the market stabilising, some analysts have predicted a a drop-off in demand in 2021, and therefore a drop in house prices. 
Robert Gardner said earlier this month that the long-term outlook for prices remains uncertain. "It may be that the recovery continues to gather momentum and that shifts in housing demand resulting from the pandemic continue to lift the market," he said.
"However, if the labour market weakens towards the end of the year as policy support is withdrawn, as most analysts expect, then activity is likely to slow nearer the end of 2021, perhaps sharply."Widespread job losses is also expected to impact prices, with unemployment forecast to rise to 7.5% this year, from a current rate of 4.8%. 
Prior to the Budget, it was expected that around 2.6m people could be unemployed by the middle of the year if the furlough scheme had have ended in April. But in the Budget the government confirmed that the scheme will now be extended until September.
This should taper the impact on house prices, but the predicted economic downturn this year is expected to drive prices down.
Homebuilding & Renovating Newsletter
Get the latest news, reviews and product advice straight to your inbox.
Thank you for signing up to Homebuilding. You will receive a verification email shortly.
There was a problem. Please refresh the page and try again.