Combi Boilers: The Ultimate Guide
By David Hilton published
Combi boilers are small in size and energy efficient making them a great choice for homeowners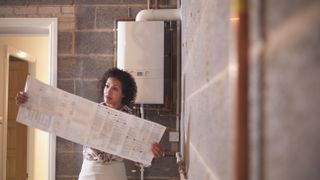 (Image credit: Getty Images)
Combi boilers (or combination boilers) are a popular choice thanks to their easy installation and energy efficiency. If you are about to take on a renovation or install a new heating system, then a combi boiler could be for you.
A combi boiler delivers instantaneous heat for either hot water use or central heating. This is different from a typical instantaneous heater in that it can deliver the heat to both the hot water taps and also a central heating circuit.
There is usually no storage cylinder and the water is heated up as it passes through the heat exchanger of the boiler, making it a great space saver.
Combi boilers are available that run on a number of different fuels including:
Natural gas,
LPG (bottle gas)
Oil
Electric.
(MORE: Choosing a New Boiler)
How Does a Combi Boiler Work?
Combi boilers effectively have two heat exchangers. One for domestic hot water and the other for the central heating circuit.
The heat exchanger is part of the combustion chamber and heats the domestic hot water by about 35°C as it passes through.
The flow rate will depend on the power of the boiler and, typically, a 24kW boiler delivers around 11 litres per minute at a 35°C temperature rise.
A more powerful boiler will deliver a faster flow rate at the same temperature rise.
How Much Does a Combi Boiler Cost?
A combi boiler unit costs between £1,000 and £2,000 depending on brand.
The cost of a combi boiler is a bit higher than a similar quality system boiler due to the additional heat exchange controls in the unit.
However, the installation is usually a lot less than a system boiler because there is no additional cylinder and the basic zone valves are already usually included in the boiler.
And a typical combi boiler swap in an existing home is between £2,000 and £3,000 depending on brand and location.
To get a free quote for a combi boiler, visit boilerguide.co.uk (opens in new tab).
Pros and Cons of a Combi Boiler
The Positives:
It is cheaper and easier to install because there is no cylinder to connect to
It takes up a lot less space as it has no cylinder
There is no heat loss that is usually associated with stored water and as the water is instantaneous you do not run out of hot water
The Negatives:
A combi boiler has lower pressure due to the hot water being delivered at a given flow rate rather than through a pressurized cylinder. This means that the heat is 'shared' if another tap is turned on. Low pressure isn't a problem if you are running a bath, but it will affect the shower if you turn on the kitchen tap
A combi boiler is also not compatible with all taps because the taps often modulate the flow rate which will cause the boiler to also adjust, sometimes switching off
It is also for this reason that a combi boiler will only be able to supply to a tap outlet that is one storey above the boiler location. Therefore if the boiler is on the ground floor you will struggle to run a shower on the second floor
Where there is low pressure water or a gravity feed tank supplying water to the home the combi boiler will struggle to supply water to any outlets above the height of the boiler
How to Choose The Right Combi Boiler
Where should I buy it from?
It is often best to get a supply and installation deal from the installer so that there is absolutely no grey areas. Many merchants will now not sell boilers and other controlled products to unqualified persons. Ask the installer if they have any maintenance contracts that may include annual servicing so that you can be sure that the boiler is being kept at its best.
Modern boilers are constructed with thinner alloys to help with their efficiency and as such the typical life expectancy of a condensing boiler is around seven years.
This could be longer with quality brand and good regular servicing but could also be reduced in hard/corrosive water areas.
A combi boiler will usually be sized according to the central heating requirement of the home. If you oversize this in order to achieve a greater flow rate for the shower you need to be absolutely sure that the boiler can modulate down enough to not go into short stop/start cycles on less cold days in winter.
As with any appliance you get what you pay for. Get recommendations from your installer for brand preference and also look at the terms and duration of the manufacturers warranty.
The quality of the product is as important as the availability of spare parts and product support by the manufacturers and the installers.
Are All Combi Boilers Fuelled by Gas?
Combi boilers can be fuelled by gas, LPG, heating oil or electricity. The gas and LPG combi boiler will look the same.
The gas combi boilers are usually wall-mounted products that heat water as it passes through and can be fitted inside a cupboard. Domestic gas and LPG combi boilers can heat between 10 and 20 litres per minute depending on their capacity.
An oil boiler is a floor-mounted product around the same size as a bar fridge. Water is heated instantaneously but, due to the lower calorific value of oil, there is usually a small hot water cylinder in the boiler that helps to add heat to the cold water as it passes through.
The heating flow rate of an oil boiler is slightly lower than a similar gas or LPG boiler and with prolonged use the hot water cylinder in the boiler can also cool which also lowers the delivered heat.
Electric combi boilers are limited by the electricity supply and as such have a much lower flow rate than the fossil fuel combi boilers.
A 24 kW gas boiler will lift 11 litres per minute by 35°C. An electric combi boiler cannot deliver 24kW and is limited to around 8kW on single phase electricity.
This means it can realistically only deliver just under four litres per minute at a 35°C rise.
(MORE: Hot Water Storage Solutions)
What Kinds of Houses Does a Combi Boiler Best Suit?
A combi boiler is typically suited to properties up to around three bedrooms and one bathroom. Any larger property would need management to make sure that other taps are not used while the shower is in use.
There are also storage combi boilers that could be useful in this scenario.
There are also some situations where more than one combi boiler could be fitted to a property such as where there are bathrooms at opposite ends of the home but you would need to check the gas meter and water supply with a suitably-qualified engineer before choosing this solution.
How Energy-Efficient are Combi Boilers?
Combi boilers are as efficient as any other boiler.
The system that they feed can often be more efficient as there is no water store that will have standing heat loss as the water waits to be used.
Does it Work With Underfloor Heating?
A combi boiler will be absolutely fine with underfloor heating, although a small buffer tank or low loss header and a blending valve may need to be fitted depending on the design of the pipe layout in the property.
Installing a Combi Boiler
All combi boilers are required to be installed by a suitably qualified and accredited member of the relevant competent person scheme.
Gas, LPG, heating oil or electrical installation works are all regulated and controlled so you cannot legally fit a combi boiler on a DIY basis.
A combi boiler is usually best situated near to the water outlets so that there is less lag time waiting for the water to get hot and also less heat loss in the pipework.
Replacing an Existing Boiler with a Combi Boiler
It is possible to replace a system boiler with a combi boiler but you need to be sure that all the pipework is in the right place and that the water pressure and take off pipework is compatible with the combi boiler.
When installing a combi boiler as a replacement for a system boiler you need to be sure that there is a high enough water pressure and flow rate to supply to the boiler.
Also check that the water take off pipes to the taps is not restricted and that the taps and shower valves are compatible with combi boilers.
Is it Worth Swapping to a Combi Boiler?
Combi boilers have less components than a system boiler so are cheaper to install (and replace) than a system boiler but as they are ideally suited to smaller homes there could be a compromise in shower pressure and multi-point use.
Maintaining a Combi Boiler
As with all boilers and central heating systems an annual service is recommended for combi boilers.
Due to the water passing through the heat exchanger on demand it is also recommended to soften the water in hard water areas to ensure that the heat exchanger does not get coated in limescale and lose efficiency.
Get a Free Quote for a New Boiler
Homebuilding & Renovating has partnered with boilerguide.co.uk to provide a free quote for your new boiler.
David is a renewables and ventilation installer, with over 35 years experience, and is a long-standing contributor to Homebuilding and Renovating magazine. He is a member of the Gas Safe Register, has a Masters degree in Sustainable Architecture, and is an authority in sustainable building and energy efficiency, with extensive knowledge in building fabrics, heat recovery ventilation, renewables, and also conventional heating systems. He is also a speaker at the Homebuilding & Renovating Show.
Passionate about healthy, efficient homes, he is director of Heat and Energy Ltd. He works with architects, builders, self builders and renovators, and designs and project manages the installation of ventilation and heating systems to achieve the most energy efficient and cost effective outcome for every home.
Homebuilding & Renovating Newsletter
Get the latest news, reviews and product advice straight to your inbox.
Thank you for signing up to Homebuilding. You will receive a verification email shortly.
There was a problem. Please refresh the page and try again.