13 Bedroom Loft Conversion Ideas for Stylish Sleeping Spaces
By Amy Reeves published
Maximise the potential of your space with effective bedroom loft conversion ideas, layout advice and design inspiration for a retreat in the roof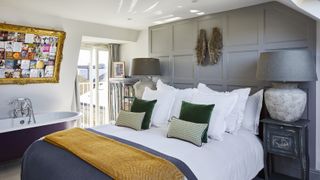 (Image credit: Chris Snook)
Finding the right bedroom loft conversion ideas will hinge on the shape and size of your new space in the roof. Often awkward and irregular, loft conversions have to contend with alcoves and eaves which makes planning a bedroom from scratch all the more tricky.
However, if you've recently undergone a loft conversion, or are about to, we've compiled some great ideas to help you deal with pokey corners, low ceiling heights and strange spaces.
Making the layout a priority is essential in a practical bedroom so being aware of the flow from the loft conversion stairs (be they integrated within the room or separate) and around furniture early on will serve you well. Additionally, during the design stages, factoring in special features – such as lighting, built-in storage and rooflights – will help make any sized room sing and realise its full potential.
Bedroom Loft Conversion Ideas
When collecting ideas for a sleeping space in the roof, bear in mind the types of loft conversion and whether you are undergoing a DIY loft conversion, if you will be hiring trades or a specialist company to achieve your goals.
While DIY will allow some flexibility in the design as you build and insulate a loft, trades like electricians and plumbers will need to be informed of your ideas ahead of time — changes later down the line will increase costs.
1. Create Extra Headroom with Dormers
Adding a dormer loft conversion can provide some much-needed headroom so getting ready in the morning isn't greeted with a bumped head. Adding some taller areas in the floorplan will also help with setting out the layout for elements like windows, radiators and storage.
The exterior design of dormer windows in style and shape will impact the appearance from the inside and also what they can be used for. The small, flat-roofed dormer of this loft conversion is perfectly suited to housing the radiator while larger units can provide storage, desk space or room enough for the bed frame.
2. Brighten a Space with a Rooflight
Generally attics and lofts don't have existing openings or windows so where a loft extension isn't in the plan, or the budget, include clever loft conversion ideas like rooflights to inject some natural light and make the room feel larger.
There are some great new designs for rooflights on the market, with loft conversions specifically in mind. From integrated and automatic blinds and various ways of opening to avoid bumped heads, to units that open out into a Juliet balcony (as above).
This Velux (opens in new tab) loft conversion manages to embrace the natural views across the treetops with the Scandi-inspired interior scheme. The calming space has been made possible through a deliberate focus on the outside and bringing it into the new space (using biophillic design in wood materials and greenery). Although the space isn't huge, it manages to include a seating area for optimal relaxation thanks to a smart layout.
3. Create a Place to Play for Children
A great alternative to building an extension for a growing family, adding extra children's bedrooms in the loft is an effective way to outsource the toys and objects that come with younger family members.
Odd alcoves can be perfect for small beds or wardrobes and as kids grow older, they will appreciate the independence of being slightly removed from the shared social areas.
This bungalow loft conversion ingeniously utilised the tallest spot in the room for a bunkbed while a cosy reading nook had been created in the lowest spot under the eaves.
4. Embrace Luxury in a New Master Suite
If your new in bedroom loft conversion is for the adults of the house, aim to make it a grown-up retreat away from it all. Include master bedroom ideas, elements and features that will make the bedroom feel like a sanctuary, be it a soft, boutique lighting design or a hotel-inspired layout with the bath in the room.
In this mansard loft conversion, the homeowner definitely made the most of the small space by including a Juliet balcony, rooflights, statement wall panelling and a freestanding roll-top tub — the result truly is a destination worth climbing the stairs for.
5. Think About Storage When Planning a Loft Conversion
Loft storage ideas are notoriously difficult to plan when dealing with chimney breasts, sloping eaves and awkward angles. Bespoke built-in units can often be the best way to maximise strange spaces.
The idea of a traditional wardrobe may have to be disregarded without sufficient head-height — plus they often feel bulky and in-the-way in bedrooms in loft conversions.
As an alternative, low-level off-the-shelf units can make a room feel more spacious so think about how furniture can be utilised outside of tradition. Console and TV units offer fantastic storage without feeling overly imposing, while open bookcases in lieu of side tables is a characterful and helpful use of space.
6. Save Trips Downstairs with an En Suite
As the ultimate luxury in any home, adding small en suite ideas into a loft conversion design will eke out every last inch of usable space during this value-adding project.
Loft conversion bathrooms are tricky to get right so focusing on the essential elements for your lifestyle is paramount when space is limited. Consider combining a vanity unit with a dressing area, or removing a toilet from the equation (saving both time and money).
This contemporary loft space has been smartly designed to include plenty of space to walk around the bed while including an integrated shower area around the corner. Note the open storage space under the eaves on the right of the image, another savvy way to maximise stylish storage.
7. Make the Most of a Small Space
"A common issue [of loft conversions] is the available head height. It may first appear insufficient but provided the ceiling heights in the floor below allow, one option is to drop the ceilings to create more space above," says David Reiser of Scenario Architecture.
"Another approach to tackling spaces with limited headroom, that can be used in conjunction with the above, is to minimise the roof thickness," he continues. "This can be achieve using ultra-efficient insulation or SIPs — but bear in mind that these solutions with drive up costs."
This master bedroom ingeniously utilises the vaulted ceiling to create a sense of space, even though the usable floorspace is limited. The separate dressing area creates a feeling of privacy and orderliness without making the room feel cramped.
8. Make Natural Light a Priority
Consider the size, style and orientation of your loft conversion windows at the design stage as they will impact the amount of natural light the room gets throughout the day.
Some squat or short rooms benefit from one large picture window, as in the project above by Amos Goldreich Architects, while long or narrow spaces work best with many well-positioned window aspects.
To achieve an increased sense of wellbeing, capture a morning view across treetops in urban areas or nighttime views up to the stars in the countryside.
9. Create a Teenage Retreat
As we grow from kids to teens, our interests and tastes can change at the drop of a hat. If you're planning to move a young adult into a loft bedroom to give them some space, be sure the get the essentials right so all that is needed is a quick refresh.
From phones and speakers to TVs and computers, planning enough plug sockets for modern life is a must-have discussion to have with your electrician. Perhaps even install an ethernet port or WiFi booster in the loft conversion as the main router (usually on the ground floor) might not reach to the roof.
Interesting wall finishes can also be an effective way for teens to imbue the room with personality. Here, a cork wall provides inhabitants with a flexible way to display posters and artwork without ruining walls with blu tack or tape.
10. Include Unexpected Features
When converting a loft some unexpected treasures might be found along the way, including interesting beams, the top of the chimney or hardwood flooring. So, before you cover up and board over for a sleek, modern finish, balance a fresh start with characterful features.
This loft space includes an en suite and walk-in wardrobe in the eaves, leaving plenty of room for a spacious bedroom. The existing single-skin chimney breast was supported by a steal beam in the ridge and painted white for added interest.
11. Break up a Bedroom Layout for Different Tasks
Don't let a new bedroom in the loft feel lost. Incorporate zoning techniques used in open-plan spaces to provide purpose and visual distinction. In larger spaces, take a chance to be bolder in the layout and introduce room dividers, or even changes in flooring and lighting for different uses.
This terraced house loft conversion and dormer extension ingeniously included a small partition wall to provide the bed with a back rest, as well as some privacy for a dressing area. The shower space also uses a glazed door so the natural light from the large new window isn't blocked into a corner of the room.
12. Embrace Eaves and Low Ceilings
While for many loft conversions eaves can feel like a pain to be put up with, the reality is that they're a common feature that should be embraced as an architectural element, especially in bedrooms where a low apex or slope can provide a cosy nook for the bed.
Similarly low ceilings at points in rooms can become characterful spots for reading, sitting to watch TV or getting ready for the day by a vanity unit.
The key to success with both of these irks is to ensure adequate bedroom lighting ideas have been considered and implemented. Downlights are a common way to seamlessly illuminate dark corners, while warm wall lights and table lamps will amp up the feeling of cosiness.
13. Create a Multi-use Guest Bedroom in the Loft
Having a guest bedroom mildly independent from the rest of the house is a fantastic way for visitors to retain a sense of privacy. Positioning this space in the loft (ideally with an en suite or small bathroom) creates a feeling of self-sufficiency, even if the room itself is compact.
However, it may feel like a bit of a waste to seldom use this newly converted area, so consider blending guest bedroom ideas with multi-purpose spaces. A hobby room, a sitting area (think sofa beds and an ottoman), or even a home office with a fold-away desk can double up as guest spaces.
Loft conversions offer the chance to get what you need from an existing home, so seriously consider how a bedroom in the loft can be pushed to the limits with uses.
Can I Convert My Loft into a Bedroom?
"Head height is the primary consideration when it comes to assessing whether your loft has the potential to be converted," explains homes journalist Rebecca Foster. "With the help of a quick tape measure, this is a quick check you can carry out yourself — ideally, you want a minimum of 2.2m of clearance between the top of the ceiling joists and the underside of the ridge beam."
A bedroom in the roof also needs to have at least 10.22m² of living space for two adults, although for a master bedroom with king bed a room size of 20.25m² would be more than enough.
Assistant Editor Amy began working for Homebuilding & Renovating in 2018. She has an interest in sustainable building methods and always has her eye on the latest design ideas. Amy has interviewed countless self builders, renovators and extenders about their experiences for Homebuilding & Renovating magazine. She is currently renovating a mid-century home, together with her partner, on a DIY basis, and has recently fitted her own kitchen.
Homebuilding & Renovating Newsletter
Get the latest news, reviews and product advice straight to your inbox.
Thank you for signing up to Homebuilding. You will receive a verification email shortly.
There was a problem. Please refresh the page and try again.