Guide to Choosing a Driveway
A welcoming driveway sets the tone for the rest of your home. Mark Brinkley and Tim Pullen explain how to get it right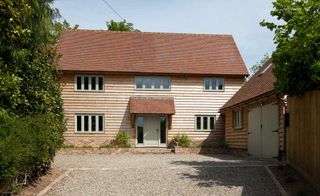 (Image credit: Jeremy Phillips)
Permission for new homes almost always requires provision for off-road car parking. So while a garage is a luxury you could postpone or dispense with, you'll need to accommodate driveways and hardstandings within the initial design.
What Should You Lay as a Foundation to a Drive?
Whatever drive finish you decide on, the base you lay should essentially be the same: ideally 100-150mm of hardcore. The most efficient method is to use machines to spread and tamp hardcore — digger buckets are particularly effective tampers.
It is very useful to have hardcore laid as early as possible on a building job as it aids access and stops the site becoming a quagmire, but drain-laying timetables do not always allow this use of machinery. Whether it is worth getting machinery in later just to lay hardcore depends on the driveway's size.
Driveways and Drainage
You'll also need to consider how your driveway will cope with rainwater. The government introduced Sustainable Drainage Systems (or SuDS) in 2008, to deal with the stress being placed on the mains sewer network by new housing development.
As a result, any hard surface over 5m2 between the house's front and the highway requires planning permission unless the surface is SuDS-compliant.
For the self builder and renovator, the most common solution is to replace the normally impervious hard surfaces of driveways and parking areas with permeable materials that allow rainwater to pass through.
Surface Options
Concrete and Asphalt
These basic finishes are a little cheaper than pavings, but these poured surfaces are now rarely used by self builders.
Some specialist operators now offer patterned concrete paving or resin-bonded driveways. They can look highly attractive but are very expensive, if they are applied to a large area.
Permeable concrete and asphalt is also available, made with a single size aggregate that leaves gaps for water to pass through.
Gravel is possibly the simplest surfacing to construct and is available in a wide range of colours and sizes. In many rural situations, it is the most attractive option.
Usually the gravel supplier removes all of the fines (or dust). This ensures that you are provided with clean pebbles or chips. Self-binding gravel (a type of gravel that is SuDs-compliant) keeps and even adds to the fines, in order to capitalise and improve on the gravel's self-binding properties.
Whatever type of gravel you use, the better gravel driveways are actually labour intensive as they involve laying three or four layers of stones, each rolled and then left for a day or two between coats. Edgings need to be placed – treated timber strips are adequate – and the success of the drive overall depends on good hardcore beneath.
Grass paving is a SuDs-compliant option that comprises a concrete or plastic honeycomb form, typically 500mm x 500mm. The honeycomb structure carries the weight of people or vehicles and allows grass to grow through it. You can also use grass paving with gravel, which would not need to be self binding.
Grass paving has taken off hugely recently and there are now many, mostly plastic, options available. The cost tends to be £8–£12/m2, plus installation costs, which can be high.
These are SuDs-compliant block paved surfaces with wide joints filled with fine aggregate, which is then laid on a free draining base. Not all systems suit all applications: flat or sloping land, clay or sandy soils will affect which is best. A good installer will help determine which is suitable for your home.
You will also need to ascertain the rainfall levels in your area. This will determine the sub-base thickness needed to support the system on top.
Paving Patterns
Homebuilding & Renovating Newsletter
Get the latest news, expert advice and product inspiration straight to your inbox.
Thank you for signing up to Homebuilding. You will receive a verification email shortly.
There was a problem. Please refresh the page and try again.