Best Driveway Material: Types, Pros, Cons and More
What's the best driveway material for your home? We explore the benefits and drawbacks of the different options available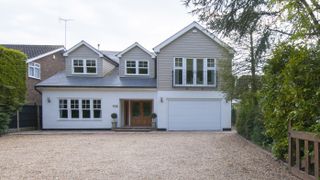 (Image credit: Getty Images)
Finding the best driveway material for your home means thinking about a range of characteristics. Not only does the visual appeal matter, how it complements and even enhances the design of your self build or renovation, but also its maintenance requirements, how durable it is and its drainage properties.
Don't forget, most new build homes will require some provision for off-road parking, so a driveway is an important part of your build that needs to be considered from the outset.
In this guide, we look at the types of driveway materials available, weighing up the pros and cons of each, to help you make a practical choice that also boosts your property's kerb appeal.
What is the Best Type of Driveway Material?
Permeable Block Paver Driveways
Pros
These provide a neat finish that is easy to maintain. Plus, there's a wealth of colour and style options to complement the exterior of your house. If one paver gets damaged, it's straightforward to replace it without having to re-do the whole driveway.
As each unit is laid individually, completing a block paved driveway is more time-consuming than other materials.
Cons
Professionals will be required to lay it, too, which means that this option comes at a higher cost than some others.
Cost
Expect to pay upwards of £30/m2 for this finish, excluding installation.
Permeable Concrete Driveways
Pros
Provides a hard-wearing, low-maintenance option for your driveway and can last more than 20 years when designed and installed correctly. There's a selection of colour options to choose from, too, and you can even paint over the surface if you fancy a change in the future.
Cons
Good installation is essential to ensure water runoff is not an issue. Bear in mind that concrete can be prone to discolouration, especially if the surface comes into contact with oil. Cracking is also a potential issue in cases where the concrete has been poorly laid.
Cost
Expect to pay between £35 and £50/m2, including installation.
Permeable Tarmac Driveways
Pros
This material offers a durable, cost-effective surfacing solution for your driveway. A high-quality sealant finish makes it a low-maintenance option (although obviously it also reduces permeability), providing a service life of approximately 20 years.
Cons
While there are alternative colour options to the typical dark grey hue, there is less scope to transform a tarmac surface into an eye-catching design statement.
Cost
Expect to pay upwards of £20/m2, not including installation.
Porcelain Paving Driveways
Pros
This is a robust system that offers a solid, scratch-resistant solution. However, a standard porcelain tile is not recommended for driveways.
Cons
"Due to the bound installation, a larger, heavier car will introduce a cantilever effect on porcelain used over a wide area. Depending on the product's dimensions, it may exceed the surface's flexural strength and result in cracking," says Mark MacIntosh-Watson at Brett Landscaping. "Therefore, it's important to specify a specialist system that can manage the load effectively."
Cost
Porcelain sits at the higher end of the market, costing upwards of £70/m2, not including installation.
Resin Bound Driveways
Pros
These offer a sleek, even surface across the whole driveway. A variety of colours are available and you can also choose from permeable and impermeable solutions, depending on your drainage requirements.
It is fairly low maintenance, too, with the occasional jet wash required for upkeep. Quick installation is another bonus.
Cons
Resin bound driveways are at the higher end of the price spectrum.
Cost
Expect to pay between £50 and £75/m2, including installation costs.
Stone Paver Driveways
Pros
Stone pavers are durable and offer a natural aesthetic. Pavers will retain their appearance over time and are frost resistant. In terms of maintenance, this type of surface will need to be re-sealed every few years to protect against oil stains, for example.
Cons
As you are working with a dense, solid material, you'll need to ensure you incorporate an effective drainage solution. Before parting with any cash, ensure the type of stone you choose is suitable for the driveway (some options are only suitable for footpaths and patio areas) and can support the load of vehicles effectively. Stone pavers can be prohibitively expensive too.
Cost
Depending on the type of stone you choose, expect to pay upwards of £70/m2, not including installation. The cost could rise above £100/m2 for certain varieties so do check first.
Gravel Driveways
Pros
Gravel is the most wallet-friendly option and it's the quickest to lay, too. But installation can be done on a DIY basis. Plus, there's a broad selection of colours and blends to choose from.
Usually the gravel supplier removes all of the fines (or dust). This ensures that you are provided with clean pebbles or chips. Self-binding gravel (a type of gravel that is SuDs-compliant) keeps and even adds to the fines, in order to capitalise and improve on the gravel's self-binding properties.
Cons
Whatever type of gravel you use, the better gravel driveways are actually more labour intensive as they involve laying three or four layers of stones, each rolled and then left for a day or two between coats. Edgings need to be placed – treated timber strips are adequate – and the success of the drive overall depends on good hardcore beneath.
Cost
This solution can cost as little as £4/m2, not including installation.
Reinforced Grass Paving Driveways
Pros
Grass paving is a SuDs-compliant option that comprises a concrete or plastic honeycomb form, typically 500mm x 500mm. The honeycomb structure carries the weight of people or vehicles and allows grass to grow through it. You can also use grass paving with gravel, which would not need to be self binding.
Cons
The drawbacks of grass paving is the same as your lawn. There's the potential for weeds; it will need to be watered and fed to keep it looking its best; and don't forget the mowing. They also won't last as long as a solid surface driveway, plus they're not particularly well-suited for an accessible garden design, as the surface created is not flat.
Cost
Reinforced grass paving costs between £8 and £12/m2 for material supply only. Specialists might be required to lay this type of paving, which could drive up installation costs.
Rules & Regulations of Driveways
You'll need to consider how your driveway will cope with rainwater. The government introduced Sustainable Drainage Systems (or SuDS) in 2008, to deal with the stress being placed on the mains sewer network by new housing development.
As a result, any hard surface over 5m2 between the house's front and the highway requires planning permission unless the surface is SuDS-compliant.
For the self builder and renovator, the most common solution is to replace the normally impervious hard surfaces of driveways and parking areas with permeable materials that allow rainwater to pass through.
There are various permeable, SuDS-compliant options including gravel, permeable concrete block pavers or porous asphalt, to name a few.
Generally, driveways aren't subject to Building Regulations, as long as it doesn't change the nature of access to the property.
Driveway Foundations
What Should You Lay as a Foundation to a Driveway?
Whatever drive finish you decide on, the base you lay should essentially be the same: ideally 100-150mm of hardcore. The most efficient method is to use machines to spread and tamp hardcore — digger buckets are particularly effective tampers.
It is very useful to have hardcore laid as early as possible on a building job as it aids access and stops the site becoming a quagmire, but drain-laying timetables do not always allow this use of machinery. Whether it is worth getting machinery in later just to lay hardcore depends on the driveway's size.
Driveway Paving Pattern Ideas
Get the Homebuilding & Renovating Newsletter
Bring your dream home to life with expert advice, how-to guides and design inspiration, direct to your inbox.
Mark is the author of the ever-popular Housebuilder's Bible and an experienced builder. The Housebuilder's Bible is the go-to hardback for self builders; originally published in 1994, it is updated every two years with up-to-date build costs and information on planning and building regulations, and is currently in its 14th reiteration.
He has written for publications such as Homebuilding & Renovating for over three decades. An experienced self builder, his latest self build, a contemporary eco home built to Passivhaus principles, was created on a tight urban brownfield plot.