33 Fireplace Ideas That Make Brilliant Focal Points
By Amy Reeves , Hugh Metcalf published
These stylish fireplace ideas, from surround inspiration to choosing the right fire, will ensure your hearth becomes the centrepiece of your space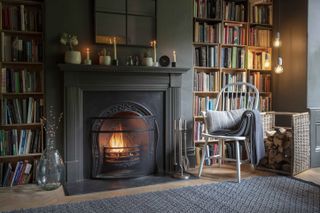 (Image credit: Garden Trading)
The best fireplace ideas aren't just about keeping you cosy in the winter months, they're about using this feature as a focal point for your space.
In many period homes, living spaces are arranged around the fireplace — this is how the former owners used to keep warm, after all. This means it's an important part of your overall design to get right, whether it's now got a log burning stove, a gas or electric fire or no fire at all.
If you're building a new home or extension however, your options are much more open when it comes to designing a fireplace into your home. Recent years have seen large, open space zoned using fireplaces and stoves and to add character and visual warmth in contemporary styles.
Including creative uses of alcoves, interior design-led schemes and top tips for modernising existing fireplaces, we've collected a range of styles and sizes to spark some inspiration.
Finding the Right Fireplace Ideas For Your Home
The type of fireplace ideas you're able to make use of in your home may depend on what you're working with. If you're building a new home, the world may be your oyster, but not all new builds incorporate a traditional chimney breast fireplace, and often freestanding stoves are a more economical use of space in this instance.
If you do have an existing fireplace in your home, there's no guarantee that previous owners will have retained the original fireplace. However, finding a new fireplace shouldn't be too much of an issue. Modern fireplaces are relatively easy to find, while you'll be able to pick up original fireplaces from places like salvage yards or even from social media marketplaces, where people are renovating period houses.
1. Install a Stove in an Existing Fireplace
Undeniably a smart move for those who enjoy the vibrancy of a real fire, but are conscious of the sub-optimal efficiency of an open fire, add a log burning stove into the alcove of a fireplace.
"Safety should be your first priority when installing any appliance in the home but none more so than with a wood burning or multi-fuel stove," advises Jon Butterworth, director at Arada Stoves.
"Building Regulations stipulate strict minimum distances between a stove and its surroundings to reduce the risk of household fires and therefore protect property and its inhabitants," he continues. "Each individual stove will come with pre-approved measurements that your fitter will refer to when recommending the right design for your home setting."
2. Be Proportionate When Designing a New Fireplace
If you're designing from scratch or updating an existing fireplace, the key is to ensure the chimney breast ideas, surround and mantel (if you're having one) are proportional to the room as a whole.
This is especially true of modern fireplaces, where styles and trend might adapt and change how you feel about a certain shape — just think about the garish brick and stone clad beasts of the '50 and '70s.
While wide and putting a twist on traditional inglenook fireplaces, this contemporary fireplace blends seamlessly into the room at large.
3. Create a Focal Point With an Exposed Brick Fireplace
When it comes to a classic fireplace idea, you can't get much better than an exposed brick fireplace. It's a design that works for both traditional and modern homes and, in the right home, it's a relatively easy job to uncover your brickwork.
However, before you go pulling off plaster to expose the brick underneath, bear in mind the brick may not be what you're expecting, or be in the best condition. It's a calculated risk, but one that might see you looking for a plasterer to re-instate the wall.
If you think your home's brick might not be up to scratch, you could also consider create an exposed brick fireplace idea with brick slips, thinly cut brick tiles that will look like the real thing when adhered to the wall.
4. Reinstate Period Charm With the Right Fireplace
If you live in a period home that has been stripped of its features at some point in its life, consider sourcing a period fireplace to restore some of the home's charm.
"I'd always recommend sticking to the period of the house when looking to purchase a fireplace," says Owen Pacey, founder of Renaissance London, specialists in fireplace restoration. "This ensures that the styles align and the fireplace will look like it's always been there."
But how do you know what the right type is for your home? "The ground floor of Victorian properties always used to have a marble or slate fireplace and later on in the Edwardian era, slate became much more popular. My go-to material would always be marble, however, as it is generally very durable."
5. Paint the Fireplace the Same Colour as the Walls
Usually a fireplace surround is neutral, but a dominant accent in a room, if not just because it's such a large, boxy form. However, this doesn't work for every room.
Painting the fireplace surround the same as the walls is an interesting tactic, as it sends this domineering figure into the background, but still retains its form and texture and continues to frame the fireplace.
Incorporating mantelpiece ideas alongside this design, such as complementing books, objects or even a mirror will break up the block of colour for a pleasing result.
6. Centre a Fireplace in the Room for Real Wow-Factor
If you're self building or building an extension, don't be limited to the idea that a fireplace is solely a chimney breast against a wall.
Modern fireplace designs allow for interesting set-ups, including this design with a fireplace creating the divide between living and dining area in this broken-plan space.
But how can you have a fireplace with no chimney for wood smoke? Simply, don't get a wood burning fire. Modern bioethanol fireplaces are great as they don't need extraction as there's is no smoke, while still giving you the joy of a real fire in your home.
7. Ensure a Fireplace is an Inviting Space
Fireplaces are often located in sitting rooms and snugs, where the warm crackle of a fire is a hug on a cold winter night. So, make sure the surrounding areas of your fireplace are as welcoming as the open fire or log burner in your space.
Adding an oversized wooden mantel is one place to start as the visual appeal of timber against any coloured background will instantly add character.
Carefully considering where to place essentials for stoking the fire will also lead to fireplace success. Create dedicated spots for extra logs, kindling and pokers to live on or around the hearth with log store ideas such as baskets and decorative buckets.
8. Modernise a Fireplace with Colour Pop
Bring any fireplace up to date with a pop of colour — a cost effective yet eye-catching idea that works wonders in this renovated farmhouse.
The small living room ideas masterfully balance the period detailing of the stone hearth and antique stove while no changes in the room can't be undone and restored to its original aesthetic.
9. Make the Most of Fireplace Alcoves
Fireplace chimney breasts are frequently a bulky intrusion in a room, creating strange recesses either side of the feature that can feel a little lost. The rather obvious solution is to find the right fireplace alcove ideas that would work best for your living room.
These often-awkward spots can be given a purpose, be that built-in cupboard storage, shelving for treasured objects or books and even provide an additional source of living room lighting, as here.
The trick to these spaces is keeping a design simple, anything too busy will make a living room or snug feel boxed in.
10. Add Personality to Electric Fireplaces
Electric fires, while without the inherent visual appeal of a gas or solid fuel stove, are a cost-effective way to shake up elements in a living room or snug.
Add instant charm to an electric fire by installing an oak beam or mantel above the fire for an interesting fireplace finish.
Alternatively, invest in the latest generation of electric products — some of the best electric log burners also include an intricate steam that evokes the smoke from a real fire.
11. Consider a Stone Fireplace
Using stone fireplace ideas can provide a sleek, natural design."Natural stone is the ideal choice for a fireplace surround. Thanks to its natural composition, it is resistant to heat and can withstand temperatures of up to 300ºC, so you can have it as your surround without fear of damage," explains Hege Lundh, marketing director at Lundhs Real Stone.
"It is also incredibly easy to maintain and so easy to clean. If you are working with an open fire, consider placing a slab of natural stone in front as your hearth as well as this will not only tie the whole aesthetic together but it will also serve as a good protection from any debris from the fire."
12. Add a Splash of Colour with a Tiled Fireplace
Use tiled fireplace ideas as an opportunity to create colour and material variation in a room. "Tiling is a popular choice, especially for characterful homes. Ceramic tiles withstand heat well and are durable, so make the perfect choice for any fireplace. Available in various sizes, colours and finishes they offer the homeowner an unparalleled choice of styles." says Arada's Jon Butterworth.
"We would suggest a gap of at least 100mm is maintained from the stove body to any non-combustible materials to aid the convection of heat out of any fireplace. Squeezing too large a stove into a small opening is an often repeated mistake and should be avoided."
These pale blue tiles (from Walls and Floors) have raw edges for a rustic finish that blends perfectly with the exposed brick and black painted walls.
13. Renovate an Original Open Fireplace
Sadly in many renovation projects original fireplaces have often been removed or boxed in. Where the latter is the case, try to save what is left of an authentic chimney and fire by opening up a fireplace which has been blocked.
In homes affected by mid-century tastes which led to gas and electric fires being installed, explore how to replace a gas fire with a woodburner.
14. Ignore a Fireplace and Use a Hearth for Freestanding Stoves
Get creative with your home's take on a traditional fireplace by installing a freestanding stove with a bold hearth for an ultra-modern appearance.
"For a modern-inspired scheme, a fireplace isn't always necessary, especially if you choose contemporary design," advises Jon Butterworth of Arada. "Freestanding stoves can be installed almost anywhere in the home, but you will need to consider its proximity to other surfaces and objects in the room before going ahead."
Fireplace hearth ideas can include stones flush to the floor, as in the above example, or a raised platform to make the stove the centre of attention at eye level.
15. Whitewash a Dated Brick Fireplace
Although older properties may be blessed with attractive brick colours, that is not always the case and we have seen all kinds of dated combinations over the years — from red brick with black mortar to grey all over.
Using the best masonry paint you can find, leaving a brick chimney breast exposed and whitewashing or painting to a more contemporary colour can often do the trick when updating or modernising without very much effort or cost.
This all-white kitchen is beautifully warmed by the slight tint to the brick fireplace left after whitewashing. While the brick fireplace ideas match the overall design scheme, the old reception room is now a characterful kitchen thanks to this quick treatment.
16. Get Twice as Much with a Double Fireplace
If you're extending to the side of your living room, or have a room adjacent which shares the chimney breast, a great log burner idea is to add a double sided stove.
Not only is it an unusual feature for a modern home, but also provides value for money and optimal enjoyment from every angle.
If installing a new stove, remember as of 2022 you can now only buy an Ecodesign stove, a more efficient design which was introduced to reduce carbon emissions across Europe, and must follow regulations on burning wet wood.
17. Inset a fireplace into Built-in Storage
In smaller homes where every inch matters for storage, combine the two and integrate an inset stove and flue into a larger boxed-in storage unit for a sleek, pared back finish.
This eye-catching design features a raised concrete plinth which seems to extend from the polished concrete floor and provides a handy spot of the log basket while the wooden pocket door cupboards to the left conceal the TV.
18. Change Position with a Gas Fireplace
Gas fires are incredibly convenient when compared to stoves and open fires which can often feel like a full time job to keep lit and warm. A warming fire can appear at the touch of a button, or even controlled remotely and are easily installed in a connect home.
Height and location are often down to the homeowners preferences (with units such as this which require no recess). While this may sound like the possibilities are endless, the fact remains that fireplaces are best positioned in more intimate spaces, such as snugs or sitting areas in open plan spaces.
19. Establish a Fresh Look with a Timber Fireplace Surround
Adding a fire surround can be a quick update to any fireplace. Traditional surrounds can include all manner of tiled designs to add something special into the room, while more contemporary styles, such as this wood-effect surround, can be pared with a dark hearth and backing for a vibrant, scandi design.
Make sure the wood or veneer is of decent quality in a fireplace surround to ensure a fresh look thats worth the time and money and keep the new surround in proportion with the room, lest the 'focal feature' become overwhelming and garish.
20. Create a Fireplace without a Fire
Now this might seen like an oxymoron, but in modern, more efficient homes fireplaces can be redundant and a real fire seldom lit and blocking up or removing a fireplace can often be a wise decision.
However, that's not to mean fire-less fireplaces can't provide a function, be it alongside your interior scheme or as interesting storage.
Install small shelves for books and trinkets, fill with decorative logs or simply add visual warmth by using inset candles or LED strip lights.
21. Create a Chimney Breast Wall
Vaulted ceilings are quickly becoming a firm favourite in modern homes and extensions, and can be found in many a period property so treat them with the grandeur they deserve.
Combine show-stopping chimney breast ideas with your fireplace design for something truly special that can be enjoyed year-round, not just in the colder months.
This self-build ingeniously utilises the double-height chimney breast to disguise the flue of the inset stove, provide alcoves and a raised hearth for storage. Most importantly, however, the kitchen and dining areas are located behind the chimney breast and away from the sitting area.
22. Use Cladding for a Feature Fireplace
Fireplaces can be clad in all kinds of interesting materials to make them a design feature of your space.
One brilliant idea is to use a material such as hardy granite or quartz, pictured here in Sensa from Cosentino, which allows you to create the look of a dramatic slab of stone in one piece, retaining the beautiful veining with no visual breaks.
23. Source a Characterful Fireplace to Make a Statement
Reclaimed fireplaces can be found from all kinds of sources, from scrapyards and reclamation centres to online marketplaces on social media. These period designs are more likely to be detailed in a way that many modern fireplaces aren't, and so can bring some real flair to a room design.
This fireplace, sourced by antique fireplace specialists Renaissance London, transforms what is otherwise quite a simple room by giving it a sense of grandeur and history.
24. Be Period Appropriate When Choosing a Fireplace Surround
Fireplaces are a distinctive feature to include in a renovation project. Choose wisely to ensure the style and detailing is appropriate for the time and the results will speak for themselves.
This doesn't just relate to a period farmhouse, but also to mid-century and contemporary homes.
For instance, Art Deco fireplaces are very distinctive, often featuring concentric ridges while also monolithically sized. Choosing an Art Deco fireplace over an alternative design from another period will instantly set the scene for your scheme, allowing you to commit to this glamorous, decorative style in full.
25. A Simple, Classic Fireplace Idea
Traditional fireplaces for solid fuel, gas or woodburning stoves are generally made up of two hearths (one front and one back), a fire surround and, last but not least a chimney breast.
While more can be added for decoration or for various practical reasons, use these of your starting point when looking for fireplace ideas to spark a design.
A minimalist yet timeless look has been created for this log burner by using a stone hearth with no mantle or fire surround, meaning the stove does all of the work to add character and warmth to the interior.
26. Remodel an Existing Fireplace
Existing fireplaces aren't to everyone's tastes but there are certainly steps homeowners can take to makeover and update an ugly duckling.
Plastering, tiling, brick cladding or even painting can drastically remedy a dated fireplace.
In this mid-century home the renovators knocked through from the hallway and kitchen areas into the dining room, but utilised the large fireplace and chimney breast to carefully divide the spaces. Ideas such as this are the difference between a functional space and an utterly unique home that provides visual interest.
27. Mix and Match Styles for a Welcoming Fireplace Finish
There's no rule in any interior design book that means styles have to be rigidly adhered to, so shake things up a bit by combining ideas that inspire you. It is afterall, your home.
In this example, a unique fire surround, inset log burner and Scandi-inspired hearth are paired with a modern take on a log basket, creating an individual and timeless fireplace.
28. Consider an Open Fireplace for a Cosy Room
While woodburning stoves offer a certain charm, an open fire is without a doubt one of life's simple pleasures.
This characterful fire pit creates an alternative to a regimented and boxed in fireplace — and it beautifully completes the cosy aesthetic to the rest of the room.
29. Transform a Stone Fireplace with a Modern Insert
Although recent trends drifted away from larger stone-clad chimney breasts, the current love of mixing mid-century and modern styles definitely works to the advantage of inter-war homes.
Striking the perfect balance, this living room stays true to it's '60s roots while adding some modern pizzazz in the form of a gas insert.
30. Create a Slate Fireplace using Slips or Cladding
The slate fireplace here is the perfect modern counterpoint to the traditional oak frame structure of the home and it's easy to create using a modern stone cladding system.
31. Corner Fireplaces Offer Room for Something Special
Locating a fireplace in a corner is a great way to open it up to the room, particularly if you've chosen an open plan living space.
This two-sided fire is lined by a contemporary anthracite frame while a monochrome tile and stone plinth elevate the design to a unique feature.
32. Create a Focal Point by Installing a TV Above a Fireplace
If you can avoid it, don't put your TV over a fireplace, as it draws too much attention. You don't want a bit of oversized tech to be your focal point, after all.
However, if it's unavoidable, placing the TV on the dark wall means it is slightly concealed, putting full focus on the stove below.
33. Modern Chimney and Fireplace Ideas
Remember, fireplaces don't have to be boring. Designing a chimney breast and fireplace that makes a room feel individual is difficult but inherently worth the time.
The floor-to-ceiling glazing of this self build frames the inside/outside fireplace feature beautifully while log store on both sides add character.
Assistant Editor Amy began working for Homebuilding & Renovating in 2018. She has an interest in sustainable building methods and always has her eye on the latest design ideas. Amy has interviewed countless self builders, renovators and extenders about their experiences for Homebuilding & Renovating magazine. She is currently renovating a mid-century home, together with her partner, on a DIY basis, and has recently fitted her own kitchen.
Homebuilding & Renovating Newsletter
Get the latest news, reviews and product advice straight to your inbox.
Thank you for signing up to Homebuilding. You will receive a verification email shortly.
There was a problem. Please refresh the page and try again.