House cladding guide: Which material is right for your home?
Don't underestimate the impact house cladding will have on the appearance of your home — it can make or break it. Here, we look at cladding materials, their costs and performance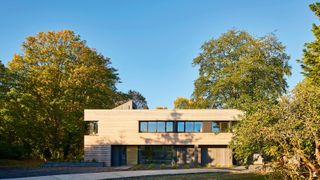 (Image credit: Jonathan Gooch)
The house cladding you select to grace the exterior of your home will, largely, dictate its whole appearance — so make sure you are aware not only of what your choice of material will look like once installed, but also how it will weather over time and how much maintenance will be required to keep it looking its best.
There are so many options to choose from when it comes to cladding a house – while timber cladding might be the first thing that springs to mind, everything from metal to tile is possible. Your final decision should be based on what materials are typically used in the local area (your planning department may even have something to say about this), your home's construction as well as your budget.
This guide to house cladding explains everything you need to know in order to select the best products and fixing methods for your individual requirements.
What is house cladding?
Exterior house cladding can be used to describe any facing material designed to be fixed to either all or part of the out of a house. It is commonly made from materials such as timber, stone, tile, brick and render – and metal cladding is also particularly popular right now too. The main role of house cladding is to protect the underlying structural walls from the elements, such as wind and rain.
Although house cladding plays an important practical role, for many homeowners, it is the effect it will have on the final appearance of their house that is the main concern. Material, profiles, colours and even fixing methods will contribute to this.
Depending on the material, there are different ways to fix house cladding. Sometimes it is attached directly to the wall (as is the case with brick slips, render and stone cladding, for example) or nailed on to timber battens (as with timber cladding).
What's more, some types of house cladding are also designed to incorporate insulation or can be used with external wall insulation when retrofitting an existing home.
Why is house cladding used?
All houses used to be built with solid walls, using materials that were available nearby, such as stone or brick. However, in the 20th century things began to change and standard wall-building practice began to use cavities between the inner and outer walls, often referred to as 'leaves' or 'skins'.
This meant that the load-bearing duties were now carried out by the inner leaf, while the weatherproofing was the responsibility of the outer leaf, with heat retention achieved by adding insulation between the two leaves.
As the outer wall no longer had to rest on the ground, instead being hung off the inner skin, it could now be made of much thinner sections.
All of this means that the only requirement of the outer wall is to keep the weather out — and this is the purpose of house cladding.
Is planning permission needed for exterior cladding?
Do you need planning permission for external house cladding? Not always. If you are replacing like for like on an existing home, most people re-cladding a house find that the job falls under Permitted Development.
However, this won't apply to listed buildings or on any house on specially protected types of land, within a National Park or AONB.
If you live in a terraced or semi-detached house, whilst planning permission might not be a concern, you will need to think about how the new cladding will affect your neighbours.
What types of house cladding are there?
When cladding a house, the main concern for many homeowners tends to be how it will impact on the appearance of their house and whether it will suit its overall style. That said, your choice may actually be dictated by local planners, particularly if you are taking on a self build project. Often you might be expected to choose a material that fits in with your surroundings or neighbouring properties.
It is also wise to consider how much maintenance will be required in the upkeep of the type of house cladding you choose, the cost of the materials and how they will be fixed, as well as who will install your house cladding (some timber cladding can be fitted on a DIY basis, for example.)
When it comes to house cladding materials, your options include:
timber
brick
stone
render
vertical tiling
flint
metal
porcelain tile
fibre cement
uPVC
Cladding alternatives, such as modern synthetic materials
Is uPVC house cladding a good choice?
uPVC house cladding is often one of the cheapest options when compared to other materials, although it should be noted that some of the top-quality versions may cost no less than timber.
uPVC cladding comes in white, coloured and timber-effect versions and is made from cellular PVC using a process that creates two layers. The outer skin contains UV-resistant titanium-dioxide — meaning that good quality uPVC is long lasting and requires minimal maintenance.
It is easy to fit on a DIY-basis, thanks to its lightweight properties and being sold as interlocking boards.
The detailing is not always as delicate as that of timber and although lower maintenance than timber equivalents, uPVC can, over time, discolour — unless you are willing to pay more for those higher quality versions. These often come with up to 20-year discolouration guarantees.
What are the pros and cons of timber house cladding?
There are many different types of timber house cladding, ranging from softwood, to chemically or heat treated timbers.
Softwood is a good option for those after timber cladding ideas on a budget. Low cost timbers include spruce and pine, with the very lowest prices starting between £5-8/m² for boards in their raw state, unfitted.
It is important to note that softwoods such as these will need priming and painting and regular maintenance in the form of preservative treatments and re-painting.
Due to their maintenance requirements they can, over time, actually work out to be more expensive than some hardwoods — although if you plan to move on quickly, this may not be your concern.
For those with a little more to spend on their house cladding, there are several other options — and these types of wooden house cladding need no initial or even subsequent staining in order to maintain their looks.
Recently, the use of unstained timbers has increased. These include cedar, larch and spruce, as well as oak and chestnut. These timbers can last for many decades without any surface coating and weather attractively over time.
Boards come supplied in various ways, but installing timber cladding is a job that is possible to carry out on a DIY basis should you wish to save some money. If you were to call in the professionals, you could expect to pay around £42/m² for the boards and fitting.
Heat-treated timbers, such as Thermowood, Kebony and Accoya, are also a good choice. The heat treatment reduces their moisture content and makes them more stable than untreated timber.
What is Shou Sugi Ban cladding?
There has been a trend sweeping around in recent years for charred timber cladding – also known as Shou Sugi Ban cladding – might seem like a new idea, but this is in fact a practice that has been around for hundreds of years in Japan.
It involves running a blowtorch across the surface of the timber boarding to blacken it, but not to burn it. The resulting look is a very attractive, black finish with lots of visual interest.
How are vertical hanging tiles used as cladding?
Tile hanging can be a great cladding option and it isn't just for those after a traditional-style home either.
A prominent feature of many houses in the South-East of England, tile hanging doesn't come in cheap, at around £46/m², depending on the tiles (handmade clay will be considerably more expensive than concrete) but adds a great deal of character to a building.
There are contemporary tile hanging options too — large format porcelain tile cladding is also now available. Take a look at the range from Porcelanosa.
What types of house render are there?
There are many house rendering options to consider when it comes to external house cladding. As well as the standard cement-based renders there has been fresh interest in lime and clay plasters, as well as the latest 'monochouche' (French for 'single layer' or 'bed') renders.
Monocouche renders use white cement and are pre-coloured, so that what you are applying is as much a decorative finish as a weatherproofing layer. They can be applied in one coat (typically around 15mm thick) and so, even though more costly initially, are less labour intensive than traditional renders.
A monocouche render is supplied in bag form ready for mixing with water; it is then either applied by hand trowel or sprayed on.
At around £48/m² (installed), render works for both contemporary and traditional designs, covering any unsightly brickwork.
If you are willing spend a little more, through-coloured renders are a convenient, non-paint option. They'll also mean lower maintenance in the long-run — you won't need to re-paint them five to 10 years.
What is fibre cement cladding?
If you are after low-maintenance and eco-friendly cladding ideas, then be sure to consider pre-finished fibre cement board cladding. This is a long-lasting and very 'hands-off' option. It is available in a wide variety of colours and finishes and has many benefits.
"One of the trends we are seeing now is towards more natural products with homeowners increasingly thinking about the environmental impact of the products they use," explains Lisa Grosse at Cedral. "Fibre cement uses fewer raw materials and less energy in its manufacture, produces less waste than some traditional building materials and is fully recyclable.
For some, the uniform, 'perfect' appearance of fibre cement cladding appeals, while others prefer the more natural, rustic appeal of real timber.
Glass reinforced concrete cladding panels are another option.
Could brick slip cladding be an option?
Brick is often laid as a self-supporting, ground-bearing skin. However, there is an increasing interest from those after cladding alternatives to more traditional materials in brick skins or slips.
These are hung off a metal base that is fixed to an inner wall and, due to their thin profile, they can be a good option when installing external wall insulation to a home.
Although they are quick to lay, bear in mind that brick slips are an expensive house cladding option.
What types of stone cladding are there?
Stone house cladding is a popular choice with those after a warm, classic appearance, although, depending on the stone used, it can also create a very contemporary look.
Stone cladding is considerably cheaper than using solid stone for the construction of a house, with some types coming in at around the same price as render.
Stones suitable for cladding include sandstone, slate and even limestone. Often, local planners will dictate they type of stone that can be used depending on what the local stone is in the area you are building.
What does 'rainscreen cladding' mean?
A rainscreen is a term that applies to an integrated system, complete with a concealed steel framework on which the external cladding material is fixed. They are also known as curtain walling and can be made from metal, glass or a modern take on traditional materials, such as tiles.
Ask the manufacturer about warranties for the cladding, and check that the material is acceptable to your structural insurance provider, to ensure that you're covered.
What house cladding costs should I expect?
House cladding costs vary depending on the materials you choose, as outlined above.
At the lowest end of the scale lie untreated softwoods, such as pine, although you will need to factor in your own finishing and maintenance costs. uPVC cladding is also one of the cheaper house cladding options.
At the top end of the price scale lie stone, hardwoods, handmade hanging tiles and through-coloured renders, all coming in at between £40-£70/m² (installed).
If you want to save money on house cladding, consider going for an option that you can fit on a DIY basis, such as some tongue-and-groove timber types of cladding.
It is important to bear in mind, that cheapest is not always best — this is the material that will define the appearance of your home and protect it from the elements. It needs to be high quality in order to do this whilst weathering well.
The prices below do not include fixings or labour.
uPVC: From £31/m²
Softwood Cladding: From £5/m²
Hardwood and treated timbers: From £40-£45/m²
Render: Rendering using a sand and cement 'scratch coat' and a finer render topcoat, followed by two coats of external masonry paint: From £40/m², incl. labour.
Fibre Cement Cladding: From 31/m²
Hung clay tiles: From £45/m²
Stone cladding: From £60/m²
How can I increase kerb appeal with house cladding?
If you are looking to make a quick profit from your home or just want to update the look of your house on a budget, consider simply improving on what you already have.
There are several ways to improve the appearance or 'kerb appeal' of a house without fully cladding it. For instance, painting any ugly brickwork or dirty grey pebble-dash a fresh new shade may well suffice.
Bear in mind, too, that it may not be necessary to clad the entire house — often focusing on just the upper storey or including a feature panel will smarten up an exterior.
Check out these amazing external makeovers for some inspiration.
Get the Homebuilding & Renovating Newsletter
Bring your dream home to life with expert advice, how-to guides and design inspiration, direct to your inbox.
Natasha is Homebuilding & Renovating's Associate Content Editor and has been a member of the team for over two decades. An experienced journalist and renovation expert, she has written for a number of homes titles. Over the years Natasha has renovated and carried out a side extension to a Victorian terrace. She is currently living in the rural Edwardian cottage she renovated and extended on a largely DIY basis, living on site for the duration of the project. She is now looking for her next project — something which is proving far harder than she thought it would be.