Bifold Doors: What to Know Before You Buy
Bifold doors increase the amount of light entering the home as well as giving great views of outside — we look at all the options available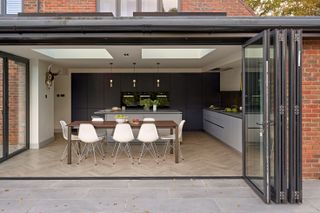 (Image credit: Brayer Design)
Bifold doors are a something of a familiar site these days — no longer the preserve of super contemporary or high end houses — and it's not hard to see why.
Not only are bifold doors a great way of drawing in bucket loads of natural light, but they can also be used to frame views out to the garden. No question about it, incorporating bifold doors into both period renovations and modern extensions is one of the simplest ways to bring a space to life.
In 99% of cases, including bifolding, sliding or Belgian doors into any home design is a great idea. From barn conversions, modern extensions and self-builds, maximising glazing in a project is widely accepted to be every homeowners number one desire — plus increasing natural light has been proven to have a positive effect on wellbeing.
However, the huge range of materials, sizes and styles on offer can make difficult to know which bifold doors are right for your home. So, how do you choose?
Arming yourself with knowledge and investigating which option offers the best in terms of operating systems, material and aesthetics will help you pick the best for your budget.
How Much do Bifold Doors Cost?
As with all window and door products, cost varies hugely and is based on size, material and quality.
Expect to pay around £1,200 per linear metre of overall frame width (for a good-quality system with a good spec of glass and ironmongery).
You will also need to factor in VAT and installation costs to the total price, and possibly delivery.
Some companies will ask for a deposit on ordering, with the full amount payable on installation or delivery.
Off-the-shelf doors have very little lead-in times but more high-quality custom-made sets can take up to eight weeks from order confirmation to delivery or installation.
What Are the Best Bifold Doors?
Material plays a large role in both the overall look of the room, as well as the practical side of living with them. Although there are no right or wrong choices, doing a little research into maintenance, installation and, of course, cost will never do any harm.
As a general rule of thumb, try to get at last three quotes and compare quality of the material (especially with aluminium or timber) and ease of installation, as well as how the lead-in times will fit into your project's schedule. Asking trusted sources for recommendations is also a great idea.
Aluminium bifold doors are versatile because of their strong but lightweight composition and are a great choice for more contemporary-style homes as they can come in a very slim frame.
Benefits include:
Slimmer sightlines
Easy to maintain
A lifetime-lasting powder-coated finish
Can be made wider than timber doors (meaning fewer doors are required within the frame)
Finish options for frames include an array of RAL colours
A beautiful and classic option for those creating a traditional-style home or looking to install in a period property, wooden doors come in various finishes. Engineered timbers are ideal as they have more dimensional stability than solid timber doors.
Softwood products are cheaper than hardwood, but some lower-end models can still be prone to warping over time when exposed to heat and moisture, meaning they will stick in their frames or won't close.
They will require regular painting or varnishing to maintain their appearance.
If you really can't decide between the practically of aluminium and charm of timber bifolds, opt for a composite. It usually consists of an aluminium frame with a timber internal facing, offering the best of both worlds.
Always thought of as the cheap and cheerful option of windows and doors, PVCu (also written as uPVC) are low maintenance but don't come with the slim sightlines and quality of finish as timber or aluminium.
What Sizes do Bifold Doors Come In?
When designing how large you want your bifolds to be, you need to work out the size of the aperture and the tracks. If you're getting someone to install the doors for you, they might come out and measure but a DIY enthusiast can normally fit them quite easily.
Panel weight is affected by the size and type of glazing used and hardware systems have maximum individual panel weight, width and height restrictions.
The minimum size of aluminium panels is advised to be a three panel set with a width of 600mm per panel but typically the panel widths would range from 800mm to 1200mm so 2400mm is a more accurate reflection of the smallest size opening for bifold doors to be installed
Standard aluminium panels standard can be double or triple glazed 1,000 x 2,800mm
Specialist wooden doors can go up to 4,000 x 1,100mm and hold up to 16 panels in one frame depending on manufacture and tolerance.
The current trend towards wide run of glazed panels lets in the most light, as well as providing uninterrupted views outside. So to avoid heavy looking profiles that restrict light, reduce the size of the panes and the views, opt for slimline frames. There are many options out there with sightlines as slim as 115mm for aluminium frames.
Which Operating System is Best for Bifold Doors?
Two key terms you will come across when researching bifold doors are 'top-hung' and 'bottom-rolling'; both refer to the way the weight of the doors are supported.
Look for systems that are specifically designed for bifold doors as they require hardware systems with a greater capability than sliding or hinged doors. Wheels that run in flat tracks give smooth operation when compared to grooved wheels on a raised track.
Pros:
Can conceal the bulk of the operating mechanisms in the frame head
Dirt and leaves are less likely to become lodged in the top track
Cons:
They require a sufficiently strong lintel or beam above the opening to take the weight of the doors
Bottom rolling
Pros:
Don't pull down as much weight from the top of the frame
Easier to install
Cons:
Door motion can be affected by dirt and leaves getting stuck in the bottom track
Bifold Door Configuration Options
Once you've established the width of the opening, investigate widths of panes available. This will then determine the sort of configuration you can go with. Companies will offer their advice and can talk through the different configurations with you.
Keep to an odd number of panels so they can stack and create a complete opening. With bifold doors a masterdoor is a good idea to gain easy access without having to open up the entire door system.
The simplest and most obvious way of screening bifolds is to install full-length curtains, but this does not mean it is necessarily the best option. They prove unpopular as they block light coming through the glazing even when the curtains are open, distracting from the sleek look offered by bifolds.
Another option is to house vertical blinds in a unit on the wall or build them into the ceiling but can hinder access from inside to out.
Some glazed units come with built-in venetian blinds which sadly partially obscure the glass but others offer screens and shades that move horizontally and can be drawn from the door jamb when needed, moved aside for access and retracted when not in use.
Glazed Internal Bifold Doors
Open plan spaces are all the range in modern renovation, conversion and self-build projects, but in recent years homeowners are becoming more design savvy when creating spaces designed specially for their lifestyles.
Including internal bifolding doors is an ideal way to lean into the open plan aesthetic without disputing a home too much. They offer a flexibility of being able to simple fold away the partition when guests are visiting, or parents want to keep an eye on the kids while cooking dinner, while also allowing rooms to be shut away when privacy or a sense of cosiness is desired.
Choosing options with a glazed panel takes this idea one step further, in that natural light can still flood the spaces, while the practical functionality if internal doors is observed.
(MORE: Internal Doors: Costs, Product Advice & How to Choose)
Is Planning Permission Required to Install Bifold Doors?
Planning permission isn't needed when installing bifold doors in most houses, but where the house is listed or in a conservation area, is best to check with your Local Planning Authority before you make any decisions.
(MORE: Patio Doors: Bifold, Sliding or French?)
How to Get Level Thresholds Right
One of the biggest attractions to bifold doors is their ability to create a seamless transition between interior and exterior spaces so creating a threshold you don't notice is key. Choosing a low threshold is naturally a great choice for a flush finish, but it is imperative to consider rain penetration, particularly on exposed south- and west-facing walls.
The answer is a correctly installed rebated, weather-tested threshold.
How Do Bifold Doors Work?
Made of multiple leaves or panels, bifolding (or folding sliding doors) open by folding against each other like a concertina. The tracking system to which the panels are fixed allows smooth motion and ease of use. They let in beautiful natural light and increase views to the garden so are included in the majority of self build and renovation projects.
Can You Open Bifold Doors From Both Sides?
In short, yes. The master door/traffic door allows for entry and exit just as a single-leaf door does.
Which Glazing Should I Choose for Bifold Doors?
Although increased glazing holds a reputation for heat escaping, modern developments in the past couple of decades means homeowners shouldn't fear cold spots created by windows as they once did. Look for products with low U values for extra assurance or even research triple glazing which in recent years has become more mainstream and readily available.
(MORE: Window Styles: How to Make the Right Choice)
Editor's note: If you're after information to help choose a windows and/or door vendor that's right for you, fill in the questionnaire below and we can provide you with information from a variety of vendors for free:
Homebuilding & Renovating Newsletter
Get the latest news, expert advice and product inspiration straight to your inbox.
Thank you for signing up to Homebuilding. You will receive a verification email shortly.
There was a problem. Please refresh the page and try again.