Built-in Storage Ideas
It's vital to creating a clutter-free, organised home, but storage is often left to be considered towards the end of the project. Here are some savvy ways of building it into your new (or existing) home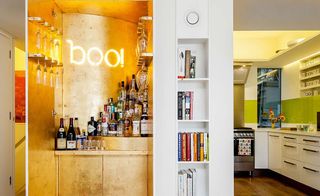 (Image credit: Simon Maxwell)
In this day and age it can be difficult to achieve a clutter-free home. But one way to keep your clutter under control is to ensure you have adequate storage space available.
If you are designing a new space, whether you are extending, renovating or building from scratch, then it is definitely worth factoring in storage solutions at the design stage rather than as an afterthought.
Here are some great ideas for built-in storage.
Use Awkward Spaces for Storage
Self builders and renovators often have a love of high and vaulted ceilings, and lofts are often converted into extra bedrooms and home offices. But while the extra space is useful and architecturally interesting, this often presents a practical storage problem.
If you have converted a loft space, just where do you put the Christmas tree, suitcases, the kids' toys you can't bear to throw away? Or, take loft conversions — they add another room, but also rob the house of valuable storage.
This is where bespoke fitted furniture comes into its own. Not only is every inch of available space put to good use, but furniture designed specifically for a room always tends to be much more pleasing to the eye.
When the loft loses out to high ceilings, planning in storage and utilising 'wasted' space under the eaves is a wise idea from the outset. There are a couple of ways to go about it — you can make a feature of it with a bespoke display, it can be an integral part of your interior scheme, or it can discreetly blend in with walls.
(MORE: Why not turn a disused space in your home into an office?)
Build Around Doors, Windows and Chimney Breasts
Doors, windows and radiators can render an entire wall frustratingly unusable for standard storage options. But all is not lost. Consider designing around these features, building over, under and around to maximise the storage potential of the space.
Alcoves or spaces around architectural elements such as chimney breasts, can also make it hard to find off-the-shelf furniture that best utilises the space. Consult a built-in furniture specialist who can help you use the space without losing the impact of any features that give a room quirks and character.
Don't Forget the Garage
As a notorious clutter hotspot, the garage can quickly become one of those spaces which ends up being a danger zone due to the amount of 'stuff' that gets flung at them. By including cabinets, flooring and wall storage solutions, you can turn your under-utilised garage into a utility room, office, or family room.
Use Your Stairs as Storage
Making your staircase multitask as built-in storage is a great way to keep your home clutter-free. You could use the space to hanging coats and storing shoes and bags, freeing up valuable space in your hallway, or choose a more bespoke option for storing books, collectibles and memorabilia.
Configurations can include shelves, cupboards and drawers so it is definitely possible to create a bespoke solution to suit your needs.
Make the Most of Kitchen Storage
Fitted units are the go-to option for kitchen storage, and a built-in design can offer a far sleeker look — not to mention make a small room look bigger.
Standard fitted kitchens feature a run of base units, paired with wall-hung cupboards leaving a space between for worktops. Consider floor-to-ceiling units where space allows, and where a full-depth workspace is not required, half-depth wall units can be a good pairing.
Larders and larder-style cupboards are more popular than ever. Many will feature internal prep areas or coffee stations — great for those who like their appliances neatly stowed away.
Just make sure you plan for built-in furniture at an early stage of your project, meaning sockets and switches can all be appropriately placed.
Build into the Wall
Rather than use up valuable floorspace for shelving units, use your walls. Again, think beyond sticking up wall shelves and create alcoves within the walls, as this scheme by London-based interior design consultancy Amok goes to show.
Creating alcoves within stud walls is simple if done before plastering is carried out, and using the space above and around doorways for shelving will take up less space visually as well as adding a good dose of architectural interest.
Note: These images are for idea and illustration purposes only. Products pictured may no longer be available. Contact named suppliers for similar.
For more ideas on storage options for your home, check out RealHomes.com
Get the Homebuilding & Renovating Newsletter
Bring your dream home to life with expert advice, how-to guides and design inspiration, direct to your inbox.
Claire is Editor in Chief of Homebuilding & Renovating website and magazine. She became Editor of Homebuilding & Renovating in 2016 and has been a member of the team for 15 years. An experienced homes journalist, her work has also appeared in titles such as Real Homes and Period Living.
She has a particular interest in green homes and sustainability, and interior design is a passion too; she has undertaken qualifications in this area.
After finishing a major renovation of a period cottage, she is now onto her next project: overhauling a 1930s property in the Shropshire countryside.