12 Home Office Design Ideas
With working from home becoming more common, the convenience of having an 'at-home' set-up is making its way on to many a homeowner's wishlist. Daisy Jeffery looks at the top design ideas to consider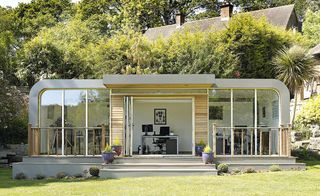 (Image credit: Atelier Garden Studios)
If you're looking for great home office design ideas then look no further - these great ideas will help you create a stylish and functional space to suit all your home office needs. 
1. Layer Lighting
While desk lamps are usually a given, thinking outside the box might just give your home office the wow factor it needs. Consider including recessed LED lighting in the design of your home office to illuminate the room with a soft glow, as this project from Neil Dusheiko Architects goes to show. The room is wrapped in a warm light while a picture window cuts into the space to bring in natural light.
2. The Alcove
Dedicating an entire room to the task of 'home office' can often prove challenging in spacially challenged homes. A clever way of achieving dedicated office space is looking to unused circulation space or areas of 'dead space' in your home, such as landings and alcoves where there would otherwise be just a decorative chair (or nothing at all).
This alcove space is the perfect example, with the desk situated in front of a window for a pleasant outlook. Built-in shelving either side, from Barbara Genda, helps to zone the 'office' space and offers plenty of storage, essential to the success of any office.
3. The Multi-Purpose Office
Any home without a dedicated space for a home office might make good use of a multi-purpose bedroom/office. While many bedrooms in this instance will typically consist of a standard desk in the bedroom, a clever design solution for balancing work and rest is to introduce a form of room divider to both zone and separate the space.
Whether this is via a bookcase, shelving or even a partition wall, as this example from Sequel demonstrates, you'll be less distracted from work tasks when trying to get some rest.
4. Have Fun with Your Office Space
This secret home office, concealed behind a sliding door in a remodelled ex-council house in London (by Inglis Badrashi Loddo Architects) shows how you can make even the smallest of layouts fun. The sliding mirrored door is a great space-saving solution.
5. The Under-Stair Solution
Again, another idea for those short on space, or perhaps if you are reluctant to dedicate an entire room to use as an office, utilising the available space under your stairs to make way for a desk, chair and shelving can be the ideal solution, as this concept from Sharps demonstrates.
6. The Snug Office
Perfect for traditional properties, creating a cosy snug-cum-home office can be the perfect place to retreat to when you need some peace and quiet to get on with work — or simply want to read a book. Designed by CDMS Architects, this room in an extended and renovated house in West Sussex oozes old world charm complete with fireplace, walls lined with bookcases and comfy seating for when you need a screen break.
7. An Office Outdoors
Take your home office outside to help separate home and work. Garden pods can be an ideal solution for gaining additional space without the hassle (and price tag) of an extension.
While the most basic models come just as a standard 'pod' outdoors, others can be equipped with electricity, heating and ethernet connection so you can carry on with work in private without distractions, all with a great view of the garden. This attractive garden office by Atelier Garden Studios is a case in point.
8. Be Clever with Windows
While glazing is an obvious way of introducing natural light, it can also be used to capture glimpses into other spaces within the home too. Perfect for contemporary schemes, narrow frameless glazed panels within the wall can make for a great design feature in your home office, as this project from Hampshire-based practice AR Design Studio goes to show.
9. Utilise the Loft Space
Loft conversions don't just have to be for playrooms or an extra bedroom — they make for great home offices too. This concept from Neville Johnson features all manner of built-in shelving units, drawers and two handy desk areas, perfect for those who don't like to share their desk and 'take it in turns' to use the computer.
10. Introduce Fresh Air
For many a living space, opening up a wall through bi-fold doors can be the making of the room, but what if your home office is above ground level? Architect Phil Coffey chose to include a bi-fold window in his office in his renovated London terrace, which concertinas back to open up the width of the room — allowing an uninterrupted view of the outside as well as fresh air in the warmer months.
11. Offices Need not be Boring
Inject Scandinavian style into your home office by cladding the walls with timber — offering style and texture to the room. Demonstrated perfectly in this project by Brown + Brown Architects, the white-painted timber-clad walls are a pleasing backdrop to the office furniture, and create the sense of a light-filled space too.
12. Don't Forget the Kids!
It's not just the adults of the household who need an office space — kids now need their space to focus on homework too. You might feel reluctant to let them share your space — crumbs, mucky fingerprints and tripping on Lego hardly make for a suitable work environment!
Architect Matt White came up with an ingenious solution in his former home in London — installing built-in desks for his three children, cleverly masked behind white cupboard doors in the walls, meaning that homework and toys could easily be shut away when guests were visiting.
Daisy was Features Editor on Homebuilding & Renovating for more than five years and had a passion for all things design. She has since moved on to pastures new.
Homebuilding & Renovating Newsletter
Get the latest news, reviews and product advice straight to your inbox.
Thank you for signing up to Homebuilding. You will receive a verification email shortly.
There was a problem. Please refresh the page and try again.