18 Home Office Ideas: The Best Designs to Inspire Your Space
By Daisy Jeffery , Michelle Guy published
Our brilliant home office ideas will help you find the perfect spot to set up a productive and inspiring space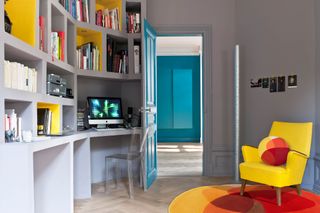 (Image credit: Sonya Winner Rug Studio)
Working from home and need a dedicated space? Our home office ideas are here to inspire! We've pulled together some clever and creative ways to incorporate a workable area, whatever space you have.
Those of you who are building your own house, or those of you who are planning a major remodel or extension project have an unrivalled opportunity to design in a home office or space to work, rather than shoehorning it into an existing home.
There's plenty to consider but it means you have the opportunity to plan your home office design early on, giving you scope to really think about lighting, electrics, the tech and soundproofing, for example.
But don't worry if you need to fit a home office in and around how you live now. Our home office ideas offer up lots of ways to achieve it.
1. Combine a Home Office With a Guest Bedroom
Styled right, there's no reason why you can't double up your home office space with your guest bedroom. Using calming colours like Turquoise Powder 2057 50 from Benjamin Moore will help create a tranquil room to work in and for your guests to stay in - perfect!
2. Build a Modular Home Office
If space is tight, incorporate your home office into a shelving unit that works with your existing décor and room layout.
You can buy off-the-shelf varieties but you can also create a modular system that can assemble in a combination that suits the space (eg. a left or right tiered effect, like the example above from Shelved.)
It's a practical and flexible solution as you'll have everything you need throughout the day like files, books and stationary within easy reach and it will remain tidy when you finish up, too.
3. Zone Your Home Office Space with Paint
If you need to define an area in a room to use as a home office then use a paint effect to demarcate where you work from the rest of the space. It'll give your home office its own identity and will add a splash of colour for inspiration.
(MORE: How to Paint a Room Like a Professional)
4. Create a Home Office Space for Two
If you're not the only one working from home and the jobs you do mean they won't interrupt or distract each other then why not create a space for two?
Pinboards, shelving and a run of worktop from wall-to-wall, with a handy chest of drawers mid-way provides ample space to work and store office supplies in this neat home office example above.
5. Pick a Sit-Stand Home Office Desk Solution
If the thought of sitting all day to work isn't ideal then a standing desk is well worth considering. This example from TeeBeu is a sit-stand combination where the adjustable height stool can be used to sit on or stacked on top of your desk to prop your laptop on when you fancy standing to work.
6. Get Creative with a Cupboard!
If space is at a premium and you're only working from home a couple of days a week then you may not want to dedicate a whole room to it. Instead, you could cleverly incorporate a subtle desk into a cupboard that forms part of a bespoke storage solution, like this example from Neville Johnson. There's even space to tuck away a stool into the bottom cupboard, too!
7. Sliding Doors Solution
If you're building an extension or renovating your home, consider including a pocket door in your design to shut off a home office at the end of the day, like this fantastic example from Roselind Wilson Design.
8. Don't Forget Lighting Your Home Office
When it comes to lighting a home office, while desk lamps are usually a given, thinking outside the box might just give your home office the wow factor it needs. Consider including recessed LED lighting in the design of your home office to illuminate the room with a soft glow, as this project from Neil Dusheiko Architects goes to show. The room is wrapped in a warm light while a picture window cuts into the space to bring in natural light.
(MORE: Check out the Best LED Bulbs available now)
9. Use an Alcove as a Home Office
Dedicating an entire room to the task of home office can often prove tricky in spatially challenged homes. A clever way of achieving dedicated office space is looking to unused circulation space or areas of 'dead space' in your home, such as landings and alcoves where there would otherwise be just a decorative chair (or nothing at all).
10. Use a Room Divider to Separate Work and Living Space
Any home without a dedicated space for a home office might make good use of a multi-purpose bedroom/office. While many bedrooms in this instance will typically consist of a standard desk in the bedroom, a clever design solution for balancing work and rest is to introduce a form of room divider to both zone and separate the space.
Whether this is via a bookcase, shelving or even a partition wall, as this example from Sequel demonstrates, you'll be less distracted from work tasks when trying to get some rest.
11. Make a Small Space Work to Work in!
This secret home office, concealed behind a sliding door in a remodelled ex-council house in London (by Inglis Badrashi Loddo Architects) shows how you can make even the smallest of layouts fun. The sliding mirrored door is a great space-saving solution.
12. Create a Home Office Under the Stairs
Again, another idea for those short on space, or perhaps if you are reluctant to dedicate an entire room to use as an office, utilising the available space under your stairs to make way for a desk, chair and shelving can be the ideal solution.
This under stairs storage idea from Trend Interiors includes two and three-drawer filing units and worktop to fit the space under the stairs.
13. The Snug Office
Perfect for traditional properties, creating a cosy snug-cum-home office can be the perfect place to retreat to when you need some peace and quiet to get on with work — or simply want to read a book.
14. A Home Office in the Garden
Take your home office outside to help separate home and work. Garden pods can be an ideal solution for garden offices gaining additional space without the hassle (and price tag) of an extension.
While the most basic models come just as a standard 'pod' outdoors, others can be equipped with electricity, heating and ethernet connection so you can carry on with work in private without distractions, all with a great view of the garden. This attractive garden office by Atelier Garden Studios is a case in point.
15. A Home Office in the Loft
A loft conversion doesn't just have to be for playrooms or an extra bedroom — they make for great home offices too. This concept from Neville Johnson features all manner of built-in shelving units, drawers and two handy desk areas, perfect for those who don't like to share their desk and 'take it in turns' to use the computer.
16. Introduce Bi Fold Windows
For many a living space, opening up a wall through bi fold doors can be the making of the room, but what if your home office is above ground level? Architect Phil Coffey chose to include bi fold windows in his office in his renovated London terrace, which concertinas back to open up the width of the room — allowing an uninterrupted view of the outside as well as fresh air in the warmer months.
17. Clad Your Home Office Walls
Inject Scandinavian style into your home office by using internal timber cladding — offering style and texture to the room. Demonstrated perfectly in this project by Brown + Brown Architects, the white-painted timber-clad walls are a pleasing backdrop to the office furniture, and create the sense of a light-filled space too.
18. Incorporate Space for all the Family
It's not just the adults of the household who need an office space — kids now need their space to focus on homework too. You might feel reluctant to let them share your space — crumbs, mucky fingerprints and tripping on Lego hardly make for a suitable work environment!
Architect Matt White came up with an ingenious solution in his former home in London — installing built-in desks for his three children, cleverly masked behind white cupboard doors in the walls, meaning that homework and toys could easily be shut away when guests were visiting.
Daisy was Features Editor on Homebuilding & Renovating for more than five years and had a passion for all things design. She has since moved on to pastures new.
Homebuilding & Renovating Newsletter
Get the latest news, reviews and product advice straight to your inbox.
Thank you for signing up to Homebuilding. You will receive a verification email shortly.
There was a problem. Please refresh the page and try again.