Choosing Radiators: A Buyer's Guide
By Daisy Jeffery published
Specifying the right radiators for your home can make all the difference to a room — and your heating bills.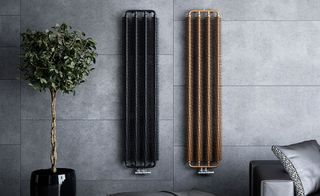 (Image credit: B&Q)
Choosing radiators, whether to finish your self build or to update a renovation project, can often by an afterthought once the majority of the interior is complete.
However, planning ahead can be key to saving you money on the best radiator to compliment your design scheme and space available.
21st century radiators are increasingly inventive in style, colour and form, but it is important not to lose sight of their purpose: to heat your home. Cluing up on what would work best for your home and researching the best prices should always be a priority.
Consider Heat Output When Choosing Radiators
The first step in choosing the right radiators for your home is calculating the BTU (British Thermal Unit) energy requirement of each space. "All radiators have a specified heat output so once you know how much heat the room needs you can choose the type, size and style to suit your taste and the room," says energy-efficiency expert Tim Pullen.
A Gas Safe Register plumber or heating engineer is best qualified to work this out for you. However, online BTU calculators (see manufacturers' and suppliers' websites) will help to give an indication.
Factors such as these are all used to estimate the suitable heat output:
the dimensions of each room
the size of any window openings
how many external walls are present
How Big Should my Radiator Be?
With a large number of manufacturers, it's possible to specify radiators in a wide range of sizes to suit your needs. As a general rule, the larger the size, the greater the heat output. If, however, you're stuck for space or simply prefer to be without radiators, skirting heating is a discreet, space-saving alternative.
What Should my Radiator be Made out of?
Traditionally, radiators were manufactured from steel due to its strength, efficiency and flexibility. Beautiful brushed and polished finishes can be achieved in stainless steel and the material is extremely durable. Steel is also impervious to water, meaning to can be used in any domestic heating system, and is usually the cheapest choice.
Lightweight aluminium options allow homes to be heated quickly and efficiently and can offer a more modern, sleeker aesthetic. "They are usually the most effective in terms of efficiency and they are the 'greenest' in terms of their manufacture," explains Dave Thornback, UK sales manager at Vasco. "Added to the fact that they can be completely recycled at the end of their life."
As they only require a low water volume, aluminium radiators can be mounted on most walls but although the material is quick to heat up, they also lose heat rapidly once switched off.
Cast Iron is another traditional choice, particularly when specified for column radiators. Unlike aluminium, this material takes its time to warm up, but will hold onto heat long after being turned off. It is also a heavyweight option, so ensure your floor/wall is structurally sound.
Among the more unusual but emerging options are stone and glass — which is not only energy efficient, but also gives scope for decorative artwork. However, glossy surfaces so not emit as much heat as matt finishes so it is usually an important consideration to make when deciding.
Other advances include graphite radiators and high-end designer towel warmer radiators made from brass as they offer exceptional quality and tending to suit traditional schemes.
Styles of Radiators
Style is the name of the game for modern radiators, as homeowners are no longer simply looking for efficient and pace-saving heat emitters. Consider shape early on; ladder designs are ideal for hanging towels in bathrooms and kitchens while contemporary wall-hung designs might looks best in a bedroom of living area.
Powdered coated, colour matched and acid-etched finishes are now available from many manufacturers and while luxury radiators can come with a high price tag, they usually offer a sleeker installation including hidden brackets for hanging your radiator on the wall.
Dual-energy radiators are a great option for bathrooms as they can be used when the central heating is turned off and electric options have come on leaps and bounds to be more efficient and a viable options for a modern home that won't waste money.
Companies, such as The Economy Radiator Company (opens in new tab), are also offering slimline models made of Italian aluminium, which are fully programmable and promote lower running costs.
It's not just electric radiators that are growing in popularity either. Low-surface-temperature radiators (LSTs) – commonly found in schools and hospitals thanks to their safety casing – are now being specified by homeowners to be used in conjunction with heat pumps.
While a number of leading brands, including Stelrad (opens in new tab), Zehnder (opens in new tab), Myson (opens in new tab) and Jaga (opens in new tab), offer LSTs in different sizes according to available space, they are commonly more expensive than traditional radiators, but have the benefit of safety as well as efficiency.
For example, products such as Jaga (opens in new tab)'s Tempo LST radiator features a low-H2O heating element which is able to react to temperature changes quickly and efficiently, meaning that only the nominal amount of energy is used to heat the space.
Radiators in Period Homes
Period radiators are a real asset, but may require attention if they are to remain in efficient working order. Old radiators can suffer from cold spots, caused when sludge builds up inside — powerflushing will remedy this problem. Cast iron radiators coated in layers of unsightly paint can be shot-blasted. Both are tasks for the professionals.
Old models can also be sourced online or in reclamation yards, but Andy Triplow of The Old Radiator Company (opens in new tab) gives the following advice: "Be careful when buying from a salvage company as, although the old radiators may look robust, they can be easily damaged and may have cracks that you are unable to see. The gaskets, which seal the joints between the sections, are particularly susceptible to damage."
Salvaged radiators can be reconditioned, but you may decide a reproduction offers a more straightforward solution.
(MORE: How to Replace a Radiator)
What Valve is Best to Use?
Valves will not only impact on the overall look of your radiator, but choosing the right one will also impact on its functionality and the heat output — ultimately affecting your energy bills.
Manual valves are adjusted by hand and allow a constant flow of water into the radiator while thermostatic radiator valves (TRVs) not only enable you to manually set the temperature of individual radiators, but they also regulate heat output — automatically reducing flow to the radiator when the surrounding air temperature rises too high.
Digital programmable TVRs are also a very popular option of recent years as the desire for a smart home has infiltrated the mainstream market.
Installing TRVs – combined with a room thermostat and programmer – in a typical three-bedroom semi-detached home heated by gas can shave up to £75 off your annual bill according to the Energy Saving Trust. (opens in new tab)
Controlling the Temperature in the House
The control system will be largely dictated by the system being installed. It is essential that the control system must allow the temperature to be set for each room.
It is uncommon that a house will need every room to be heated to the same temperature at the same time (think guest bedrooms which receive occasional use). Getting that right will make a noticeable difference to the heating bill.
What's more, with the popularity of smart homes, there are more and more innovations in central heating controls that allow homeowners to zone areas and adjust temperatures of individual rooms using apps.
According to the director of Heat and Energy Ltd (opens in new tab) David Hilton, "There are a number of wireless systems now that can control multiple rooms with no installation disruption. These systems typically have a control hub connected to the boiler that is accessed through an app on a phone or mobile device.
"Each room (or zone) has a thermostatic sensor on the wall and a motorised radiator valve. You then set the desired room temperature on the app and the sensor in turn sends a signal to the radiator valve to open and thus heat the room. When the room temperature is met, the sensor will signal the radiator valve to close down."
Where to Install a Radiator
Just as you would plan space for kitchen units, sockets and switches, knowing where your radiators are best placed is just as important.
If you are building anew or completely ripping out and starting again, plan the installation as you plan the decor and furniture. Traditionally radiators tended to be positioned under windows or on external walls, as cold air pushes the heat around the room, but with increasing standards of energy efficiency and airtightness in homes, there is a new flexibility around where radiators can be placed.
According to Ellie Sawdy of radiator specialist Bisque, placing a radiator under your glazing might actually undermine the efficiency of the system: "This can sometimes be ineffective, particularly in older properties where heat escapes through draughty windows. Look for tall, slimline options which can fit either side of a doorway, or a compact model which can fit in a tight alcove."
Daisy was Features Editor on Homebuilding & Renovating for more than five years and had a passion for all things design. She has since moved on to pastures new.
Homebuilding & Renovating Newsletter
Get the latest news, reviews and product advice straight to your inbox.
Thank you for signing up to Homebuilding. You will receive a verification email shortly.
There was a problem. Please refresh the page and try again.