A Guide to Insulation
By Lindsey Davis published
Find all of the information and advice you need to choose the right insulation for your home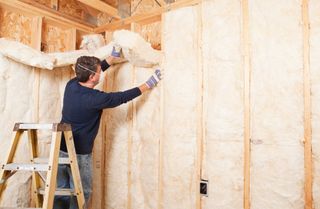 (Image credit: getty images)
Whether self building or renovating, the thermal efficiency of your home should be a prime concern — both for environmental reasons and the savings you could make on heating bills. All new homes have to meet certain levels when it comes to thermal performance, but how you do this can be daunting to those new to building.
The professionals you may be working with on your project will already have methods they are familiar with, but as a client it is helpful to know what is available and the benefits of each. Here, we summarise the options and link to further reading.
(MORE: What is the Green Homes Grant?)
How to Insulate a Wall
In this article, Tim Pullen explains the differences between internal, external and cavity wall insulation. He also looks at different products used for insulation.
External Wall Insulation
Tim Pullen explains the benefits and consequences of using external insulation.
Internal Wall Insulation
For many period properties and conversion projects, insulating on the outside is not an option, so internal wall insulation is the best option, with the least visual impact. Michael Holmes explains all.
Breathable Insulation
If choosing natural and sustainable materials is important to you, breathable types of insulation may be best for your home (and health). Tim Pullen explains more.
Insulating Lofts, Roofs and Floors
Adding insulation is a cost-effective way to decrease your homes heat loss. Tim Pullen explains the available options.
How to Insulate Old Homes
Insulating older properties demands a little more care and consideration. Our guide explains how.
Spray Foam Insulation
Spray foam insulation has come a long way in recent years, and in the right setting, and installed by the right professional, can be a good choice for your home.
Homebuilding & Renovating Newsletter
Get the latest news, reviews and product advice straight to your inbox.
Thank you for signing up to Homebuilding. You will receive a verification email shortly.
There was a problem. Please refresh the page and try again.