Restoring Chimneys
By Ian Rock published
We often adopt an 'out of sight, out of mind' approach when it comes to our chimneys, but restoring neglected stacks is money well spent, says chartered surveyor Ian Rock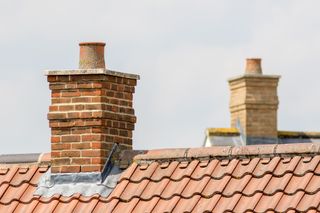 (Image credit: getty images)
A neglected stack can be an accident waiting to happen — the prospect of chunks of heavy masonry dislodged by storms, crashing on to the roof above your bedroom isn't a risk worth taking. So, if your building survey flags up defects, it's usually advisable to get things sorted sooner rather than later.
Probably the most common issue with chimney stacks is eroded pointing. In itself this may not sound too serious, but if neglected it will hasten the onset of more serious problems such as instability, water penetration and even disintegration. If caught in time, all that may be required to fix this and prevent further deterioration is a spot of localised repointing.
Before starting work on chimneys, there are a number of important points to consider:
Firstly, temporarily seal up fireplaces to prevent clouds of soot and debris rattling down the flues, creating mess inside.
Secondly, a lot of stacks are perched on party walls with the other half belonging to the neighbour. So it's worth persuading the co-owner(s) to jointly contribute to the works. Sorting the whole thing in one go makes sense both structurally and aesthetically — not to mention economically. Where it's just your side of the stack that's being worked on, make sure the builder and scaffolders steer clear of next-door's roof and pre-empt any risk of damage.
Chimneys are sometimes used to support TV aerials, and these may need to be taken down and later reinstalled. However, the art of optimising TV reception is one that's probably best left to aerial specialists — which can add to costs.
It's also not unknown for some tiles or slates to get broken during the repair process. For the roofer to return after the scaffolding has gone and replace a few broken tiles or slates will cost in the region of £100–200 — so, it's worth making a point of checking the condition of the roof while access is still possible. As a precaution, sourcing some matching replacement tiles in advance is a good idea.
Scaffolding
Scaffolding will inevitably be a major cost for work to stacks too, and may need to be laid directly on to or across the roof, preferably resting on wooden scaffold boards. The cost of scaffolding and access equipment hire needs to be added to the price for repairs.
Scaffolding per main elevation/roof slope is likely to cost from around £450 for a minimum hire of a period of four weeks.
The additional cost for the hire of a chimney scaffold and work platform (lightweight adjustable scaffolding) will be £150 per week.
For small, localised repairs, a mobile scaffold tower of up to 6.2m high can be hired on a DIY basis for about £200 per week.
Roof ladders to access upper sloping roofs can be hired for about £70 per week.
Overall Cost
The price of work to stacks will vary depending on their position on the roof, too. Those located lower down at the eaves level will require less scaffolding than those at ridge height.
Repointing a ridge chimney all round will cost £1,075.
A lower-level eaves chimney will be around £650.
Completely rebuilding a ridge chimney will cost £1,900, and £1,500 for an eaves chimney.
Cracked or Damaged Brickwork, Stonework or Render
Identification
Visible cracks, loose render or eroded masonry are all signs of damage; so too is damp to walls below.
Implications
If there's any danger that a gust of wind could loosen chunks of render or masonry, then this will obviously need to be remedied urgently. This kind of deterioration is often simply down to the effects of ageing. Over the years, extremes of weather can result in mortar joints and masonry eroding, with small cracks allowing water to penetrate and then freeze, further loosening masonry or blowing render.
As if that wasn't bad enough, this is a war fought on two fronts — inside the flue, dampness from the condensation of gases on the cold surface can also eventually cause expansion, cracking and chemical erosion of the masonry and mortar. Damage to chimney masonry is sometimes caused by poorly fitted TV aerials, too.
Remedial Work
Any areas of spalled or defective masonry must be cut out and replaced. If just the upper brickwork has come loose due to soft or eroded mortar, then partial taking down and rebuilding may be needed. This may only apply to the top few courses of projecting corbelled brickwork.
Eroded mortar joints can be raked out and repointed (taking care to match the original style). Any loose, cracked or hollow areas of render can be hacked off and patch repaired.
Internally, installing a flue liner should protect the masonry, prevent leaks and improve thermal insulation. The cost of installing a new flexible stainless steel flue liner and cowl to an existing chimney will be around £539. This task involves removing the existing pot and flaunching, sweeping the flue, inserting a 9m-long liner and then adding a new gas cowl and flaunching.
TV aerials can then be reinstated or, if possible, relocated in the loft. Removing, temporarily re-siting and reinstating a TV aerial by a specialist aerial fitter will cost around £150.
Leaks Around a Chimney Stack
Identification
Damp patches on walls, ceilings, and chimney breasts below – usually evident as brown staining – are signs of a leak around the chimney stack.
Causes and implications
Over time, persistent dampness can result in fungal decay developing in adjacent roof timbers, and can also cause ceilings to bow and eventually collapse.
The most likely cause of damp is defective flashings at the junction with the roof, especially to hidden 'back gutters' (the flashings at the back of chimneys on the roof slope — the side you can't see). Mortar fillets are sometimes applied as a cheap, short-life alternative to lead, but they're brittle and prone to cracking — they're always best replaced with new leadwork.
Sometimes, rain can get around an otherwise perfectly good flashing because stacks on older homes don't have a damp-proof course (DPC); modern brick stacks have a DPC of around 150mm above roof level. Without a DPC, water can soak into porous stack masonry and leach downwards into the loft or rooms below. Damp penetration may also be due to eroded mortar joints or damaged brickwork.
NOTE
It's worth noting that, traditionally, at the sides of a stack, slates and plain tiles have strips of L-shaped lead 'soakers' inserted underneath before being covered with the flashing. Soakers are not necessary with interlocking tiles.
Remedial work
Defective flashings should be replaced with new lead (this should be of a minimum Code 4 thickness). It's false economy to use cheaper, short-life materials, and the trades best qualified to undertake this task are roofers or specialist leadworkers.
To fit a new lead flashing, the roofer or leadworker will cut a groove in the chimney (usually into a mortar joint) approximately 150mm above the level of the roof; on a slope this is normally in a stepped pattern. They will turn the lead flashing at least 25mm into the groove and fix it in place with lead wedges and then seal it with new mortar.
In some instances, the existing flashing may simply have come loose or is inadequately sealed to the brickwork, in which case it may just need to be refixed and wedged into existing joints and pointed up with fresh mortar. Where damp is due to porous stack walls that lack a DPC, the problem can sometimes be solved by repointing eroded mortar joints. If all else fails, try fitting new lead flashings that extend higher up and deeper into the brickwork.
Cost of Associated Works
Cost of Associated Works

| Works | Labour & Material (Incl VAT) |
| --- | --- |
| Renew back gutter to stack, complete with cover flashings: Strip back roof tiles and renew back gutter, refix tiles, wedge and point flashing, 500mm girth to stack. Code 5 lead sheet 700mm long | £236 |
| Remove damaged flashing and renew stepped Code 4 flashing (in 240mm girth), wedged into grooves with lead wedges | £104/m |
| Refix existing loose lead or zinc flashing with new wedges and repoint mortar | £43/m |
Leaning Chimney Stacks
Identification
A distinct leaning of the chimney stack – often away from the prevailing wind direction – is a tell-tale sign, so too is blown mortar joints.
A small degree of lean is quite common in old stacks. Many have leaned considerably more than the 'official' limit of 1 in 100mm, but in most cases are still stable. Where there is pronounced leaning, a structural engineer will need to confirm whether it is too extreme to be made safe without rebuilding.
Implications and Causes
When bricks get consistently very wet, any sulphates in the masonry or mortar can react, causing horizontal expansion cracks along mortar joints, indicative of 'sulphate attack'. The good news is that traditional lime mortar used in older buildings is not as vulnerable to sulphate attack as more modern cement mortar.
Constant wetting can lead to expansion of mortar joints too, effectively 'jacking up' the stack and causing it to lean away from the wind. The type most at risk are tall, thin single flue stacks — common on 1930s houses. These are highly exposed and operate at colder temperatures compared to thicker main stacks containing clusters of flues. The stack may be colder on its windward side and hence suffer more erosion from condensing acidic gases and/or expansion from sulphate attack.
Finally, the most alarming cause of leaning chimneys is from botched structural alterations, such as the removal of chimney breasts without sufficient support to the remaining stack masonry above. Thankfully, this is relatively rare.
Remedial work
Older chimneys were generally built with weaker lime mortars than the cement-based types used on modern houses. So, where a chimney is only leaning a bit, it may not take much for it to tilt further, so the problem should be nipped in the bud before it gets worse.
What's more, old mortar joints may have become loose or eroded with age, so that repointing is now overdue. Joints should be raked out to a depth of 15–25mm and repointed with a sulphate-resistant mortar.
Interior erosion can normally be kept at bay by installing the correct type of flue liner.
Bear in mind also that where a chimney stack is leaning, the flashings may have suffered movement and may need refixing or even replacing.
Where instability is due to the removal of a chimney breast to a room below, the usual solution is to support the remaining masonry within the loft with a steel beam (which will require Building Regulations consent).
Where the degree of lean to a chimney is quite pronounced, a structural engineer may consider the option of stabilising it with a stainless steel tie bar (if there's a handy adjoining roof slope in which to anchor it).
Rebuilding
The remedy of last resort in severe cases is to take down and rebuild the stack, or remove it entirely. When rebuilding, the new stack should look the same (in height, style, etc.) as the original. So it's a good idea to take photos in advance as a guide to help recreate it. It's normally possible to reuse most of the original bricks.
Where the chimney is being taken down and rebuilt, it's important to agree with the builder where the demolition will stop — usually a couple of courses above the flashings. If the decision is taken to completely remove the chimney, the old opening will need to be covered over with a couple of square metres of replacement tiles or slates.
Gleaming new tiles or slates on an old roof can stick out like a sore thumb, so it might be possible to 'borrow' some existing tiles or slates from a less visible rear roof slope. Otherwise, source matching second-hand ones from a reclamation yard.
Damaged Chimney Pots and Flaunching
Identification
Signs include broken, missing or crooked pots sagging into the chimney stack, and frost damage in the form of delamination (flaking). Cracked and loose mortar flaunching – this is the large expanse of mortar that holds pots in place – are also signs. Problems with downdraught to the fireplace and rain penetration are also symptoms.
Implications
If there's any risk of collapse or chunks of chimney raining down and causing injury, urgent attention will obviously be needed.
Long-term exposure to extremes of weather can ultimately cause erosion to the supporting masonry at the head of the stack.
Cracks to the flaunching can develop over time with consequent water penetration leading to frost expansion and loosening.
Internally, dampness from condensing flue gases can be a contributing factor that can eventually erode the masonry.
Remedial Work
Damaged chimney pots need to be replaced with matching reclaimed or repro versions. Unstable pots can be taken out and rebedded (e.g. on new corner tiles fixed into the upper courses of brickwork).
Loose flaunching needs to be completely hacked off and replaced with a suitable mortar mix, waterproofed and carefully moulded so it slopes outwards to disperse rainwater — it would be a relatively simple job if it wasn't for the heights involved!
Lining flues should resolve internal problems, combined with fitting an all-purpose chimney cowl to each chimney pot to reduce the risk of rain entering, and to stop birds flying in. Where there's a redundant, disused flue, it should be capped off and ventilated both to the top and to any boarded up fireplaces in the rooms below to prevent a build up of condensation.
Costs
The cost of hacking off defective cement fillet and forming a new flaunching in cement mortar for a single pot will be around £51.
Removing a damaged clay chimney pot and flaunching, and replacing it with a new 300x900mm-high roll-top pot and new flaunching will be about £89.
Chartered surveyor Ian is the author of eight popular Haynes House Manuals and is a director of Rightsurvey.co.uk. He is also in the process of adding a large extension to his home.
Homebuilding & Renovating Newsletter
Get the latest news, reviews and product advice straight to your inbox.
Thank you for signing up to Homebuilding. You will receive a verification email shortly.
There was a problem. Please refresh the page and try again.