Guide to Good Decking
High maintenance, high impact and highly slippy, or an attractive alternative to hard landscaping? Decking seems to divide us, so Natasha Brinsmead investigates where it works best, and how to get it right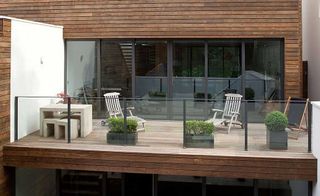 (Image credit: Kebony)
Not so long ago, TV makeover shows were all about enthusiastic gardening 'experts' showing us how our outdoor spaces could be transformed in a matter of hours with easy-to-lay, uniform decking. However, in recent years there has been a definite move away from the trend, with studies showing grass once more growing in popularity.
The Comeback of the Lawn
There is an awful lot to be said for the lawn. While its natural and lush appearance holds obvious appeal, it is also a great way to encourage more wildlife in to your garden, increase oxygen, reduce the likelihood of flooding and, according to some, increase your general feelings of wellbeing. It is also a great option if you have children — running around on soft grass has to be more pleasurable than on hard decking.
A couple of years ago, a survey carried out by lawn company GreenThumb, showed that a sixth of people who had installed decking ended up ripping it out, saying that they missed the colour and wildlife that a lawn brought their gardens. Some people also felt it took up too much space. However, the Timber Decking Association disagreed (naturally), stating that any suggestion that decking was in decline was misinformed.
Despite this battle of vested interests, whatever your personal preference, it is true to say that timber decking has come a long way, with a greater choice of products, designs and finishes now available. There is also more of a sense of how it can be laid to make the most of a garden and blend in with the existing nature that surrounds it.
Better Decks
Top tip
Your choice of timber will have an impact on its long-term usability — and the best ways around the issue of slipping
Of course, even if you are a lawn lover, there is no reason why you cannot have both lawn and decking in your garden. This is in fact the ideal way to define different areas of the outdoor space you have available. It provides a great surface for an outdoor seating area, around a swimming pool or maybe a hot tub, plus it is quick and easy to install and fairly cost effective to boot.
It is also an excellent solution for those dealing with sloping sites — turning fairly unusable garden space into a stable, level and useful area. Timber decking can work well when used to create pathways and steps — blending nicely with other natural materials in the garden.
Isn't Decking Slippery and Rot-Prone Though?
Decking can be slippery, and prone to rot, too. What you need to bear in mind is that choosing the right timber for your decking is essential in ensuring that you are able to enjoy it for many years to come.
In terms of preventing it from rotting, warping or cracking (all complaints linked to decking) look for a timber that has the DeckMark symbol from the Timber Decking Association — this is a good indicator of the use of high-quality materials with good guarantees.
Softwoods such as pine and spruce will be the cheaper option, but must be properly treated with a wood preservative — as should any cuts in the wood. Cedar is an ideal softwood choice, being naturally weather-resistant.
It is the hardwoods though that have seen a growth in their popularity recently, with species such as oak and teak giving a stylish and contemporary feel, while also offering plenty of durability and stability — essential qualities for timber decking to remain looking good.
Other good choices include birch, elm, maple and cherry. Both treated softwoods and hardwoods can be expected to last for around 25 years if well maintained.
So, what about it becoming slippery? Yes, timber decking can in the wetter months become a little bit like an ice rink. There are various ways around this:
Some swear by pressure washing a couple of times a year to remove algae build-up, although others believe this will lead to the timber rotting at a faster rate. There are gentler deck cleaning solutions available which are worth a look.
Others suggest securing chicken wire to the surface — effective, but not necessarily attractive.
There are also products on the market specifically tailored to deal with the problem, such as GripDeck. These are anti-slip aluminium inserts that are easy to fit and blend in well.
Deck Facts
Expect to pay £30-70/m² for decking boards.
For installation, a two-man decking company will ask around £500 for a typical patio.
As long as your decking is no more than 30cm above the ground and covers no more than half the garden area, it won't require planning permission. If your deck requires planning permission it will also require Building Regulations approval.
Designing your Landscaping Scheme
Although there are problems associated with timber decking, most are easily avoided. Ensure that your decking sits well within your scheme by choosing the right product for the right area. Grooved and ribbed finishes seem to blend in nicely with more traditional garden schemes, while smooth finishes add to the crisp nature of a contemporary outdoor space.
Remember, there is no reason why you have to stick to straight lines. Boards can be fitted diagonally or even in herringbone patterns to create a tailored look. Look at the surrounding materials, too — timber decking fitted near an expanse of timber fencing can all look a bit much, but combined with glass balustrades or lush hedges, can really add something.
When planning your deck, think about the effect you want it to have on the overall appearance of your home. Deck boards placed at right angles to your home tend to draw the eye out towards the garden, while those that run parallel will add a sense of width to the house.
How to Install Decking
In order to prevent your new deck being plagued by weeds, lay a deck fabric over the earth before the deck is fitted
Ensure that the framework for the deck is laid on to concrete foundations rather than directly on to the soil for added stability
For water run-off, the deck should gently slope away from the house — a 10mm drop for every metre of deck is ideal.
If you are installing decking in a shady spot, bear in mind that it will not be able to dry out in the sun and it will spend much of the time damp and so more prone to algae, dirt and moss build-up. Choose a non-slip product and clean the deck with a deck cleaning solution regularly to keep it in good, usable condition, and re-treat the deck afterwards. You should also check your decking regularly for any loose boards and splintered wood, and repair where necessary.
A final note on installation: always use purpose-made stainless steel or galvanised screws so that your decking is not ruined by rust stains.
Low-Maintenance Alternatives to Timber Decking
If you are concerned about the maintenance involved with timber decking, you could opt for an alternative material. In the main, these are either composites or PVCu.
PVCu products are cheaper than timber, yet lack the natural appearance
Composite decking is made from wood fibres combined with polymer resins and offers a non- or low-slip surface. It's also maintenance free — no sanding or sealing required.
If it is a wholly earthy and natural appearance you are hoping to achieve, then timber wins hands down, but in contemporary schemes a composite often works well.
Get the Homebuilding & Renovating Newsletter
Bring your dream home to life with expert advice, how-to guides and design inspiration, direct to your inbox.
Natasha is Homebuilding & Renovating's Associate Content Editor and has been a member of the team for over two decades. An experienced journalist and renovation expert, she has written for a number of homes titles. Over the years Natasha has renovated and carried out a side extension to a Victorian terrace. She is currently living in the rural Edwardian cottage she renovated and extended on a largely DIY basis, living on site for the duration of the project. She is now looking for her next project — something which is proving far harder than she thought it would be.