Replacing Windows: Advice for Upgrading Your Home's Glazing
By Rebecca Foster published
Thinking of replacing windows in your home? From what Building Regs apply to styles, materials costs and more, this guide has everything you need to know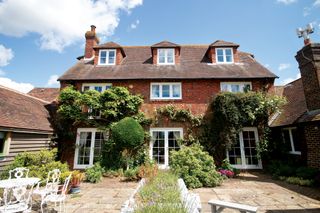 (Image credit: Evoluton Windows)
Replacing windows really can make or break a house in terms of looks, but sometimes it's a necessity, especially when existing window aren't performing well in terms of thermal efficiency.
When renovating a house, repairing windows is always preferable, but depending on their condition, it's not always possible. The original windows may be beyond help, or they may be poor quality windows or designs that don't match the period of the house, installed by previous owners.
Choosing the right replacement is key, as windows play an important role in your home's inward and outward look, playing alongside the rest of your property's exterior features.
In this guide, we look at the key considerations, including Building Regulations, planning permission, window styles and costs.
Do I Need Planning Permission for Replacing Windows?
Permitted Development (PD) rules cover replacing windows in many instances, so you won't have to apply for planning consent. "What you can install depends on whether the property is listed, in a conservation area or subject to any other local planning conditions," says Steve Brattle, divisional sales director at Anglian Home Improvements.
Some local authorities are more flexible than others, however, so it's worth checking with your local council regarding the style, frame material and opening method of your new units before going full steam ahead.
If you're considering switching to a different style, do your homework first. "To retain or add value to your home, it's worth honouring the integrity of materials and methods that would have been used in the era when it was built," says Chris Herrington, technical manager at Ventrolla.
PD entitlements do allow you to alter, enlarge and even introduce new windows to a building. Again, it's important to check with your local council how far you can go with these sorts of alterations before you need to apply for planning permission. If you are going down this route, it's also wise to consult with an expert who can advise on a window size and style that suits your property.
What Building Regulations Apply When Replacing Windows?
There are several considerations concerning Building Regulations when replacing your old windows with new, relating to areas such as thermal performance, safety, ventilation and means of escape.
In most cases, if you are just replacing existing windows and are using a FENSA-registered installer, they will be approved to carry out the work to comply with Building Regs without involving local authority building control — they 'self certify' the installation.
An application to building control only needs to be made when windows are replaced by an installer not registered as a 'competent person' or where the opening is new or enlarged.
"Although registered window installers can 'self-certify' work for Building Regulations' purposes, with more complex alterations such as bay windows, notifying building control and/or getting a structural engineer to supervise works is advisable," says chartered surveyor Ian Rock.
To comply with Building Regs, maximum permitted heat loss standards apply and since changes in 2010, replacement windows must now achieve the same thermal rating as new windows — a minimum performance standard based on either a 'C' Window Energy Rating (WER) or a minimum whole window U value of 1.6 W/m2K (glazing and frame).
There are other requirements too, some of which may apply to your project, depending on the work you are doing:
Compliance with ventilation requirements (i.e. trickle vents in frames).
Minimum size requirements. For newly formed window openings to habitable rooms there are minimum size requirements equivalent to at least 1/20th of the room's floor area.
Building Regs' consent will also be needed for structural alterations, such as widening an existing opening and fitting a new lintel.
On upper floors you will also need to consider means of fire escape.
Safety glass is required for windows where the bottom of the glazing is within 800mm of floor level.
What's the Right Material for Replacing Windows?
Aluminium windows, timber windows and PVCu windows are the most typical choices for frame materials, while heritage Crittall style steel is also popular in heritage properties.
Timber Replacement Windows
Timber is the natural choice for many schemes, and is particularly apt if you're keen to create an authentic look when renovating a heritage property. As well as possessing innate character and warmth, this material is a natural insulator that will help you achieve better whole-unit U values.
Softwood and hardwood versions are available, with the latter falling into a higher price bracket.
"When using modern timber products, a factory finish is typically better than finishing by hand," says Ryan Schofield from Thames Valley Windows. "It should mean the window has been constructed in optimum conditions, where humidity levels are perfect and the temperature is regulated so the timber remains stable. This means the units are less likely to suffer from any warping or twisting due to drying out."
If you're opting for a painted finish, make sure a microporous paint is used, as this will allow the timber to breathe and will prevent the paint from lifting and splitting.
In some cases, installing primed units and then painting the window frames once they're in situ may be the better option. If in doubt, speak to your chosen installer to see which option is the best for your project.
Maintenance
In terms of maintenance, PVCu requires the least upkeep, as repainting will not be required. However, every six months or so it's worth cleaning any debris from the interior and exterior of the unit, as well as wiping all surfaces clean — this goes for timber units, too.
If you have installed hand-finished timber windows, these will need to be repainted or varnished every five years or so to ensure a weathertight seal.
Factory applied finishes, on the other hand, should last a minimum of five years. "However, over time a fresh application will be required to maintain a 'new' appearance," says Ryan Schofield.
Aluminium Replacement Windows
Aluminium is an ideal choice for large window openings as it's lightweight, but strong. "It offers slim, contemporary looking frames and is low maintenance. It's available in many colours and is known as the 'green' metal because it's 100% recyclable," says Matt Higgs, director and co-owner of Kloeber. "It's not as thermally efficient as some timber types, depending on the size/type of the thermal break."
As a framing material, aluminium is generally more expensive than plastic and some softwoods.
Alu-clad Options
Alu-clad surrounds, featuring an engineered timber interior in softwood or oak, with an exterior finish of aluminium, are another option.
"Aluminium offers a modern-looking exterior with a warm timber interior. You get all the benefits of timber and aluminium in one product," says Matt Higgs. "This solution comes with great insulating values, with the warmth of timber on the inside and the low-maintenance of aluminium on the outside. The windows are very strong and secure, too, but may not suit all period properties."
Finding a Supplier for Your Replacement Windows
Installing new windows as part of your renovation represents a significant investment, so tracking down a reputable supplier is vital. Don't rush this phase of your project, as diligent research now will pay dividends later — especially with such a wealth of local joiners and national companies to choose from.
"Recommendation is always a great way to find the right company," says Peter Clement, chief executive at Clement Windows. "You should also check if the company is a member of the Glass and Glazing Federation (GFF). The GGF have schemes in place to safeguard your deposit. Plus, their members must work to a strict Code of Practice, including adherence to nationally recognised performance criteria, so you can be sure you're using a reputable firm."
Going for a supply and fit service makes good sense. That way, if there are any issues when the new windows are delivered, the fault lies with the provider and not you.
While it's perfectly acceptable to take rough measurements for the new windows yourself, it's best to leave the final measuring up process to the professionals.
Before work begins, it's also worth reading the small print to double check exactly what's included in the agreement with your chosen supplier/installer. "Items like 'making good' around the perimeter of the frame, both internally and externally, need to be discussed directly between you and the window contractor," says Peter from Clement Windows.
"This process will differ from house to house, so you need to understand exactly what the contractor has allowed for."
Product Guarantees
Before settling on one company it's wise to set aside plenty of time to investigate product guarantees that are included as part of your purchase. This is an element that varies drastically between suppliers and systems.
"If you're looking at timber windows, for example, the guarantee can depend on the type of timber being used," says Andy from Create Bespoke.
"Most industry suppliers use sapele at the lower end or another similar hardwood, which will usually come with a 10-15 year guarantee. This can jump to 25 years when suppliers use a modified timber like Accoya, which is becoming increasingly popular due to its rot-resistant qualities."
How Much Do Replacement Windows Cost?
The price of new windows varies significantly, depending on the supplier, style and frame material. "Obviously, the bigger the window, the more bespoke the customer's requirements and the more intricate the work required, the more the project would cost," says Chris Herrington.
For example, for a renovation, draughtproofing and new double-glazed sashes in a Ventrolla unit measuring approximately 1.5 x 1m in size, prices start from £1,000 on a supply and fit basis. For a new sash window with a box frame, again on a supply and fit basis, Ventrolla's prices start from £1,500 per unit.
When budgeting for a whole house's worth of new windows, the cost can vary dramatically.
"It's hard to estimate a cost, as so much depends on the design of the windows, the sizes and the number of units," says Robert from Westbury Windows & Joinery.
"For a typical four-bedroom house with new windows throughout, for our products, homeowners would be looking at a minimum of £15,000, up to around £30,000."
If you're working to a tight budget, and conservation guidelines allow, installing high-quality PVCu units instead of timber products could be one way to save money. "Another option is to choose lower cost windows at the rear of the property. For instance, having timber designs at the front and PVCu at the back," says Ryan from Thames Valley Windows.
Should I Make Existing Openings Bigger When Replacing Windows?
Increasing natural light in a period property is frequently high on the list of why homeowners look to enlarge a window opening. However, bear in mind the passing of light in modern glazing is far superior to that of the past, so just a simple swap could suffice.
(MORE: 15 Genius Ideas for Bringing the Outside In)
Although a significant structural alteration, enlarging a window shouldn't be too complicated. The masonry above must be supported while the walls are cut out and a suitable new lintel installed above the enlarged opening.
Top floor openings should be relatively light (likely supported by a timber wall plate) but old lintels further down the wall may be supporting very substantial loadings.
However, high performance windows may be heavier and the wall must be able to support this. If only changing the sill level, it's unlikely to have an impact but triple-glazed units might be unsuitable for some refurbishment projects.
Conversely, creating smaller openings is largely a cosmetic exercise as the existing lintels or masonry will be disturbed. Fitting cavity closers (lightweight and rigid PVCu profiles) to the reveals of the new opening is advised so cold can't easily 'bridge across'.
Can I Fit Smaller Frames When Replacing Windows?
Creating smaller openings is largely a cosmetic exercise since you're not disturbing existing lintels or masonry. It's advisable, however, to fit cavity closers (lightweight and rigid PVCu profiles) to the reveals of the new opening so cold can't easily 'bridge across'.
Getting hold of bricks that will provide a good match for infilling around new, smaller windows can be tricky, even on houses built a few years ago where the original brick is no longer in production. Contact a local supplier who offers a brick-matching service — sometimes seeing a photo is enough for them to start searching. Alternatively, you might get lucky at a reclamation yard or be able to use brick tinting services to match new brick to existing ones.
Repairing Walls After Replacing Windows
Taking out and replacing old windows will cause damage to the surrounding walls so you'll need to make good, internal and externally, once the new windows are in.
Brick/Masonry Walls
With brick walls, try to widen the opening to a full (or half) brick dimension so half of the surrounding bricks are left uncut, while the other half can be removed, cut, and relaid for a neat finish.
Rendered Walls
If the edge of a rendered wall is cut neatly there will be minimal patching. Installing a corner bead to protect the exposed corner is essential but a render patch could be restricted to a narrow strop at the edge of a window until the render is replaced or repainted in the future.
Timber-clad Walls
Finish each new reveal of a timber clad elevation as simply as possible, usually with a single vertical board (as long as ventilation paths are maintained). Avoid horizontal cladding around reveals with mitred corners as they will distort quite quickly.
Rebecca is an experienced homes and interiors writer with a passion for Victorian architecture. Her dream is to extend an 1800s house
Homebuilding & Renovating Newsletter
Get the latest news, reviews and product advice straight to your inbox.
Thank you for signing up to Homebuilding. You will receive a verification email shortly.
There was a problem. Please refresh the page and try again.