Replacement Windows: A How To Guide
By Amy Reeves
Replacement windows can really enhance the overall aesthetics of a period building. Find out the practicalities and structural implications during a renovation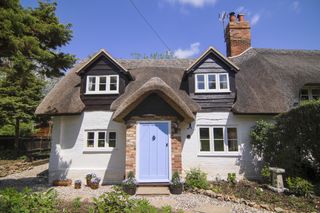 (Image credit: Thames Valley Company)
When looking at replacement windows for an existing property, there are several considerations to make including building regulations, planning stipulations, frame materials and maintenance. 
While repairing is always preferable, there are times when replacing windows is the only option — perhaps the originals are beyond saving or poorly-matched windows have been installed in their place. 
Take a look at our ultimate guide to renovating a house for everything you need to consider when taking on a period house refurbishment — featuring an essential guide to creating a schedule of works (including when to look at windows) and how to save or replace original features. 
(MORE: Get a tailored quote for replacement windows)
What Do Replacement Windows Cost? 
Size Affects Cost
Opting for a non-standard size will mean the price will increase for a bespoke construction
The price of new windows varies significantly, depending on the supplier, style and frame material. Generally the bigger the window, the more bespoke the requirements and the more intricate the work required and therefore the more the project will cost. 
For a renovation, draughtproofing and new double-glazed sashes supplied by window specialists Ventrolla measuring approx. 1.5 x 1m in size, prices start from £1,000 on a supply and fit basis. 
For a new sash window with a box frame on a supply and fit basis, prices start from £15,00 per unit. 
When budgeting for a four-bedroom house with new windows throughout, homeowners could be looking at a minimum of £15,000 - £30,000. 
If you're working to a budget, and tight conservation guidelines allow, installing high quality PVCu units instead of timber could save money, as could choosing lower-cost windows for the rear of the property. 
Editor's Note: Homebuilding.co.uk partners with the UK's best window and door suppliers to match your requirements with their products. Simply answer a few questions on what you need from your doors and windows and we'll put you in touch with a relevant partner.
Do you Need Building Regs for Replacement Windows? 
In most cases, if you are just replacing existing windows and are using a FENSA-registered installer, they will be approved to carry out the work to comply with Building Regulations without involving local authority building control — they 'self certify' the installation. 
An application to building control only needs to be made when windows are replaced by an installer not registered as a 'competent' person or where the opening is new or enlarged (see below). 
The relevant Building Regulations Documents and requirements are: 
Approved Document L-1B deals with issues surrounding energy efficiency and heat loss, stipulating that replacement window units (including the frame) must achieve a I value of 1.6W/m2K or less
Approved Document Q covers windows' security requirements, ensuring units are sufficiently secure to withstand a manual attack. For peace of mind, look for products with Secured By Design accreditation
Compliance with ventilation requirements
Minimum size requirements
Building Regs consent for structural alterations
Means of fire escape on upper floors. 
Do You Need Planning Permission to Replace Windows? 
Planning permission is not usually required to replace windows with like-for-like products as it falls under permitted development. However, if the alterations are to a listed building or in a designated area, such as a conservation area or AONB, you should check with your local planning department. 
New openings may need permission — particularly if it may cause overlooking issues. 
Making Existing Window Openings Bigger and Smaller
Increasing natural light in a period property is frequently high on the list of why homeowners look to enlarge a window opening. However, bear in mind the passing of light in modern glazing is far superior to that of the past, so just a simple swap could suffice. 
(MORE: 15 Genius Ideas for Bringing the Outside In)
Although a significant structural alteration, enlarging a window shouldn't be too complicated. The masonry above must be supported while the walls are cut out and a suitable new lintel installed above the enlarged opening. 
Top floor openings should be relatively light (likely supported by a timber wall plate) but old lintels further down the wall may be supporting very substantial loadings. 
However, high performance windows may be heavier and the wall must be able to support this. If only changing the sill level, it's unlikely to have an impact but triple-glazed units might be unsuitable for some refurbishment projects. 
Creating smaller openings is largely a cosmetic exercise as the existing lintels or masonry will be disturbed. Fitting cavity closers (lightweight and rigid PVCu profiles) to the reveals of the new opening is advised so cold can't easily 'bridge across'. 
Repairing Walls After Installing Replacement Windows
Taking out and replacing old windows will cause damage to the surrounding walls so you'll need to make good, internal and externally, once the new windows are in. 
Brick/Masonry Walls
With brick walls, try to widen the opening to a full (or half) brick dimension so half of the surrounding bricks are left uncut, while the other half can be removed, cut, and relaid for a neat finish. 
Rendered Walls
If the edge of a rendered wall is cut neatly there will be minimal patching. Installing a corner bead to protect the exposed corner is essential but a render patch could be restricted to a narrow strop at the edge of a window until the render is replaced or repainted in the future. 
Timber-clad Walls
Finish each new reveal of a timber clad elevation as simply as possible, usually with a single vertical board (as long as ventilation paths are maintained). Avoid horizontal cladding around reveals with mitred corners as they will distort quite quickly. 
What Type of Replacement Windows are Best?
If you're considering switching to a different style, do your homework first as an ill fitting replacement could devalue the house. To retain or add value, choose materials and methods which would have been used in the era the house was built. 
For instance, when replacing sash windows ensuring the correct arrangement of panes and glazed bars is essential for authenticity. 
(MORE: Window Styles)
Swapping Windows for Patio Doors
When replacing a window for new patio doors, there are a few potential issues:
In renovations, always have a professional structural engineer calculate the final building load. The weight of a new floor above or any additional wall claddings could cause deflection of the lintel below, making new doors inoperable
Wooden lintels under new loads can cause creep so use steel lintels (of a size calculated by a structural engineer) for openings wider than 3.65 as steel has zero creep
Where there is poor connection between lintel and side posts, gaps and cracks may appear after a few years as a result of twisting loads. Run the side posts full height, firmly securing the lintel to the post at the top and bottom edges — do not simply rest the lintel and the padstones. 
What is the Best Material for Replacement Windows?
Choices for window frame replacement materials tend to be timber, aluminium and steel frame (frequently called Crittall-style heritage windows). However, developments in colour and finish options mean PVCu is also a realistic alternative. 
When using modern timber products, a factory finish can be better than completing by hand as the window will be constructed in optimum conditions where temperature and humidity are kept regulated. Units are then less likely to suffer from warping and twisting while drying out. 
However, replacing with primed units and then painting the frames once in situ may be best as the installation process may disturb the finish. 
Homebuilding & Renovating Newsletter
Get the latest news, expert advice and product inspiration straight to your inbox.
Thank you for signing up to Homebuilding. You will receive a verification email shortly.
There was a problem. Please refresh the page and try again.