Family Bathroom Design: Considerations to Make
Family bathroom design needs some very careful planning if you want a room that works hard for all the members of the household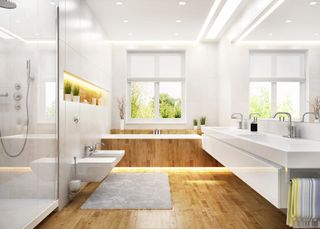 (Image credit: getty images)
In order to create a bathroom that works for the whole family, there are a number of considerations to be made from sanitaryware choices, layout and storage options. Follow this advice to create the best family bathroom in your home.
Bathroom Storage
A family bathroom – unlike a master bedroom en suite – has to house not only those toiletries you want on show, but also hide medicines, bath toys, and lotions and potions for the whole household.
Building in plenty of shelving, providing storage space underneath or at the end of the bathtub, creating alcoves within the walls of shower enclosures, creating lidded window seats, and ensuring bath surrounds and window cills are deep enough to take the inevitable clutter they will collect, all help towards a sense of calm.
Create a Child-Friendly Bathroom
Opt for soft-close toilet seats and always go for a thermostatic shower to reduce the risk of scalding. Temperature regulators can also be fitted to the taps. A non-slip surface for baths and shower trays removes the risk of falls, while shower screens with curved edges mean no nasty scrapes or bumps.
Think carefully, too, about the bath design — hauling young children out of certain bath types can prove a little tiresome. Finally, choose a textured floor tile or one with a non-slip coating to avoid any nasty accidents.
Space Planning
There is nothing in the Building Regulations to say how big your bathroom must be; however, if it is to be used by the whole family, begin with the idea that 4.5m² provides a minimum comfortable space and build on it.
While it is tempting to skip a bath, this is not a good idea in a family room. Standard rectangular baths measure 170x70cm, but if you want to save on space without compromising on bathing area, consider a corner model — note that you need a minimum of 100cm in front of a bath.
Shower Choices
Avoid a tight shower enclosure in a family bathroom — far better to have either a wetroom-style set-up, or a single screen to divide the showering area. And remember, while fixed overhead showers look great, including an additional handheld shower makes for easier hosing down of children.
Consider Twin Basins
Twin basins are not just useful in couples' bathrooms — they also really help out on those busy morning rushes in family bathrooms, allowing for two lots of teeth to be brushed or two dirty faces to be washed. Twin showers and double-ended baths come in useful, too.
Mix Luxury with Practicality
Family bathrooms are practical first — used primarily by children, they should be safe, spacious and ideally incorporate lots of storage to help keep clutter to a minimum. However, utilising modern, luxurious elements, such as flush (or almost flush) shower trays and feature lighting helps to make it presentable to guests and potential buyers, too.
Homebuilding & Renovating Newsletter
Get the latest news, expert advice and product inspiration straight to your inbox.
Thank you for signing up to Homebuilding. You will receive a verification email shortly.
There was a problem. Please refresh the page and try again.