11 of The Biggest Interior Design Trends Making Waves This Year
By Hugh Metcalf published
Looking for the next big interior design trends? These are the trends professional interior designers say are defining 2022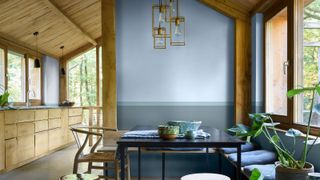 (Image credit: Dulux)
When it comes to getting to grip with the newest interior trends, it's best to get your inspiration from the source. With that in mind, we've asked some top interior designers for their predictions on what trends are set to define the next year.
For 2022, you'll notice a bit of a pattern. After an unsettling couple of years, the overarching trend in house design ideas is to create an escape from the outside world — a restful, healing space that informs our choices of colours, materials, layout and more.
With that in mind, expect to see trends that are focused on health and wellbeing be at the forefront of design, with ideas such as biophilic design, healthy homes and sustainability at the core of all the smaller trends in colour and style.
Here's 11 professionally-approved interior design trends for 2022 to get you started on your decorating plans.
Should you Follow Interior Design Trends in Your Home?
2022 should be about decorating to make yourself happy rather than slavishly following interior design trends, says Julia Kendell of Kendell & Co (opens in new tab), interior designer, TV personality and design expert for the South East Homebuilding & Renovating Show (opens in new tab).
"We should be looking at what we need to support our wellbeing and happiness at home (and WFH) over what will clearly be an uncertain 12 months ahead," she says. However, she also believes that many of the interior design trends are rooted in this idea, with styles emerging that can help us feel grounded in our homes and create a sense of optimism.
1. A Sea of Green
With the strongest and most immediate association to nature, tones of green are one of the most obvious choices for interior design trends in 2022. Green plays well into an over-arching trend for biophilic design in the home — that is, recreating a connection to nature indoors that can help reproduce some of the health and mood-boosting qualities of spending time in nature.
"Sitting in the middle of the visible colour spectrum, green is an entirely neutral colour and therefore offers visual comfort, even at intensity" says Julia. "Combine with natural tones, woven and raffia fittings and displays of verdant, air-filtering houseplants."
Need inspiration for what colour go with green for your 2022 scheme? "For a pop of much-needed enthusiasm, combine with bursts of complementary orange or coral," suggests Julia.
2. Painted Ceilings
Painted feature walls are not likely to return as an interior design trend in 2022. Rather, the trend when it comes to painting a room is something that Homes & Gardens magazine (opens in new tab) refers to as 'colour drenching' — which it describes as the process of choosing one colour and painting it across multiple surfaces in one space. In 2022, this will extend to include the ceiling.
"As colour drenching evolves, so does the desire to dowse ceilings in magnificent hues to create a dramatic effect," says Poppy Peace, Creative Director of Milc Interiors (opens in new tab).
In a small room, painting a ceiling the same colour as the walls can help the room's boundaries recede, reducing visual noise, while creating a cosy, cocooning feel within a space.
3. Arches
Curved lines are an interior design trend that has been around for several years, however, 2022 will see arched forms come to the forefront according to designers.
"Seen gently sweeping through many new hotels and top restaurants, the elegant appeal of curves is set to rise in popularity," says Poppy. The best ways to bring this trend into your own home? "Alcove shelving and bold, coloured headboards are proving the perfect way to encourage the trend," she says.
Arched forms are also being seen as a trend in architectural design, especially as modern house extension ideas. From barrelled vaulted roofs to windows and even doorways, arches are set to make an impact on every level of home design.
4. Cottagecore
This might be a new term to you, but its taken over the internet as an interior design trend to embrace for 2022. "Cottagecore encompasses the Romantic rural life with traditional ideals, home-grown and artisan crafted pieces the staples of creating an idyllic, pastoral vibe," explains Julia Kendell. But what does that actually look like?
"Think wildflowers, Venetian plaster walls, chalky paint surfaces and celebrating the imperfect. It's a great choice for those looking to create a more sustainable lifestyle with vintage pieces and natural elements playing a key role in this unchallenging look."
While this trend has a natural affinity with countryside homes, there are elements that can be adopted in even the most urban properties, creating a connection with the simpler side of life that helps you feel grounded in your home.
5. Copper Elements
Brass and matt black finishes have been the biggest interior design trends for fixtures and hardware in recent years, but according to Juliette Thomas, founder and Creative Director of Juliettes Interiors (opens in new tab), there's a new challenger to consider.
"We'll see copper start to take over from the very popular brushed brass, bringing a fresh new finish and striking aesthetic into kitchens, bathrooms and even living spaces. High-end dining tables will incorporate this elegant hue with white textured marble tops a statement piece for the year ahead."
Could this be the next big kitchen trend 2022 has to offer?
6. Gracefully Ageing Furniture
Characterful furniture that has a natural patina is a great way to create a space that feels comfortable and lived-in — a definite preference to a soulless show home. Finding older furniture that appeals to you can be approached in a variety of ways, from scouring online marketplaces to investing in beautiful antiques. Regardless of your approach, this idea plays into a larger trend of sustainability that you'll certainly see more thoughtfully considered in homes in 2022.
Julia Kendell suggests leather as a great material to start with for this trend. "Leather has been out of favour for some time, unless you have been fortunate enough to get your hand on a genuine, aged leather statement chair, but the combination of natural, warm earthy tones and sense of permanence offer the perfect addition to interior furniture that will last a lifetime and have a story to tell."
"With our need for a feeling of 'certainty,' having furniture that is built to last and stays with us throughout our lives is inherently comforting and grounding."
7. Slatted Designs
The trend for fluted and slatted designs dominated 2021, but it seems to show no sign of abating in 2022.
"With fluted glass a popular trend in 2021, we're seeing this move towards fluted wood design. From kitchen cabinetry to statement headboards, the new trend for three-dimensional, vertical silhouettes ensures interiors will stand out in 2022," says Poppy Peace.
This wall panelling idea can also help to zone your space and shift the sense of proportion in your room. "With clever, elongating properties, the linear nature of slatted designs also helps to give the appearance of taller ceilings," continues Poppy.
8. Restorative Neutrals
Bolder colours, which have been popular in recent years, seem to be waning for 2022 in favour of softer shades and neutrals. While some predict that the warmer neutral shades of beiges, tans and brown will continue to thrive for 2022, Juliette Thomas of Juliettes Interiors believes grey will have a revival in 2022.
"For 2022 we'll see colours move away from the beiges into the darker greys with additional textural elements adding depth to interiors. From matt walls to soft and velvety sofas, tones of grey will form the base for many projects, providing homeowners with spaces that feel relaxing and cosy," she says.
9. Restful Blues
Another colour Juliette believes will abound in 2022 is shades of pale, restful blue. "Providing a fresh, light and optimistic feel to spaces, calm blues are on the rise, with homeowners choosing to breathe new life into spaces," she says.
This is echoed by colour trend predictions from the likes of Dulux, who chose Bright Skies, a soft blue shade, as its colour of the year 2022, and while Pantone's choice of Periwinkle as colour of the year is much more saturated, it still has a peaceful spirit to it.
"The perfect complementing colour for grey, this peaceful, pastel hue adds an airy and uplifting feel wherever it is used," suggests Juliette.
10. Statement Lighting
"Often lighting is an afterthought for people," says Rob Lessmann, MD and founder of luxury interior design studio Design'd Living (opens in new tab), " but we have designed interiors around statement lighting pieces before and will continue to see this as a very important trend going forward."
Large, dramatic pendant lights and chandeliers, statement wall lamps and intriguing table and floor lamps are all part of this lighting trend, which takes its lead from the exciting new styles currently being developed in lighting. However, statement lighting isn't just limited to fixtures. "Good lighting should be changeable to create the desired ambience, work light, relaxing light, specific lighting to highlight various features, artwork, ceiling cornicing, decorative features," says Rob.
11. Timeless Japandi
Japandi is a design concept that's both a portmanteau of Japanese and Scandinavia and a literal mix of these two classic interior styles which both have roots in pared back minimalism. While Scandinavian interiors have dominated for decades, it's this twist on this interior design trend that we're seeing coming through for 2022.
"Japandi design is a shared aesthetic of Japanese and Scandi interior elements, to make a for a really impressive concept," explains David Conlon, head designer and founder, en masse bespoke (opens in new tab).
"The Japandi minimalist trend is full of sleek dark timbers, Scandi light timbers and natural materials, light coloured walls and minimal and simple design, which when well curated, is really quite exceptional to look at and is actually very cosy and comfortable."
When it comes to material choices, consider bamboo in a Japandi scheme. "Bamboo is a prolific grower and super strong will really bring the feeling of nature and create a calming effect on the home," says David. Japandi lends itself well to both sustainable and biophilic interiors, making it a perfect choice for interiors in 2022.
Hugh is Digital Editor of homebuilding.co.uk and has worked on a range of home, design and property magazines, including Grand Designs, Essential Kitchens, Bathrooms, Bedrooms and Good Homes. Hugh has developed a passion for modern architecture and green homes, and moonlights as an interior designer, having designed and managed projects ranging from single rooms to whole house renovations and large extensions. He's currently renovating a Victorian terrace in Essex, DIYing as much of the work as possible. His current project is a kitchen renovation which involves knocking through walls and landscaping a courtyard garden.
Homebuilding & Renovating Newsletter
Get the latest news, reviews and product advice straight to your inbox.
Thank you for signing up to Homebuilding. You will receive a verification email shortly.
There was a problem. Please refresh the page and try again.