Garden Offices: Your Complete Guide
Garden offices are right at the top of many people's wish lists these days as more and more of us find ourselves working from home.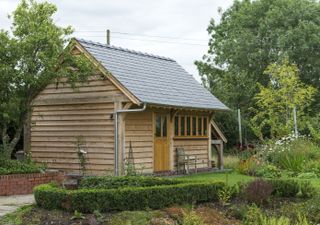 (Image credit: Border Oak)
Where garden offices were once seen as something of a luxury or bonus feature, they are fast turning into must-have items as an increasing number of us are now working either wholly – or at least on a part-time basis – from home.
What this shift in working habits has meant is that there are more and more companies out there offering buildings and services to those wishing to create office space in their gardens, with options to suit all garden sizes and a variety of budgets too.
(MORE: Garden Office Ideas)
Should I Build a Garden Office?
Garden offices make sense for many reasons. For those without the space to spare in their homes, a garden office can be the only way to create a productive office area — particularly for those with professions that require meeting space or plenty of storage.
They also make it easier to create a distinction between work and home life — allowing you to quite literally leave work behind at the end of the day.
Do Garden Offices Need Planning Permission?
'Do I need planning permission for a garden office?' is one of the first questions people ask. In the majority of cases the answer will be no, although there will be exceptions to the rule.
Very often, garden offices fall within permitted development.
Unless you are in a designated area, such as an Area of Outstanding Natural Beauty or Conservation Area, or live in a Listed Building, your garden office may not require planning permission providing:
The building is single storey with a maximum eaves height of 2.5m and a maximum overall height of 4m for a dual pitched roof or 3m for any other roof
The building is at least 2m from the boundary (if it is to be within 2m of the boundary of the curtilage of the house the building cannot exceed 2.5m in height)
The building is not on land forward of a wall making up the principal elevation of the house
There are no verandas or balconies exceeding 0.3m
No more than half the area of land around the original house will be covered by new buildings
One thing to note, however, is that whether or not you require planning permission also depends on exactly how you will be using your garden office.
"Permitted development rules allow 'incidental' buildings such as sheds and summerhouses to be put up without planning permission (as long as they are the correct height)," explains Lynn Fotheringham, who started and ran her own garden offices company for many years before setting up The Independent Guide to Garden Offices.
"A garden office or a garden studio used for leisure or occasionally used when working at home may well be viewed as 'incidental' and hopefully won't need planning permission. Whereas a garden office used for business five days a week or a detached utility room plumbed for a washing machine etc. may not be viewed as 'incidental' by your local authority and they may want a planning application for it.
"I use the word 'may' because each local authority interprets the permitted development rules differently. Plus, the government doesn't provide a clear definition of what is an 'incidental' building and what isn't.
"A rule of thumb given to me by a planning officer is that an 'incidental' building contains things and activities that you wouldn't keep in the house, such as a a shed for wheelbarrows. Also studios, playrooms and summerhouses are usually viewed as incidental," she continues. "A garden building will always need planning permission if its primary use is as a bedroom or for obvious 24/7 business use.
"Local authorities are essentially positive about garden offices and other garden buildings so, if you need planning permission you are highly likely to get it."
(MORE: Home Office Design Guide)
What do Garden Offices Cost?
Whilst it would be handy to have a firm guide of what every type of garden office costs, this just isn;'t possible. As with any building, the size, location and specification of a garden office will all affect what it will cost.
Those coming up with their own design, not requiring planning permission and planning on constructing their garden office on a DIY basis are going to be looking at very different costs when compared to someone going down a complete package route, for example.
"Expect to pay anything from £5,000 to £20,000 for a small garden office," advises Lynn Fotheringham. "Prices for a medium to large sized garden office will be anything from £12,000 upwards, depending upon the quality of the build and bespoke features.
"They sky's the limit for insulated and double glazed garden buildings, which is why it's important to research the market carefully and view buildings before buying."
If you are planning to buy your garden office, as opposed to going with plans to a builder, ask whether the prices you are quoted will include:
Design
Construction
Insulation
Building materials, including the roofing, plasterboard etc.
Windows and doors (check what type of glazing)
Internal electrics, including sockets, lighting, phone connection etc.
Project management
A guarantee
It is important to factor in all the associated costs when budgeting for a home office. Once you have a quote for the building, from either your supplier or your builder, don't forget to calculate the cost of any foundations that will be required, along with the cost of plumbing and drainage for a shower or toilet if you are including one. Including a toilet will usually add between £1,000 - £2,000 to the overall cost, whilst a shower room could add as much as £3,000.
Getting Electrics and Water to Garden Offices
Electrics are what will turn a basic garden room into a useable garden office space.
You also need to consider that if you plan on using your garden office for any length of time, or may want it to double up as accommodation, a mains water supply and provision for waste are also vital. This will save you having to traipse back and forth between your office and house every time you want a cup of tea or to use the toilet.
Electricity will also be required if you plan on heating the space this way.
Electricity: If you opt for a modular garden office, many incorporate all of the cables for lighting, power and heat within the structure, ready to be connected to the mains supply. Some suppliers will carry out the connection as part of the package, whilst others leave connection to the mains to the client to organise.
An electrical connection between house and office is usually made with armoured cable, buried underground in a trench around 500-750mm deep. The trench should be covered with a hazard tape and then filled with stone before the earth is replaced. The stone and hazard tape are to warn anyone in the future that they are digging where cables have been laid.
In some cases, armoured cable can be run around the garden, perhaps pinned to a fence or under a hedge. This is less expensive and labour intensive but is not usually recommended.
Once the cable is connected to the consumer unit in the new office and to the main supply in the house, your electrician should add an earth rod to the office, into the ground close to the office.
Water and Waste: If you are incorporating a toilet, shower, or a kitchen you will need to consider how you will get water to, and waste water from, the garden office.
With any luck, you will simply be able to fit and plumb sinks, WCs and showers into the mains water supply and sewerage system. However, in the case of waste, depending on how far it has to travel, pumps may need to be fitted in order to project the waste away from the office and into the mains sewerage system. Bear in mind that pumps will add to the costs and digging for new drains and pipework is going to be fairly disruptive — although not impossible.
You might want to consider using chemical toilets or eco compostable toilets. Or, not including one at all.
How to Heat Garden Offices
Heating is essential if you want your garden office to be useable all year round. There are several ways in which to do this, including:
Electric convections heaters: A popular option that can simply be plugged into your electricity supply. These can be wall- or floor-mounted and are available with timers and thermostats.
Electric radiators: Similar to the above but slower to heat up. They are, however, safer due to there being no exposed elements.
Oil-filled radiators: Low cost option that can be plugged in and is available with timers and thermostats if required. They tend to be quite bulky and floor-mounted.
Log Burning Stove: These add physical and visual warmth, heat up quickly and are very effective. They should be installed by a professional (HETAS) engineer and will be a more expensive option than the above.
Underfloor heating: Some people choose electric underfloor heating but bear in mind this will work best with hard flooring and engineered timber.
Do Garden Offices Need Foundations?
The correct foundations for your garden office are vital if you want the building to stand the test of time.
There are several ways to construct foundations for garden offices and your choice should be based on the weight and size of your garden office, as well as your budget.
Your supplier or builder will be able to offer advice. Many package suppliers and modular building specialists will have their own preferred method. Don't forget too to check whether the price of the foundations will be included in your quote.
A common type of foundation for garden room, best suited to level ground are concrete slab foundations.
(MORE: Building Foundations)
The ground will need to be excavated and laid with a layer of compacted hardcore, before soft sand and a damp proof membrane is laid.
A timber frame will be laid over the DPM to act as a mould (shuttering) and the concrete is poured, levelled and allowed to set before the frame is removed.
Piled foundations can be formed from concrete or steel.
In the case steel, posts are set into a concrete mix in holes in the ground at a depth of at least 1000mm.
With concrete piles, holes are excavated (they can usually be slightly shallower than for steel posts) and filled with concrete. A frame is then fixed to the posts, connecting them and forming a base for the new office building. This is a great solution for sloping sites.
A relatively new form of foundation, concrete plinths are made up of interlocking sections of concrete. The home office floor joist is attached to steel fixings on the plinths, which are spaced across the footprint of the building. Check out the Swift Foundation website for more information.
"Some suppliers use a recycled plastic pad/grid system which is simply placed on the ground and filled with loose stone," say the experts at Rubicon Garden Rooms. "Whilst this is a very quick and cheap way to provide a foundation, we would only use this method for lightweight 'shed' type structures placed on very firm ground.
"By contrast, creating a concrete base is messy and disruptive, requiring ground excavation with mechanical diggers and skips.
"As a compromise we fit concrete pile foundations. We bore holes all around the perimeter of the base to a depth of 500-750mm and fill them with a solid concrete mix. This uses only around 10% of the concrete employed in a slab construction, whilst providing a firm footing, bonded into the ground.
"Once the concrete has set, our building is supported on these concrete piles by adjustable jacks (which are galvanised and rated at 6Tons each), so we can cope with slopes in the ground levels of up to 18" without a problem. If you move the building in future, the circular holes in the ground are easily covered over with soil and vegetation leaving no evidence of their previous use."
Modular and Bespoke Garden Offices: Which are Best?
There are two main ways to get a garden office built: the bespoke routes or ordering a modular buildings. Both have their pros and cons and the option you choose should reflect your personal preferences and budget.
Modular garden offices tend to be supplied in kit form and are either erected on site by the suppliers, or constructed on a DIY basis.
Modular garden office companies tend to offer a range of designs and sizes that customers can choose from, with customisation in the form of optional add ons and extras available.
Whilst the design options will be more limited than if you were to take the bespoke route, there are also some great benefits.
You can see what your costs are going to be upfront meaning no chance of them spiralling out of control. They are also quick to install and offer an easy one-stop-shop approach, meaning no need to to source and coordinate various trades, such as electricians and builders.
On the downside, those with particularly awkward sites, or gardens with limited access, might not find the modular option suits them.
Companies vary in what they include in the prices quoted, but the following are usually included in the standard price:
Foundations
Installation
Delivery
Planning permission
Lighting
Glazed windows and doors
Flooring
Exterior cladding
Plastered walls and ceilings
Final decoration
Optional extras tend to include:
Blinds
Projecting decks
Planted roofs
Underfloor heating
Kitchens or kitchenettes
Shower rooms
Bespoke Garden Offices
A bespoke design can be created by you, a professional designer or architect or, companies specialising in garden offices and outbuildings — in fact many suppliers of modular garden offices also offer bespoke services that cover design, planning, project management and building.
Taking the bespoke route ensures your new office is tailored entirely to meet your needs, with no need for compromise. It allows you to choose cladding materials and a construction method to suit your budget and is ideal for those with awkward plots, restricted access, planning restrictions and the like.
In many ways, a bespoke option can also be more budget friendly, allowing you to carry out the majority of the work yourself at your own pace and to shop around for the best deals when it comes to materials and fittings.
If you decide to project manage the construction of your garden office, bear in mind you will need to organise the various trades and apply for planning permission and building regulations approval where necessary.
Whilst it is possible to achieve bespoke garden offices on a tight budget, do bear in mind that the final costs are much more unpredictable than with modular buildings.
Garden Office Design Ideas
When it comes to garden office design, along with your own likes and dislikes, planning stipulations may affect the overall design of the building. You will also need to consider the following:
Garden Office Size: Your garden office needs to be large enough to accommodate your needs now and, if you plan on staying in your home for some years to come, any future uses for the building need to be considered too. Perhaps teenagers may use it as a den, or maybe you might have plans for it to become a summerhouse or granny annexe?
It should, however, be in proportion to your garden — too large and it could create too much shade, block light or simply overwhelm the space.
Cladding Options: Timber is the most popular cladding material for garden offices. Larch and Douglas fir are great options that are grown in the UK and very durable options. Cedar, although largely imported, is also widely used too.
It tends to be best to avoid softwoods, such as pine, which tend to weather and rot quickly even when treated.
Hardwoods, such as oak, might look good but they are more expensive and can be tricky for DIYers to work with.
Modified timbers, such as Kebony, Accoya or Thermowood, are good options. These types of timber are treated to ensure greater stability, reduced movement and less chance of swelling or warping over time.
Composite timber or engineered timber are other options with a reduced chance of movement.
Other options include exterior grade plywood, which can be painted.
Metal cladding is becoming increasingly popular for those after a more contemporary finish. Often this takes the form of steel sheets with a coloured finish, or powder coated aluminium (which looks great combined with timber cladding).
Cement board cladding is a very durable option that is also low-maintenance. It is available with wood grain finishes and can be supplied in a wide range of colours — plus it is low-combustible meaning it can, according to the building regulations, be cited within 1m of the boundary line providing the building is built substantially from the material.
Natural Light
Incorporating good sources of natural light is essential for a garden office — both for practical and aesthetic reasons. Your choice of material for the frames will depend on your budget — but double glazing is really something of a must if you are to enjoy working in the space in the colder months.
Whilst many people opt for large full-height bi-folds or sliding doors, do consider how much wall space will be lost in doing this — wall space that could come in handy for a home office set up, where shelving and cabinets can be vital to keep the space organised.
A rooflight or two can really come in handy where there is a lack of natural light available.
Roofs for Garden Offices
Flat roofs tend to be very popular for garden offices as they are the most 'permitted development friendly' option. However, you can still consider a pitched roof design — providing it is sited 2m from the boundaries, or you apply for planning permission.
Flat roofs are common on modular buildings, and suit contemporary designs really well — they are usually covered in EDPM, a thick rubber sheeting that can be laid in whole sheets. This covering has a long lifespan and in some cases, the roof can be fitted with kerbs that can include 'drip trims' to direct water into guttering.
Having a flat roof also opens up the possibility of having a living roof, such as sedum. These look great, are good for the environment and can add a layer of insulation.
Fibreglass sheeting and torch-on bitumen are good low-cost, durable options too, although for some, they lack visual appeal.
Pitched roofs can really add character and interest to a garden office, allowing more in the way of headroom and plenty of choice of coverings. Slate and clay tiles look beautiful but lie at the higher end of the price scale, as do contemporary coverings such as zinc and copper.
Good, lightweight and cost-effective roof coverings include artificial slates and asphalt shingles. These shingles come in strips of three and are quick to fit. Cedar shingles are very beautiful and weather well, plus they act as a good insulator, but are labour intensive to fit.
Garden Offices: Building Regulations
In terms of the construction of a garden office, according to Planning Portal: "If you want to put up small detached buildings such as a garden shed or summerhouse in your garden, building regulations will not normally apply if the floor area of the building is less than 15 square metres and contains no sleeping accommodation."
In addition, if the floor area of the building is between 15m2 and 30m2, you should not normally need building regulations approval providing the building contains no sleeping accommodations and is either at least one metre from any boundary or is constricted "substantially of non-combustible materials."
When it comes to the electrics for garden offices, however, you most certainly will be required to comply with building regulations — namely Part P.
Whether your garden office comes as a pre-wired building, with sockets and lighting incorporated into the design, or you are building a bespoke building from scratch, you will need a qualified electrician to connect it to the mains supply and to issue you with a completion certificate.
A garden office larger than 30m2 will always require building regs approval.
Finally, if you plan to use your garden office as a bedroom, or if it will incorporate a toilet or shower room, you will need to obtain approval — water, waste and drainage connections will all need to be installed to building regulations standards.
Get the Homebuilding & Renovating Newsletter
Bring your dream home to life with expert advice, how-to guides and design inspiration, direct to your inbox.
Natasha is Homebuilding & Renovating's Associate Content Editor and has been a member of the team for over two decades. An experienced journalist and renovation expert, she has written for a number of homes titles. Over the years Natasha has renovated and carried out a side extension to a Victorian terrace. She is currently living in the rural Edwardian cottage she renovated and extended on a largely DIY basis, living on site for the duration of the project. She is now looking for her next project — something which is proving far harder than she thought it would be.