Build Cost Calculator: How to Accurately Estimate Your Self Build Costs
By Jason Orme published
From materials to build route, use our FREE build cost calculator to learn how much your dream home will cost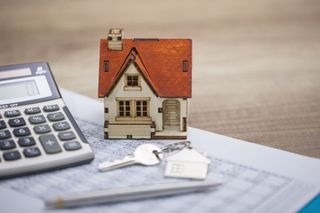 (Image credit: Getty Images)
If you're planning to build your own home, make sure you use our build cost calculator to see how much you can expect to pay on build costs.
This information will not only be essential when it comes to securing finance for the project, but will also help to you make informed choices when it comes to construction systems and build routes, as well as budgeting for the rest of your build.
This calculator is free to use and takes only 5-10 minutes to complete. It will take into account:
where you live
the kind of house you want to build
the level of specification you choose
the build route you would like to take.
Remember to:
enter a valid UK post code
don't leave any answers blank. If the question does not apply to your project, answer with a 0
If you are looking for inspiration or proof that great design can be achieved on any budget, then make sure you check out these amazing self build homes, all organised by build cost.
Minimise groundwork to save on build costs
It might seem obvious, but the less groundwork your build requires, the further your budget will go. Therefore, finding a flat and serviced plot can be a great way to get your cost-cutting off to a flying start.
(MORE: How Much Does It Cost to Build a House)
See below for help and FAQs.
Build Cost Calculator
Terms of use and FAQs
Using the HB&R build cost calculator is no substitute for professional advice and judgement, particularly where a property has unusual features or a very high specification. Professional advice on build costs can be obtained from a Quantity Surveyor – visit www.ricsfirms.com to find a firm in your area.
Future Publishing plc will not be under any legal liability in respect of any mis-statement, error or omission contained within the data used by the Build Cost Calculator, or the reliance any person may place thereon.
These terms and conditions are guaranteed by and constructed in accordance with English law with English courts having exclusive jurisdiction.
House Style
VISIT THE HOMEBUILDING & RENOVATING SHOW
The average build cost figures used by the HB&R Build Cost Calculator are based on three different size ranges that reflect the economies of scale achieved by constructing larger properties.
The savings are primarily in the cost of building the superstructure, especially the foundations, walls and roof. The cost/m² of gross floor area for external walling elements decreases as the wall/floor ratio decreases. Other one-off unit costs for items such as service connections, staircase, kitchen and boiler are spread out further on a larger house. To maximise efficiency, the design needs to be kept simple and avoid unusually large spans for floor joists/beams, rafters etc.
The average build cost figures used by the HB&R Build Cost Calculator assume a relatively simple rectangular or square floorplan.
Complexity of design is one of the biggest factors affecting build costs. The simplest and most cost-effective floorplan is square. Compared to a square plan, a rectangular plan requires more wall for the same floor area, thus increasing costs. The longer and narrower the plan, the less efficient it is to build.
Building straight walls is cheaper than building corners, as it slows down the build process adding to labour costs. Consequently the more angles introduced into a floorplan, the greater the cost, so a simple design with few corners is cheaper to build.
Angles other than 90° right angles are even more time consuming to set out and build and so will increase costs further. Curved walls are amongst the most expensive to build of all.
The average build cost figures used by the HB&R Build Cost Calculator take into account the relative saving of building additional storeys thus the per square metre costs used for bungalows are higher than for two storey houses.
Two of the largest fixed costs in constructing a house are the groundworks/foundations/slab and roof. The specification and cost for a set footprint and roof layout will not vary whether the design is single storey, two storey, or three storey, yet the overall area of the design will increase dramatically, spreading out the cost. Multiple storeys also make better use of land – the most expensive element of all.
The average cost per square metre for a bungalow is therefore greater than for a two storey house with the same footprint (all other things being equal) whilst a three storey design, or a two and a half storey design using the roofspace will be even better value for money in terms of lower average cost per square metre.
If you want to get the maximum development return on a site, it often pays to build as many storeys as possible. On a very expensive site in a higher value area, it can also pay to build down and construct a basement storey.
House Details: Basement
The average build cost figures used by the HB&R Build Cost Calculator assume the same costs per square metre for constructing a full basement as used for calculating ground floor space. This assumes straightforward ground conditions and a water table basement level.
The cost of constructing a basement is largely the cost of digging out and removing the spoil. This cost and the cost of waterproofing the structure, are mitigated to some extent by the fact that fewer windows are usually used that for above ground storeys and there is no external wall cladding (e.g. brick, or stone).
As ever the quality of fixtures and fittings will be a major factor in the final cost. There are instances where a basement makes better sense, for instance where ground conditions require very deep foundations. The cost of going down just a little further and excavating between the footings may not be that much greater. On a sloping site were the basement will only be partly below ground, it can make better use of the site that cutting or filling the slope to create a level area to build on.
The water table and ground conditions are another factor that will affect costs. If the sides of the excavation are likely to collapse, for instance in sand, and this will affect neighbouring structures, it may be necessary to create a retaining structure around the basement using concrete piling, either vibrated into place or cast in situ, and this will add to considerably to costs.
Basement walls are usually built in reinforced concrete, either precast or in-situ cast concrete, using shuttering for formwork, or hollow concrete blocks. There are many competing waterproofing systems, from textured membranes that trap ground water and direct it into a sump from where it is pumped away, to waterproof renders – sometimes both are applied together. There is little variance in costs between different systems.
House Details: Garage
The cost of constructing attached or detached garage space is considerably lower than finished living space. The average build cost figures used by the HB&R Build Cost Calculator for standard garage construction are as below. To avoid double counting, the area of an integral or attached garage should be deducted from the figure (m²) entered for ground floor area.
Garage Cost Guide (gross external floor area)

| | | | |
| --- | --- | --- | --- |
| | Standard | Good | Excellent |
| Single Garage: Detached 17m² | £12,800 | £13,700 | £15,800 |
| Single Garage: Attached 15m² | £10,500 | £11,700 | £13,700 |
| Double Garage: Detached 31m² | £17,300 | £18,300 | £21,700 |
| Double Garage: Attached 30m² | £15,400 | £16,100 | £19,100 |
House Details: Quality
Although the cost of many of the construction elements such as the foundations, and superstructure do not vary at all based on quality, the cost of external roof and wall cladding, windows and doors, flooring, fixtures and fittings, and renewables can potentially doubling the cost of building the same house compared to a standard specification.
The average build cost figures used by the HB&R Build Cost Calculator are based on three levels of quality, Standard, Good and Excellent.
Standard: This represents a basic build quality equivalent to that offered by most speculative developers. Cavity walls: facing bricks (£350/1,000 or £50/m² laid), insulation, and 100mm block­work; concrete interlocking tiles (£28/m² laid); standard softwood joinery; studwork partitions; contract kitchen; basic sanitaryware; and radiator central heating.
Good: This is equivalent to that offered by quality developers. Cavity walls: facing bricks (£450/1,000 or £56/m² laid), insulation, and 100mm blockwork; clay machine-made tiles (£36/m² laid); high-end off-the-shelf softwood joinery; blockwork partition walls; top-of-the-range contract quality kitchen; quality sanitary­ware; and underfloor heating (UFH) downstairs.
Excellent: A very high stan­dard. Cavity walls: bricks (£550/1,000 or £62/m² laid), insulation, and 100mm blockwork; plain clay tiles (£45/m² laid); hardwood joinery; blockwork partitions; bespoke kitchen; quality sanitaryware; UFH.
House Details: Build Route
Your level of involvement in the project will influence the build costs. For simplicity, the four most common build routes have been identified below.
Build Route A: Building on a largely DIY basis, substi­tuting around 30% of labour costs with DIY, and employing help with the rest of the building work. Materials pur­chased directly.
Build Route B: Building using trades­people hired directly. Minimal DIY involvement. Most materials purchased directly.
Build Route C: Building using a main contractor or package supplier to complete the structure to a weathertight stage, with the remaining work being under­taken by subcontractors with most materials purchased by self-builder direct from suppliers.
Build Route D: Building using a main con­trac­­tor. Building in this way requires the least involvement from the self-builder.
Services
If your plot is not connected to mains services such as electricity and water you should get quotes for connection from your local utility suppliers before purchasing the site and enter these figures into the appropriate box.
As a budget figure the HB&R Build Cost Calculator will allow the following:
£2,500 for connection to the water mains, or £5,000 if there is no water available nearby
£1,200 for connection to electricity nearby, or £10,000 if there is no connection available
£2,500 for connection to the main sewer, or £5,000 for an off-mains drainage solution
£800 for connection to a main gas supply, or £2,000 to fit an oil or lpg tank if mains gas is not available
Don't Forget the Extra Fees
Legal Fees: £500-1,000
Stamp Duty and Land Tax: The tax is cur­rently levied at 1% for land or house purchases valued from £125,001 to £250,000, 3% for plots valued from £250,001 to £500,000 and 4% over £500,000
Topographical Site Survey: Typical cost £350-500
Design Fees: Architects charge 7-15% of the total build cost for a ser­vice involv­ing design and supervision. For planning drawings from other sources expect to pay from £2,500-3,500, plus a similar figure for Building Regulations drawings
Structural Engineers' Fees: £400-500
Planning Application Fees: £335
Building Regulations Fees: £500-1,000
Warranty: Around 1% of
Self-build Insurance: £500-800
FAQs
We established basis figures, based on a survey of all the case studies that appeared in the magazine, adjusted for our own experiences and knowledge. These base figures are then updated monthly using the Rebuilding Cost Guide indices published by the Building Cost Information Service.
Gross internal floor area is the measure we use (the industry standard). It's the area measured to the internal face of each external wall for each floor level, including areas occupied by internal walls.
The cost per square metre figure allows for a finished home, including kitchens and bathrooms but not including external landscaping.
As VAT is zero-rated for new builds (i.e. not payable), the figures do not account for it.
Not really. They provide some guidance for major extensions which would include most of the key elements you would find in a new house (e.g. kitchens and bathrooms) but as they are usually relatively small and specific to a few rooms, they tend not to be relevant to these figures. Renovation costs depend very much on the extent of the work itself (e.g. some renovators will rewire, others not) and as a result it is impossible to generalise.
The former Editor of Homebuilding & Renovating magazine, Jason is an experienced self builder and has recently finished renovating his 1960s home. Jason is now Managing Director of Future PLC's Homes' portfolio, which includes UK-leading titles such as Ideal Homes, Livingetc and Homes & Gardens. He is also the author of The Self Build Dream. You can catch Jason in the seminar theatres and Advice Centre at many of the Homebuilding & Renovating Shows across the UK.
Homebuilding & Renovating Newsletter
Get the latest news, reviews and product advice straight to your inbox.
Thank you for signing up to Homebuilding. You will receive a verification email shortly.
There was a problem. Please refresh the page and try again.