Concrete Roof Tiles: How to Choose the Right Tiles for Your Project
By Natasha Brinsmead published
Concrete roof tiles have come a long way in recent years and, by choosing carefully, can be a great alternative to clay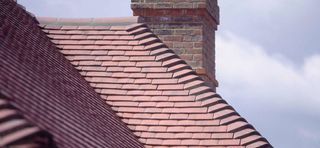 (Image credit: Marley)
Concrete roof tiles have not got a great reputation amongst self builders and renovators. Often seen as inferior to clay roof tiles in terms of their appearance and performance and something to be replaced as swiftly as possible when renovating a house.
However, what many people don't realise is just how far they have come in the last decade or two. Their durability has been improved and, in some cases, their appearance is a strong contender to their clay counterparts too.
Are Concrete Roof Tiles Any Good?
Concrete roof tiles are made using a combination of sand, cement and water. Their shape and strength is ensured thanks to a manufacturing process which involves heating the tiles within moulds and exposing them to high pressure.
Just as with clay tiles, the quality of concrete tiles very much depends on where you source them and, in many cases, what you are willing to pay. At the cheapest end of the market lie tiles that are obviously concrete, painted with a coating to make them look like something else (usually clay or slate). These poor quality versions are often prone to fading and damage.
However, if you are willing to pay a little more, concrete tiles can be very convincing in their appearance, with plenty of texture and a good depth of colour.
(MORE: Roof Coverings)
How Much do Concrete Roof Tiles Cost?
The cost of tiling a roof will vary depending on many factors, such as where in the country you live and the style and quality of the tile you opt for.
You will need to factor in labour and fixing as well as the tiles when working out your costs.
Interlocking concrete tiles will work out cheaper than plain concrete tiles and prices per tile can be as low as 34p (excluding VAT). Of course that price does not include fixings or labour and in order to get an idea of how much your final costs will be you will need to work out how many tiles you will need — not forgetting wastage.
(MORE: Cost of Tiling a Roof)
The Difference Between Concrete and Clay Roof Tiles
There is no getting away from the fact that clay is one of the oldest roofing materials out there — some examples date back as far as 10,000 BC.
Clay is durable and incredibly long lasting — making the initial cost outlay pretty effective if you look at it across their lifetime.
Being a natural material, clay is also full of character and texture — plus it can be moulded into all kinds of shapes and styles before it is baked. Add to that the fact that it can withstand a good deal of adverse weather and is a fairly good insulator to boot and it isn't hard to see why it remains such a popular roof tile material. In fact, in certain areas, planners will insist on clay roof tiles being used.
Unlike clay, concrete roof tiles are manmade and their character relies on the manufacturing process as opposed to any inherent natural beauty. And whilst concrete can look very similar to clay, the colour of concrete can tend to fade over time — although both clay and concrete tiles have similar life spans.
Why Choose Concrete Roof Tiles?
One of the main benefits of concrete roof tiles is their price tag. On average, concrete roof tiles work out to be roughly 20% cheaper than machine made clay versions. However, there are other benefits too:
Unlike clay, that can, in very cold temperatures, crack or shatter, concrete tends to hold up better in extreme weather conditions. So, if you live in an exposed area that is prone to frequent cold snaps this may be worth considering
For those aiming for a very crisp, uniform appearance when it comes to their roof covering, the that fact that concrete does not have quite the same natural variations in tone and texture as clay could be a good thing
Concrete resists damage due to impacts well — a useful quality for roof tiles which can, over time, become dislodged and fall or get knocked by falling branches and so on
Concrete tiles are hard-wearing and have good longevity — there are good examples of homes in the UK that have concrete roof tiles dating way back that still look good. The lifespan tends to be between 35 and 50 years
Concrete roof tiles can be used on roofs with lower pitches than clay — some can be installed on pitches lower than 15˚
They can be supplied as interlocking tiles — where they simply 'click' together for a quick and secure fix. This is good for those looking to keep installation costs and times down.
How to Choose Concrete Roof Tiles
There are several factors to consider when choosing concrete roof tiles, including the style of your house, the shape of your roof, your budget and your roof pitch.
Firstly, think about shape. Large format tiles are quick and therefore often cheaper to install but when it comes to concrete tiles they are less likely to look like convincing clay replicas than smaller versions.
S-shaped pantiles and Roman tiles, with alternative flat and curved sections, tend to look more attractive in appearance.
You will also have the choice between plain and interlocking tiles. Plain roof tiles are simple and rectangular in shape and tend to be smaller than interlocking tiles. They are laid 'double-lapped' and are good for those after an attractive, traditional look — though they are more costly than interlocking.
Interlocking tiles are shaped to fit together tightly so only a single lap is needed. They tend to be larger than plain tiles, meaning fewer are needed to cover a roof.
You will also need to take your roof pitch into consideration when choosing concrete tiles. Check the minimum pitch which the tiles can be laid before selecting.
Finally, do bear in mind that concrete tiles tend to be heavier than clay — your roof structure will need to be suitably strong in order to take their weight so talk this through with your roofer or builder.
How Long Will Concrete Roof Tiles Last?
Assuming they are properly laid and maintained, concrete roof tiles can be expected to last 50-60 years — comparable with clay roof tiles in fact. However, it is important to remember that, depending on the underlay you have chosen, this may well require replacement sooner than the tiles.
It might also be the case that, even where concrete roof tiles are still structurally sound, their colour may fade over the years.
The average timescale that manufacturers tend to guarantee their concrete roof tiles for is 30 years.
Natasha is Homebuilding & Renovating's Associate Editor and has been a member of the team for over two decades. An experienced journalist and renovation expert, she has written for a number of homes titles. She has renovated a terrace and is at the end of the DIY renovation and extension of her Edwardian cottage. She is now looking for her next project.
Homebuilding & Renovating Newsletter
Get the latest news, reviews and product advice straight to your inbox.
Thank you for signing up to Homebuilding. You will receive a verification email shortly.
There was a problem. Please refresh the page and try again.