Self Build Routes: How to Choose
By Jason Orme
Turning your designs for a new home into a tangible form means making a decision on how it will be built. Here we break down the options available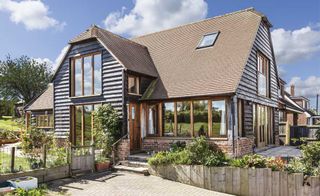 (Image credit: Simon Maxwell)
Once you've decided to self build you'll need to consider a series of questions: what are you building, where are you building, when will it be finished, who will build it and how will it be built — and it's that latter point we'll consider here: the self build routes.
Contrary to what the term 'self build' implies, there's no mandatory requirement for you to lay a single brick (unless you want to, of course).
Choosing which one of those self build options is best for you and your project is a decision only you can reach.
When deciding which of the self build routes you will choose, it is vital that you carefully evaluate your unique circumstances, including:
your finances
how much time you can devote to the project
how capable you are of carrying out jobs yourself
how patient you are willing to be
The biggest self build failures occur when people underestimate how difficult and time-consuming the building process can be, overestimate their own capabilities to do work or manage a multi-faceted building site and get themselves in too deep.
Likewise, those looking for massive cost savings need to understand that the more work and effort they put in the more they will save.
What Self Build Routes are Available?
When it comes to the management of your project, there are many self build routes available (you can even choose to mix and match the options to suit).
It's important to note that custom build and self build are not interchangeable terms — though we are considering custom build one of our self build routes here. Former housing minister Brandon Lewis said: "The definition of self build covers someone who directly organises the design and construction of their new home, while custom build covers someone who commissions a specialist developer to help deliver their own home."
Sourcing a professional self build project manager can save you the job of even having to find the main contractor or sort the design. It's a route that comes with a price tag and is one of the self build routes that allows for the homeowner to remain most hands off.
Look for a project manager who is experienced in builds similar to yours and has a wealth of local contacts. You will still be needed for decision making, but will have little responsibility for the day-to-day management of the building site.
Of the 11,000-plus self builds in the UK between 2016-2017, some 15% used DIY as their primary build route. We also know that those who chose this route were typically younger than the average self builder, had smaller household incomes and built smaller houses. Perhaps crucially, followers of this self build route also saved up to 25% on their build costs when compared to self-builders who managed their own labour.
This route will require fewer hands-on practical skills, but it does mean that you have to display excellent people, time and finance management skills.
This is the most common of all the self build routes, with over 50% of the completed self-builds between 2016-2017 in the UK choosing this method. This build route saved 17% against appointing a main contractor to oversee the project.
Package companies, or turnkey providers, aim to do the work you don't want to do — handling as much or as little of the self-build process as you are willing to pay for. They will typically use a team of in-house designers to help you come up with your dream home. It's typically a route that will require a sizeable upfront payment, but is the 'easiest' way to create a bespoke, individual home.
Once the design has been agreed upon, your main role here is to appoint the main contractor or builder who will run the building site, organise the subcontractors and possibly handle all the procurement.
It's not entirely hands-off however, and you'll be expected on site and at the end of a phone frequently. Over 20% of self-builders chose this route in the surveyed period.
Mix and Match
Many self builders decide to mix and match several of the approaches above. Projects can be split into different sections – commonly up to, and after, weathertight stage is reached – and different approaches taken for each section.
For instance, some package companies might let you take their design services and materials supply up to weathertight stage only. You might feel that you can handle the decorating and landscaping yourself but need a builder to manage the rest of the project for you. You might want a project manager for the critical first half of the build but feel you can handle organising the internal trades yourself.
It is up to you to work out an arrangement that works best.
Homebuilding & Renovating Newsletter
Get the latest news, expert advice and product inspiration straight to your inbox.
Thank you for signing up to Homebuilding. You will receive a verification email shortly.
There was a problem. Please refresh the page and try again.