Basement Design Guide
A basement is often the best way to increase space without impacting on the house's appearance. Michael Holmes looks at common design issues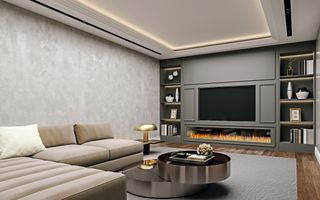 (Image credit: getty images)
According to CABE, the Commission for Architecture and the Built Environment, the UK builds the smallest new homes in Europe. In large this is because of the high cost of building land and pressure on space. But we could easily add another whole storey to every new home without requiring any more land, or building any higher and impacting on the landscape, if we simply added a basement.
It's a simple solution, and far from a new idea: basements and cellars were standard on most townhouses in the 19th century and this space is now highly prized and rapidly being renovated, extended and converted. In higher value areas such is the pressure on space that new basements are being excavated beneath existing houses, sometimes several storeys deep, with existing walls being under-pinned at the same time.
It's much, much easier to build a lower ground floor at the same time as a house than it is to add one retrospectively. There are a small but growing number of new basements being constructed in the UK, and not surprisingly, most of them by self builders.
In the large part these new basements are driven by the need to get more built volume out of an expensive site, restricted either by physical size, or planning policies on footprint area or ridge height. This, in turn, is leading to great improvements in design and build quality, and helping to bring down costs. A basement beneath your new home is a realistic prospect and well worth pursuing. Designed well, it can provide considerable extra space at a cost comparable with that above ground.
Choosing a Use for Your Basement
The most cost-effective option is a simple utility basement with no windows, ideal for a plant room, workshop, utility room, wine cellar, or for storage, freeing up above-ground space for other uses. With a little investment in electrical and plumbing works, and finishes to the walls and floor, the basement space can be upgraded to make a great games room, home cinema or gym, potentially still without lightwells, providing there is a single habitable room and an enclosed staircase leading directly to an external door, in order to meet Building Regulations.
Common uses for a full lower ground floor with plenty of lightwells include a family room, kitchen, office, guest bedroom(s) and bathroom(s), in addition to the usual utility functions. With a separate access via an external staircase, a basement could also be used as the office of a home-based business, or a self-contained annexe.
Light is a key ingredient for creating quality space, so this should be a major factor in deciding the basement's layout. Habitable rooms should get priority of daylight and any outdoor access, and so be positioned accordingly. Ideally the landing area will have some natural light, most likely from the hallway above, to ensure safe passage even in the event of a power failure.
Space near the centre of the floorplan or on elevations with no lightwells can be utilised for circulation or for cloakrooms, bathrooms, storage space and utility rooms, which can function without natural light.
Best Ways to Maximise Light
Incorporate multiple lightwells, especially on southern elevations
Consider a sunken courtyard garden, with glass doors accessing it
Design a large open plan stairwell through the entire building, lit from above by a large rooflight
Glass balustrading and open tread staircases allow borrowed light from the hallway above to permeate down
An open plan layout allows daylight to reach throughout the basement
Glass partition walls, glazed or partially glazed doors, and glazed toplights above doors allow light to permeate between spaces
Where a basement extends beneath the garden, flat rooflights are a great way to bring in light
A good lighting scheme is essential
Use neutral colours and natural finishes to enhance light and space
Design Details: The Shape
The most cost-effective option is to keep the basement the same shape as the ground floor footprint, as no further foundations will then be required to support the house. Where deep trench-fill foundations are being specified because of ground conditions, going a little deeper and excavating a basement is worth exploring.
Straight walls will work out less expensive than curves and the simpler the shape, the more cost-effective to dig and build. If you want curves, then use insulated concrete formwork.
Larger basements achieve greater economies of scale, as the cost of the structure is spread over a greater area. So, if you decide to build a basement you may as well extend it all the way beneath the house, and possibly beyond into the garden, too.
Ceiling Height
Tall ceilings improve the quality of space, and larger rooms generally require a taller ceiling to balance out the proportions. Unlike above ground, where taller ceilings push up the ridge height, potentially creating a conflict with neighbours and the planners, with a basement all you need to raise the ceiling height is to dig deeper. Unfortunately, however, the deeper you dig, the greater the expense, so a balance has to be struck.
There is no minimum ceiling height for basement ceilings under the Building Regulations, but a practical minimum height is 2,400mm, and the taller the ceilings the better. If the basement is to form a separate dwelling, then most local authorities will apply a minimum ceiling height when determining the planning application of 2,300-2,400mm. Remember to allow for insulation and screed build up over the floor slab, plus an allowance for whatever flooring finish you apply on top.
You also need to give careful consideration to accommodating drainage runs with sufficient falls to reach the sump, and this will influence both the position of all wet facilities and the floor height.
The ceiling will need to accommodate services for lighting, ventilation and plumbing, and so a service void will be required, the depth of which will be dictated by duct sizes, choice of light fittings, and whether you opt for a suspended precast concrete floor or suspended timber floor.
Engineered joists with an open web, such as Posi-Joist, are likely to be the most space-efficient option as services can be run within the floor structure, keeping down the overall build up, and therefore allowing maximum ceiling height with minimum dig depth. However, a suspended concrete beam and block floor, covered with insulation and screed, creates excellent acoustic separation between floors, for both airborne and impact sound transfer.
Basement Structural Considerations
If the ground is being excavated or the basement extended, then existing walls are likely to need underpinning and the floor structure supporting using timber or steel beams. This will require design and calculations by a structural engineer. The structure will also have to meet a minimum half-hour fire rating.
Bathrooms and Utility Rooms
Removing waste from bathrooms, kitchen sinks and washing machines relies on gravity, but in a basement it is more than likely that the sewer level will be above the slab level and so all foul water will have to be collected in a sump (which will need to be sealed and vented) and pumped up into the sewers (or off-mains drainage tank).
The sump is likely to need to be at least partially within the slab itself to get the invert level down. This can be achieved by casting a hole in the slab when poured, although it may be possible to drill or grind a hole out later.
By the time the floor level is built up with insulation and screed, the invert should be low enough to create a reasonable fall from surrounding rooms. However, the basement layout still needs careful thought and all facilities requiring drainage connection will need to be positioned to allow sufficient fall to the sump of at least 12.5mm every 1m (1:80).
This is not usually an issue for basins or WCs etc, where drains can be boxed in against a wall or within a service duct, but can be a problem for baths where the waste is lower, and for showers, especially low shower trays and walk-in showers. A common solution is to build up the floor level within bathrooms and to limit the distance to the sump tank.
Means of Escape in Case of Fire
If the basement is to be used for habitable purposes, an external door or window suitable for egress should be provided with an openable area of not less than 0.33m², measuring at least 450mm x 450mm. Alternatively, a protected stairway leading from the basement to a final exit can be provided.
Ventilation
The Building Regulations require ventilation to be designed to take into account moisture content in the structure and air quality in the basement. Mechanical ventilation is the most likely solution unless there are sufficient external doors and windows.
Stairs
Stairs to the basement should have a pitch of not more than 42° and have a headroom of not less than two metres, with suitable handrails and non-climbable balustrading with a gap of less than 100mm between spindles. Location of stairs needs careful consideration for space efficiency.
Thermal Insulation
Insulation should be provided in external walls and floors. The insulation should have a reasonable thickness and be compatible with the tanking material. All doors and windows must comply with Part L with a U-value of 2.0W/m²K or less.
Waterproofing
Whatever method of waterproofing is used in your basement should be appropriate for resisting ground water pressure and should have British Board of Agreement (BBA) or similar independent technical accreditation.
Most basement specialists use a cavity membrane system. This is a textured breathable membrane around the entire basement behind which any damp is trapped and channelled down the outside of the basement walls, under the floor and into a sump from where it is pumped harmlessly away.
The alternative is to create an entirely watertight structure using chemical tanking painted on or applied as a render, or as a series of continuously joined waterproof membranes.
Will Planning Permission be a Problem?
Planning permission for a basement beneath a new dwelling should be straightforward in most instances. Exceptions include applications in areas designated as being Flood Zone 2 or 3, and in areas where there is a restriction in overall volume within local plan policy.
A restriction on volume in a designated area, such as green belt, could be challenged, as a basement cannot reasonably be considered to have an impact on the openness or setting. It may be easier to get consent for the main house and to add a basement in a subsequent application or amendment.
Basement extensions beneath existing dwellings are likely to be considered as Class A Permitted Development and, therefore, will not require planning permission in most instances subject to design constraints on lightwells and size; however, there is no hard and fast national planning guidance on this currently, and no consistency of approach across the various planning departments.
There is some draft planning guidance for basements under Permitted Development Supplementary Report: Basement Extensions, Householder Development Consents, available from communities.gov.uk. If there is any doubt after talking with the planners, it is best to apply for planning permission or a certificate of lawful development.
Get the Homebuilding & Renovating Newsletter
Bring your dream home to life with expert advice, how-to guides and design inspiration, direct to your inbox.
Michael is Homebuilding & Renovating's Director of Content, Vice Chair of the self build industry body, the National Custom and Self Build Association (NaCSBA), presenter of multiple property TV shows and author of Renovating for Profit (Ebury). He also runs an architectural and interior design practice, offering design and project management services. He is one of the country's leading property experts and has undertaken over 30 building projects including two self-builds and the renovation of a Grade-II listed farmhouse.
Michael has presented over 150 property shows for BBC, ITV1, Channel 5, UK TV Style, and Discovery RealTime, including I Own Britain's Best Home; Don't Move Improve; Trading Up; Good Bid, Good Buy; Build, Buy or Restore?; How to Build A House; and Hard Sell.
Michael is also a regular expert at the Homebuilding & Renovating Shows. He has written for leading British newspapers, including The Daily Telegraph, Sunday Times, Daily Express and The Independent and has appeared on news programmes such as BBC Breakfast.