ICF: Insulated Concrete Formwork Guide
By Mark Brinkley published
ICF has been the next big thing in walling systems for a long time. Mark Brinkley discovers that it's much more than 'the Lego of build systems'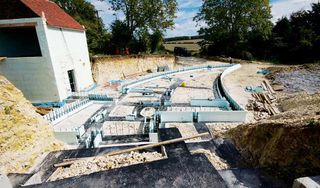 (Image credit: Nudura)
Housebuilding in this country is often framed as a choice between on-site masonry construction and off-site, factory-built timber frame. But the reality is a little more complex. There are systems which, while nominally one or the other, don't much resemble either of the mainstream formats.
Insulated concrete formwork (ICF) is one such system. Because it uses large amounts of concrete, it's very much in the territory of masonry construction and it's also very much an example of on-site building.
The only elements made in a factory are the insulation moulds, which are erected on site and then used as formwork that the concrete is poured into. But the build process is quite unlike traditional masonry construction and the skill set required is more akin to carpentry than blocklaying.
ICF construction is really rather different from anything else you are likely to come across. And it has many things going for it that particularly appeal to self-builders or those taking on extension projects.
History of ICF
ICF was first developed in the 1970s in Germany and has been successfully used all over the world, from the hottest to the coldest climates. The system is particularly popular in North America, where there are over a dozen substantial manufacturers building a combined total of around 15,000 homes a year.
The first ICF homes appeared in the UK in the 1970s, but their uptake was relatively slow, largely because there is already a strong masonry build sector in this country.
For many years one company, Beco, acted as a standard bearer for ICF in Britain, and its product, Beco Wallform, is based on one of the main German systems, Isorast. As the British ICF market has developed, there have been a number of newcomers to the UK, often working in partnership with a North American business.
You can find out more about the individual businesses via the UK trade body, the Insulating Concrete Formwork Association (opens in new tab)(ICFA). Further research will turn up a few rather grainy videos on YouTube, which give you a feel for what is involved in constructing an ICF house.
Just for clarity's sake, ICF is recognised as a standard form of construction by the Council of Mortgage Lenders for mortgage purposes, and is accepted by the major warranty providers (including NHBC). The documentation can all be found on the ICFA website.
Who Builds with ICF?
Over the years, ICF has developed a reputation for being of interest mostly to customers who appreciate high quality and low running costs over and above reduced building costs. This remains as true today as it did 20 years ago, when building standards generally were much lower.
It was felt at the time that as the call for greater energy-efficiency levels increased, the disparity in cost between ICF and conventional masonry builds would diminish. But as we approach 2016, and our appointed deadline for the arrival of the zero-carbon home as our basic building standard, mainstream housebuilders remain as suspicious of ICF as ever.
Jonathan Barnett, of the well-regarded ICF business Logix UK, commented: "Our self build sales are going well — it's just speculative developers who are now ignoring it. This is because it is still a little more expensive than standard Building Regulations' housebuilding methods, but if you want to build to the same quality, the price difference disappears."
(MORE: Check out these projects built with ICF (opens in new tab))
What are the Pros and Cons?
ICF is perhaps the ultimate Marmite construction system. The system has its fervent advocates; people who have trouble comprehending why the whole world doesn't use ICF for everything. And it has its detractors, who can't understand why anyone would want their home to be constructed from polystyrene and readymixed concrete — such unlovable materials.
Pros
Jean Marc Bouvier runs the UK arm of Nudura, a Canadian-based business that sells its unique folding ICF blocks all over the world and, incidentally, does a lot of business for housing associations and care homes — where the owners have a vested interest in ensuring low long-term running costs.
"The Green Building Council has stated that the UK's housing stock is among the least energy efficient in Europe, and is responsible for nearly a quarter of our annual carbon emissions. Yet we are the slowest market in the world to pick up on the benefits of ICF," he says.
"Why we keep on building with cavity walls when ICF is just way superior, I do not know; they are quick and easy to construct and the finished standard is much higher. You don't get problems with damp penetration or mould, you get fabulous airtightness levels built in and whatever insulation level you require is easily accommodated. All with a much thinner wall thickness."
Cons
So what's not to like? Detractors point out that ICF is not nearly as simple to construct as its advocates make out. With all the systems, the concrete pour is an absolutely critical phase.
The readymixed concrete has to be right in order for the concrete to flow evenly throughout the formwork; the support and bracing on the polystyrene blocks also has to be adequate or there is a risk of the walls distorting or even bursting open at pressure points. Mistakes can happen and, because of the speed involved, they can appear to be quite alarming, but an experienced hand can generally fix any mishaps within a few minutes.
There are also many things to know about fixing joinery, pipework and cables, not to mention installing the junction details between walls and roof and internal floors. To the seasoned ICF builder, these are bread and butter matters no different to what cavity wall builders or timber framers experience, but to someone new to ICF, they can appear to be daunting hurdles to overcome.
Overcoming the Cons
There is, in fact, a fair amount of specialist knowledge needed to build well with the system and there aren't that many experienced ICF builders around. The way to address these issues is, of course, to offer training, and ICF businesses are invariably keen to educate their customers.
Nudura, for instance, won't even contemplate a sale to a customer if they haven't attended one of its one-day training courses and been to a site to witness a pour in action. "It is absolutely vital that someone on site has a good working knowledge of how our system works," says Bouvier. It is a tacit acknowledgement that, while it all might look as simple as Lego, building with ICF is not child's play.
Is ICF Green?
You would expect any low-energy house to be thought of as an eco house, but not everyone agrees. Lloyd Alter of Canadian E-zine Treehugger is one such critic. He wrote: "ICFs are serious architectural overkill — the upfront carbon load is astounding, and at the end of their life they are good for nothing but landfill. ICFs are energy efficient for the occupant, solid and strong, and useful for foundations. However, I think we are past the point where anything that saves a little money on heating is called green — the issues are bigger than that now. In such a world, polystyrene and concrete sandwiches are not green."
But is this a fair comment? In terms of carbon footprint, concrete doesn't rate very well but it actually uses less energy in its production than either brick or aerated blockwork, its main competitors in this country. And polystyrene may indeed be a product of the petrochemical industry, but its main purpose here is to enable us to use less of such products. Its so-called carbon payback time is very short.
As for the argument that it's not recyclable at the end of its life, Jean Marc Bouvier takes a very different line. "Firstly, we are seeing more and more recycled material going into both the polystyrene elements and the concrete. And as the lifetime of our homes is measured in centuries, not decades, it should be a very long time before we have to worry about end of life disposal," he says.
Product Differences
At first glance, you might think that all ICF systems are much the same and that you might be able to select one over another by comparing prices. In reality, the ICF build systems available in the UK tend to be quite different from one another, and it makes comparison very difficult.
They are all based around the idea that the insulated formwork is put in place, secured and braced, before the readymix pour takes place, but the forms themselves vary markedly in:
their size and format
the steelwork that is required to provide long-term stability to the walls
how the ancillary details, such as connecting walls, floors and roofs, and placing joinery are handled.
This makes it hard for a prospective ICF builder to know quite where to start. What you don't want to do is draw up detailed plans of how you want to build your house and then start asking ICF suppliers to quote. Ideally, you want to start talking with ICF suppliers much earlier in the process and select and work with one through the detailing phase of the design.
Just as would-be PassivHaus builders are advised to start the design process with the intention of building to PassivHaus standard, not to think about it as an afterthought, so it is with ICF builds. Perhaps not coincidentally, ICF is usually a very good way of building to PassivHaus standard as ICF homes are inherently airtight, tend to have few cold bridges and the insulation levels can be readily adjusted to accommodate almost any wall U value.
Alternative ICF Systems
Not all ICFs are based around using expanded polystyrene as the formwork. Velox ICF formwork is made from recycled timber, which is chipped and mineralised before being mixed with cement to make a sturdy, weather-resistant chipboard-like substance. Polystyrene is still used, but with Velox it is placed inside the cavity at thicknesses between 50mm and 200mm, depending on what level of insulation is required.
The Velox build system originates from Austria and is now produced in six factories across Europe. Surrey builder Marek Simoncic has brought it to the UK and has spent several years getting the necessary third-party approvals required for warranties and a mortgage.
"One of the advantages of this kind of ICF is that it takes fixings very easily," he says. "You can place a screw anywhere and don't have to worry about the loadings. And because it's a very rigid system, and it comes with integral flooring, it makes it straightforward to get very high airtightness levels. It's an easy way to build to PassivHaus standard."
Durisol is another woodfibre ICF. It differs from Velox in using blocks instead of small panels, but the basic principle remains similar. Durisol has been manufactured globally since the 1940s and at a plant in Wales since 2008.
Mark is the author of the ever-popular Housebuilder's Bible and an experienced builder. He's just finished his latest self build.
Homebuilding & Renovating Newsletter
Get the latest news, reviews and product advice straight to your inbox.
Thank you for signing up to Homebuilding. You will receive a verification email shortly.
There was a problem. Please refresh the page and try again.