Roof Coverings: What Are The Options?
A quick guide to the different types of roof coverings; from tiled and metal variants to thatched and green roof options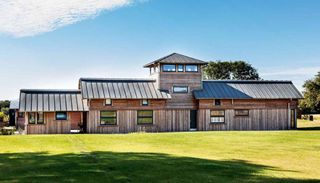 (Image credit: Simon Maxwell)
The range of choices available when it comes to your roof can be daunting. Variations in terms of roof structure, pitch and roof covering lead to some unusual and inventive designs. Here we take a look at the different roof coverings available, from the types of roof tiles on the market to tile alternatives, and where they are best-suited.
Interlocking Roof Tiles
Beloved by developers and supermarkets, interlocking tiles, usually made of concrete, are the cheapest way of covering a pitched roof. They are very large and don't require much in the way of an overlap and so as few as ten can be used to cover a square metre, which makes them very quick to lay. However, they lose much of their cost advantage where the roof shape is more complex and lots of cutting is involved.
Pantiles
The forerunner to interlocking tiles, these are widely specified in the east of England and work with traditional and modern designs.
Plain Tiles
Laid at around 60 tiles per m², plain tiles give a far more traditional look than pantiles or interlockers. They vary in price and look: at the upper end are the handmade plain tiles, where every tile looks different, adding a wonderfully rich texture to the roof, both in terms of colour and shape.
Concrete or Clay?
All these tile formats are available in either concrete or clay. Concrete is always cheaper, usually around 20% less, but it never weathers as well as clay, which tends to improve with age. In contrast, the colour of concrete roof tiles tends to wash out after a few years.
Slate Roof Tiles
Slate roofing became the roofing material of choice for the Victorians, with the railways opening up the Welsh slate quarries to the whole of the country. Today it continues to be in demand, both as a replacement and as a new material, though most slate is now imported from Spain, China or Brazil. Slate looks good in both traditional and modern designs and is a fair, mid-priced option for roof covering.
There are a number of slate alternatives available. Some are basically thin concrete tiles, some use fibre-cement, and a range use reconstituted slate, basically slate dust bound together with resin. These can be moulded to look like natural slate and are available as interlockers, making the laying much simpler and quicker.
Stone Belt Roofing
If you are building in a stone belt, such as the Cotswolds or many parts of the north of England, you may well be required by planners to use local materials. In such instances, you are unlikely to have much choice as to what you use. If planners don't insist, there are numerous reconstituted stone tiles you can opt for which give something of a vernacular feel, without being exorbitantly expensive.
Thatched Roofs
Thatching today exists primarily as a restoration activity, but every year there are few thatched new builds as well. Thatching is not something you would ever consider adding to a house as an afterthought — you more or less have to design the house around it. It's expensive and it requires fairly frequent attention over the years.
Green Roofs
There is currently enormous interest in creating green or turf roofs. In fact, these are nothing new – being commonly used in parts of Scandinavia and Scotland for hundreds of years – but today's green roof is a very different beast. You have to build such a roof up in layers, paying careful attention to waterproofing details, and the planting regime has to be carefully thought through. There are many environmental benefits claimed to derive from using green roofs, but these are hard to substantiate.
Metal Roofs
Metal is a somewhat specialised roofing material. It's laid in sheet form and the two most popular metals currently being used are zinc and copper. Lead is now mostly used for flashing material, around chimneys and at roof junctions. There are also steel roof tiles available from the likes of Decra Tiles, which are an alternative to concrete, clay or slate, especially suitable for windy sites.
Mark is the author of the ever-popular Housebuilder's Bible and an experienced builder. He's just finished his latest self build.
Homebuilding & Renovating Newsletter
Get the latest news, reviews and product advice straight to your inbox.
Thank you for signing up to Homebuilding. You will receive a verification email shortly.
There was a problem. Please refresh the page and try again.