How much does a new roof cost? Your complete guide
Exactly how much does a new roof cost these days? Whether you need to re-roof an existing home or start from scratch, how much you pay for a new roof isn't a one-size-fits-all affair — our guide is here to help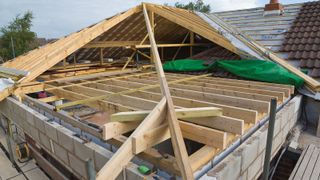 (Image credit: Getty)
Just how much does a new roof cost? Your roof remains one of the most important aspects of any home. It keeps you dry and warm all year and contributes to the overall aesthetic of your home, too. It isn't until you realise something is amiss, that you start to think about how much it might cost to fix it.
When renovating, extending or building a new home, the roof will be one of the largest expenses — but with so many different types of roof around, pinpointing costs can be tricky. Some websites say the cost of a new roof could be as low as £3,000 — but is this a reasonable estimate?
Here, we dig a little deeper into the costs of roof types and materials so that you can feel confident when it comes to budgeting for this element of your project.
How much does a new roof cost in 2023?
It's worth saying that the cost of re-roofing and/or adding a new roof in the UK has actually increased in recent years due to several factors:
An increase in material costs: The cost of roofing materials – such as tiles, slates and insulation – has increased significantly over recent years due to a combination of factors that includes increased demand and limited supply, as well as fluctuations in the cost of the raw materials and manufacture.
An increase in labour costs: The cost of labour has also increased — the construction industry is facing a shortage of skilled workers, which has led to increased wages for those with the necessary skills and experience.
Increased regulations: The roofing industry is heavily regulated in the UK, and compliance with regulations can add to the cost of roofing projects. In addition, some roofing materials may not be compliant with new regulations, which can lead to additional costs for alternative materials.
Complex roof designs: The complexity of roof designs has also increased, with more homeowners opting for unique and intricate styles. These designs require more time and labour to install, which can add to the cost of the project.
Swipe to scroll horizontally
Roof material prices (including membrane, batten and fixings)

| Flat roof | Price per m2 (material only) | Pitched roof | Price per m2 (material only) |
| --- | --- | --- | --- |
| Felt | £55 | Double Roman | £32 |
| Single ply membrane | £90 | Eternit tiles | £39 |
| Fibreglass/GRP | £95 | Plain concrete tiles | £49 |
| Lead | £145 | Clay tiles | £58 |
| Row 4 - Cell 0 | Row 4 - Cell 1 | Spanish slate | £60 |
| Row 5 - Cell 0 | Row 5 - Cell 1 | Reclaimed Welsh slate | £75 |
| Row 6 - Cell 0 | Row 6 - Cell 1 | Welsh slate | £160 |
How does roof design affect price?
The type of roof structure and design of roof you opt for will have an impact on how much it'll cost as will the project itself — whether it's a re-roof or a new roof for a self-build.
The cost of re-roofing a house can range from £6,500 to £20,000, according to its size and complexity. However, opening up an existing roof may uncover rotten timbers, perished felt (which was used predominantly in the pre-1990s, before the introduction of breathable membranes). And timber rafters and wall plates may need renewing, too. The main cost factor will depend on the existing type of roof, whether it's pitched or flat and the material.
"On a new-build house the scaffold will already be erected for other trades and the cost diluted somewhat," advises Glyn Stack of Wyvern Roofing.
How much does a pitched roof cost?
The cost of a new pitched roof can vary greatly depending on various factors such as the size of the roof, the materials used, the complexity of the design, and the location of the property.
As a rough estimate, the cost of a new pitched roof can range from £5,000 to £18,000 or more. However, it's important to note that this figure is just a rough estimate and the actual cost can be higher or lower, depending on the specific circumstances.
How much does a flat roof cost?
The construction cost of flat roofs is typically between £1,500 and £5,500. The price may vary depending on the type of flat roof you choose and it will also vary based on its size.
Another factor to consider is the material used for the roof. In flat roof construction, four materials are most often used. Felt, single-ply membrane i.e., EPDM, fibreglass/GRP and also lead.
How can I make savings on roofing materials?
Choosing the correct roofing materials – whether it's for a new build project or a re-roof – is crucial. It's important to be aware that there are cheap alternatives on the market. You should also be aware that if you 'buy cheap, you get cheap'. For example, don't expect a felt flat roof to last as long as a single-ply membrane flat roof, or for a Chinese natural slate to remain as colourfast over time as a Welsh slate.
That's not to say that you can't look for savings on material specification, while maintaining quality. For example, your original roof may have a Welsh slate roof, but the local planning authority may well be amenable to re-roofing it with different types of slate finishes, such as Glass Reinforced Concrete (GRC) slate or a natural slate from other countries.
When you consider that Welsh slate could be as much as £160/m2, you could make considerable savings by switching to Spanish slate, which comes in at a cost of around £60/m2. Conversations around specifications are well worth having, not just from a planning perspective but with your architect, too.
What should my roofing quote include?
To get a more accurate idea of the cost of a new roof, it's best to contact a reputable roofing contractor in your area and get a detailed quote based on your specific requirements. Try to make sure they are a member of the NFRC (National Federation of Roofing Contractors) who also have a useful website, where you can search for roofers in your area.
Most roofing quotations will include labour and roofing materials. After receiving a quote for a new roof, make sure it includes the cost of replacing fascias and soffits, as well as new rainwater goods, which again can vary in materials from uPVC at £15/m to £36/m for aluminium. New fascia, soffits and bargeboards are an additional cost. Depending on the type of roof you choose, it will nearly always require insulation so this will need to be factored in, too. It will be a large proportion of the overall cost so make sure it's included in your quotation, e.g., £20/m2 should cover the material cost of 125mm Celotex Insulation slab for a flat roof.
What factors will push roofing costs up (or down)?
There are several things that have a major influence on the final cost of a roof, including:
VAT on roofing renovation projects: It's important to note that the VAT rules for renovation projects can be complex, and the VAT rate may depend on the specific details of the project. Therefore, it's best to consult with a qualified professional to determine the applicable VAT rate for a specific re-roofing project. "If the project is a new build then the VAT can be claimed back through the VAT431 scheme," advises Andrew Jones from The VATMan Ltd.
Multiple roof types: If your main roof is pitched and another section is flat, with the covering materials being a mixture e.g., slate/concrete tile and EPDM, then discuss with your builder or roofer. Where the flat EPDM roof adjoins the pitched slate/concrete tile pitched roof, this will require weathering and also the possibility of expansion joints. The materials will move differently over time so make sure this detail is allowed for in the quotation and carried out properly on your roof.
Complexity of roof structure: Roofs come in all shapes and sizes, e.g., gable, hip, flat, mansard, curved and even jerkinhead. The more complex the construction, whether through complex geometry or a wide range of materials, the more expensive it will be. Complex roofs with dormers, rooflights and maybe even solar panels, for example, will increase the quotation from your roofer, both in terms of material costs and the number of labour days required. A huge variety of materials may require a number of different skilled trades to install them, driving up labour costs.
Roof removal: Don't forget to budget for skips for general roofing materials. A large skip can cost up to £400 in London and £280-£350 in the rest of the UK. The removal of asbestos roof tiles is a highly regulated process that must be carried out by licensed professionals who have received specialised training and certification. Allow a minimum of £1,200 for the works. Before any work can begin, a survey must be conducted to determine the location and condition of the asbestos roofing materials. If asbestos roof tiles are identified, a licensed contractor must be hired to carry out the removal process.
The location of your project: The location of the project will naturally impact on the cost, based on labour prices alone. This always impacts labour costs, with prices being higher in London and surrounding areas, but it's even more relevant in the current climate with the current elevated fuel costs. Those in remote areas may face higher costs based on travel distance as opposed to postcode. Always try to engage roofers based as close to your locality as possible. If your property is listed or within a protected area (National Park/Area of Outstanding Natural Beauty) you will not only have to add the cost of applying for planning permission but the permitted options are likely to be more expensive specialist materials requiring skilled application, i.e., Welsh Slate.
Access and provision of specialist scaffolding: Scaffolding will be required around your property for the majority of re-roofing jobs. Analyse your new roof quotation to see if the scaffolding is included in the price. Scaffolding for a typical three-bedroom semi-detached house costs around £2,000 to hire, with permits and licences.
Specialist skill: If your chosen roofing material (i.e., zinc, thatch, green, or even solar photovoltaic) requires specialist skills to fit it, this will push up the labour costs. Skilled thatchers are expensive and becoming harder to source, which drives cost up even further. Costs can vary dramatically for a thatched roof, depending on where you live in the UK, and can be anything from £1,500 to over £3,000 per thatcher's square (9.3m2). If your project requires specialist work, this will increase the cost, as their knowledge and expertise is specialist and therefore attracts a premium.
Features such as dormers, rooflights, etc.: Dormers, rooflights, roof lanterns, sun pipes, etc may require re-weathering with lead, cladding or EPDM. So, ask your roofer to assess whether this is required. For a new roof expect these items to be priced individually on your quotation.
Additional work for roofers: Your chimney is worth repointing or rendering while the scaffolding is erected. It may also require new lead flashing. Any roof penetration, even Velux rooflights or sun pipes are an access point for water leaks, so get them weathered properly, as this can prove costly in the long run.
Labour costs: Depending on the size and complexity of the job, you can expect to pay between £25 and £35 per hour for a roofer. If the job is large, you may be quoted a day rate, which will typically range between £200 and £280, depending on your location and the level of expertise required for the project.
Tim is a quantity surveyor and runs Quantiv.uk, with almost 30 years of experience across the commercial and residential sector.
@timphillips71
Get the Homebuilding & Renovating Newsletter
Bring your dream home to life with expert advice, how-to guides and design inspiration, direct to your inbox.
Tim Phillips is an experienced senior quantity surveyor and estimator and has worked in the construction industry for over 35 years. He has worked on many varied projects in this time, for corporates, public bodies and private residential clients, managing multi-million budgets.
For the past 13 years, Tim has worked on a freelance basis, whilst managing his rental property portfolio. He has extensive experience of undertaking his own full-scale house renovations. He is also a speaker and expert at the Homebuilding & Renovating Shows.