Guide to Demolishing a House
If your perfect plot has already been developed and features an existing dwelling that is beyond salvation, follow this guide to demolishing a house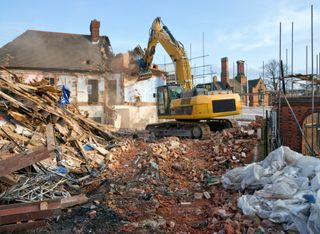 (Image credit: getty images)
It's highly likely that in your quest for the perfect piece of land for your dream home, you'll come across a previously developed plot.
These are known as 'knock-downs' or replacement plots: land occupied by an existing dwelling that is, for one reason or another, not worth restoring or extending and so lends itself to demolition and replacement.
The existing house might be poorly designed or positioned, too small for the size and value of the land it stands on, or simply beyond economic repair or improvement — its fate sealed by the fact that a new dwelling benefits from 0% VAT whilst renovation and extension work is usually rated at 20%.
Do I need Planning Permission when Demolishing a House?
Planning permission is not normally required for demolition work as it is classed as Permitted Development (PD).
PD rights can, however, be removed or restricted, in whole or in part, by the local authority using an Article 4 Direction (often used on listed buildings or in Conservation Areas) or an Article 3 Restriction (added as a condition of a planning approval for other works). In these instances, planning permission for demolition will be required.
You'll also need specific permission if the building is listed, or in a Conservation Area.
Do I need Planning Permission for a Replacement Dwelling?
Planning policy usually allows a replacement dwelling, even in the open country, providing the building has not been abandoned.
The definition of abandonment is not fully defined in law, so it is always best to get permission for a replacement dwelling prior to demolition.
Replacement dwelling policy varies across the UK, and in many areas there are restrictions on the scale of any enlargement, and positioning, relative to the existing house.
Where consent for a new dwelling in the open country has been granted on an exception – e.g. the conversion of a redundant agricultural building – total demolition of the existing building will invalidate the consent so must be avoided. The same applies to agricultural dwellings.
How Much Does it Cost?
The cost of demolishing a house ranges from £6,000-£8,000 for a small 80-120m² detached property, up to £12,000-£15,000 for a more substantial property of 200-250m².
Demolition costs will be mitigated if there are materials with salvage value. A demolition contractor (find one at demolition-nfdc.com) will list the value of any salvage items and offset this against the quote for demolition work and site clearance.
Existing service connections to electricity, mains water and sewerage, and connection to the highway can usually be reused, which can represent a significant saving compared to developing a virgin plot.
A large part of the cost of demolition is landfill and haulage, so costs can be reduced if there is scope to reuse or dispose of non-toxic waste on site — such as clean hardcore for drives, paths, terraces and soakaways.
How Long Will it Take?
The time taken for demolition work depends on scale and complexity but will typically take four to eight days. If the building is a semi or terraced house, the adjoining buildings will require support following demolition, adding to the cost.
If there is specialist work required, such as removing asbestos (often found in the form of cladding, roofing and rainwater goods) this can complicate issues. There are strict rules on the removal and handling of asbestos, and it can be best to get a report and quote from a specialist contractor.
Environmental Impact
In a rural area it is likely that a wildlife survey undertaken by an ecological consultant will be requested by the local planning authority, as part of the pre-application process for a replacement dwelling.
If evidence of endangered species is detected (typically bats, barn owls, badgers and great crested newts), a further report will be required from a specialist before work can proceed, and this will recommend the time of year that demolition work can take place and the mitigation measures required, such as providing alternative habitats.
Demolishing a House – Order of Works
The following order of works is typical for demolishing a house:
Cut off and cap all services such as main water and sewer connection, electricity, gas and telephone
Erect site fencing and protect the site; erect scaffold if required
Hazardous material (i.e. asbestos) removed under licence or by specialists if necessary
Soft strip all loose items, kitchen, sanitaryware, and remove all cabling, lighting, plumbing, radiators etc
Remove all doors, windows frames, linings, internal/external timber mouldings etc.
Strip roof and lead flashings
Remove structural timbers, joists and trusses
Demolish walls, salvaging bricks for example. Unwanted materials can be removed for crushing
Break up remainder and grub up foundations and redundant drains
What if the Property isn't Detached?
If you are demolishing a property other than a detached house, the likelihood is that adjoining neighbouring properties enjoy a right of support — a special type of easement recognised and protected in law.
When you undertake demolition works, you have a duty to support the remaining portions of the building and to ensure the new building continues to do so.
The same right of support applies if you are excavating ground adjacent to a neighbour, for instance for foundations or a new basement.
If the demolition works affect a party wall, a party wall agreement will need to be negotiated under the terms of the Party Wall Act (England and Wales).
VAT on Replacement Dwellings
A new dwelling will only qualify for zero-rated VAT providing it does not make use of any part of any existing dwelling with the following exceptions:
A cellar or basement (must be demolished to the top of basement/cellar walls)
Retained party walls shared with neighbouring properties (e.g. terrace, semi)
A retained façade required by listing or Conservation Area status
The creation of a new, additional dwelling by the addition of another storey/extension or change of use (conversion)
Detached garages or outbuildings can be retained
Demolition work can be zero rated for VAT if undertaken in order to facilitate the construction of a new dwelling
Homebuilding & Renovating Newsletter
Get the latest news, expert advice and product inspiration straight to your inbox.
Thank you for signing up to Homebuilding. You will receive a verification email shortly.
There was a problem. Please refresh the page and try again.