Stone Cladding: Types, Costs, Plus How It's Installed
By Hugh Metcalf published
Stone cladding makes for a good-looking façade for your project and can be an effective way to mesh a new build with the local design vernacular. Here's what you need to know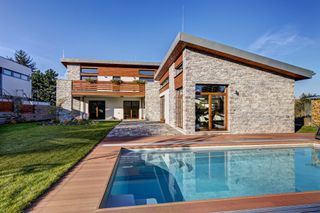 (Image credit: Wild-Stone)
Stone cladding is a popular choice for many self builds and extensions, especially in rural settings and areas where stone is a large part of the vernacular of local buildings — a quick and effective alternative to traditional methods of building with natural stone.
However, stone cladding is also a great choice for a modern home design that's sympathetic to its surroundings, with many sleek and contemporary options for cladding your home with stone available.
(MORE: House Cladding)
In our guide to stone cladding, we look at the types of products available to buy on the market, the benefits and challenges, and how much it costs.
What are the Benefits of Using Stone Cladding?
The main benefits of stone cladding come in the comparison to the alternative — building with natural stone.
"Traditional stonework requires a reputable stone mason for installation however, there is often a shortage of available skilled tradesmen in this field," explains Lorraine Davis, Lorraine Davis, Internal Sales and Marketing Co-ordinator at LBS Products. "This along with the high level of wastage associated with using quarry stone can make traditional stone masonry a very expensive option."
Modern stone cladding systems eliminate the need for specialist labour and create virtually no waste. Stone cladding is also a fraction of the weight of natural stone built on bed, plus it's quick to install. "There's the productivity potential in excess of 25m2 a day," says Wild-Stone's Peter Bayliss.
In relation to other types of cladding, stone cladding also has all the benefits of natural stone, including being relatively maintenance free. Natural stone cladding also offers an attractive option for homes that are required to be sympathetic to their surroundings, especially for homes in designated areas such as Areas of Outstanding Natural Beauty and conservation areas, which tend to be more rural or focus on more traditional building products.
(MORE: Matching Materials)
What Types of Stone Cladding are Available?
Stone cladding tends to be available in two formats:
Panels
Individual slip veneers
What is Split-Face Stone Cladding?
Split-face usually refers to a surface where the stone has been mechanically split. It's a textured design, but with a contemporary feel thanks to a less natural look caused by the machine split lines.
Panels are quicker and easier to install, and don't require you to plan the layout of individual slips ahead of time. Stone cladding panels tend to be used for highly textured designs such as split-face cladding, where panel joins will be less noticeable.
Some panels will also have extra fixings for attaching panels at heights, minimising the risk of panels dislodging and falling from a great height, causing damage or the risk of harming someone standing nearby. "We recommend that Z Stone SKY Panel is used at heights above 3m," says LBS Product's Lorraine Davis. Each of these panels has stainless steel clips built in to it, providing a secondary fixing to secure each panel.
Individual slip veneer cladding is more time-intensive to install, but more customisable, allowing you to plot out individually how the stone cladding will sit. A good stone cladding system with individual slips will all be cut to the same thickness, but be in random heights and widths, and also feature corner pieces, if desired, to recreate the look of stone-built houses,
Another option for corners is to include quoin stones in your cladding design. These tend to be more structured, contrasting rectangular stone or brick cladding, recreating the idea of cornerstones used in traditional stone masonry builds.
What Types of Stone can be Used for Cladding?
Stone cladding is available in a number of types of stone, but the most common are:
Granite
Sandstone
Limestone
Slate
Marble
Quartz
Knapped flint is also often used for cladding, but is less likely to be found in a cladding system. Using flint as a cladding is more of a specialist skill in comparison to the simpler nature of installing a stone cladding system.
How Easy is Stone Cladding to Maintain?
Stone cladding requires very little maintenance. Sealing isn't a necessity, however, it will offer extra protection and make cleaning easier if areas do become dirty.
Consider sealing in high traffic areas or when used in water features.
"When cleaning stone cladding do not use hydrochloric acid as it can cause minerals present in the stone to react," warns LBS' Lorraine.
Stone cladding is very durable, and will last a long time, depending largely on the construction system it's installed on. "We offer a 25-year system warranty for solid brick, stone, or concrete construction and a 15-year warranty using timber Quoin frame construction," says Peter from Wild-Stone.
Is Stone Cladding Expensive?
Stone cladding is one of the more expensive cladding options for your build, however, it's far cheaper than building with traditional stonework.
While stone cladding can cost from as little as £40-£70/m2 on its own, your choice of panel or individual slip will affect the final cost, including installation. Expect to pay from £100/m2 for stone cladding panels and up to £150/m2 for individual stone slips, both installed.
Hugh is Digital Editor of homebuilding.co.uk and has worked on a range of home, design and property magazines, including Grand Designs, Essential Kitchens, Bathrooms, Bedrooms and Good Homes. Hugh has developed a passion for modern architecture and green homes, and moonlights as an interior designer, having designed and managed projects ranging from single rooms to whole house renovations and large extensions. He's currently renovating a Victorian terrace in Essex, DIYing as much of the work as possible. His current project is a kitchen renovation which involves knocking through walls and landscaping a courtyard garden.
Homebuilding & Renovating Newsletter
Get the latest news, reviews and product advice straight to your inbox.
Thank you for signing up to Homebuilding. You will receive a verification email shortly.
There was a problem. Please refresh the page and try again.