Types of Brick: Colours, Uses, Costs and More
Which types of brick should you choose for your project? Your pick will make a huge difference to the overall look of your project, but there's more to consider than just visual appeal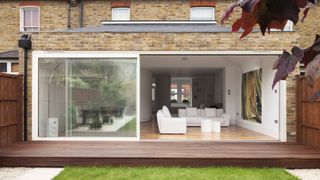 (Image credit: Ståle_Eriksen for UnaGru)
In regards to types of bricks, your options may seem overwhelming. However, there are some key ways to narrow down your choice and select the right type of brick for your build.
When it comes to looks, colour, texture and form all play a part, but how the brick relates to your local area may be just as important. You've also got to factor in your budget, making the whole decision much more complicated.
To simplify the process, our guide to types of brick looks at the options available, how much they cost and when they're best used to help you navigate brick buying for your build.
(MORE: Modern Brick Design Ideas)
Types of Brick
Clay Bricks
Best for those on a budget
Clay bricks are a type of brick that offers a cost-effective and sustainable option with little to no maintenance required. You can also choose cement and lime as materials should you wish.
Extruded or Wire-Cut Clay Bricks
Best for a smooth finish
If you're looking for a smooth finish then an extruded or wire-cut clay brick could be a good choice. The clay is extruded (pushed out) into a column. The column of clay is then wire-cut and, to keep it smooth, isn't modified before drying and firing in the kiln. This is a more modern method of brick making.
Extruded bricks tend to characteristically have holes in the bed - these means less energy is required for drying and the bricks are lighter so easier to handle.
Soft Mud Bricks
Best for an earthy, textured finish
Soft mud bricks are made by dropping the clay into sand-coated moulds, which produce a sanded face with slight creases. This was originally done by hand but is now generally a machine-made process.
Waterstruck bricks are made in a very similar way to soft mud bricks but no sand is used in the moulding process, just water, which means the brick surface is a lot less grainy.
Handmade Bricks
Best for an authentic look and building in conservation areas
If you want to match existing bricks or you're building a home in a conservation area for example, handmade bricks provide an authentic look.
The clay is rolled in sand then 'thrown' skilfully by hand into a mould. Handmade varieties offer more flexibility as they can be made up as standard or nonstandard sized bricks, creating and instantly characterful and charming look.
Handmade bricks have a rougher, open texture and feature an attractive creased face. You can also achieve a more bespoke look with a range of colours as well as sizes — but this is reflected in the price and they cost around four times as much as machine-made.
Reclaimed Bricks
Best for replicating an original building
If you're knocking down a property and building a new one on the plot then you can use bricks reclaimed from the original building(s) if you want to replicate the look or need to due to a planning condition.
Reclamation yards are another good source of second-hand bricks but getting the quantity and quality for a whole house or a large extension can be difficult. Wastage can be high and you may need to discard a few.
(MORE: Reclaimed Bricks: How to Buy Them)
Cost
How Much do Different Types of Brick Cost?
The cheapest types of facing bricks are wire-cut and are between £250 per 1,000 and £400/1,000, while distinctive handmade bricks are upwards of £600 per 1,000.
To calculate how many metric-sized bricks you need, the standard method is to work out the size of the facing walls in square metres and multiply by 60 (the standard number of bricks per metre square of stretcher bond brickwork).
Online calculators can help you work out how many you'll need for your project. (Brickability has a useful one).
(MORE: Cheap Bricks)
Finding the Right Type of Brick
Matching New Bricks with Existing Bricks
If you are extending your property, you are going to want to match the new type of bricks to the existing.
However, your existing bricks will have weathered and developed a patina. Moreover the bricks specified when your home was originally built might not be available now.
The first way of overcoming this is to speak with the different manufacturers — most of which will offer a brick matching service – whereby tints can be applied. They should also be able to source bricks similar in texture and size.
Specifying pre-weathered bricks is another solution and it's also possible to buy weathering solution to treat the external walls, however, results may vary from product to product.
(MORE: Matching Materials for an Extension)
How to Choose the Right Type of Brick
It may sound obvious, but the materials are used in the local area will have an impact on the external appearance you go for, or are allowed to go for.
If the area you want to build in features the soft yellow hues of Cotswold stone, for example, choosing to build entirely out of Staffordshire blue bricks probably won't be favoured by your local planning office.
Have a look at what colours of brick are indigenous to the area:
Oranges are typical of the Lincolnshire region
Red bricks are common in the north
Creams and yellows are common around Cambridgeshire and London
Blue bricks are seen on properties in the Midlands
But that's not to say you can't approach your local planners to ask what their stance is on materials.
It's not uncommon to see contemporary designs incorporating a contrasting brick extension, so it's always worth investigating what's likely to get planning permission at the start of your project.
The first part of the process begins at a quarry site. The clay is extracted and then goes through a process that transforms the hard, raw material into a mouldable one.
The clay is crushed and mixed with certain quantities of water to make it malleable enough to shape. Clay bricks are then formed using different methods. Each method then determines the characteristics of the brick.
What Colour Brick Should I Choose?
There are many colour variations — from white to cream, yellow through to orangey reds, browns and blue tones, there's a spectrum for traditional and contemporary designs.
"The colours of bricks are determined by the position of the brick in the kiln and the firing temperatures they reach," explains Jim Matthews, partner at HG Matthews.
Colour is also down to the type of clay and the surface sanding or staining that occurs as well. Because colour variation will inevitably happen, it's a good idea to mix bricks from different packs before they're laid.
What Size are Standard Bricks?
Pre-1965 houses were built using imperial-sized bricks, which typically measured 9in (w) x 4.5in (d) x 3in (h).
Now metric size bricks are used. They're slightly smaller at 215mm (w) x 102.5mm (d) x 65mm (h)
Where Can I Buy Different Types of Bricks?
Once you know the colour, type and bond you are after, you will be ready to buy the bricks for your project.
There are plenty of places to buy from, including various brick manufacturers, your local builders' merchant, reclamation yards, or suppliers such as Jewson, Travis Perkins, and Brickability (bricks can be sourced online from the latter).
(MORE: Top Tips for Buying at a Builders Merchant)
Building with Bricks
How to Store Your Chosen Bricks on Site
Make sure that the batches are delivered to hardstanding and not on grass as they'll absorb moisture from the ground
Note that it is not uncommon for the colours to vary slightly between each batch, so it's wise to have your bricklayer mix the bricks within each batch to avoid any colour banding within the brickwork
Ensure that any laid brickwork and/or packs are covered at the end of the day to protect them from rain
Choosing the Right Brick Pattern
Once you've chosen the brick type you want to use, you'll need to think about the bond: the pattern the bricks will be laid in.
Brick bonds have an impact on aesthetics but they also have a job to do structurally, too.
The way the bricks are laid will determine how the load is distributed.
Each horizontal row of bricks is called a course and a course is made up, most commonly, of headers, stretchers or both.
A header is the smaller end or 'face' of a brick and a stretcher is the long, narrower 'face'.
Top Tip
"If you're building your own home, ask for a test panel to be made up, so you can see exactly how the bricks will look when they're laid," says Jason Hughes, MD of Imperial Bricks. It will also allow you to see the standard of your bricklayer's work. Test panels should be around 1m².
The most common brick bond is stretcher (which, as the name suggests, uses stretchers only). The joins on each course are centre aligned with the bricks above and below.
However, there are a number of options available for anyone completing a self build or building an extension such as more traditional Flemish bond, English bond and contemporary stack bond.
To add form and character to what can sometimes be a mass expanse of flat wall there are design details that you can incorporate.
A dentil bond features alternating indented bricks in one or more courses. Dogs-tooth features a projecting course of bricks laid at 45°, cropped at the cavity.
The design can be used to create corbelled eaves or decorative banding. A corbel is a bracket that projects further than the face of a wall often in and around the eaves of a roof.
(MORE: Find a Bricklayer)
Choosing the Right Mortar
"The mortar joint surface area varies from 18% for stretcher bond to 22% for header bond," says Sean Wilkins, Technical Manager from The Brick Development Association, so you'll want to make sure the mortar doesn't dominate or clash with the brick and is in-keeping with the overall design.
Make sure the mortar is appropriate for the type of brick you choose to use too. Hydraulic lime mortar, for example is a good choice when working with handmade bricks.
"The mortar allows for natural movement, offers an improved aesthetic with a textured finish and is available in regionally matched colours," says Jason Hughes, Managing Director of Imperial Bricks. "It is also breathable, allowing any moisture within the brickwork to escape naturally, reducing the risk of frost damage and brick faces 'blowing' which can be a problem with cement-based mortars."
Whatever mortar you end up using keep it consistent throughout the job to avoid unsightly banding. Once you've decided on a mortar mix, stick to it, using the same sand, cement and lime throughout.
(MORE: Repointing Brickwork)
Get the Homebuilding & Renovating Newsletter
Bring your dream home to life with expert advice, how-to guides and design inspiration, direct to your inbox.
Michelle is Homebuilding & Renovating magazine's Deputy Editor. With an editorial career spanning more than 18 years, Michelle spent time working on educational magazines and websites until her career took an exciting turn into the world of homes and interiors. Working on sister titles Real Homes and Period Living, she then joined the Homebuilding team in November 2018.
She's just completed her second kitchen renovation project and bathroom renovation, armed with an ever-growing knowledge of homebuilding advice and design inspo (and a Pinterest board or two, of course).