Driveway Costs: How to Estimate for Materials, Installation and More
By Hugh Metcalf published
How much does a driveway cost? Weigh up the variables and find what you can expect to pay with our expert guide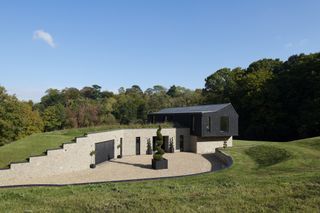 (Image credit: Alistair Nicholls)
How much does a driveway cost? Well, that depends on a variety of factors, including the type of driveway you choose, whether you hire in the professionals or do it yourself, and where you're based in the country.
However, it's important to be able to get an estimate on the potential costs of your project, after all, you might have the most exciting driveway ideas for your property, but if they go beyond your budget, then you may have to re-consider.
With that in mind, we've asked some construction experts to give us the low-down on the driveways costs you need to think about, including the material supply and installation.
Driveway Costs to Consider
Without understanding driveway costs, it's hard to decide which is the best driveway material for your home, as price will be an important factor, but not the only one.
Bear in mind that any quotes for driveways will incorporate both the cost of supplying the materials and the cost of installing them. The supply of the materials is very likely to be costed based on the size, giving you a price per square metre, but it's common for labour for driveways to be costed as a day rate instead. You can expect this to be anywhere from £150 to £400 per day, depending on the company in question, the material used, the number of tradespeople required and other factors.
Material costs completely depend on the type of driveway you choose. Some surfaces
If you're adding a new driveway or replacing a a permeable surface with an impermeable one, you're required to apply for planning permission for any surface over 5m2 between your property and the highway, unless it's SuDS-compliant, which will incur a further fee. If you do go down this route, it may be stipulated that your property ensures that any water runoff is properly managed away from public drains, which may mean you need to invest in installing a drainage system like a soakaway, but these are relatively affordable.
How Much Does a Concrete Driveway Cost?
Material costs: £280 to £2,050 depending on size and quality
Installation costs: £200 to £400 per day, for 1-5 days, depending on size
Concrete driveway supplies include the concrete itself which typically costs around £60 to £90/m2
"You will also need to consider the costs of sand," says Thomas Goodman, construction expert at myjobquote.co.uk (opens in new tab). "For a concrete driveway, you will need kiln-dried sand, which is normally priced at 25 pence per kilogram, while sharp sand or concrete sand costs approximately 10 pence per kilogram."
"To prevent weeds from poking through your concrete driveway, you may also want to consider adding a weed mat to your supply list, which will cost around £30 to £40 per square metre."
Hiring a professional to install a concrete driveway, you can expect to pay £40-£50/m2, or a day rate of £200 to £400, depending on factors such as your location in the UK. A small driveway may only take 1-2 days, but a large driveway can take up to 4-5 days.
How Much Does a Resin Driveway Cost?
Material costs: £40-£60/m2
Installation costs: £150 to £200 per day
"Resin bound driveways are at the higher end of the price spectrum," says experienced builder Mark Brinkley. "Expect to pay between £50 and £75/m2, including installation costs."
Some material choices will also affect the cost.
"You can also opt for UV stable resin or non-UV stable resin," says Thomas Goodman. "The first option will offer better protection against sun damage and also cures quickly with a UV lamp. UV stable resin costs around £40 to £60 per container, while non-UV stable resin is typically priced at £30 to £40 per container."
On average you can expect aggregate to cost from £5 to £25 per bag.
You can expect installation of a resin driveway to take between 3 to 5 days for a small driveway at around £150 to £200 per day in labour costs.
How Much Does a Gravel Driveway Cost?
Material costs: £25-£35/m2
Installation costs: £500-£700, or DIY
"Gravel is the most wallet-friendly option and it's the quickest to lay, too," says Mark Brinkley, "but installation can be done on a DIY basis."
Removing the need for professional installation will drive down the price, but the bets gravel driveways may be installed by professionals, with good hardcore underneath, timber strip edges and 3 or 4 layers of stones laid.
Gravel itself is normally priced at £100 to £170 per bag.
"You will also need a weed membrane which costs around 70 pence per square metre, as well as levelling material for £1.80 to £2 per kilogram," says Thomas Goodman.
What is the Cheapest Type of Driveway?
Gravel driveways tend to be the cheapest type of driveways used regularly in the UK. You may be able to get a new gravel driveway for just over £1,000, based on a 50m2 driveway.
Does a New Driveway Add Value to Your Home?
According to estate agents Park & Bailey, a new driveway could increase your property's value on estimate between 5-10%. Driveways are an important part of your home's kerb appeal, which can be a major sway in property purchases, so it's certainly an area worth investing in.
Hugh is Digital Editor of homebuilding.co.uk and has worked on a range of home, design and property magazines, including Grand Designs, Essential Kitchens, Bathrooms, Bedrooms and Good Homes. Hugh has developed a passion for modern architecture and green homes, and moonlights as an interior designer, having designed and managed projects ranging from single rooms to whole house renovations and large extensions. He's currently renovating a Victorian terrace in Essex, DIYing as much of the work as possible. His current project is a kitchen renovation which involves knocking through walls and landscaping a courtyard garden.
Homebuilding & Renovating Newsletter
Get the latest news, reviews and product advice straight to your inbox.
Thank you for signing up to Homebuilding. You will receive a verification email shortly.
There was a problem. Please refresh the page and try again.