Reclaimed Bricks: How to Buy Them for Your Build
By Rebecca Foster published
Reclaimed bricks are a sustainable choice that adds character to your build. These are the key considerations when specifying salvaged bricks for your project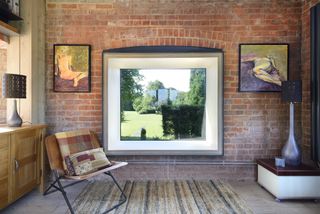 (Image credit: Rice Projects)
Choosing reclaimed bricks for your home's exterior will have a huge impact on the property's overall aesthetic. Thanks to their natural patina and rough-textured aesthetic, reclaimed units can add oodles of character to your home.
Available in a plethora of colours, shapes and sizes, they are usually rescued from local demolition sites. Once they have been cleaned up they can be re-used, boosting your scheme's sustainability score.
(MORE: Types of Brick)
Typically, reclaimed bricks are used on renovation or extension projects where it's important to replicate the look of the original building. Some planners might also suggest the use of reclaimed bricks if it's important for your house to blend seamlessly with other historic homes in the area.
Of course, that doesn't mean they can't be used for self build projects, but you might struggle to track down the large amount you need from the same batch.
Types of Reclaimed Bricks
Reclaimed bricks can be divided into two categories: handmade and machine-made. "Up until sometime in the late 19th century all bricks were made by hand," says Simon Drayson, director at George & James Architects.
If you're extending or renovating a house built before 1900, handmade units are more likely to offer the innate character you're after.
An array of colours is available, from soft oranges and rich reds, through to yellows and browns. To some extent, the bricks at your local reclamation yard will likely reflect the prevalent hue in your region. For instance, reclaimed London stock bricks are yellower in colour, whereas red bricks are more common in the north.
Are Reclaimed Bricks Right for my Project?
On the plus side, reclaimed bricks will give your home an instant character boost. Depending on the quality of the units you track down, they can be used inside or out — so could offer the perfect finish for an exposed brick interior feature wall. They're also a smart choice for extensions where you need to match the original property, particularly if you're working on a listed building or a home situated in a Conservation Area.
"From an environmental point of view, re-using bricks allows you to take advantage of their embodied energy — the energy that was invested in creating the brick in the first place," says Davide di Martino, director at Unagru Architecture Urbanism (opens in new tab). "That energy would be wasted if the brick was not re-used. Another way of putting it is that for every reclaimed brick that's used, one less brick needs to be manufactured."
(MORE: What Makes an Eco House?)
However, there are some drawbacks associated with reclaimed units. For example, reclaimed bricks can be harder to source than new. Supply costs tend to be greater than for new bricks, too, as demand is high, and that's before you factor in the additional labour that might be required to chip away old mortar from the surface of each brick.
The process of reclamation, the way the bricks are stored and how they are transported can also take its toll on quality. Check a decent selection of the bricks in your batch before buying — not just a few from the top of the stack.
Perhaps the biggest drawback is that there's no way to guarantee the quality and durability of a reclaimed brick.
"The main point of using new bricks is that they are made to comply with the latest standards, regulations and sizes," says Sabatino Torchitti, head of quality in Building Regulations at Resi.
It's unlikely that reclaimed units will have been tested under European Standard BS EN 771-1 for resistance to frost and the likelihood of efflorescence (when soluble salts create a white stain across the surface of the brick), for instance.
If your second-hand bricks have become brittle, they may also be more prone to chipping when they are cleaned. Therefore, reclaimed bricks should never be used for any kind of structural purpose unless you are able to test their quality thoroughly.
How to Buy Reclaimed Bricks
Whether you're extending your house or tackling a renovation, the bricks are one element you're unlikely to change further down the line — which is why it's vital to do plenty of research when it comes to selecting the right units for your project.
Check that you are buying from a reputable source and make a note of the batch number prior to delivery. It's not unheard of for the wrong bricks to be delivered, leaving you with a match that's close but not quite right.
More often than not, reclaimed bricks come in imperial dimensions — metric measurements for bricks weren't adopted until 1974. It's also worth bearing in mind that until 1965, the size of bricks wasn't even standardised, so you're likely to encounter some variations.
"Whilst modern bricks are 215mm x 102.5mm x 65mm, older bricks can vary by an inch or more in any direction, making them time-consuming and costly to tooth with existing brickwork," says Simon from George & James.
If you're carrying out works on a period property — probably the most common reason for specifying reclaimed units — metric vs imperial is important. It should be factored into the detailed plans for your project if you're pairing the outer leaf of brickwork with an inner layer of (metric sized) blockwork as part of a cavity wall construction.
Get your contractor to go over the detailed measurements of your chosen brick against your architect's drawings. Adjustable wall ties may be required to negate the differences in alignment between the bedding joints on the inner and outer layer.
"To calculate how many bricks you need, work out the square meterage of the wall surface and add at least 5% for any wastage," says Edward from Rice Projects. "If in doubt, count the number of bricks within a square metre on an existing wall."
Where to Buy Reclaimed Bricks
If you're doing any demolition work as part of your project, it may be that you can rescue bricks from your own property and use them as part of your renovation or extension. "You can also find reclaimed bricks as architectural salvage in virtually every area of the UK," says Davide from Unagru. "Of course, it's a matter of choosing the type against what is available at any given moment, but provided some investment of time, you should be able to find what you're looking for."
If you're matching your reclaimed bricks to an existing property, it's a good idea to take a few potential samples back to your house so you can compare. "Choose a contractor who has a good relationship with suppliers/merchants so they can easily provide you with samples to look at and compare," says Sabatino from Resi. It's worth asking for a few bricks as part of each sample, as the tone and texture is likely to vary somewhat across the batch.
"Even if you get them from the same supplier, the bricks may come from different places. That way you can compare a mixture of the same reclaimed brick with the original house."
How Much Do Reclaimed Bricks Cost?
Unless you're able to salvage bricks from any demolition work you're doing as part of your build, it's likely that you'll pay more for reclaimed bricks than you would for new units. "Factor in the potential for increased labour costs relating to reclaimed materials," says Simon from George & James. Reclaimed bricks are generally supplied ready prepared, however if any old mortar needs to be brushed or chipped off by your team, this will add to labour costs.
Of course, the price will vary depending on the type, age and overall quality of the batch. Common blends can cost as little as 90p each, while rarer bricks could fetch more than £1.50 per brick. Delivery is another important consideration at this stage — make sure your supplier can guarantee an efficient service that fits in with your project timeline.
(MORE: Cheap Bricks)
What Should I Do If I Can't Find Reclaimed Bricks to Match My Project?
Another instance of when not to use reclaimed bricks is when you can't find quite the right match for your project. "It's better not to attempt a match at all if you can't achieve it," says Edward Rice, construction manager at Rice Projects. "A close match rather than a good match will look like a failed attempt to pair old with new."
An alternative solution is to use pre-weathered handmade bricks — especially if you're trying to re-create a historic aesthetic. "Aged and weathered bricks are often used when it's difficult to find the right quantity of reclaimed units," says Edward. "They are also generally cheaper than reclaimed. The job may also remand metric sized bricks, while most reclaimed bricks are in imperial sizes."
(MORE: Matching Materials for an Extension)
What are the Insurance Implications of Using Reclaimed Bricks?
Before parting with any cash, check your indemnity insurance policy covers you for the use of reclaimed bricks. These products are not in accordance with any British Standard, so you don't want to be in for a nasty surprise down the line should anything go wrong.
If the use of reclaimed bricks is specified by the planning department, you'll still need to check with your insurance company. It may be that you can use weathered handmade bricks as an alternative to pacify the planners.
(MORE: What are Planning Conditions?)
Rebecca is an experienced homes and interiors writer with a passion for Victorian architecture. Her dream is to extend an 1800s house
Homebuilding & Renovating Newsletter
Get the latest news, reviews and product advice straight to your inbox.
Thank you for signing up to Homebuilding. You will receive a verification email shortly.
There was a problem. Please refresh the page and try again.