Self Build Mortgages: How to Get One, Plus Latest Rates for 2021
Self build mortgages are structured differently to traditional mortgages, allowing you the cashflow you need to complete a new build. Here's what you need to know in 2021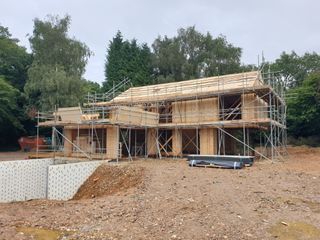 (Image credit: Facit Homes)
If you're considering a mortgage to finance a new build, self build mortgages are something you need to get acquainted with, as traditional property mortgages don't operate in a way that makes them viable for a self build project.
Standard mortgages release their funds on legal completion of the sale of a property, while a self build mortgage offers payment in stages across a build, helping those who don't have the finances to pay for the build outright to manage their cashflow.
In our complete guide to mortgages, we've included the newest deals to hit the market, a handy table of rates for comparison, plus what you need to know about how self build mortgages work and how to apply.
We've also included some need-to-know information about the new Help to Build scheme, something you should be keeping an eye on if you're looking to self build in the next few years, as it may offer you the best deal available on your project.
---
Latest Self Build Mortgage Deals
Self build mortgages are largely provided by specialist providers, so there's a fewer products available than standard mortgages.
Here are some of the providers who have recently launched self build mortgages or updated their deals:
Furness Building Society
Already offering a suite of self build mortgages, Furness Building Society has now launched green self build mortgages — an arrears stage mortgage with a rate of 4.19% and an advance stage mortgage at 4.49%. Both new loans come with a £750 cashback on installation of solar panels, air or ground source heat pump, pellet biomass boiler or a wind turbine.
BuildLoan and Buckinghamshire Building Society
This product has a 3.79% initial pay rate, and a completion fee of £1,499. It releases up to 85% of build costs on completion of each stage of the work, linked to build costs rather than site value.
Harpenden Building Society
This provider has improved their rates in recent months, offering a pay rate of 3.69% for mortgages between £75,000 and £999,999 and 4.19% for mortgages between £1m and £2m. The updated deal also allows for flexible construction types, from independent builds to those that are not linked to stage-based building.
BuildLoan and The Nottingham Building Society
This partnership sees the launch of two new mortgage products for loans from £50,000 to £600,000.
The first has an initial pay rate of 3.99% for two years, reverting to 4.24%, with a completion fee of £1,499 and no application cost. The second has an initial pay rate of 4.14%, but a completion fee of only £499. Both have a maximum loan to value rate of 80% for land, and 80% of build costs.
---
How Does a Self Build Mortgage Work?
What is a Self Build Mortgage?
Visit the Homebuilding & Renovating Show
Where traditional mortgages will release funds in one lump sum upon completion a self build mortgage usually releases funds at stages throughout the build.
Before you get started applying for a self build mortgage there are a few key considerations to factor in:
For a self build mortgage application you will need to provide plans and a breakdown of your build costs, including your plot cost. Use our Build Cost Calculator to find out what your project is likely to cost
It's wise to add on a contingency fund for any problems you may encounter further into the build too
The interest rates are typically higher than the standard house mortgage or remortgage rates and the arrangement fees also vary from lender to lender
Once your self build is habitable, some lenders will allow you to switch to a lower rate of interest
When are Funds Released with a Self Build Mortgage?
For a self build mortgage:
With a self build mortgage, funds are typically released at these key stages of a self build project:
Land (with the minimum of outline planning permission)
Substructure
Wallplate/eaves height (just before the roof trusses go on)
Wind and watertight roof tiled
First fix
Second fix
Certified completion
(MORE: Typical Self Build Schedule)
For custom build or group self build projects:
Purchase of land
Associated preliminary costs and substructure
Construction to wind and watertight stage
First fix
Second fix
Completion
For renovation or conversion projects:
Purchase of existing structure
Inspected completion of structural survey and cost estimate of necessary works
Completion of load bearing elements
First fix
Second fix
Certified completion
(MORE: Renovating a House)
Types of Self Build Mortgage
There are two types of self build mortgages that you could choose from:
Arrears mortgages: If you have a large amount of cash to hand to finance some of your self build, an arrears type self build mortgage is your best bet. These offer payments in stages after each stage of the build is complete, meaning you front up the money for the stage and are ultimately repaid.
Advance mortgages: For those reliant on the mortgage to fund each stage, an advance mortgage releases payments at the start of each stage. This will mean you don't require short term or bridging loans to cover the build costs upfront if you were take out an arrears self build mortgage. For many people, this type of mortgage is understandably advantageous offering help with cash flow, however, there are fewer providers who offer this kind of mortgage, and the rates may not be as competitive as an arrears type mortgage.
Some lending institutions lend on the land purchase or existing property and at key stages during and on completion of the build project.
This can vary from:
75-80% of the purchase price or valuation (whichever of the two is the lower)
Up to 80% of build costs
Up to 75% of the growth in value of your project at key stages during construction
Some lending institutions do not lend on land, but they will lend during the build period.
Products available include:
Discount from standard variable rate of interest
Fixed rate of interest
Bank base rate tracker
Offset
Do I Stick with a Self Build Mortgage When the Build is Complete?
"In order to keep costs down, some lenders allow mortgages to be repaid on an interest-only basis during the build period," says Emma Lunn, a journalist specialising in personal finance and property.
"But once the property is complete, habitable and valued, and this has been confirmed by a RICS-qualified surveyor, you'll be prompted to remortgage to a mainstream mortgage deal. This will be better for you as interest rates will be cheaper.
"Most lenders will offer a product switch at the end of your build onto a mortgage product with a lower rate. You should, however, watch out for any early repayment charges and talk to a broker to find you the best deal."
(MORE: How to Build a House for Under £150k)
Lending Criteria
What is My Borrowing Capacity with a Self Build Mortgage?
The amount you can borrow will depend on your unique financial circumstances - your income and outgoings (and any outstanding debts) will be used to establish how much you can borrow.
Banks and building societies apply an affordability calculation to assess your borrowing limits.
A mortgage will not be granted if it is deemed not to be affordable.
Mortgages of this type are regulated by the Financial Conduct Authority.
What Lending Criteria Will I Need to Meet for a Self Build Mortgage?
Where you intend to live while you build will have an impact on your affordability to borrow monies to build your dream home. For instance, the monthly rental payments or mortgage payments will have an impact on your affordability calculation.
Some lenders will accept you making upfront rental payments, which will not have an impact on your monthly income versus expenditure.
It's also worth noting that some lending institutions will not lend on certain construction systems, so do ensure you check with them. Of course, all your design and construction methods will need to be compliant with the current Building Regulations.
Each lender's criteria are different, but you do need to ensure they are aware of your build type and of any payment terms and conditions your supplier has stipulated.
Some lenders require that you must work to a fixed build cost budget; others may request that a qualified quantity surveyor provides the information on the build costs.
Check with your lender what they require. Also, ensure that you include a minimum of a 20% contingency into your build cost estimate.
(MORE: How Much Does it Cost to Build a House?)
In addition, as part of your full project costs and budget control estimate that you provide your lender with, you'll need to identify (or at the very least estimate) the following costs:
Land purchase and associated fees
Self build project management, including health and safety compliance
Gaining planning permission, if not already achieved, and associated fees
Demolition and/or site preparation
Construction design fees
Construction costs (preferably estimated against Building Regulations drawings)
You must demonstrate to the lender that you will have sufficient funding ability and competence in place to complete the project.
Applying for a Self Build Mortgage
The documentation required is essentially the same as a standard mortgage. However, additional supporting documentation will be required, which may include:
Copy of planning permission
Copy of construction drawings and specifications
Copy of total project cost estimate (where possible, fixed-price contracts)
Copy of Building Regulations approval
Copy of site insurance and structural warranty
Architect's professional indemnity cover (if required)
SAP calculation (this will be in the Building Regulations package)
Experian credit report
An initial valuation will be carried out to establish current value and anticipated end value, too. (You will be required to pay the valuation fees.) Interim and final valuations will also be requested and carried out by a RICS valuer.
The reports will be presented to the lender to evidence the increase of the interim value(s) prior to interim and final release of funds from the lender.
Other key points to consider, include:
A typical timescale for processing a stage release mortgage is up to three months
Consultants, brokers, banks and building societies will carry out a forensic analysis of all supporting documents
In particular, they will focus on income and expenditure cross checked with the bank statements
Best Self Build Mortgage Deals - April 2021
▲ Via Intermediaries through BuildLoan. * Through Buildstore Financial Services Ltd. Ecology BS will lend on Ecological designed houses only. Restricted lending areas may apply. Figures compiled on 29 July 2021.
Self Build Mortgage Interest Rates
Interest rates on a self build mortgage are higher than standard house purchase/remortgage rates and typically vary from 4-6% per annum. The arrangement fees also vary depending on the broker or lender. You may be tied into the lender for between one and three years, again lender and product dependent.
Once the property is habitable and this has been confirmed by a RICS' qualified surveyor and issue of the building control completion certificate, some lenders permit the borrower to 'switch' to a lower rate of interest during the 'tie-in period' without incurring penalty interest.
What If I Want a Bridging Loan Instead of a Self Build Mortgage?
If you own your existing home or have enough equity in it, you may be able to remortgage or take out a bridging loan to pay for your new plot, fund the build costs, or even both. You would then sell your old house once you had completed the new one and pay off the loan.
Bridging loans are a more expensive way to borrow money for a building project — ranging from 0.59% to 1.5% per month and the arrangement fees can be quite high; between 1% and 2% of the total borrowing facility. This can be with or without incurring exit fees.
Rachel Pyne of Buildstore adds: "It's important to note that a regulated bridging loan secured on your main residence has a maximum term of 12 months. This means you must complete your new home and sell your old one in this time to repay the loan."
Do I Need to Have Insurance and Warranties in Place?
A bank or building society may not release initial funds until you can demonstrate that you have a 10-year structural warranty policy in place. When taking out your warranty, it's also a good time to ensure that you have the right site self build and renovation insurance policy in place to give you peace of mind should anything go wrong.
Such policies are offered by providers such as:
Self Build Zone
Q Assure Build
Protek
NHBC Solo
Premier Guarantee
LABC
Anyone undertaking a build project, whether borrowing or not, should have both in place prior to starting work on site.
Subject to affordability, banks and building societies are keen to lend on residential construction projects, providing you have carried out due diligence and engaged the appropriate team(s) to achieve the successful construction of your new home.
(MORE: Self Build Warranties)
Help to Build Mortgages
Help to Build is a soon to launch government scheme aiming to encourage more people to build their own homes. Though full details of the scheme haven't been unveiled as of yet, what we do know is that the scheme will be consist of a £150 million fund which will be used to offer low-deposit mortgages for self build projects based on the estimated build cost, through equity loans similar to how the Help to Buy scheme operates.
It's believed that the scheme could operate with a deposit as low as 5%, with the lender lending 95% of the rest of the build. On practical completion, the government would then pay the lender 20% of the build cost, reducing the outstanding balance to 75% for the self builder.
Michael is HB&R's Head of Content and Product Development. Michael is also, Chair of the National Custom and Self Build Association (NaCSBA), presenter of multiple property TV shows and author of Renovating for Profit (Ebury). Michael is a regular in the seminar theatres and Advice Centre at the Homebuilding & Renovating Show.
Homebuilding & Renovating Newsletter
Get the latest news, reviews and product advice straight to your inbox.
Thank you for signing up to Homebuilding. You will receive a verification email shortly.
There was a problem. Please refresh the page and try again.