Clay Roof Tiles: Are They Right for Your Project?
By Rebecca Foster published
Clay roof tiles are a favoured choice for many self builds, renovations and extensions. Here are the key factors to consider, from aesthetics to installation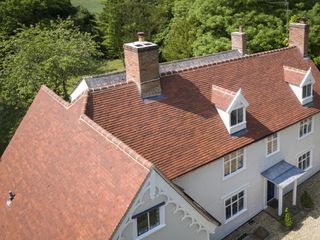 (Image credit: Keymer)
Clay roof tiles are suitable for both traditional and modern homes, and come in an attractive spectrum of colours, ranging from warm reds and oranges to rich blues and greys.
The material you choose for your roof plays a vital role in establishing the overall character of your home, and few materials match the warm, handcrafted appeal of clay.
From the pros and cons, how much they cost and how they stack up against the alternatives, here's everything you need to know about clay roof tiles.
(MORE: Roof Coverings: What are Your Options?)
Pros and Cons of Clay Roof Tiles
What are the Benefits of Clay Roof Tiles?
"One of the advantages of choosing clay roof tiles is that they're made from a natural material, which means your tiles will never fade - rather, the opposite occurs," says Steven Blewitt, director at Sahtas UK. "Natural weathering deepens the shade and colouring over time, unlike artificially pigmented products, like concrete, that will eventually fade due to exposure to UV light."
Clay roof tiles come in an array of sizes and profiles, from widely used plain and S-shaped pantile units to more decorative designs, such as bullnose and club tiles that sit beautifully atop heritage homes.
"Clay tiles have an impressive eco-friendly lifecycle," says Paul Lythgoe, managing director at Tudor Roof Tiles. "They're durable and long-lasting and will help to protect the property against the effects of frost, rain and sun."
What are the Drawbacks of Clay Roof Tiles?
Clay roof tiles tend to be heavier than some alternatives, which makes transportation and installation more difficult. Like all roof tiles, they are relatively fragile, and shouldn't be walked on.
While they stand up to inclement weather well, they may become loose and fall off in high winds, but this is something common to most roof tiles. Clay roof tiles are not necessarily the cheapest option, so aren't suitable for all budgets.
How are Clay Roof Tiles Made?
Clay is dug from a quarry and then aged for a few months to allow any soluble salts to leech out. Next, it is worked to the correct particle size and water content, depending on the type of tile needed. The material is then formed into a tile, either by hand or machine. The face colour of the tile is achieved by pressing sand into the surface of the clay and by the firing conditions inside the kiln.
After an extensive drying period, the tiles are fired in kilns to the correct temperature, depending on the type of clay used. A good quality tile needs to be the correct size, shape and colour, and frost resistant to certified standards. To achieve this, quality control measures are implemented at various stages throughout the manufacturing process.
What is the Life Expectancy of Clay Roof Tiles?
Providing they're laid correctly and well maintained, clay roof tiles have an impressive lifespan. Most manufacturers guarantee their products for between 30 and 50 years, and in reality if you care for your tiles it's not unreasonable to expect them to last 60 years or more.
Of course, the longevity of your roof covering depends on the conditions. Moss will grow more readily on damp clay, so be sure to keep your gutters clear from debris to allow rainwater to be channelled away from your roof effectively.
Choosing Clay Roof Tiles
What Size are Clay Roof Tiles?
Clay tiles are available in many shapes and sizes, and what works best for your project largely comes down to personal preference and the vernacular.
However, if you're roofing an extension, for a cohesive look it usually works best if the tile you choose is a similar size to the units on the existing property.
If you want your house to harmonise with the character of surrounding homes, use that as your starting point when choosing the size of your tiles.
"New technology has enabled the high volume manufacture of modern interlocking clay tiles which are larger in size, reducing the number of tiles required and the installation cost," adds Steven from Sahtas.
How to Choose a Colour for Clay Roof Tiles
Choose a tile that blends harmoniously with the rest of your exterior materials palette (cladding, render, rainwater goods and so on). In some cases, it may be that a blend of colours works best.
You may be required to submit material samples to your local authority as part of any planning permission application for a new build or substantial re-roofing project. If your property is listed, you'll likely need to match the original tiles or those seen on nearby homes.
(MORE: Matching Materials for an Extension)
Are Clay Roof Tiles Good Quality?
Do your research when it comes to choosing a supplier. "Check how long they've been trading and where they are located. That way, if you have any issues they are easy to contact and you can visit if necessary," says Paul from Tudor Roof Tiles.
Any tiles you purchase should meet the performance requirements laid out under BS EN 1304. This will ensure they've been rigorously tested to meet the necessary standards, particularly regarding their performance in frosty conditions. Also, check your tiles are covered by a product guarantee — 30 years is standard.
Installing Clay Roof Tiles
Is my Roof Suitable for Clay Roof Tiles?
Clay tiles are versatile and can be used with all construction methods — roof pitch is the main structural factor to think about. Roofs with a gradient of 35° or steeper are considered suitable for this type of covering. In the past, anything less than 20° has been deemed unsuitable too.
However, some interlocking products are now available for roof pitches as shallow as 15°. Any lower than this and you might be better off looking at an alternative roofing product, and possibly a different underlay solution too, so be sure to discuss the ins and outs with your chosen tile supplier.
How are Clay Roof Tiles Installed?
Your tiled roof will only ever be as good as the quality of the installation, so be sure to engage an experienced roofing contractor for the job. The National Federation of Roofing Contractors is a good place to start your search.
(MORE: How to Find a Roofer)
Tiles should be mixed from several pallets so the colour variations within each batch don't look patchy across the surface of your roof.
"Careful attention should be given to setting out the battens correctly and evenly on the roof, starting with the eaves course and finishing with the tops course batten," says David Sherry, associate director at Dreadnought Tiles. "Not only will the positioning of the battens affect the way the tiles look, but it's also important to maintain the minimum lap so the units function correctly."
Retrofitting Clay Roof Tiles
If you're carrying out repairs on an existing roof, bring in a professional to ascertain how many units are damaged, flaking or have fallen off. If it's only a few, you might be able to get away with simply replacing the affected tiles with like-for-like units that match the rest of your clay roof covering. If, however, many of the tiles are damaged, you're probably better off replacing the entire surface with new units.
How Much Do Clay Roof Tiles Cost?
Are Clay Roof Tiles Expensive?
A key factor in the cost of your clay tiles is whether they're hand or machine made. "Prices can vary from £27/m2 for the most cost-effective, clay, machine-made units, rising to £81/m2 for some handmade plain tiles," says David from Dreadnought Tiles. "You should consider the cost of haulage too, and whether it's a part load or needs to be craned off the load, which will also affect the price."
How Much do Clay Roof Tiles Cost to Install
Labour costs will also need to be factored in. It's worth sourcing quotes from at least three reputable contractors. Again, costs will depend on the tile profile you're using. Simple interlocking units are likely to come with labour costs between £25 and £30/m2, whereas for handmade tiles could be as much as £60/m2. The cost of hiring scaffolding and installing rooflights will inevitably add to the cost, but most roofing contractors will factor these elements into their quotes.
(MORE: How Much Does Tiling a Roof Cost?)
Are Clay Roof Tiles Better Than Concrete?
Each material comes in an array of styles and colours, so there is a good argument for using either for your roof. Concrete roof tiles are typically around 20% cheaper than machine-made clay tiles, which can be an advantage if you're working with a tight budget. However, the high level of craftsmanship that comes with a clay tile might give this traditional material the edge.
"Handmade clay roof tiles have been part of the English architectural landscape for centuries and can still be seen on many of our historic buildings," says Paul Lythgoe from Tudor Roof Tiles. "Like-for-like handmade clay plain and peg tiles are usually a requirement if you're working on a listed property or a house within a conservation area."
Bear in mind that the colour is not baked all the way through a concrete tile, so the initial shade of your roof is likely to fade over the years as it is exposed to the sun. Concrete tiles are also heavier than clay units, so if you're replacing clay tiles with concrete then additional structural reinforcement may be required to your roof can hold the load.
Rebecca is an experienced homes and interiors writer with a passion for Victorian architecture. Her dream is to extend an 1800s house
Homebuilding & Renovating Newsletter
Get the latest news, reviews and product advice straight to your inbox.
Thank you for signing up to Homebuilding. You will receive a verification email shortly.
There was a problem. Please refresh the page and try again.