Bathroom Design: How to Plan a Bathroom
Good bathroom design is essential if you want your new space to work well. From bathroom layout ideas to choosing sanitaryware, our guide has you covered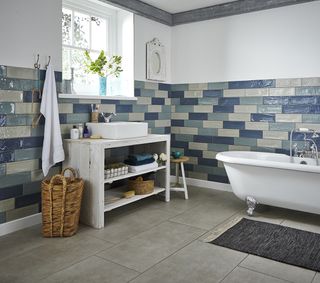 (Image credit: Walls and Floors)
Bathroom design can be the difference between a bathroom that meets all your needs and one that leaves you feeling deeply unsatisfied with the space — it short, get it right and it could transform your relationship with what is likely one of the smallest rooms in your house.
From bathroom layout to the choice of fixtures, colours, bathroom lighting and more, make the right decisions and you'll have a relaxing retreat, but get it wrong and your space can feel stark and uncomfortable.
Whether you're working with a professional bathroom designer, or taking on the project by yourself, we've rounded up the most important information, useful tips and clever design ideas to ensure you don't end up with buyer's remorse.
The key to good bathroom design lies in forward thinking — planning your bathroom design early in any house project will help ensure your scheme is a success.
Getting Started With Your Bathroom Design
One of the most important considerations when creating a new bathroom design is who will be using the room most. A master en suite will have totally different requirements than a family bathroom, for example.
In a family bathroom, practicality should be your lead, whereas in a room to be used solely by one or two adults, you can afford to focus a little more on luxury and design.
Create a brief for your space, even if you're not using a bathroom design professional, and make sure that your design meets this brief.
The benefit of working with a professional is that they may have better insight into how to deliver on that brief efficiently, bringing their expertise and new ideas to the table.
Designing a Bathroom Layout
Your first task when designing a new bathroom should be to decide on the best layout for the room.
Start with the position of the toilet. Work out where the soil pipe currently enters the room — or where it will enter the room. This should guide you as to the best place for the toilet — you can then work around this.
Using a few sheets of graph paper, play around, drawing out your bathroom layouts to scale, marking on any windows, doors, alcoves, sloping ceilings or bulkheads. Be sure to keep the sanitaryware to the same scale.
Choosing the Bathroom Sanitaryware
Choosing a Shower Enclosure
Good bathroom layout planning is essential if your shower enclosure is to be a pleasure to use.
Bear in mind that shower enclosures with doors that swing open will need enough space around them for the door to open and to allow you in and out. Enclosures with fixed glazed panels work well in small bathrooms — as do sliding shower doors.
How to Choose a Bath
Although the standard bath size is 1700mm x 700mm, there are bigger and smaller sized baths available. For those who want a shower and a bath but are working with a small bathroom, a shower over the bath is a brilliant solution. A showerbath is a good option, with a wider section at one end for showering.
Bathroom Basins Explained
Even if you have a small bathroom, don't skimp on the size of your basin — particularly in a family bathroom. Wall-mounted basins, or semi-pedestal designs, can give the illusion of more floor space and also allow the basin to be set at a height that works well for you and your family. Full-pedestal basins tend to be cheaper and give a more traditional look.
Sanitaryware Clearance Spaces
Bath: Aim for a bath height of between 500mm and 600mm. Allow for a minimum of 530mm side clearance.
Basin: A height of between 760mm and 1,190mm tends to be comfortable for most adults. A clearance of at least 510mm is required to the front — more if possible. According to Victoria Plum, the distance left to right (the span) should be at least 760mm.
Shower: The minimum comfortable size for a shower enclosure is 760mm x 760mm. A clearance of at least 610mm is also required.
Toilet: For close-coupled models, an overall toilet height of 595mm – 800mm suits most adults. The seat height should be 390mm – 460mm. The space around the toilet should be at least 760mm, with at least 510mm in front.
How to Choose Bathroom Flooring
There are several things that your bathroom flooring needs to be:
Water resistant
Easy to clean and maintain
Warm underfoot
Non-slip
Good bathroom flooring ideas include natural stone tiles, porcelain and ceramic, rubber flooring, vinyl and linoleum and even engineered timber providing it has been properly acclimatised.
Perhaps even more important that the final finish of the floor is the bathroom sub floor.
In the case of renovation projects, you may find that the existing floor requires some preparation. Timber floor joists should be sound and capable of withstanding the weight of new sanitaryware, or heavy stone tiles.
This might mean the joists need to be reinforced with extra timber and noggins. Adding in extra noggins overcomes the potential for large format stone tiles to crack.
Using an anti-fracture or uncoupling matting underneath new floor tiles is a good idea if you are concerned about tiles cracking due to movement within the floor.
Uneven concrete floors can be remedied with a self-levelling compound.
Bathroom Heating Ideas
Radiators are an easy and cost-effective solution — consider whether your bathroom radiator will double up as a towel rail, or whether you will have a separate heated towel warmer.
A heated towel rail is a must if you want warm, dry towels — even in rooms with underfloor heating. It is wise to fit an electric, or dual fuel, towel rail that can be turned on even when your heating is off.
Underfloor heating is the perfect partner for hard, tiled floors — and is perfect in wet rooms and walk-in showers where it speeds up the drying out process of the floor.
Bathroom Wall Covering Ideas
Are Shower Panels Better Than Tiles?
Although tiles are the traditional – and still most popular – way of protecting the walls from water in a bathroom, there are not the only option.
If you do choose to tile the walls and are on a budget, consider tiling only the areas most exposed to water — such as the area around the shower and bath and above the basin.
Shower panels are an increasingly sought-after method of protecting walls, being easy-to-clean and skipping the need for grout.
Shower panels can be made of PVC (at the cheaper end of the market), acrylic or pressure-laminated vinyl on an MDF core. They can be fitted over a number of different substrates.
Another popular alternative to tiles is to fix glass or perspex panels over a painted or wallpapered wall.
Bathroom Paint and Wallpaper
Choose specially formulated bathroom paint when renovating a bathroom. These should allow for breathable walls, preventing moisture from the air becoming trapped and inhibiting the growth of mould and damp in the walls.
Calming, natural colours work particularly well in the bathroom – from water-reminiscent blues and biophilic greens to more earthy shades – the right choice of colour will help foster a relaxing feel in your space.
Surprisingly, wallpaper can also be an effective choice in a bathroom, however, think carefully about the location. Keep away from splash zones such as around the basin or bath, especially if you have children. Using half wall tiling or panelling is an effective way to use wallpaper, without the risk of water damage.
Wallpaper will endure better in bathrooms with adequate ventilation, however, new waterproof wallpaper and mural systems are available which are tough enough to even withstand being located within shower enclosures.
(MORE: Best Bathroom Paint)
Bathroom Lighting Design
Once you know the layout of the bathroom, you can plan your bathroom lighting, taking into account any features you want to highlight, as well as how much natural light enters the room.
A combination of downlighters (for general background lighting), task lighting (above mirrors, for example) and accent lighting (such as spots directed at features of note) works well. You might also consider some feature lighting set into the floor around the bath.
When it comes to Building Regulations, the bathroom is split into zones and the Ingress Protection (IP) rating of the lighting you choose should reflect the zone that it will be used in.
Zone 0, for example, is the closed to a water source, such as within a shower enclosure.
Tips for Bathroom Projects
Can you Fit Your Own Bathroom?
Many people choose to fit their bathrooms on a DIY basis. Jobs that are easy to undertake without the help of the professionals include removal of the old sanitaryware and tiles. Decorating jobs such as painting and tiling are also popular DIY jobs and doing these tasks yourself will save on your bathroom costs.
Certain aspects of plumbing and electrical work will need to be carried out by a professional, whilst other jobs can be done by a proficient DIYer. Some bathroom fitters are skilled in every aspect of bathroom installation including plumbing, electrics and tiling.
Get the Homebuilding & Renovating Newsletter
Bring your dream home to life with expert advice, how-to guides and design inspiration, direct to your inbox.
Natasha is Homebuilding & Renovating's Associate Content Editor and has been a member of the team for over two decades. An experienced journalist and renovation expert, she has written for a number of homes titles. Over the years Natasha has renovated and carried out a side extension to a Victorian terrace. She is currently living in the rural Edwardian cottage she renovated and extended on a largely DIY basis, living on site for the duration of the project. She is now looking for her next project — something which is proving far harder than she thought it would be.